Compile – Reaching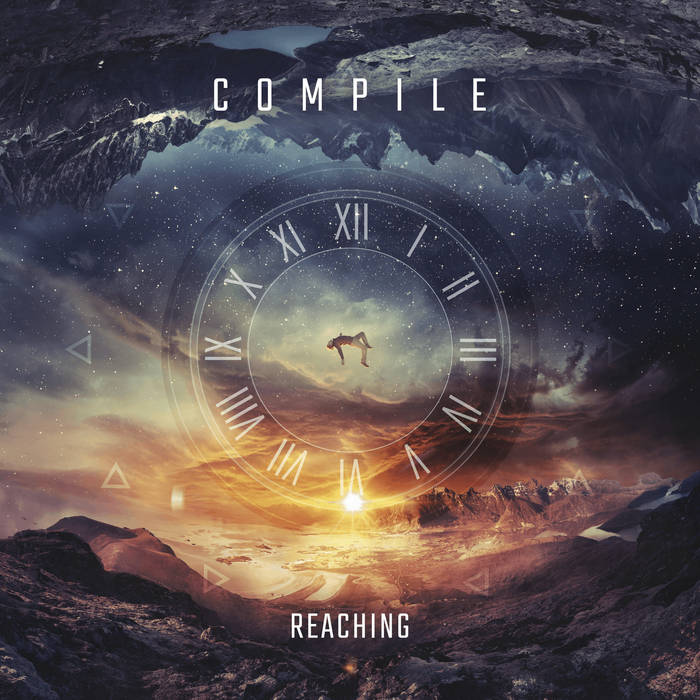 The Israeli progressive rock and metal scene has clearly cemented its place as one of my favourite spots on the world's map to look for great music no one has heard of. Compile is my latest discovery. A truly unique progressive metal act who just dropped the debut album "Reaching". Seeing the beautiful artwork and hearing a sample from the teaser, I already knew I wanted to check this out and a few listens later, I don't regret that I did.
If you're into the more elegant, eclectic forms of prog, this is definitely for you. The sound is very unique, very eclectic and the level of musicianship is off the charts, yet it is not a show-off album, but a beautiful, captivating and melodic one. I might even say relaxing. Still, it's also quite heavy. The merging of calming tunes on one end and bangers on the other is so subtly executed that it often feels like both are coming at you at the same time. This is achieved by cleverly joining elements of both realms simultaneously and balancing them out in the production such that they both shine through equally. A phenomenon that I never cease to admire when it's done right! The composition presents elements of prog metal as well as delicate hints towards jazz, bluesy stuff or even classical music. Have no fear though, it's not excessively pretentious but just a very enjoyable jam with an amazing vibe. As far as the rhythm section is concerned, it gets quite complex and unpredictable but the use of melodies and the softness of the textures used for the main themes is so refined that it crawls under your skin from the first listen. And they have a good amount of hooks as well, even though they don't strike you exactly as catchy at first.
Click here if the video doesn't play
This is one of those bands where each member uniquely stands out and gets extended sections to unpack his skills. Most of all, the keyboard parts bring so many different colours to the music. I love the diversity of keyboard tones used, ranging from clear piano to various synth sounds, string ensembles and even some crystalline music box effects or whatever, to give it an extra touch of mystery. The playing is also very impressive, making all sorts of fast technical intricacies sound so smooth, light and agile. It's similar for the guitar solos. The balance of melody, emotion and technicality is very well put together and the entire thing seems chill and effortless despite the speed and intensity. The bass is also used as a melodic instrument just as much as one for the rhythm section. It's very present, has a full and neatly textured sound and also goes on many rampant technical passages without disrupting any flow to the music. The best bass parts are definitely in the song 'No Tomorrow' which I consider a favourite, or at least one of the first tracks to really hook me. I also really love the drum section. It's very swift and dynamic, packing enough of a punch for this to really sound like metal (the kick sound is extremely satisfying) but also maintaining a smooth easy flow. There are many elements like weird time signatures, technical details, complex grooves and unexpected shifts or transitions that send the prog-O-meter through the roof. And yet it runs smoothly and effortlessly, going from the softest parts up to double kicks or whatever punchy metal pattern and back again as if it was the same thing all along. The entire ensemble of instruments works very well as a whole, due to the well-balanced and organized alternation between who gets the spotlight and who maintains the background, who participates in melody and who throws the bangers in there, allowing for the music to constantly change but also stay more or less the same in terms of vibe and atmosphere. It's shaky but consistent.
Click here if the video doesn't play
When it comes to the expressive value, I find it to be exactly what the doctor ordered for my current state of mind. It's very relaxing. The keyboard textures, riff sound and lead tones as well as Eden's vocals all play their different parts in the big picture but they seem to have a common element of clarity, comfort and softness. It almost feels fluffy at times. The vocal part is also very beautiful, packing so much emotion but in a gentle manner, never getting too pompous or intense. It fits right in with the rest of the mix and it recalibrates my feels to simple chill vibes.
This album has a lot to offer. It is very impressive and intense when it comes to the musical proficiency, effort and creativity that went into it. That alone is a reason to admire it. But it's also kinda humble and genuine in some sense. It's a thing I just listen to in order to take my mind off things and feel good. There's a dash of fantasy vibes in there as well I would say, or maybe it's just the artwork influencing me subconsciously. So there's a lot to unpack whether you're in it for the mood or for the nerdy technical details. Either way, "Reaching" is definitely worth your time!
Track List:
Timeless (08:34)
Illusive (07:09)
Keep You From Harm (07:58)
Birds (05:02)
Dare (04:10)
Within Inside (05:23)
No Tomorrow (04:45)
The Last Thing (06:16)