Amorphis, Soilwork, Jinjer & Nailed to Obscurity live in Munich, January 30. 2019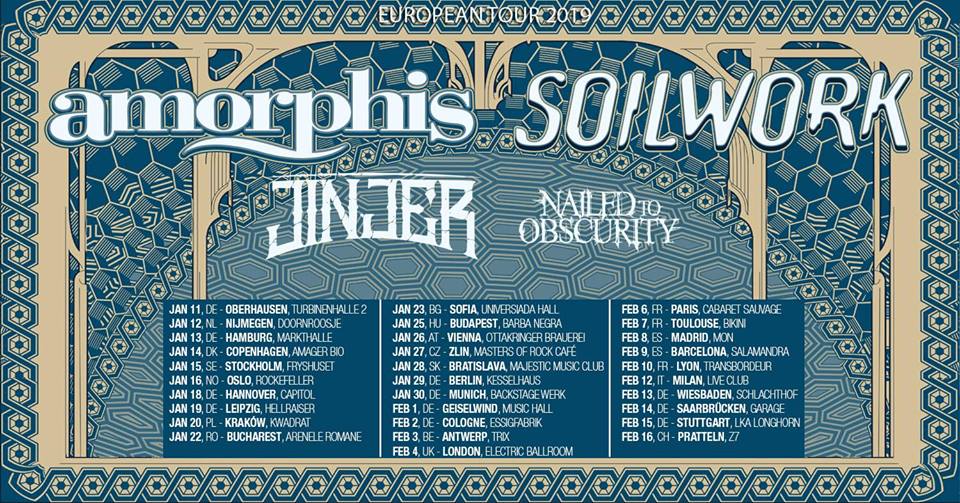 With January almost over, it was high time for the 2019 concert season to start. And boy did it start with a bang in Munich. A massive quadruple package was descending upon a sold out Backstage Werk and to my surprise, the venue was already halfway filled with people at the relatively early hour of 6 pm. And they kept pouring in during the set of the opening act Nailed to Obscurity, purveyors of melodic death doom hailing from the northern parts of Germany. Heads were nodding in approval and to the slow paced metal, and by the time they reached their majestic double guitar lead outro to 'Majestic Ruin', the venue was packed to the brim with metalheads. Ready for an evening chock full of energetic live music.
Pace and complexity were turned up several notches instantly though as the modern prog groove core machine Jinjer entered the stage two minutes before 7. Like a whirlwind they ploughed through an exhausting 45 minutes set with four brand new tracks from their recently unleashed "Micro" EP, alongside live favorites like 'Words of Wisdom', 'Sit Stay Roll Over' and the epic 'I Speak Astronomy'. And of course their viral smash hit 'Pisces'. Being the odd one out in this line-up as by far most modern, most proggy and most brutal band, they ruled the crowd from the very beginning, opening the first pits of the evening and even the hip hop influenced parts of 'Teacher, Teacher' went down well. Front-wonderwoman Tatiana Shmailyuk certainly knows how to impress with her windmill headband, shouting and singing skills, but so do the three gentlemen on their respective instruments providing a hell of a tight and groovy foundation. The more I look at their logo, the more I become convinced it was inspired by Tatyana's headbanging, the more I listen to them, the more I am sure that they are gonna sell out this 1200 cap venue on their own in no time –  provided they keep riding the momentum they've got going now.
20:15, prime-time, time for the first headliner of the evening. Soilwork from Sweden provide their high-class blend of melodic death metal, metalcore and groovy heavy rock with passion and enthusiasm. Frontman Björn 'Speed' Strid looks just as comfortable in his muscle shirt metal outfit as he does in his purple suit when he is rocking out with his Night Flight Orchestra. The pits won't stop, the balance between hard hitting brutality and epic melodies is exquisite as is the diverse setlist spanning a stylistically quite broad career of more than two decades. And despite these shifts in styles, Soilwork's 75 minute set works seamlessly. Crowdsurfing during 'Witan', singing along to the 2005 breakthrough hit 'Stabbing the Drama' or one final 'jump pit' to 'Stålfågel', the swedes were in top form tonight and the audience loved them for it.
Still, the Finnish legends of Amorphis took home the crown. Just when you thought, the crowd response couldn't get any more enthusiastic, the sheer volume of the applause explodes. And with arguably their best album after close to 30 years in the business in tow, they seem to get better and better every year, like a good wine. Just as his direct predecessor on this very stage, Tomi Joutsen is a master of switching between clean and extreme vocals seamlessly. Where 'Speed' seems to rely on a more technical approach when it comes to his melodic side, Tomi's warm and velvety voice just oozes emotions and warmth naturally. Clearly focused on material from their current album "Queen of Time" and the more recent history, there are just two words that come to mind to describe their performance: epic and triumphant. And when your older hits at the end of the regular set ('Black Winter Day') and the encore ('House of Sleep') don't feel like unexpected (or long-yearned-for in the worst case) climaxes but rather blend perfectly into a constant high of one excellent song after another, there is no need to worry that these guys will run out of inspiration soon. Well done Amorphis, well done! I for one can't wait to see you again.
Also check out the full galleries from our photographer Robin Stein here.