VOLA – Live from the Pool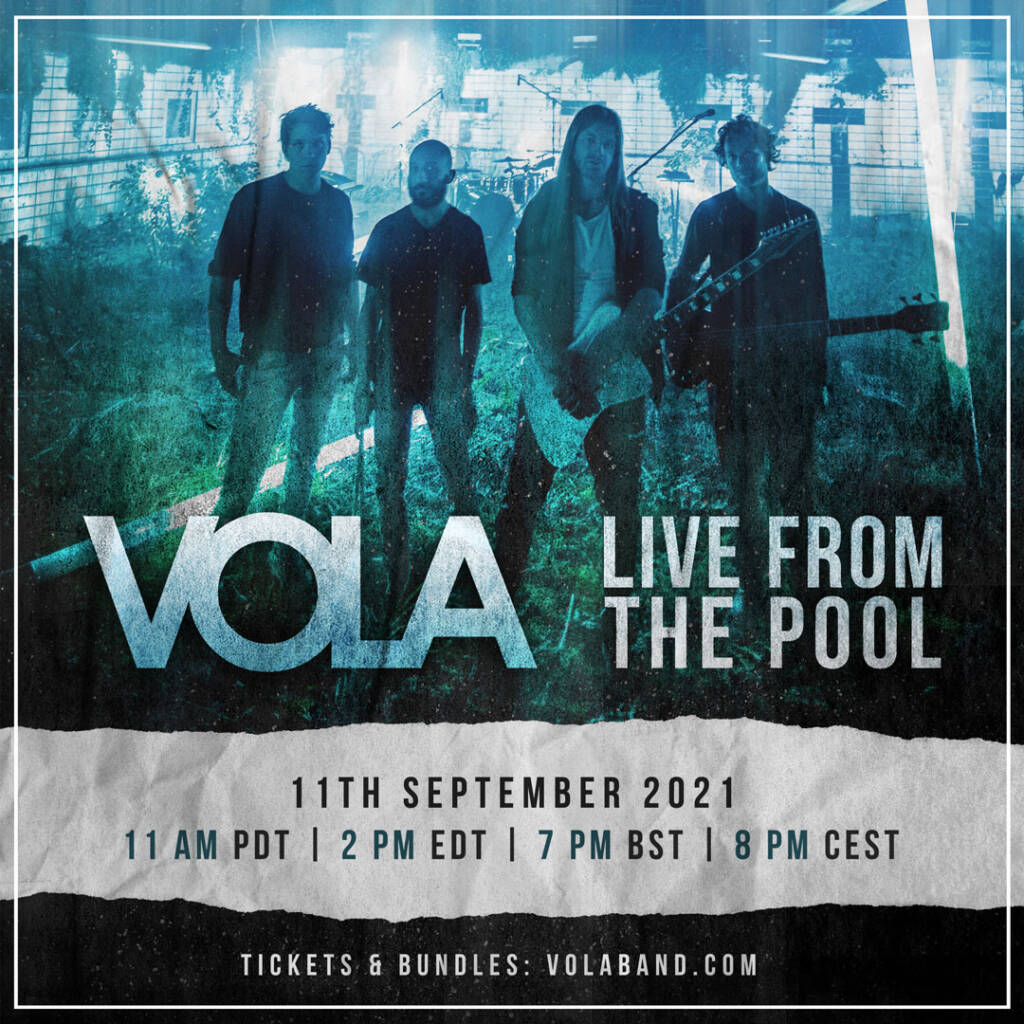 It's quite fascinating to see the different artistic approaches bands take to the new format of streaming shows. But of course, just as the design of classic live shows in front of an actual audience, it reflects the artistic self-conception of any artist or band. In-between songs banter and jokes like we recently saw in Voyager's "A Voyage Through Time" were never the style of Danish shooting stars of VOLA. On the contrary, and so it is clear from the beginning that we're in for a very different ride with "Live from the Pool".
An extended intro shows a timelapse of the preparation of what we are about to witness: the first tests of the light installations are pushing the anticipation to the very limit. An ominous drone is swelling as we see the swimming pool in the abandoned Auderød military camp in North Zealand near Copenhagen, Denmark getting ready for a massive show. First seen in the Netflix show "Rain" and also no stranger to music being performed in its holy halls ("Home" music video by Danish post-hardcore band Siamese), this place of mystery, wonder and contrasts is about to prove itself as the perfect location for this celebration of VOLA's music.
Setting Up Live From The Pool (click here if the video doesn't play)
The three Danes and one Swede chose '24 Light Years' as a surprise opener, with its slow and mellow start, creating a similar effect like Leprous opening with 'Bonneville' for a long time. But at least by the time Nicolai Mogensen's gnarly bass kicks in we are getting sucked in by the serene beauty and otherworldly sonic cosmos of VOLA. Cue "Applause…" smash hit 'Alien Shivers' with its huge main riff, it immediately proves to fit in just perfect between "Witness" material.
Increasing the heaviness step by step, 'Head Mounted Sideways' is bound to cause some dislocated necks at any upcoming live-shows. The sound is as crystal clear as it's bone-crushingly heavy when it needs to be. The light show and camera work is mesmerizing. And VOLA are playing hit after hit. Well, it's actually not that hard if your whole discography is basically made up with nothing but hits. 'Straight Lines' is no different in that regard. Nicolai's sweet backing vocals locking in perfectly with front-mane Asger Mygind's smooth velvet tones (not only) in that sugar rush of a chorus.
VOLA are taking it down a notch with the beautiful 'Ruby Pool', highlighting Martin Werner's bubbling piano arpeggios and Asger's breathtakingly beautiful lead guitar play in one of the few solos of the set. But this serenity is instantly and deliberately destroyed with an absolutely nasty drum and bass intro courtesy of Nicolai and drummer Adam Janzi to my "Inmazes"-favorite 'Owls', another example of perfectly balanced heaviness and beauty.
Showing their versatility and open-mindedness, VOLA definitely turned some heads with the hip hop crossover 'These Black Claws' when it was released as the fourth and final single shortly before "Witness" finally dropped earlier this year. But even if it's only coming from the backing track like here, Shahmen's rap verse fits in just perfectly, no matter what the haters might say. And that final angular riff is just so huge, it always lets my jaw drop to the floor.
The second surprise of the show after the selection of the opening track is the following delicate acoustic rendition of 'Gutter Moon' (that I actually prefer over the original version from "Inmazes" now), performed by Asger alone with his guitar and voice. A welcome breather in all the heaviness and before the looming attack of the "Applause…"-triple 'Ghosts', 'Smartfriend' and 'Whaler'. And then it is finally time for the huge finale. Have you also been waiting for those lasers that they were teasing in the intro timelapse to finally make their appearance? Well, fret not, as VOLA have saved the best for last.
Even though I have to admit that I don't really understand why "Witness" closing track is such a huge fan-favorite (it is actually the least favorite of the entire album for me), it unfolds all its majestic glory in this setting, there's absolutely no denying. Big props to visionary Danish audiovisual artist collective Vertigo (nice name btw) for creating such a stunning piece of art together with VOLA and the camera crew. Absolutely monumental!
VOLA – Inside Your Fur (Live From The Pool) (click here if the video doesn't play)
One last time we are treated to a band at the top of their game bathed in turquoise and violet for their breakthrough hit single 'Stray the Skies' and we even get a glimpse of how the show looked from the outside of the pool. Adam caresses his drum skins one more time ferociously, Martin gets another small synth solo of sorts, and Asger and Nicolai put the cherry on top of the cake with their little a cappella break leading into the last chorus. What a show! Fortunately, it looks like the band is looking into a proper release of the show, so if we get lucky, "Live From The Pool" will get the treatment it deserves, just like TesseracT's "Portals", an equally visually stunning production.
All pictures by Vollvincent