Be Prog! My Friend. 2018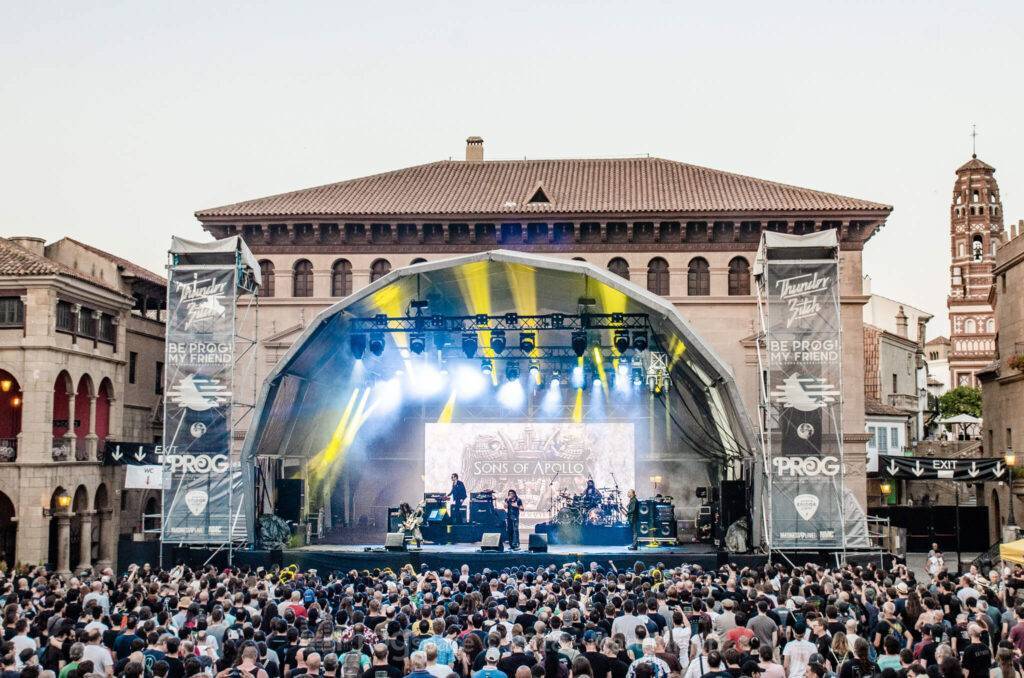 Be Prog! My Friend. This festival with its distinctive name (and slightly off punctuation) has quickly gained a reputation as one of the highlights of the annual prog festival circus – and rightfully so! Not only does it have the almost unfair advantage of taking place in the beautiful and highly accessible city of Barcelona, in the gorgeous venue Poble Espanyol, to be precise – it also shines with a very diverse line up that sets it apart from many other festivals in Europe. Add to that the perfect organization, the helpful staff and the variety of restaurants on and around the main plaza, and yes – Be Prog! My Friend. is right where it deserves to be.
This year's edition was no exception: From the original Genesis classics performed by Steve Hackett and his band, to the more pop oriented A Perfect Circle and the raw musical force of Oranssi Pazuzu the bandwidth of the 2018 edition was enormous. Barcelona presented itself with perfect weather, and anticipations were high amongst the crowd streaming onto the festival ground at this last weekend of June.
And boom! The party couldn't have had a more in-your-face beginning than the powerful performance of Andorran progressive death metallers Persefone. Driven by singer Marc Martin's energetic stage presence and the brutal and at the same time very emotional music they proved to be the perfect opening act – and a very sympathetic one as well, as you could almost say they were the "local" band, hailing from the neighboring country. Playing 3 songs each of their 2017 highly praised record "Aathma" and the previous album "Spiritual Migration", they clearly met the audiences taste and gathered a growing crowd in front of the stage during the course of their set. Good choice, "Be Prog" team!
Next up on stage were Baroness, and they took up the momentum created by Persefone, delivering a tight and straight forward set. The (slightly) progressive heavy metallers from the USA had jumped in after Swedish doom veterans Katatonia had announced their hiatus, which included the cancellation of this summer's festivals. Well, Baroness clearly was something completely different, but they did not disappoint with their more alternative/indie rock oriented metal.
Then it was time for Pain of Salvation. They have been on a wave of euphoria since the release of the "In the Passing Light of Day" in 2017, and many fans welcomed the comeback of Johan Hallgren on guitars. And yes, what a good decision that was! While I loved the additional vocals by Ragnar Zolberg, the mood on stage is entirely different with Johan. Everything is joy and love and energy, and that transmitted to the audience. As has been said elsewhere – magic happened, and Poble Espanyol was mesmerized by the stellar performance. Besides a lot of "Passing Light" material, including the super emotional title song at the end, they also played classics as "King of Loss" and "Inside Out", making their fans rejoice. Their show was, for these reviewers, one of the festival's memorable highlights.
A lot of people though had come to the Friday shows for the next band: A Perfect Circle. While not really progressive but more prone to the alternative rock side of things, many had gathered in front of the stage to finally hear some new music by Tool mastermind Maynard James Keenan. And indeed they played no less than 8 songs from this year's comeback album "Eat the Elephant", adding a good look back into their back catalogue and even a cover of Depeche Mode's 'People are People'. The man himself preferred to stay in the dark for the entire show, adding to the limitation imposed on photographers and even more on videographers. Even if the addition of APC felt a little like having a "cash cow" to attract a wider audience (nothing to say against spreading the prog love!), the show was truly enjoyable and technically perfect, but still the magic, emotion and camaraderie brought up by Persefone and PoS and even Baroness (even if we were not very familiar with their music) went missing.
Closing the first night were the extreme atmospheric black metallers (for the lack of a better categorization) of Oranssi Pazuzu from Finland. And yes, they were extreme, atmospheric and black – a great power on stage. Maybe not everyone's cup of tea, but a bold move by the festival managers to give these fine musicians a big stage!
Despite the blazing Barcelona mid afternoon sun, the beginning of the second day saw a decent crowd gathered in front of the stage, to witness Australia's guitar sensation Plini. Oh, and he did not disappoint. In the heat of the Barcelona afternoon he and his band put up some impressive prog shredding, and it was great to see the great enthusiasm both on and in front of the stage. In a fine six song selection starting with the excellent new 'Salt + Charcoal' from this summer's excellent "Sunhead" EP and then mainly focused on songs from "Handmade Cities". A fine example how true musicianship still can get you out of your bedroom to the stages of the world – not that there was any lack of fine musicianship on this weekend (not at all!).
True, gifted, musicians were also who followed Plini on stage. Norway's atmospheric art/prog rock masters Gazpacho still seemed oddly out of place. Not that there was anything wrong (except for some technical issues, which also other bands had to overcome), but the setting just didn't seem right. We prefer our dose of Gazpacho on a chilly autumn or winter's evening with a glass of wine instead of a hot summer afternoon. Nonetheless, the selection of songs mainly from this year's impeccable "Soyuz One" and their masterpiece "Tick Tock" from back in 2009 did not leave much room for complaints. The wonderful ambience they can create just didn't want to flow, though it gathered a growing amount of people in front of the stage. But, yes, definitely, Gazpacho might have a very Spanish name, but they're from Norway, and their very distinctive kind of art rock as well as the sunburnt Norwegian guys, deserved to be gotten out of the blazing sun and perform in the night hours.
Things changed when one of the festival's main sellers stormed on stage. Sons of Apollo, the supergroup consisting of Mike Portnoy on drums, Ron "Bumblefoot" Thal on guitars, Billy Sheehan on bass, keyboardist Derek Sherinian and singer Jeff Scott Soto knows a thing or two about how to get a crowd going, and they didn't take any prisoners. Playing most of the songs of their strong debut "Psychotic Symphony" as well as two songs from Dream Theater's "Falling Into Infinity" ('Just let me breathe', 'Lines in the Sand') which drove the audience as mad as it could be, repeating the experience we witnessed the year before when Shattered Fortress (Haken except Ray Hearne plus Eric Gillette, accompanying Mike Portnoy on drums), played several classic Dream Theater songs. People love Dream Theater and having one ex-member delivering the familiar tunes is great, but now having 2 ex-members… sheer madness! It was really impressive to see how the crowd went out of themselves as soon as the familiar Sherinian synthesizer sound filled Poble Espanyol.
Sons of Apollo easily connected with the crowd and stomped through their setlist. A true spectacle for the ears and eyes, even if after a while it all seemed a bit repetitive, as there was not very much variation in speed and constant drama. Thankfully, a very experienced Jeff Scott Soto knows how to manage crowds, which, hungry for more, didn't stop singing along, jumping and be led majestically by these 5 Americans with big big names in prog, rock and metal in their own right.
And then it was time. Time for a true mass of classic progressive rock, celebrated by none other than Steve Hackett, grand guitar master of 70s Genesis and one of the godfathers of prog. Starting with an overview of his solo career from 1978's "Please don't touch" until his 2017 record "The Night Siren" and also a little excursion to his time with GTR, the fans got what most of them had waited for – a full dose of Genesis, with the incredible Nad Sylvan effortlessly replacing Peter Gabriel, and the band consisting of bassist Jonas Reingold (The Flower Kings), drummer Gary O'Toole, Rob Townsend on sax and flutes and Roger King playing the keyboard taking us back to the good old times with classics such as 'Dancing with the Moonlit Knight' and 'Firth of Fifth'. Hundreds of voices were singing along, and when the first notes of 'The Musical Box' sounded across the plaza, you could see a tear or two in many an eye, so true and pure was the experience, for those who remembered the original concerts as well as those of us who were born too late to witness their Golden Era.
Little could prepare the audience for 'Supper's Ready', though – the complete epic, making this night a moment to remember. Hackett's guitar sound filled with more feeling than ever and Nad Sylvan pulling out emotions from deep within his soul – a perfect rendition, and for many the absolute climax of this year's edition, if not of the whole year of prog concerts.
But the festival still had one card up their sleeve: A band that doesn't exist – Swedish heavy progressive metallers Burst came together one more time for an exclusive reunion show, and yes, they still know how to rock! A total change of style from the previous act, Burst got the crowd going with their super intense and in times brutal (but then again, very atmospheric) show. So much that they even got a mosh pit! We had not seen that one coming. A great comeback, and maybe the start of something more? We will see. For now, this was the perfect, energetic ending for another excellent edition of Be Prog! My Friend.
Some technical glitches here and there aside (like an extremely loud Persefone show), it was once again a perfectly organized festival, where you never felt that it was too full, the breaks had the perfect length and, most importantly, the musical selection was spot on. Just one thing, if we can ask for it: Get some more possibilities to sit down, maybe.