Orphaned Land in Arnhem, February 24 2018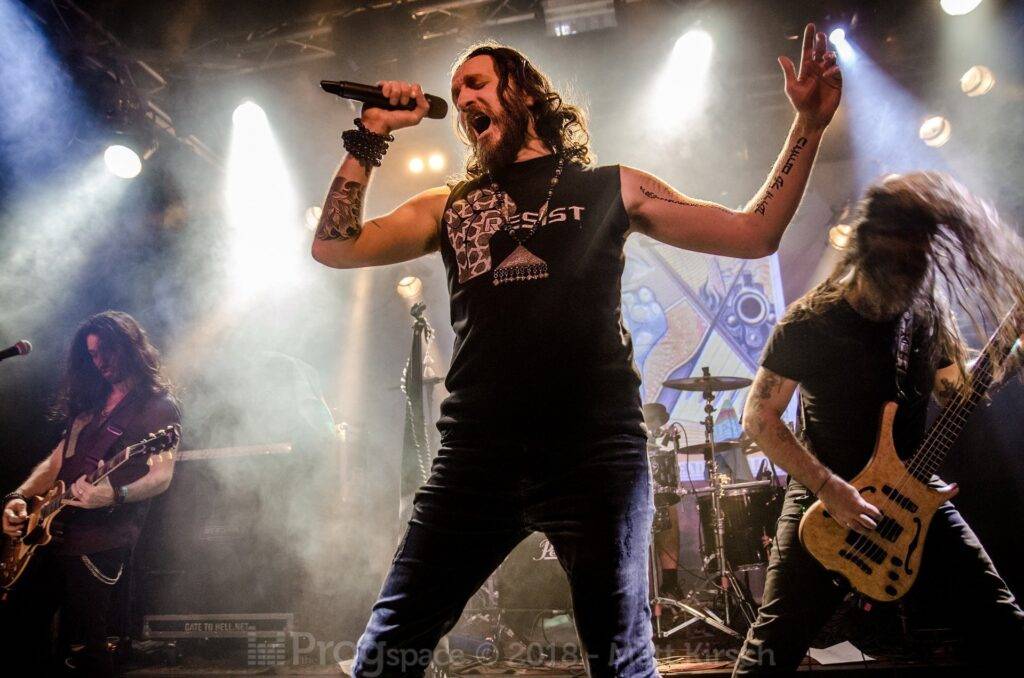 On a cold winter day in the Netherlands, Orphaned Land could not have wished for a better start of their "Unsung Prophets & Dead Messiahs" tour: In Arnhem's small Willemeen club, they were welcomed by a frenetic audience – for the first time an Orphaned Land show in the Netherlands was sold out. But as they are touring with Aevum (Italy), Subterranean Masquerade (Israel) and In Vain (Norway) in a very… let's say interestingly combined tour package, there were more than 2 hours gone before the headliner entered the stage. And because the doors were opened quite late and it took very long for everyone to enter, things got delayed right from the start.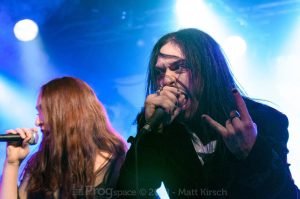 Starting their first tour ever, Aevum was struggling with some technical issues before they could finally begin. The Italians play a very theatrical kind of symphonic metal, with female and male voices and some pretty wicked stage antics, like a girl in a white veil and angry face dancing on the extremely tightly packed stage. Stylistically, Aevum might not have been the perfect choice for this tour, which is a bit of a shame for the band, that might fit in more with the likes of Lacuna Coil or Therion.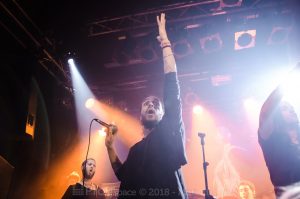 The second band to come up was Subterranean Masquerade. The folk-proggers from Israel have delivered a great new album last year, and touring together with their country mates Orphaned Land just seems as the most obvious thing to do. Sadly, their singer Kjetil Nordhus from Norway's Green Carnation had to skip this tour – but his replacement Davidavi Dolev of Omb was a perfect choice. He fits in seamlessly into the crazy circus that Subterranean Masquerade is, and his singing was a great match to Eliran Weizman's growls. As usual, the Israelis celebrated a big party on the stage, and that spirit spread to the audience immediately.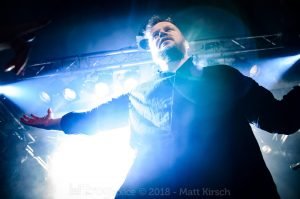 Before Orphaned Land came up the stage, it was time for In Vain from Norway to show what they got up their sleeves. And what they had was impressive! Their powerful progressive death metal with powerful growls and harmonic vocals went right through the ear to the stomach. A good tad harder (and louder) than the other bands, In Vain really tested the venue's sound – and sadly made its limitations quite clear. That didn't stop them and the audience in their enthusiasm, though.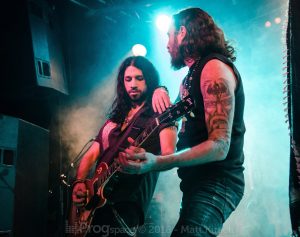 And finally Orphaned Land was on, starting with the latest album's opener 'The Cave'. After the obligatory clap-along 'All is One' – which appeared surprisingly early in the set – Kobi Farhi, who changed his looks for this tour from Jesus to rock star, announced two songs from "Mabool"('The Kiss of Babylon'/'Ocean Land'). The classic had been released the day before, 14 year ago. A nice look into Orphaned Land's back catalog – but of course the focus remained on the latest releases "Unsung Prophets & Dead Messiahs" and "All is One". Despite heavy use of tracked backing vocals, the new songs sounded excellent – and Kobi made a great job replacing Hansi Kürsch in 'Like Orpheus'. Way too soon, after less than 90 minutes, the encore 'Norra el Norra (Entering the Ark)' marked the end of a great first gig of the tour, which hopefully will take the four bands to venues with better organization and sound than what Willemeen had to offer.