Bismarck – Oneiromancer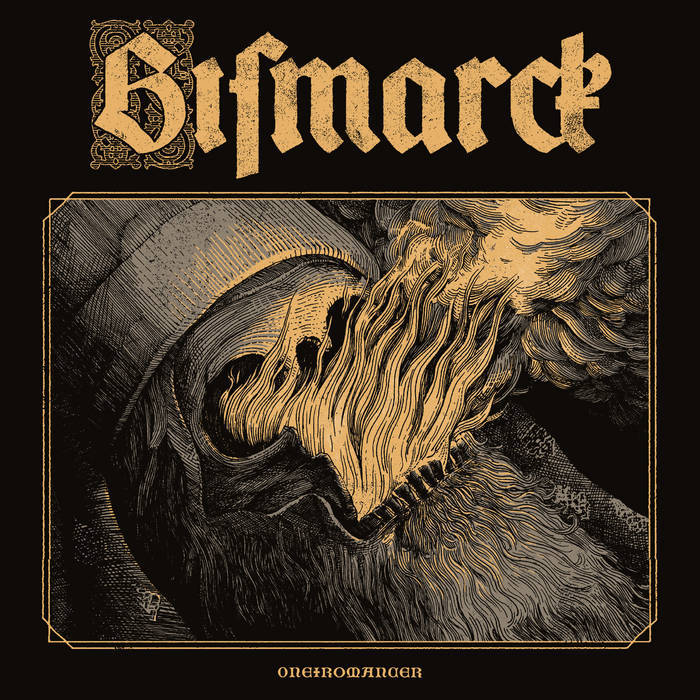 If you're like me you know that there's no better way to clear your mind after a busy day than diving deep in reading about mythical stuff, conspiracy theories or less known historical facts with some neat, thick sludgy music in the background. In "Oneiromancer", the second full-length album of the Norwegian band Bismarck, you get both at once.
From the fantastic oriental sound of the first track, it was clear that this won't be some 35-minute wall-of-sound type of album. As we partake in what appears to be an oneiromancy ritual (sadly, I couldn't find the lyrics to fully confirm that) the Persian landscape keeps building up around us until the percussion attack and the growls of the title track kick in. With some help of the beefy bass tone and some real fuzzy goodness, we get to peek into the blood-filled future in the oneiromancer's dream. That vision becomes even clearer in 'The Seer', the burning word is getting reborn, there's hope in this nightmare.
The atmosphere in the entire album is so masterfully crafted with the fantastic blend of crunchy and psychedelic sound, but for me, it hits its peak in 'Hara'. The song refers to the holy mountain Hara Berezaiti, which in the Middle Eastern Mythology is the center of the universe. Its peak is the source of all the waters in the world and seen as a symbol of fertility, which in this case it probably refers to the birth of that new word the previous songs introduces. Even not knowing all that you get that vivid image of the Hara just from listening carefully to the track and letting the sound take you away.
Bismarck – Tahaghghogh Resalat (click here if the video does not play)
One of the things that caught me off guard was how great, almost hypnotic the clean vocals are, especially at the beginning of the closure 'Khthon'. Mixed with the fantastic sludgy riff it becomes pure magic, probably my favorite song on the album.
"Oneiromancer" is not your average doom/sludge/whatever record and proves it with its diversity in the sound and interesting theme. The only bad thing I can say about it is that it's only 35 minutes!
Tracklist
Tahaghghogh Resalat
Oneiromancer
The Seer
Hara
Khthon
Bismarck – Khthon (click here if the video does not play)