Derek Sherinian – The Phoenix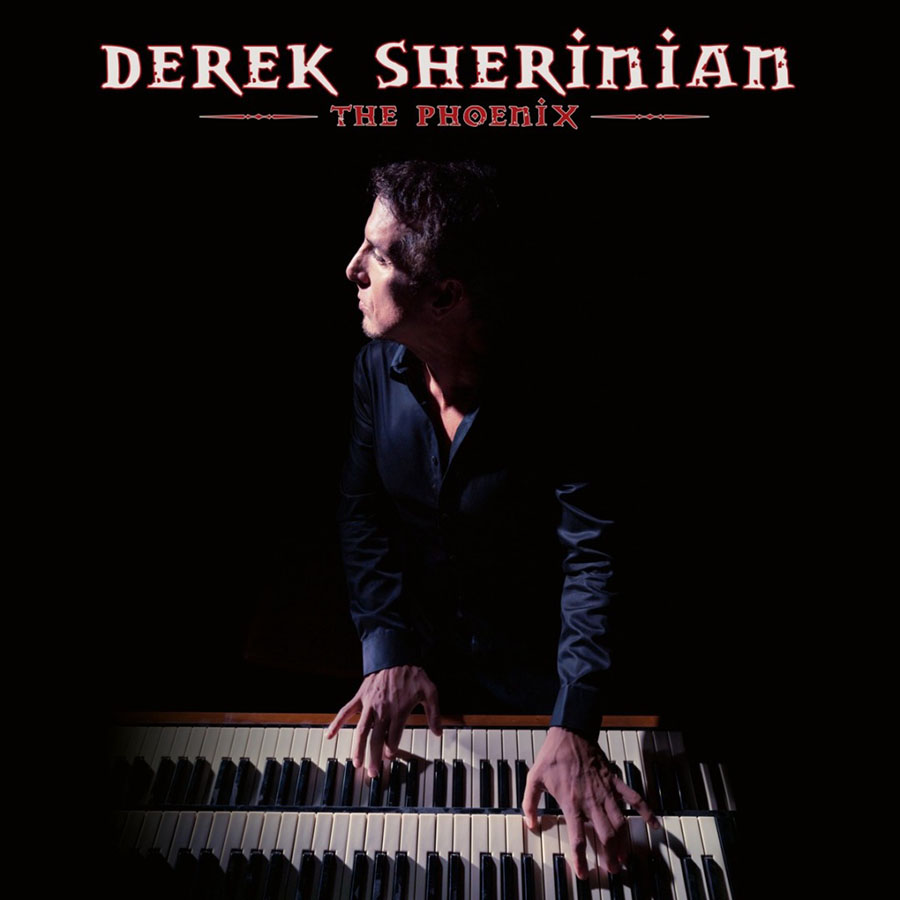 Much has happened in the nine years since ebony and ivory keymaster Derek Sherinian released his last solo album, "Oceana". For fans of hard prog fusion, and even for those who simply love great music with soaring soundscapes and energetic rhythm sections, Sherinian's otherworldly compositions on his eighth solo album, "The Phoenix", won't disappoint by any means. He's been a busy man in the interim, working with myriad astounding musicians and producing many great collaborative works of musical art with them. It's also great to see him back with another solo record highlighting his own personal instrumental style. To hear more about all things going on within the world of the Derek Sherinian Musical Family, head over to wherever podcasts are available and check out Derek's recent interview with The ProgSpace's very own Dario on episode 77 of The ProgCast.
When I say "Derek Sherianian Musical Family", I really mean it. When you listen to his music you really get the sense that these musicians are close and that they respect one another like family.That intimate level of connection and collaboration is apparent on his records, and especially shines through in his solo works, i.e., you can tell that these guys are having fun doing what they love, and you can hear it in the music. Derek claims that "The Phoenix" is his best solo record yet, and I'm inclined to agree with him.
Derek is once again collaborating closely with longtime drummer and producer friend Simon Phillips. Other contributors are mostly people he's worked with in the past, either on other solo albums or other recordings and live projects, such as guitarists Steve Vai, Ron "Bumblefoot" Thal, Joe Bonamassa, Zakk Wylde, as well as bassists Ernest Tibbs, Tony Franklin, Jimmy Johnson, and the force of nature we all know as Billy Sheehan. There's also a guest musician who gets welcomed into the family for the first time ever on this record – the Brazilian master of melodic shredding with a unique Latin American flare (and Derek's neighbor), Kiko Loureiro.
Derek's crunchy synth opener for the title track instantly grabs your attention and lets you know that you're in for a good time on this record. Billy's rolling bass lines and Simon's upbeat drumming energize the song and give you the feeling that this mythological creature has risen from its ashes and is ready to take action. Zakk's distinctive blaring guitar cuts into the otherwise wholesome groove and lays down a solo to remind you that this bird has gusto and is so full of life and emotions that it can't help but to shout at the world.
Derek Sherinian – Empyrean Sky (click here if the video does not play)
Up next we have what I view as the sci-fi duo of tracks on the album, 'Empyrean Sky' and 'Clouds of Ganymede'. The former features Bumblefoot on guitar and Jimmy Johnson on bass. Both songs convey a feeling of being amongst the gods in the celestial heavens, though whereas Bumblefoot, Johnson, and Sherinian take you on a groovy romp around the skies – showcasing all of the fun things one might "get up to" high in the heavens – with 'Ganymede', Vai and Sherinian escort you through a much more ethereal part of the heavens with their soft, complimenting melodies, rising in energy until they crescendo as they approach the abode of the gods on Mt. Olympus, as it's seen through the eyes of Ganymede, who was a Trojan youth deemed so beautiful that he was hauled away by Zeus to become the cupbearer for the Olympians high upon their mountaintop, nestled amongst the clouds.
With 'Dragonfly' we have Derek giving us a unique performance of purely acoustic piano melodies that flutter and dart across our minds as they fly in and out of our ears, continuing with the theme of flight, yet at a much more micro level. It's a beautiful piece that helps ground us amidst all of its otherworldly surroundings.
Derek Sherinian – Dragonfly (click here if the video does not play)
Next we remain grounded, yet delve further into the mysteries of the past. For me, 'Temple of Helios' honors the journey of the sun from east to west, yet as it's experienced from an acolyte of the sun god within his temple on earth. It's something otherworldly that transcends above us, yet we can appreciate it and bask in its beauty even as we stand in ignorance of the full truth and remain wrapped in the mystery as an acolyte of Helios. Somehow the soft progressive melodies manage to convey all of this to me, and it really demonstrates the ability of these instrumental musicians to tell a story simply with their playing.
The next track might at first seem out of place if you're not familiar with Derek's complete body of work. This bluesy Buddy Miles song, originally from 1970, was a song that Derek would regularly play live early in his career when he had a gig playing with Miles and his band. He also knew it would have been a waste to have Joe Bonamassa on the album without utilizing his strong, unique voice. So when Joe recommended playing this classic tune on the album, it just made sense.
My own personal take on this is that, on a whole, the album represents making changes, taking risks, going on journeys, reaching for the stars, and trusting in the unknown, so of course 'Them Changes' fits in perfectly and is by no means a throw away track!
Derek Sherinian – Them Changes (click here if the video does not play)
'Octopus Pedigree' is without doubt the most intense track on the album. Bumblefoot provides his heaviest, crunchiest riffs on this one. Simon Phillips keeps up every step of the way with his energetic groove as Sherinian adds calculated outbursts of attitude and otherworldly melodies. This track is definitely the song most reminiscent of Planet X on the album, yet while Virgil Donati and Derek Sherinian transport you to unimaginable heights and strange, alien worlds with Planet X, here Bumblefoot, Phillips, and Sherinian take you on a dive down into the equally strange and alien realms of the great ocean deep. Can you handle the pressure? Are you an 'Octopus Pedigree'? Maybe, although you might suffer from an overabundance of excitement and maybe, just maybe, experience a little depressurization sickness once you come up out of this blazing, cool track.
'Pesadelo', meaning 'Nightmare' in Portuguese, brings "The Phoenix" to a close. And what an ending it is. As all of the amazing guitarists featured on this album, Kiko Loureiro brings his signature style to this composition. His bright flamenco section brings one's heart aflutter, and his solos are full of passion, capturing the frenetic energy of a "Nightmare" you might dream up during the journey of your sleep. The powerful interplay of Sherinian's organ and synthesizer together with Kiko's dynamic guitar make this a great closer.
Is this Derek Sherinian's best solo album? It might be. He certainly seems to think so, and for good reason. If i had one complaint it would be that it clocks in at only 43 minutes. Not an unreasonable runtime for an LP, and yet I find myself wanting more. It's a great, well-balanced album, yet the prog fan in me can't help but wonder if it could benefit from a Sherinian epic, maybe 15–20 minutes long. It certainly leaves me wanting more, and that's never a bad thing.
Thank you Mr. Sherinian for continuing this ongoing project of the Derek Sherinian Musical Family by creating another dynamic, emotional, melodic record full of powerful riffs and solos, that at times shred through the sonic landscape and yet, somehow manage to float delicately across the top of the notes, bringing a balance to it all.
If you're already a fan of Derek Sherinian, you'll love the album. If you've never really been much of a fan of him or you're just not sure about him, give 'The Phoenix' a listen. It's got something for everyone, and i don't think it'll be a waste of your time. Even though I've never played with you, Derek, I feel like I'm a part of the family and I look forward to being able to encounter you out on the road once live shows and touring return. Until then, be excellent to each other and create beautiful things for the world, my fellow progheads!