Cult of Lilith – Mara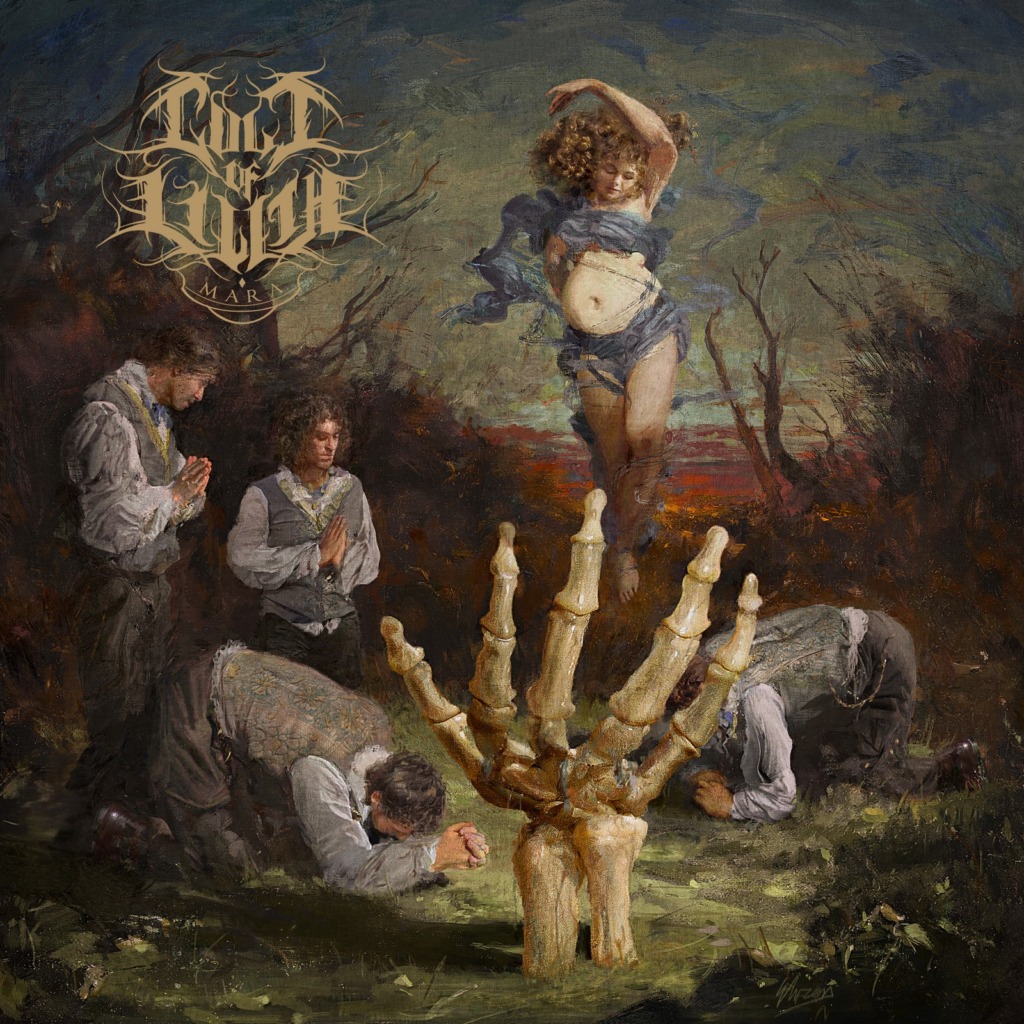 A short piece of baroque music played on a harpsichord introduces us to this album, then sixteen seconds into 'Cosmic Maelstrom' we get blast beats and tortured vocals, a couple of bits that remind me briefly of SikTh, and then, a delightfully cheeky little guitar solo that brought a smile to my face.
This is the first album from Icelandic extreme metal band Cult of Lilith. They describe their music as "Necromechanical baroque", if that sounds strange, it is, because that is them in a nutshell. It is chaotic progressive death metal, with everything thrown in, bar the kitchen sink.
I am not entirely sure what 'Purple Tide' is about, something to do with justice. The last line of the song is "Cathartic feelings that please me as I make a collar of your genitals".…
… Anyway, musically it is brilliant and varied, as you have now already come to expect.
Cult of Lilith – Purple Tide (Click here if the video does not play)

The band was founded in Reykjavik in 2015 with guitarist Daniel Þór Hannesson being the only member. In 2016 he hired a session drummer and singer to record an EP "Arkanum". The full band eventually came together in 2018 with the addition of Mario Infantes Ávalos on vocals. According to the band "Mara is much heavier, in your face and beefier than "Arkanum", thanks to the amazing Dave Otero, who mixed and mastered the album. The intention was always to write a diverse record with a lot of different influences melded together in an extreme metal package." states Daniel Þór Hannesson. "We wanted the album to be a journey that never becomes stagnant and that keeps the listener engaged the whole way through. It is important to us as a band to not lock ourselves in a box and always keep options in diversity."
What sounds like a gull squawking starts the next track 'Enter the Mancubus'. A hard-hitting, frantic and complex little number. If you are wondering what a Mancubus is, it is a monster from the computer game series Doom. Singer Mario said it was the first image that came to mind upon hearing the riffs to the track.
The two tracks in the middle of the album come as a sort of pair. Both refer to certain events in Mario's life in the previous two years, which left him a state of emotional anguish. In his own words 'Atlas' "is an ode to guilt, one of the most powerful and recurrent feelings, one that keeps our feet on the ground, makes us humble and shows us the darkest sides of our being" It is a mournful song that sounds angry in parts. 'Comatose' "speaks of the consequence of processing intense feelings, suffering and false scenarios. Overthinking can be the biggest of afflictions, leading you to self-torture and the deepest misery." and just sounds angry. A strange little electronic voice pops in the middle, just one of the many quirks on this album.
Halfway through 'Profeta Paloma', the brutal onslaught suddenly gives way to a section of Flamenco. The guest musicians for this part were Reynir Hauksson on guitar and Fernando Pérez Cañada on vocals. Guitarist Kristján Jóhann Júlíusson played all other instruments for the section apart from fretless bass which was played by Samúel Örn Böðvarsson.
'Zangano' speeds along in a staccato fashion, on through a guitar solo and some vocals that are maybe through a megaphone (who knows, anything seems to go with this band).
The band name is intriguing and Daniel Þór Hannesson explains where it came from. "The mythology of Lilith is so deep and fascinating with so many different facets to it and interpretations from different sources, that I found it to be the perfect subject of a cult, and therefore the name of our band," he goes on "She is interpreted in many different ways and she appears in a lot of different religions and mythologies, dating back to ancient Mesopotamia, Sumer and the Babylonian Talmud. She is even referenced as being Adam's first wife and the mother of Cain. Unwilling to be submissive to Adam, she abandons the upper heavens and descends willingly to Earth.
In Hebrew tradition, she is seen as a daemoness that attacked babies, causing their untimely crib deaths, and in other texts, she appears as a night demon that influences men in their dreams or as a disease-bearing wind spirit, while one of my favourite mythologies of Lilith is that she comes in the wet dreams of men and begets bastard, Nephilim children from them".
Regarding the album title he says this, "Mara stems from the Icelandic word Martröð or Nightmare. According to old folklore, Mara is a malicious entity that sits on people's chests while they sleep, bringing on nightmares. The myth of Mara shares some similarities with that of Lilith, and with the lyrical content seeming like an assortment of different dreams and nightmares, it made for a fitting title for the record." (All quotes from the band are taken from the supplied bio written by Dan Slessor).
The final track 'Le Soupir du Fantome' (French for 'the ghost's sigh'), starts softly with some quite eerie singing that suddenly becomes more anguished, signalling a change in pace, and the track and album finish in a flurry of time changes, lead breaks, clean and unclean vocals, and blast beats. Marvellous!
The total running time is only 36 minutes, and that just leaves you hungry for more.
This album deserves full marks because of the excellent production, superb musicianship, and great innovation. It is unbelievably good for a debut album.
Track List:
Cosmic Maelstrom
Purple Tide
Enter the Mancubus
Atlas
Comatose
Profeta Paloma
Zangano
Le Soupir du Fantome