Entheos – Time Will Take Us All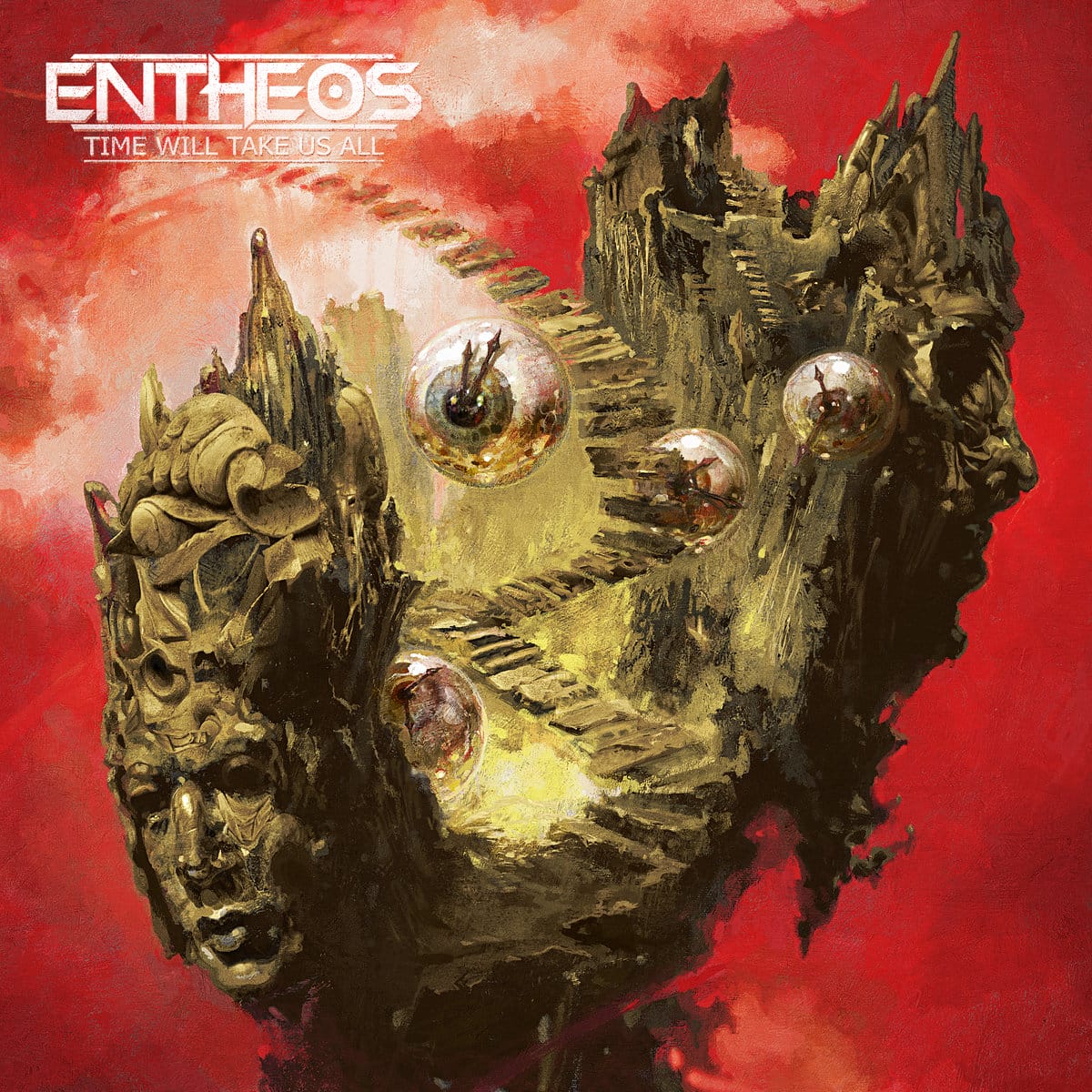 Formed in 2015 from the real-life couple of Chaney Crabb (vocals) and Navene Koperweis (drums, ex-Animosity, ex-Animals as Leaders, Navene K), alongside bass virtuoso Evan Brewer (ex-Reflux, ex-The Faceless, solo) and original guitarist Frank Costa (also ex-Animosity), Entheos quickly rose to widespread attention within the modern progressive death metal community, based on the merits of their previous bands and a convincing debut EP. Characterized by technical and progressive instrumental playing, with Brewer's characteristic slap presence cutting through the mix, a strong dose of electronic atmosphere, and Crabb's intense guttorals, Entheos honed their craft to maturity with the release of subsequent full albums "The Infinite Nothing" in 2016 and "Dark Future" from 2017. The guitarist spot saw several changes; with the departure of Travis Levrier (Ex- Scale the Summit) to Intervals, and Evan Brewer stepping back to focus on his private life, Crabb and Koperweis continued on their own from 2020 onwards, with the latter taking over all writing and instrumental parts.
Fans of prog death's power couple were able to follow along closely via their weekly Kopercrabb podcast, as they worked through a long stretch to realize "Time Will Take Us All" over the course of over 3 years. Moving from Koperweis's native Santa Cruz, California, to Nashville, Tennessee brought them back to close proximity with Brewer, as well as to producer Mark Lewis, whose extensive discography reads like a who-is-who of the modern metal world. With Brewer returning on bass for studio only, and the band signing to Metal Blade Records, Entheos took the final steps to get the album released at last.
Clocking in at 40 minutes over 9 songs, "Time Will Take Us All" crams in an impressively wide array of stylistic flavors in a concise package that never gets long-winded. The work is intended to be listened to back-to-back, with songs flowing directly from one to another.
Lyrically, it is telling a story of self-discovery and development, cryptically expressed to allow for the listeners' personal interpretations. Crabb is bringing in a number of new vocal techniques, complemented by clean singing to span a wide variety of styles. In a departure from their previous releases, synthesizers no longer play a major role in their soundscape, replaced by extensive guitar layering. Koperweis's guitar playing is impressive considering his drumming renown, with tight riffing and eerie melodic playing reminiscent of his former roommate Michael Keene (The Faceless). After being absent in Entheos's 2020 single 'Remember You Are Dust', Brewer's characteristic bass playing is back, with a focus on funk-flavored slap during the riffing sections, even going into some melodic fretless work.
These ingredients are fused to form a cinematic flow through death metal's heaviness ('Darkest Day'), prog metal intricacies ('Oblivion'), flavors of more classical rock groove ('I Am the Void'), down to remarkably mellow vibes in the closing title track, 'Time Will Take Us All'. Detail-savvy listeners will enjoy finding interlinked details on multiple playthroughs, such as re-occurring arpeggios and related guitar riffs.
The opener 'Absolute Zero' pulls no punches from the get-go, hitting with heavy riff barrages and gut-wrenching lyrics such as "Mother, will I breathe again? Mother, is this life all I have?"
Entheos – Absolute Zero (click here if the video does not play)
Seamlessly flowing into 'In Purgatory', first glimpses of a lighter touch come through, with more melodic sections and clean singing passages.
'The Interior Wilderness' takes us down to lower tempo heaviness, with a much appreciated relief into some ambient parts and an acoustic guitar arpeggio. The latter builds into a more progressive section in 'Oblivion', featuring fretless lead bass, before returning to the heavy motives from the previous songs. Overall, after multiple listens to these first songs, their origin from a single song composed in 2020 becomes evident, spanning a structured and interlinked voyage down the intensity scale.
Entheos – In Purgatory (click here if the video does not play)
The album's proverbial "B-side" proceeds with the newer compositions, starting with 'I Am the Void'. Verse vocals in a creepy dichotomy of soft-touch singing and witch-like shriek, lead into a straight-feel rock chorus – a first indicator that the band will depart into more experimental waters on the rest of the album.
Entheos – I Am the Void (click here if the video does not play)
'Darkest Days' serves up chugging death metal interdigitated with ghostly ambient sections. The journey opens up into a symphonic style akin to modern black metal with 'Clarity in Waves', before a short break prepares the listener for the opus's grand finale: 'The Sinking Sun' starts out in quintessential tech death fashion, solos over a pocket-driven groove section, announces its conclusion in Meshuggah-esque manner, leading to surprisingly mellow vibes in the transition to the album's closer 'Time Will Take Us All'. In it, the sublime harmonic section derails into a terminal dissonance.
In conclusion, fans of the modern fusion of death metal and prog will be thrilled to go through the journey presented by Entheos. In its concise manner and seamless flow between songs, it begs to be absorbed in sequence and uninterrupted. For the curious and patient listener, the latest installment #132 of their Kopercrabb podcast features in-depth insights to the creation process by the band themselves.
Kopercrabb podcast #132 (click here if the video does not play)
Track list:
Absolute Zero
In Purgatory
The Interior Wilderness
Oblivion
I am the Void
Darkest Day
Clarify in Waves
The Sinking Sun
Time Will Take Us All