Exist – So True, So Bound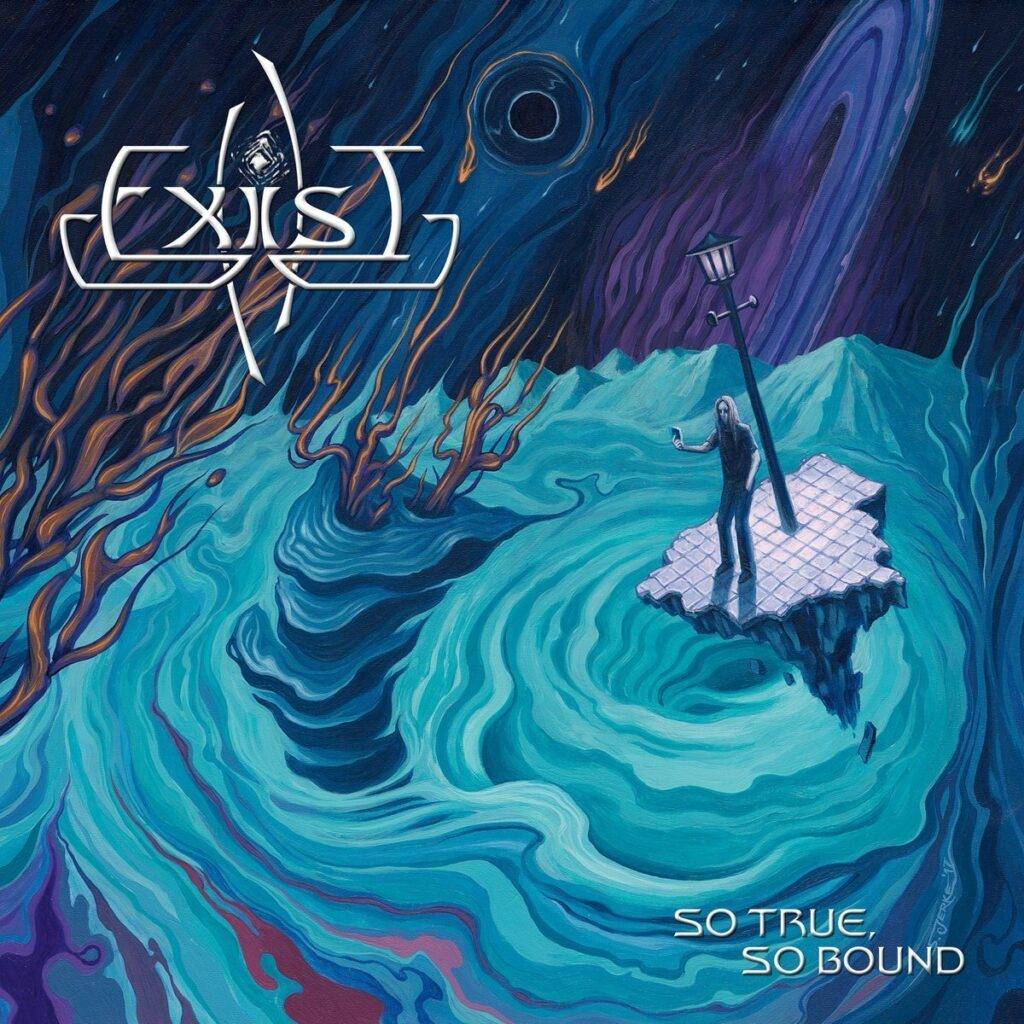 This album should be very significant and special for fans of a couple of bands that don't exist anymore (no pun intended). Basically, if you feel that there's a Death/Cynic-shaped hole in your soul, Exist's "So True, So Bound" is there to help you. This shouldn't come as a surprise, as the band is the brainchild of Max Phelps (Death DTA, Defeated Sanity, ex-Cynic) and carries the progressive/technical death metal torch that was left behind by Chuck Schuldiner in the early '00s and Paul Masvidal after Cynic was disbanded two years ago. The band is rounded up by Alex Weber (Defeated Sanity live) on bass, Matt Rossa on guitar and one of the most sought-after session and live drummers for a couple of years, the great Hannes Grossmann (Alkaloid, ex-Necrophagist, ex-Obscura).
"So True, So Bound" is their second album, following 2013's acclaimed "Sunlight", and it packs 8 great songs. From the first notes in 'Take My Picture' the atmosphere and dissonance prevalent in the album is coupled with Hannes's delightfully groovy drums, Alex's out-of-the-box fretless bass work and Max's nasty growls and soothing clean vocals. This song toes the line between a more progressive Death and a heavier Cynic. Comparing the style and songwriting to Gorguts isn't out of the question either. Exist takes all the good bits from the diverse technical death metal flavours and blends them into something that sounds familiar and innovative at the same time.
Next up is 'Happily Ever After (for a week or so)', slowing things down a lot and with excellent vocal lines. The dynamic changes a lot from verse to chorus and back, with Hannes and Max leading the way, and to top it all off there is a considerable amount of very angular melodies and a catchy main motif. The songs that give the album its name come next. 'So True: Imitation's Flattery' is the one that really veers into more progressive tropes, with an ostinato riff on guitar pounding for what feels like an eternity, but in a good way, and lead guitar work reminiscent of early Yes. 'So Bound: One of the Herd'  goes in the opposite direction, right into Death and Meshuggah territory, with Alex and Hannes grooving all the way through. Max's growls are on point in this one, as are his harmonized cleans. This song has a break that takes us into prog rock for a little while, sounding quite a lot like a classic Beardfish chorus, before heading to a straight-up fusion metal atmospheric instrumental break.
'To Sever The Strings' is a special song in many ways, being the longest one in the album and having another Death alumni as guest guitarist, Bobby Koelbe (ex-Death, Death DTA, Nader Sadek). The dissonance is strong with this one, right from the beginning, and it figures the harshest growls in the album. I'd say this is the weird song, with the most drastic dynamic changes, and the oddest riffs and instrumental sections. The album closes with 'Fault's Peak', a drummer's song with lots of grooves, fills, starts and stops, and a bunch of tempo changes to give Hannes a chance to shine, as if he hadn't up until now. It's a heavily atmospheric song and a very proggy one as well. A great closer to a great album.
Exist manages to combine impressive technique with progressive, eccentric arrangements and challenges the listener to really pay attention to everything that is going on in "So True, So Bound". I look forward to whatever they do next.
1. Take My Picture
2. Happily Ever After ( For a Week or so …)
3. So True: Imitation's Flattery
4. So Bound: One of the Herd
5. Peer Prejudice
6. To Sever The Strings
7. Shade From My Fire
8. Fault's Peak