Hyper Planet: "They invaded our home to arrest us"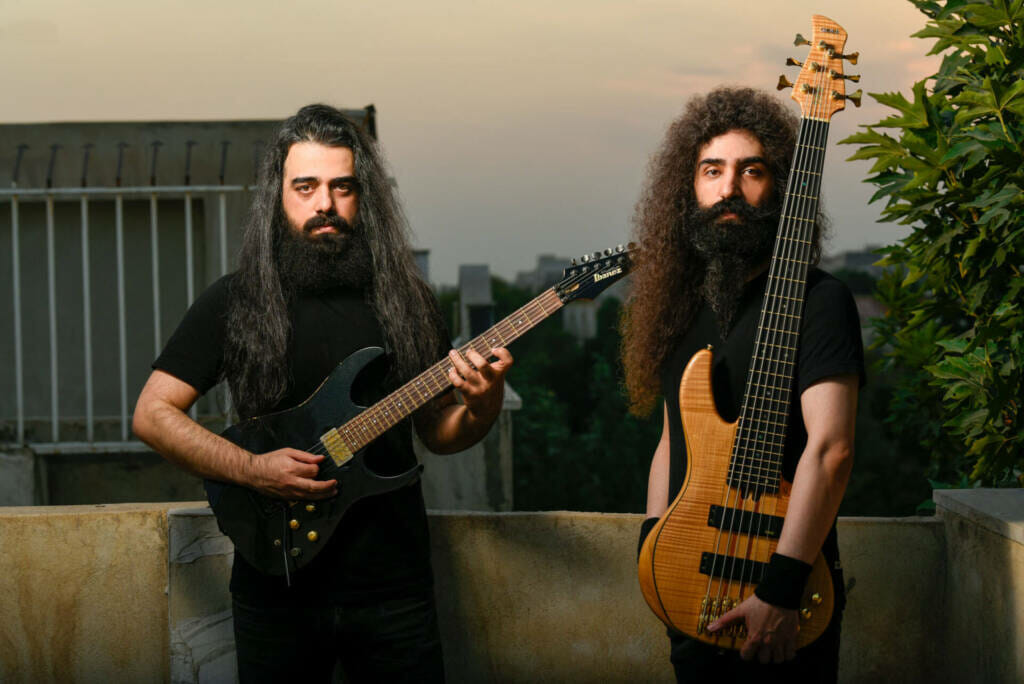 Making music is not an easy business, and it has been even more difficult during the last 1,5 years. But at least, you're usually not faced with any danger for your life because of it. That is – unless you are living in Iran and dare to play metal. Meet Amin and Armin Saffar, two brothers living in Iran's capital Tehran, and passionate proggers. Inspired both by their own country's traditional music and the biggest prog-rock and -metal bands out there, they create their very own blend as Hyper Planet. Much to the dislike of Iran's Islamist regime which according to Amin and Armin sends their security forces to threaten them on the phone, stop their concerts and even arrest them. Still, they somehow manage to put their music out there, got a lot of recognition at various song competitions (they talk about this in a video on their youtube channel) and even caught the attention of guitar legend Ron "Bumblefoot" Thal.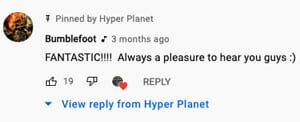 Talking with The Progspace, the Saffar brothers share their story.
But first, take a listen to their superb latest single 'Beyond The Laniakea' which features some serious riffing and a surprise Santur part played by their dad:
Hyper Planet – Beyond The Laniakea (Click here if the video does not play)
Iran is not precisely known for its political and religious open-mindedness towards western culture – so how did you get to love and play Metal, and what are your influences?
Hyper Planet: We grew up in a musical family. My father has been playing Persian Santur for more than 45 years, my mother is a singer and my sister is a pianist. Fortunately, we grew up in an environment where everything was kindly provided by our parents. We always had the sound of different kinds of music and musical instruments in our home which made us get a really good grasp and knowledge of different western and eastern musical genres and their instruments.
Intrinsically, we soon became interested in learning and playing music, so step by step with our father's help and support, he started teaching us how to play Iranian traditional music. We started learning Persian music at the age of 6 when Armin learned to play Tombak (a Persian percussion instrument) and 7 when Amin started playing the Santur (a hammered dulcimer). Our musical journey in Iranian traditional music continued up to when we were 16 and 17 years old, by that time we had gained a lot of valuable experience of Persian music by playing concerts in different schools in Tehran, private celebrations and so on.
…and that's when Metal came in?
Hyper Planet: Yes – since we had a great passion for Metal music, we started and continued our musical journey through the Metal universe at that age and gravitated towards playing western musical instruments: Amin on electric guitar and Armin on bass guitar. We believe that love and dedication are the two most important aspects of our musical journey which have made us continue. We have a passion for it, every single day and we never let a day go by without music. Although we are in such a tough situation mentally and emotionally, facing massive repression, censorship, threats and attack by the Islamic security forces, we will continue to play and write music as long as our body's muscles help us and we will never give up for what we have passion for, which is music and to never be silent.
Can you tell us more about the situation in your country?
Hyper Planet: We'd like to add and shed light on the fact that we do not live in a free country at all, the type of regime that dominates and rules in Iran is a dictatorial Islamic regime based on Islamic laws, ideology and totalitarianism. It is like a Frankenstein monster and that's the reason and the deep root of the pain and sorrow the regime built up and brought to the Iranian people since they came to power 42 years ago. With this, not only have they placed Iranian people under a lot of pressure nationally and internationally, but they have indeed carried the country into misery and poverty. Metal music is no exception. Playing and working music in such an atmosphere against performing or doing any artistic activities in Iran means risking everything, but in this situation, our parents have always been such big heroes and have had a lot of influence on us and they've helped and supported us in our journey.
Speaking of our influences: legendary guitarist Ron "Bumblefoot" Thal is one of our biggest influences. He's our all-time hero; we get divinely inspired by him and we have a special love and respect for him. We always become inspired by the Persian traditional music and other phenomenal music, but also magnificent bands such as Dream Theater, Rush, Symphony X, Opeth, Metallica and last but not least classical western music.
What are the greatest challenges that rock or metal musicians are facing in Iran?
Hyper Planet: We would like to point out that merely living as a human being in an ideological and totalitarian regime, which has trampled on human dignity and values with its sheer cruelty and inhumane laws, is such a tough and enormous challenge on its own. So, following metal music is a problematic and challenging matter for us because this regime made this sort of music illegal. It is believed by them that Metal musicians promote and spread Satanism, corruption and deviance and western culture in society. But they can not put up with them at all and they respond to it with revenge, severe repression, threats and attacks. We as Metal musicians in Iran have no freedom of expression, no safety or security particularly when it comes to bringing up the topics about politics and religion and criticizing the leader of this tyrannical regime and his corrupted authoritarians – and that's precisely what we are doing in our lyrics which are about human rights, human being, freedom of expression and opinion, discriminatory laws against women and also denounce political and social injustice which has made us face a lot of attacks, threatening situations and persecution by the Islamic security forces all through our musical journey.
We can't get any benefits from our music at all. Unfortunately, we are obliged to release it freely through the internet.
Not only do we not have any freedom of performing, releasing and selling our Metal music in Iran, which is another huge problem for us, but because of the massive economic corruption in the regime, we are not able to open any international bank accounts to connect ourselves to the world, as Iran's banking and financial systems are excluded from the global banking system; therefore, we can not have any credit cards or open a PayPal account – which resulted in us not being able to put our music on international main music platforms such as Spotify, Apple Music, Deezer and so on. Due to this situation, we can't get any benefits from our music at all. Unfortunately, we are obliged to release it freely through the internet.
You said you have suffered attacks from security forces yourself, what happened?
Hyper Planet: Yes, we have had our own experiences. During all our musical career we have been constantly persecuted, repressed, censored, threatened and attacked by the Islamic security forces, and one recent episode happened to us back in 2019 during one of our underground private concerts in a hall in Tehran with an audience of over 200 people – which got interrupted by an attack and invasion of the Islamic security forces into the hall, forcing us to flee.
The Islamic regime is also strongly opposed to the Persian media outside of Iran and sees them as an opposition, particularly the well-known TV channels such as Iran International news channel and Manoto TV which are both based in London and have millions of followers on social media. Also, our music has been broadcasted by those channels and they reported about our music and our recent situation and we've been featured on other foreign media from the US, UK, Canada etc., via airing and sharing our music on their radio shows, reports, Metal music websites and interviews. This led to attacks and threats by the Islamic security forces against us. They warned us to stop all our musical activities – not only on the phone as before but in September this year, they invaded our home to arrest the two of us. Fortunately, we weren't at home but they put our family in a dangerous situation.
How do you connect with your followers?
Hyper Planet: The totalitarian regime which is ruling in Iran has already blocked access to overseas-based websites and social media services including YouTube, Twitter, Facebook and we have to use VPNs to access the websites and those social networks. But, for the time being, we are currently in touch with our fans on our social media channels such as Instagram, Facebook and YouTube.
We should point out that we do not have access to a free internet in Iran and we're facing many problems in this regard. For example, they constantly disrupt the free flow of information on the internet and their purpose is to limit the access of Iranian users to the global web and their ultimate goal is to completely cut it off and create a national internet in Iran. Recently, the president appointed by the dictator ruled that the national internet of Iran has to be completed and launched, so the ministry of communication announced that it will be done in 3 years. Therefore, there is no guarantee at all that we will even have much access to the global internet in the near future.
Still, you continue making music. What are your future plans?
Hyper Planet: Despite all the obstacles and hardships, threats, severe repression and censorship against us and our music, we will never give in but continue to work hard out of our intense passion for music. We have many goals and plans for the future: On one side, we have four albums that are ready to be released: "Hyper Planet", "Blasting The Wine", "Hyper Planet EP1", "Hyper Planet EP2". And on the other side, we each have our own guitar and bass songbooks which we intend to issue with our albums.
Teaching guitar and bass (offline and online) is what we are planning to do in the future and also collaborating, working with other progressive rock/metal musicians and traditional musicians in our music and albums. But finally, we hope to be able to release our music and go on with our musical activities in a peaceful, free and safe environment, without the fear of being arrested and imprisoned, away from any persecution, repressions, censorship threats and attacks.
Do you see a chance of playing your music outside Iran sometime soon?
Hyper Planet: It's a natural desire of every musician to take their music on stage and share it with their fans, and we, as a band, are no exception.  We believe that the synergy that happens when you're out there is the best and the most beautiful moment in the world, which is unexplainable, you can send the energy of the music to the fans and receive it back from them. But for the time being, within the framework of this corrupted, totalitarian and dictatorial regime in Iran, this is our only hope which has turned into a wish for us. Right now it is impossible for us to have a concert outside of Iran. But in the future, when Iran has a democratic government based on the Universal Declaration of Human Rights, like all the other free countries throughout the world, we can do concerts outside of Iran. We are very much looking forward to having such an opportunity to perform our music outside of Iran, and we strive for it every single day.
Amin and Armin also recorded a video where they talk about their latest single and the situation they are facing in their home country: