Novena Album (Re-)Launch Show – Sat, 30 Oct 2021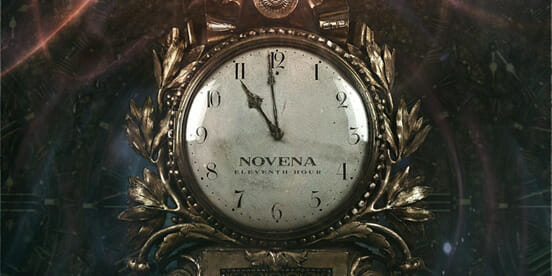 After a change of dates and then venues, Novena's launch party for their album "Eleventh Hour" finally happened. Originally set to go ahead in April 2020, this event was double postponed. This was after a proposed streamed version was thwarted by the first lockdown. The new and better suited venue was the Boston Music Rooms in Tufnell Park, London. By now, as you can imagine, it had become a much-anticipated show.
There was also a slight change to the support bands, but the first two acts were the same as originally planned. Brighton band Azure hit the stage at 19:00, exactly the same time as the doors were due to open. They actually opened around 19:04, then there was the necessary rigmarole of being searched and showing a valid vaccination passport.
Obviously, this all took some considerable time, so no-one actually saw the opening band's set in its entirety. Some people at the back of the queue probably missed their first number 'The Curse', even though it is 9 minutes long. Their second and also last number 'Redtail' is the band's epic 2018 track. Azure decided to release it as a separate entity, rather than part of an album. In true prog rock style, it tells a story in which Redtail is the central character.
I'm sure most people saw some of their performance. If they did, they would have witnessed the flamboyant guitar playing of Galen Stapley and distinctive vocals of Chris Sampson. Prog rock of course needs synths, and new member Shaz Dudhia provided them, while Chris also handled the second guitar alongside the lead vocals. Their set, albeit short for some, was well performed and well received by band and audience respectively. Everyone, it seems, was hungry for this long overdue return to live music.
Azure – Redtail Full Playthrough 2020 (click here if the video does not play)
Setlist: The Curse, Redtail.
Line-up: Chris Sampson (vocals, synthesizer, guitar), Galen Stapley (guitar), Sol Sinclair (Drums), Shaz Dudhia (Keys) & Alex Miles (Bass).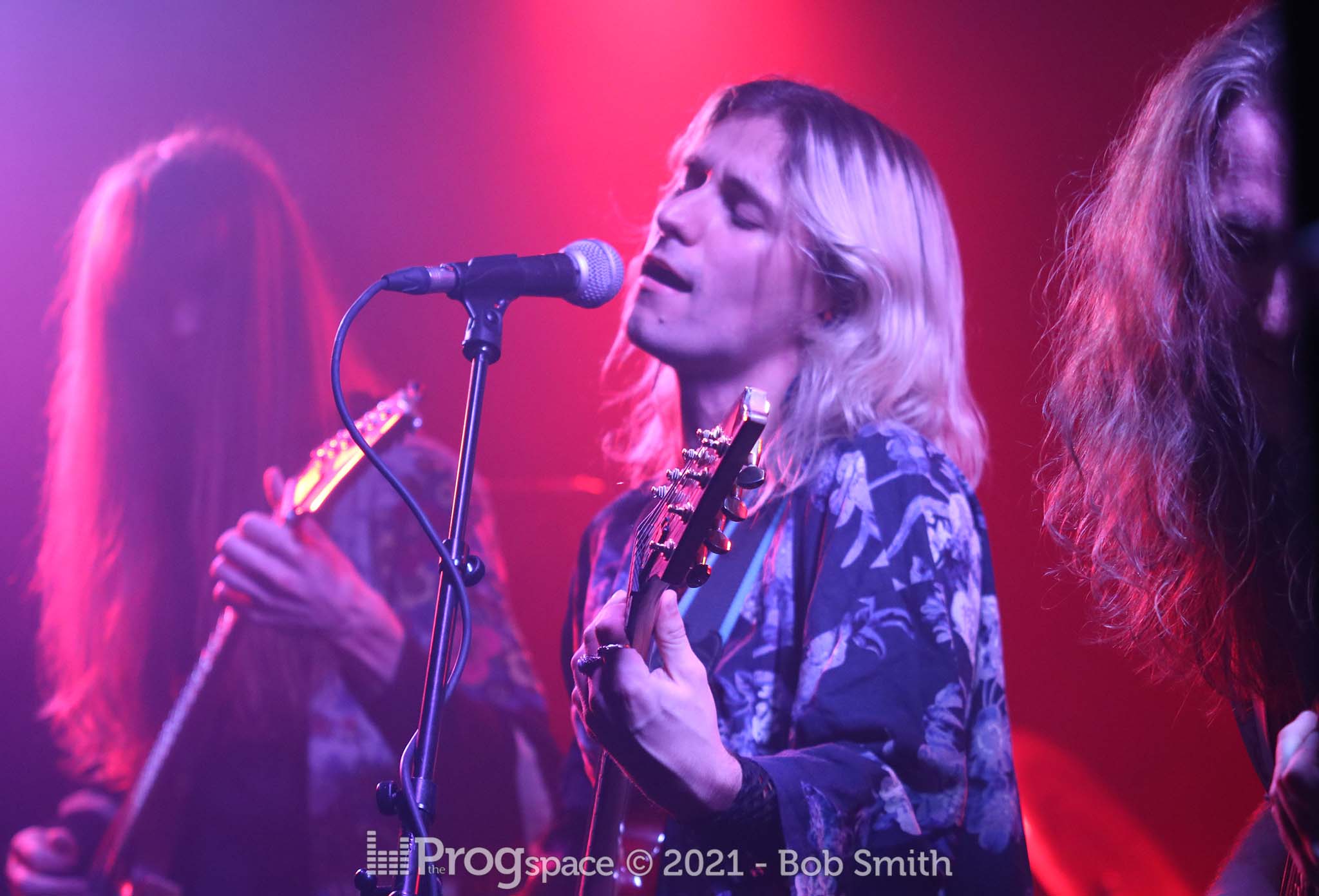 Next up, a change of style with progressive metal band IHLO. They came on late after a lengthy sound check, so stage times were already getting behind schedule. The wait was worth it though. Frontman Andy Robison gave an enthusiastic performance. As did the band, presenting a set consisting of numbers from their debut album "Union" and live EP "In Stasis". They eased us in with the short and gentle title track from the EP, before the heavier but varied 'Starseeker'. There are shades of Dream Theater and possibly Queen in their compositions, but it's not too obvious. There is certainly a great deal of variety in the material, and that was very apparent during the rest of their set.
 This was a most enjoyable performance by the guys, and by now the audience were fully warmed up. It was clear that they were embracing this progressive extravaganza as if it had never been away. That's also how it felt to me, and it dawned on me how much I had missed it.
IHLO – In Stasis (Live EP Full Video Performance) (click here if the video does not play)
Setlist: In Stasis, Starseeker, Reanimate, Replica, Union.
Line-up: Andy Robison (Vocals/Keyboards), Phil Monro (Guitars), Rob Mair (Guitars), Clark McMenemy (Drums), Michael Roberts (Bass).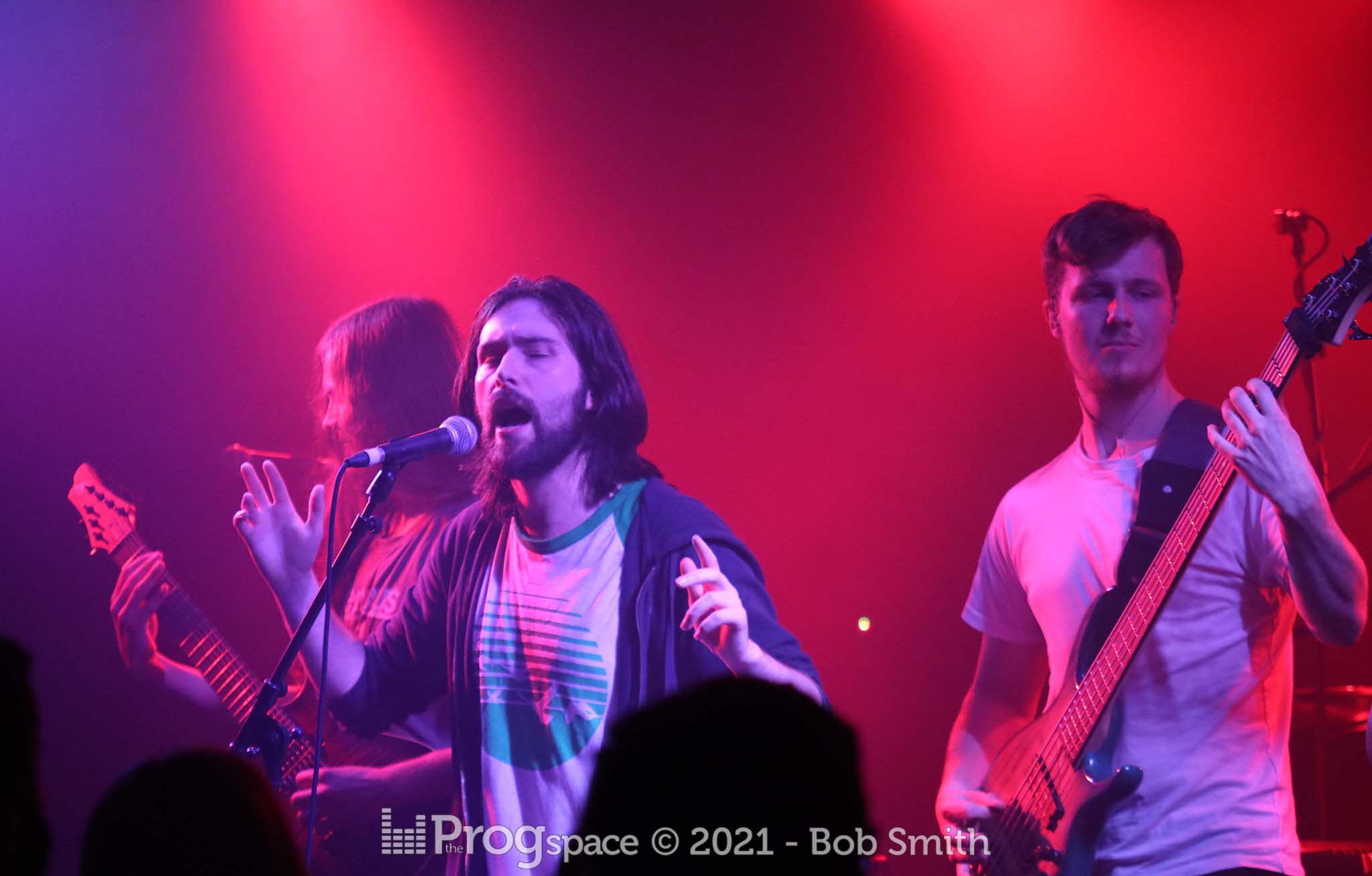 For those of us who prefer a heavier style, Countless Skies were just the ticket. Describing themselves as a progressive brand of melodeth, they delivered a suitably powerful set. It featured intricate guitar work from James Pratt and Ross King. Harsh vocals were also provided by Ross and clean, Devin Townsend style vocals by Phil Romeo throughout. They exploded into the evening with 'Daybreak' from their 2016 release 'New Dawn'. The rest of the set was taken from the more recent 2020 album 'Glow'.
The tracks switch seamlessly from melodic sections to faster, heavier blasts, and the band put heart and soul into the performance. By now there had been something to please any progressive rock/metal fan. It was noticeable that there were more people in the area in front of the stage now. Fans getting into the mood of the evening and preparing for the main act.
Countless Skies – Glow (Official Album Stream) (click here if the video does not play)

Setlist: Daybreak, Summit, Glow – Part 1: Resolution, Glow – Part 2: Awakening, Tempest.
Line-up: Ross King (Vocals And Guitars), James Pratt (Guitars), Phil Romeo (Vocals And Bass), Nathan Robshaw (Drums).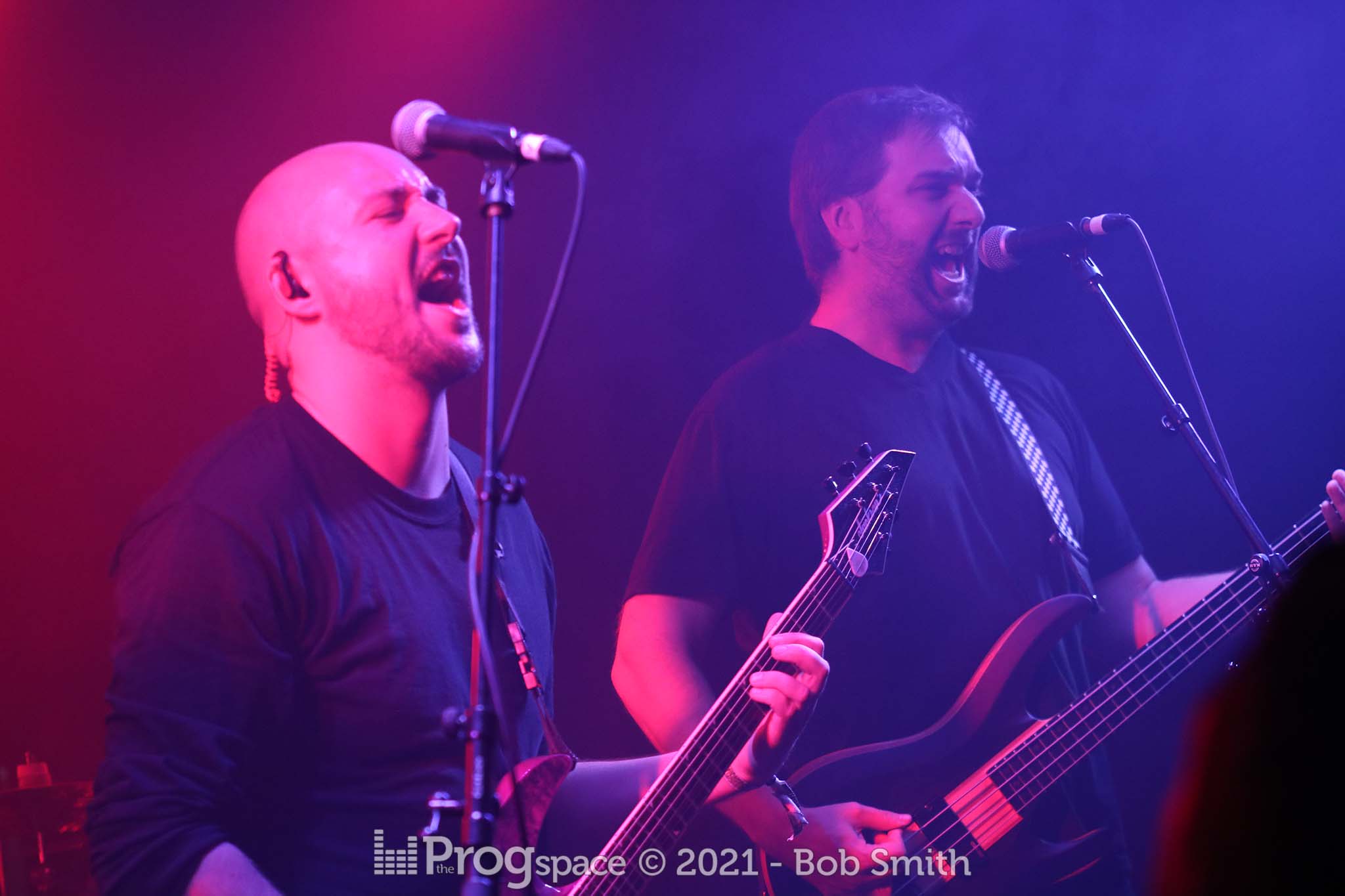 Three bands down, one to go. The audience had devoured everything the starters had presented to them and were now ready for the main course. The opening bands each have their own style, and Novena encompass all of those styles and more. Influences are drawn from their component parts, mainly Haken and Slice the Cake. As this was an album launch party, the band has promised us 'Eleventh Hour' in its entity, plus other tracks. This is precisely what we got. So, with the stage times running even later by now, they opened somewhat ironically, with 'The Stopped Clock'. This is from the EP of the same name released a month prior.
Then it was on to the album with '22:59' followed by the earworm that is 'Sun Dance'. This is one of my favourite tracks of theirs, it's catchy and stuffed with harmonies and great riffs.
https://www.youtube.com/watch?v=6Mits1e3s6I
Novena – Sun Dance (Live from Prog From Home) (click here if the video does not play)
The remaining two tracks from the EP came next. First 'In loving Memory', a mellow song with piano in the background, and then an excellent cover of 'Bury a Friend' by Billie Eilish.
Novena – "Bury A Friend" (Billie Eilish cover) (click here if the video does not play)
Returning to the album, the set continued with the Hakenish 'Corazon' and some familiar counterpoint singing. Also, it features some unusual counterpoint clapping (or as they call it, manual polyrhythmic clave protocol) and a calypso section. It's quite hard to pigeonhole this band down to any particular genre. Here they are performing the track on the 2020 Holiday Edition of The Progspace Online Festival.
https://www.youtube.com/watch?v=Y43vXtErGDI
Novena – Corazon ('Live' from ProgSpace Online Festival) (click here if the video does not play)
The run into the finish featured 'Indestructible' and 'The Tyrant'. The former with a piano intro from Harrison White and the latter with gutturals from Gareth Mason. It was no secret that this was Gareth's last show with Novena. Fittingly the last number was 'Prison Walls'. After a pause part way through for speeches and goodbyes, Gareth was left front and centre doing what they do best, delivering a Slice the Cake style monologue. Those passionate and anguished vocals were poignant and emotional. It was a happy/sad moment, but with the song being over 15 minutes long the band still had some time on stage before it was over.
Setlist: The Stopped Clock, 22:59, Sun Dance, Disconnected, Sail Away, Lucidity, In Loving Memory, Bury a Friend, Corazon, Indestructible, The Tyrant, Prison Walls.
Line-up: Ross Jennings (vocals), Gareth Mason (vocals), Harrison White (guitar & keyboards), Dan Thornton (guitar), Moat Lowe (bass), Cameron Spence (drums).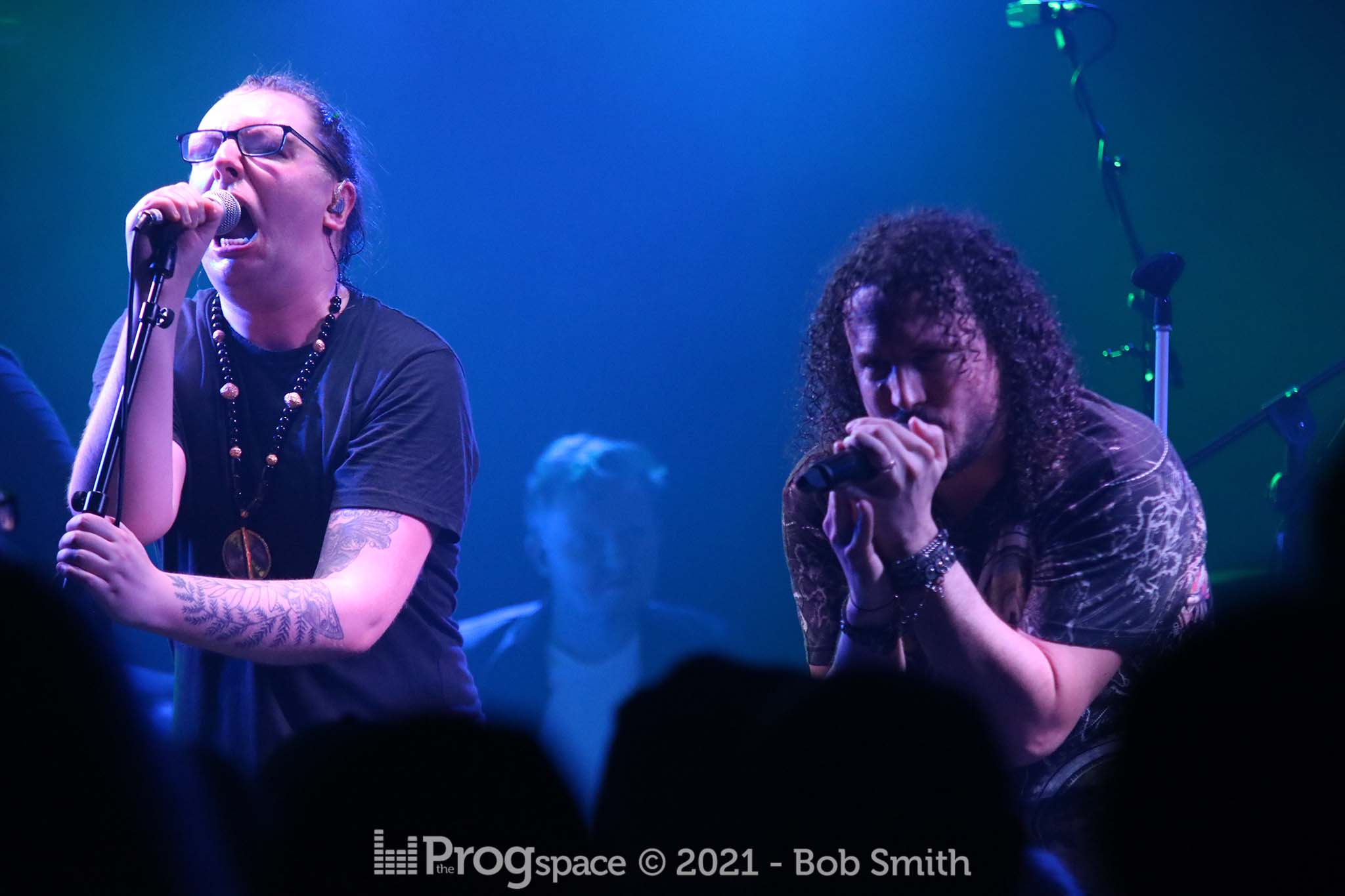 Well, a great night was had by all, and presumably it carried on for some time for the hardier ones. It will continue to be a cautious approach to these events, and it's hard to see an end to it all. However, the tide is beginning to turn, and it may be a case of a hybrid experience for a while. This is possibly going to involve a mixture of live gigs and online streamed ones.
You can find our photo galleries for all four bands here: https://theprogspace.com/novena-release-galleries