Polyphia 13.02.2019, O2 Academy Birmingham, UK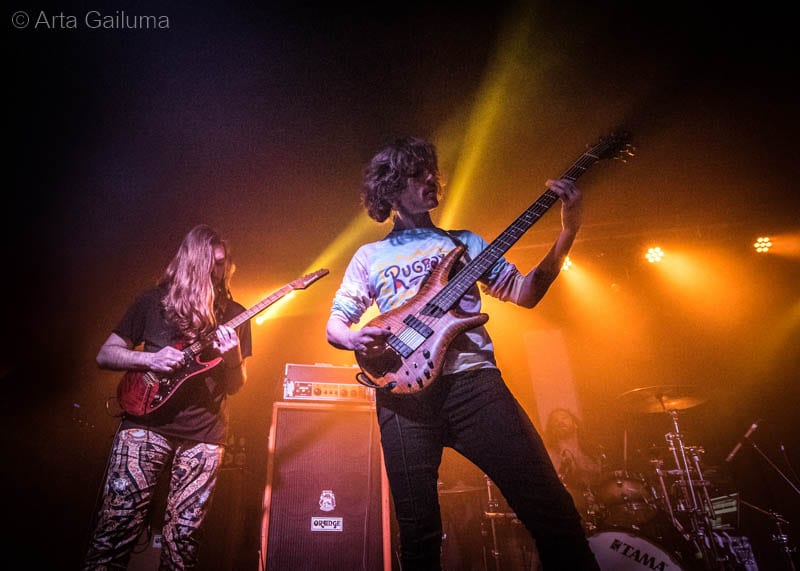 First on stage tonight was math rock band from California- CoVet. Their front woman and lead guitarist Yvette Young has made quite a name for herself with online videos showing her superb musicianship. And now she with her fellow musicians were dazzling the audience with their playful, jazzy yet sophisticated sound.
Having toured with prog metal giants like Coheed and Cambria, Periphery and Between the Buried and Me, Polyphia has gained quite a following across the globe. Tonight's fully sold out show at O2 Academy in Birmingham (UK) was definitely a proof of that.
Polyphia – O.D.  Click here if you can't see the video 
The one let down in the show were the long gaps between opening the door and first act and same between the two bands. Polyphia however managed to make it more exciting and popped out for a quick teaser before their actual stage time.
Having no vocals, just relying on instruments to tell listeners the story is quite a skill on its own. Blending technical, weaving instrumentations with hip-hop, jazz and R&B influenced grooves, it is amazing how expressive and diverse Polyphia's music can be; their sound can be funky and catchy, fun, humorous, playful, mature and serious all at the same time. And in all that they manage to mix in some heavy notes too. 
These guys did not just play, they also expected the crowd to participate . There was such an easy going atmosphere in the room, it felt like they were playing for a group of old school friends. The band's bassist Clay Gober was chatting to the crowd between the songs and pulling jokes. Before 'LIT' he threw himself into the outstretched arms of the fans for a quick crowd surf and on return, worn out from the little journey, said to the crowd: "I'm tired, I need you guys to talk for a second". Then noticing a sign next to the stage, he cheekily added: " It says there, you will get kicked out of the venue for crowd surfing. Would you get kicked out for us?" Even though the show was already full of energy, the real madness started now. A mini moshpit formed in the middle of the smallest room of O2 Academy, hair was flying and fans were clapping in rhythm. The set's heavier pieces were, obviously, left to the end on purpose. 
The night finished with an encore of 'Euphoria' where crowd surfers were invited to join the band, and soon enough there was a wild bunch of fans on the small stage. Polyphia is a group of incredibly talented musicians; by blending different genres these guys have created a sound that is truly and unmistakably theirs. And they're a treat to see live! 
Click here to see the show's full photo gallery 
Setlist:
G.O.A.T.

O.D.

Champagne

Icronic

Goose

40oz

Saucy

Yas

LIT

The Worst

Crush

Finale
Encore:
Euphoria