Progcast: Episode 100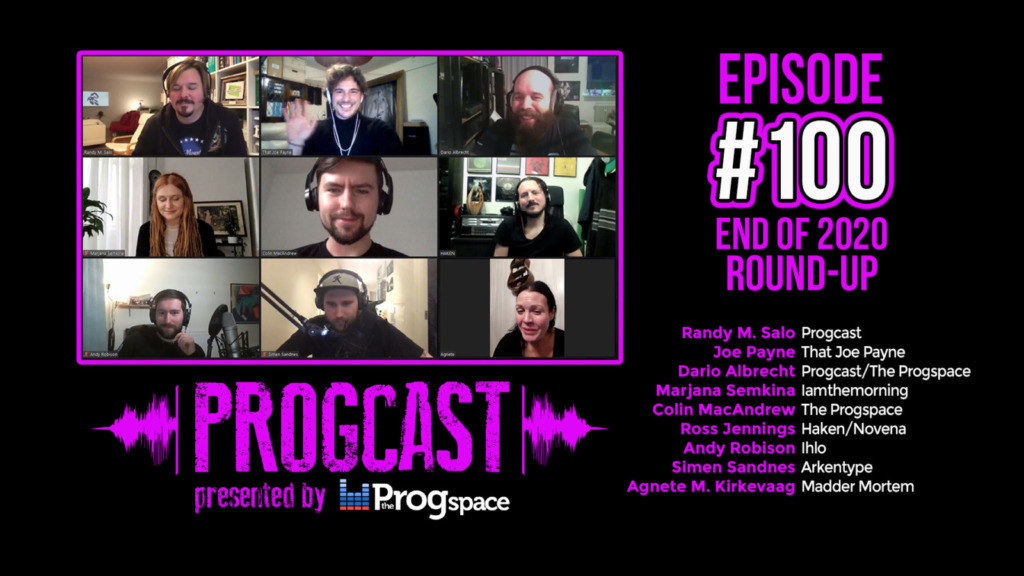 To celebrate the occasion of our Episode #100 and the last one for 2020, we decided to do something special and invited a bunch of prog friends to a round Zoom table: Ross Jennings (Haken/Novena), Marjana Semkina (iamthemorning), Agnete M. Kirkevaag (Madder Mortem/Fleetburner/Autumn Tears), Andy Robison (Ihlo), Simen Sandnes (Arkentype), Joe Payne (That Joe Payne), Colin MacAndrew (Ashbreather/The Progspace) & Progcast Co-Producer Randy M. Salo. We talked about this year's releases and livestreams and our hopes for 2021. Merry Christmas and Happy Holidays, dear Progcast listeners, thank you so much for your trust and loyalty. See you in 2021!
The Progcast is available on iTunes, Spotify, Stitcher and YouTube. Subscribe on your favourite Podcast platform.
Listen to the episode on Spotify here!
Listen to the accompanying Spotify Playlist here!
00:00:35 Introduction
00:05:35 Livestreams: the future of concerts or just a temporary substitute?
00:42:46 Favorite Releases of 2020
Agnete: Matterhorn - Outside
Ross: Jacob Collier - Djesse Vol. 3
Colin: Aeternam - Al Qassam
Joe: Ms Amy Birks - All That I Am & All That I Was Simen: Haken - Virus / Thrailkill - Detach
Marjana: Jonathan Hultén - Chants from Another Place Andy: Kyros - Celexa Dreams
Randy: Protest the Hero - Palimpsest
Dario: Woodkid - S16
01:10:29 Expectations for 2021
The Progcast - Episode 100