Prognosis Festival 2022 – Day 1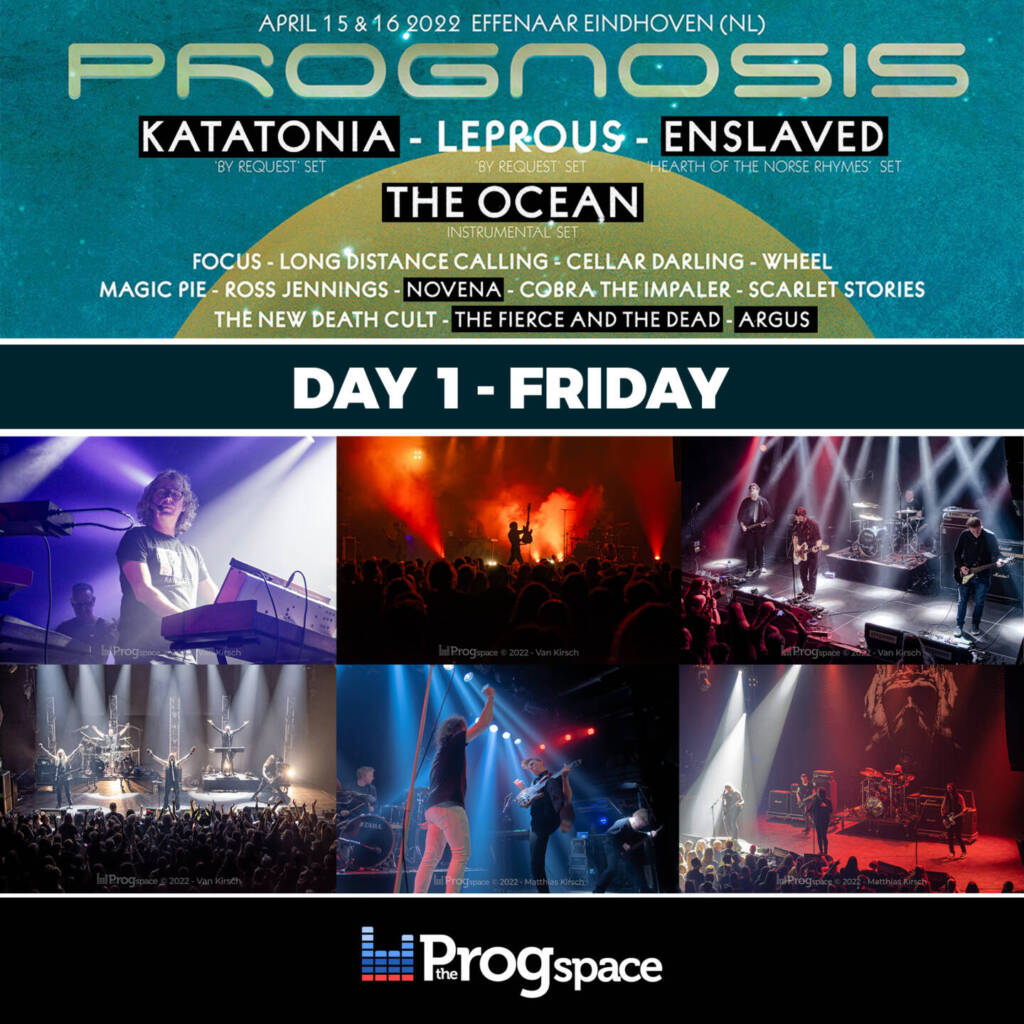 It's never easy to put into words what you're feeling while listening to music. To music that speaks to you. To talk about all the emotions rushing through your mind, body, spirit & heart while experiencing this music being played live. Now take away this experience for some time… a long time… and you'll end up with a certain venue in the Dutch city of Eindhoven filled to the brim with prog enthusiasts craving for live music like crazy.
Prognosis Festival was just newly established by the experienced folks from Loud Noise (Dynamo Metalfest, Into the Grave…) in 2019 when the pandemic hit and forced them to postpone their second edition two times. Retaining the original line-up for that proved to be an impossible task, unsurprisingly, but even the last-minute cancellations were dealt with professionally, either presenting a good replacement or a clever change to the running order (more on that later).
Of course, when you've spent more than 2 years looking forward to seeing Maraton, Rendezvous Point or Haken there, the frustration and disappointment is understandable, yet with the surrounding circumstances and the current state of the world I'd say we're lucky to be able to gather and enjoy a festival like that together with friends and like minded people at all.
Friday
17:30 – 18:30 – ARGUS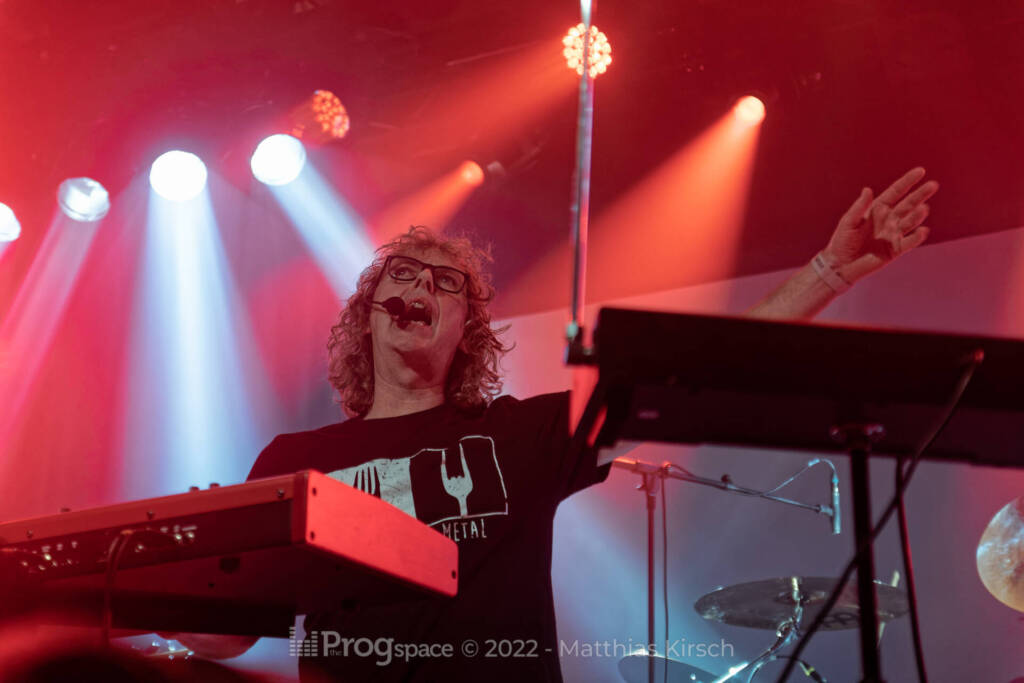 Upon arrival at the Effenaar in Eindhoven, Dutch prog rockers Argus were already rocking on the small stage, despite having little to no space left due to the huge keyboard mountains in the middle. Why you have to bring the good analogue stuff but then continue to pick some Casio sounds remains a mystery to me. Sadly neither the compositions nor the sound were able to convince me, but there was still a whole weekend of amazing bands ahead of us.
See Argus' full photo gallery here.
18:15 – 19:30 – THE OCEAN
Kicking off proceedings on the main stage for Prognosis 2022 was Berlin-based post metal collective The Ocean, who had to leave their vocalist Loïc Rossetti at home, recovering from a stage accident where he broke both his legs on their recent US tour with Leprous.
My second time seeing them instrumental then, after their special "Pelagial" set at ProgPower Europe around 9 years ago. And just as expected, they delivered big time again. Just when that dancey bass groove of opener 'Triassic' hit a couple of minutes into their set, the whole of Prognosis started to vibe in unison with that absolute force of nature that is The Ocean on stage.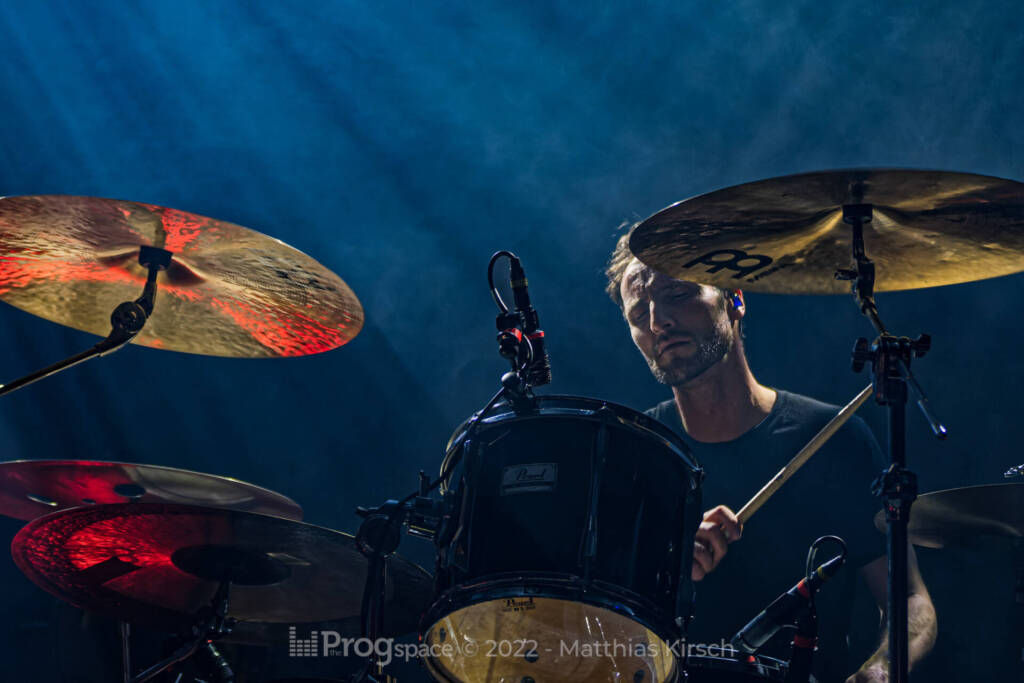 Looking at this year's Friday line-up, it was almost like a triple headliner attack on the main stage. Without being 'distracted' by Loïc's wonderful melodies, fierce screams and fearless stage antics, The Ocean's knack for vibey grooves and immersive atmospheres is given the proper spotlight and they would've easily carried the momentum over the whole 75 minutes like that, washing over the audience wave after wave.  But they still had an unexpected ace up their sleeves: for the moody 'Holocene', keyboardist Peter Voigtman switched behind the drum kit and Paul Seidel proved himself a more than capable vocalist. Closing this massive set in style with the 15 minute "Phanerozoic II" monster 'Jurassic │ Cretaceous', The Ocean opened the main stage of Prognosis 2022 with a headliner worthy show.
See The Ocean's full photo gallery here.
19:15 – 20:15 – THE FIERCE & THE DEAD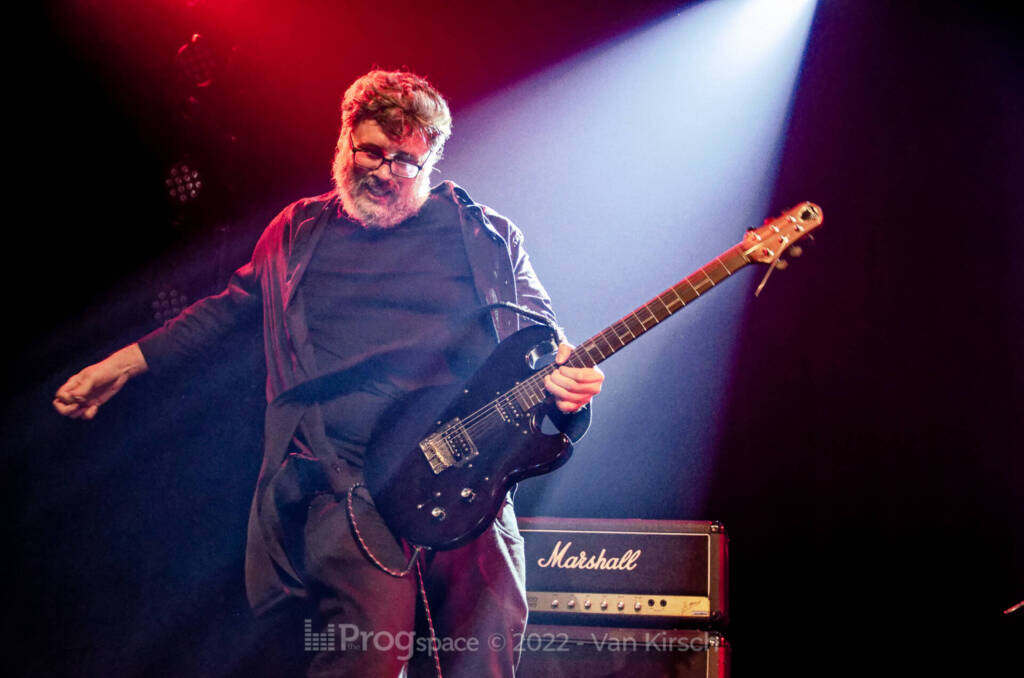 Only familiar with the name due to some mentions in PROG magazine over the years, The Fierce & the Dead from the UK, who were up next on the small stage, couldn't really grab me with their particular brand of heavy stoner rock. More time to socialize then and catch up with friends after a long time.
See The Fierce & The Dead full photo gallery here.
20:15 – 21:30 – ENSLAVED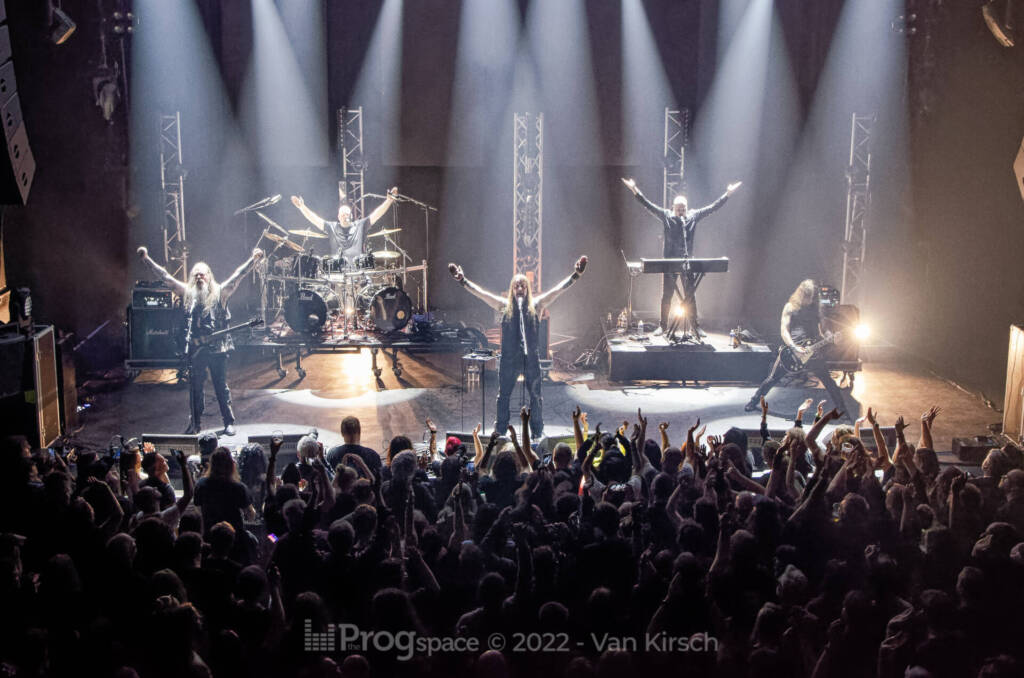 Genre-defying viking legends of Enslaved had promised a special "Hearth from the North Rhymes"  set, but what that really meant was a mystery to most who don't know the extensive discography of these mighty Norwegians by heart. Apart from two outliers, opening track 'Sacred Horse' from 2017s "E" and the psychedelic banger 'Urjotun' from their latest studio offering "Utgard", the focus of the setlist was lying on the middle period of Enslaved's long career between 2003 and 2008. Despite delivering that majestic show only they can, I was not entirely into it that day. But that was not Enslaved's fault at all. Rather a building excitement towards probably my personal most anticipated show of the weekend: Novena.
See Enslaved full photo gallery here.
21:15 – 22:15 – NOVENA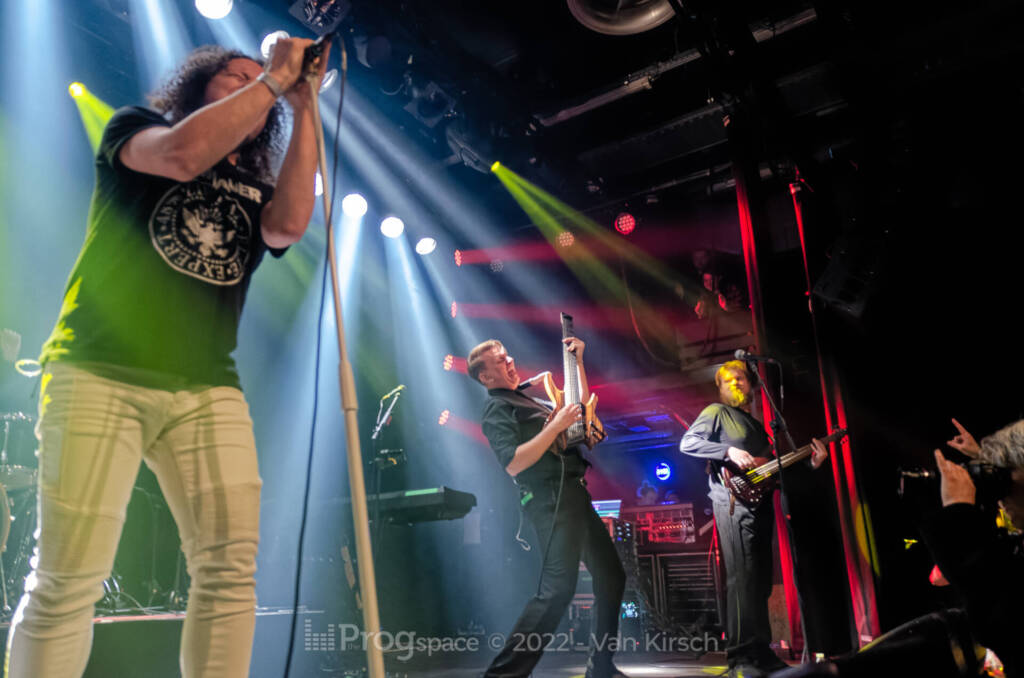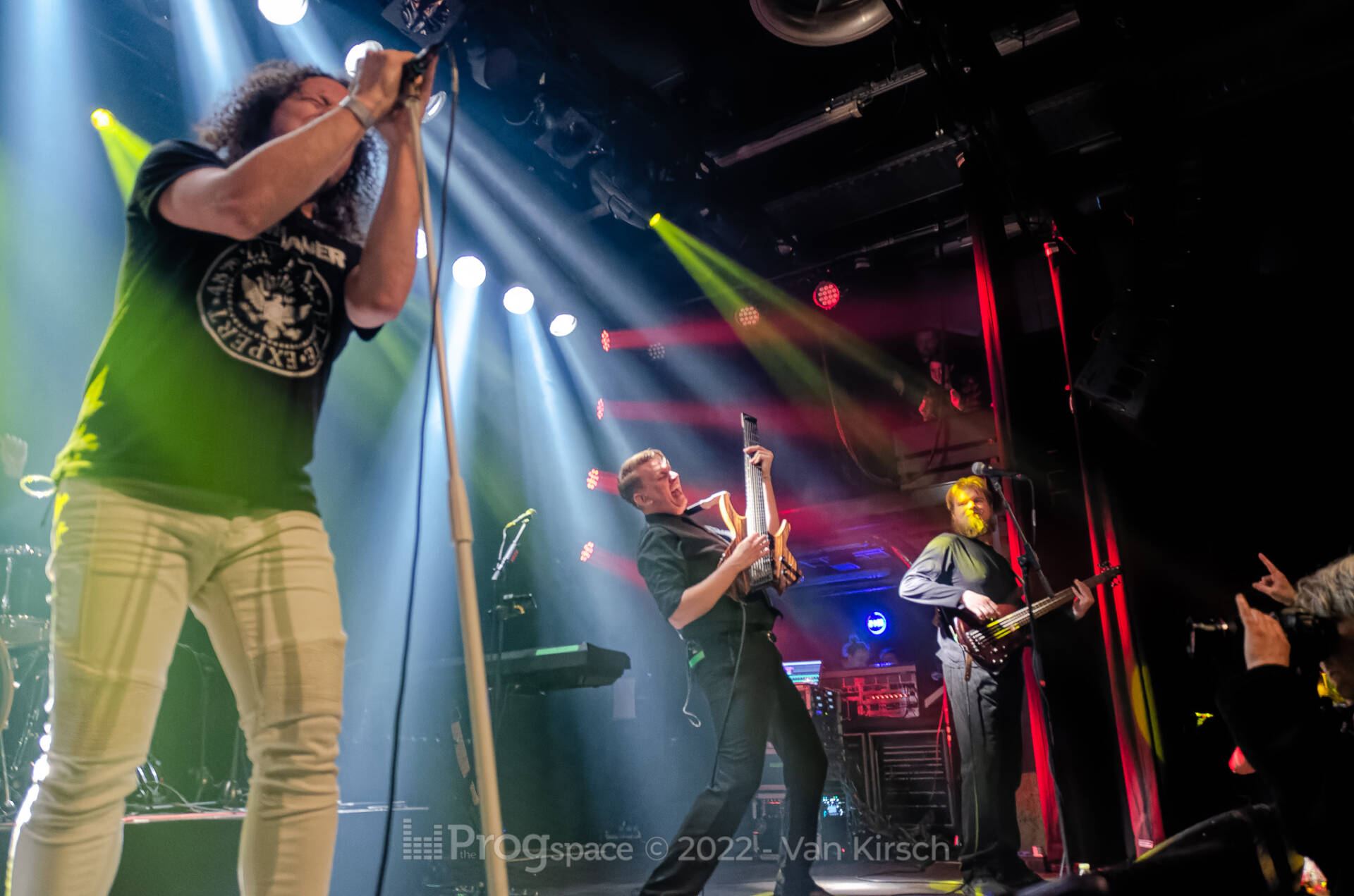 And as much as I would have loved for the lovely frenchies of Klone immerse me in that sweet melancholia again, their very last minute cancellation the day before due to a positive Corona-test within the band allowed Prognosis to adjust the time-table so that there would be only one overlap at all (between Argus and The Ocean) for the whole day, it made Novena 'Friday headliners' of the small stage – and gave Katatonia even more playing time. But now for the main attraction that triggered my last-minute booking to Eindhoven: Novena. Far from 'only' being 'that other band of Haken vocalist Ross Jennings', their 2020 debut album "Eleventh Hour" and subsequent EP "The Stopped Clock" made a lasting impression during a time where Ross' main band went suspiciously silent. Having had everything booked for their initial album release show in March 2020 in London, flights, Airbnb and all, only to see the world shut down before we were able to see that through was one of my personal biggest disappointments of that catastrophic year.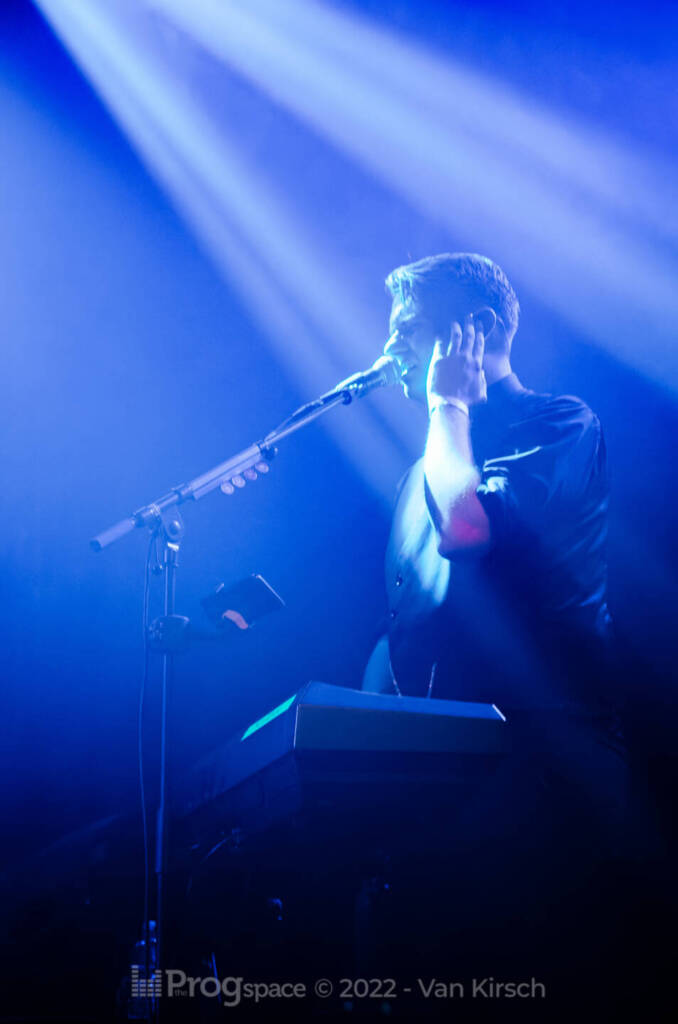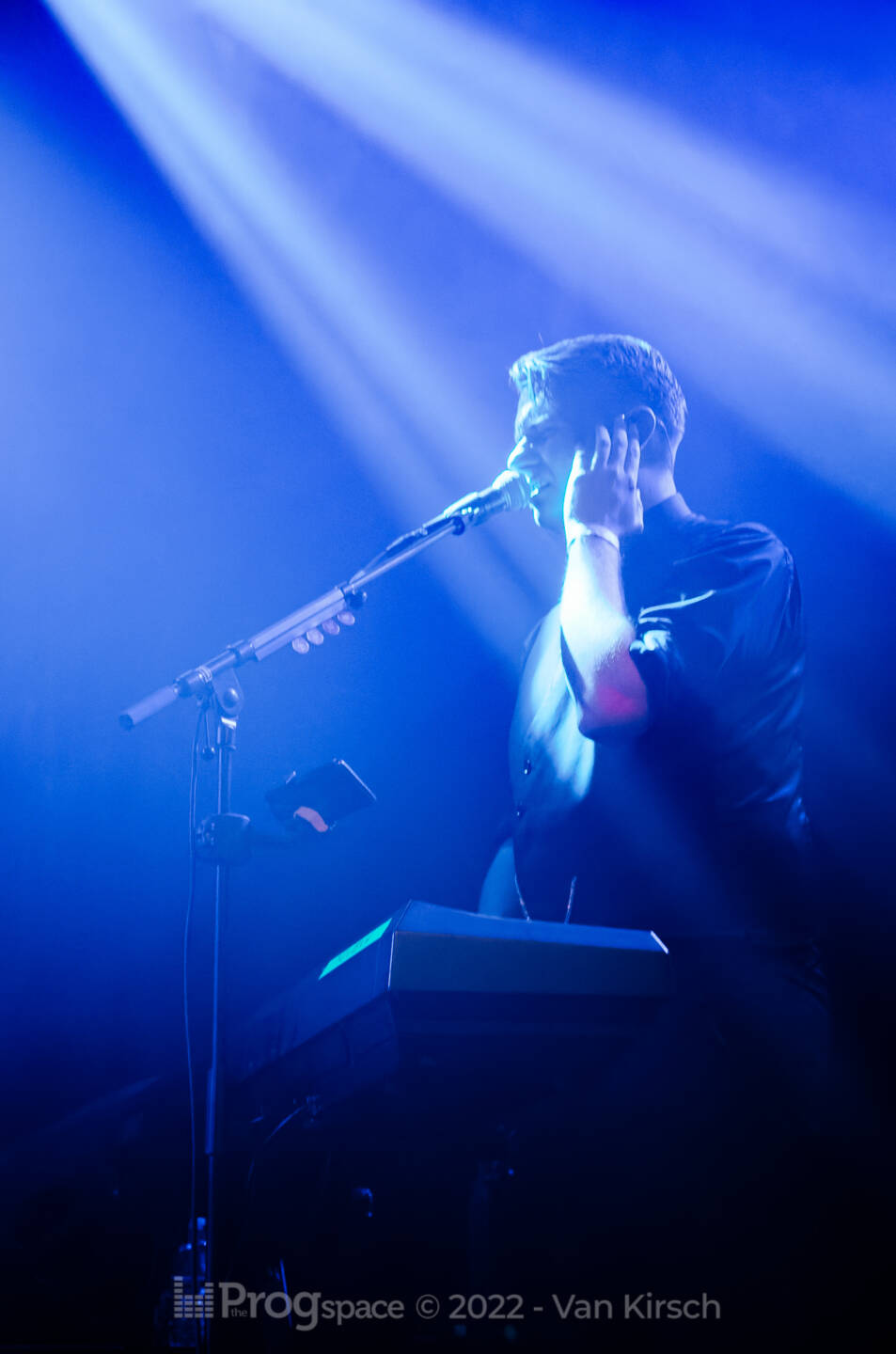 Fast forward a bit more than 2 years – and I was finally able to witness the magic of one of the hottest new bands in the prog circus live! Opening their set – and mainland Europe debut gig with the 12 minute EP-title track monster 'The Stopped Clock' was a bold move – but an entirely logical thing to do at the same time. Arguably their best piece of music written to date, it runs the full gamut of what they're capable of. Surely, Gaia Mason's unique vocal approach alongside Ross was sorely missed, as that unlikely duo used to be a big part of the magic within Novena, but since her departure, Ross had stepped up to deliver vocal duties until a new second vocalist is found (in the meantime, a new second vocalist has been found with Pipi Gogerl). And Ross indeed has done a lot of stepping up ever since I first heard his voice live in 2010 (at Haken's mainland Europe debut in Baarlo at ProgPower Europe). The dedication to his craft over the years has been nothing but breathtaking to witness, as he went from the weakest point in Haken's live machinery to one of the most consistent frontmen in modern prog, be it with his main band, the short but legendary Shattered Fortress tour with Mike Portnoy – or now with Novena. But I digress, more on Ross tomorrow (as in – part 2 of the festival review), the question still looms whether Novena as a whole were able to fulfill my exorbitant expectations.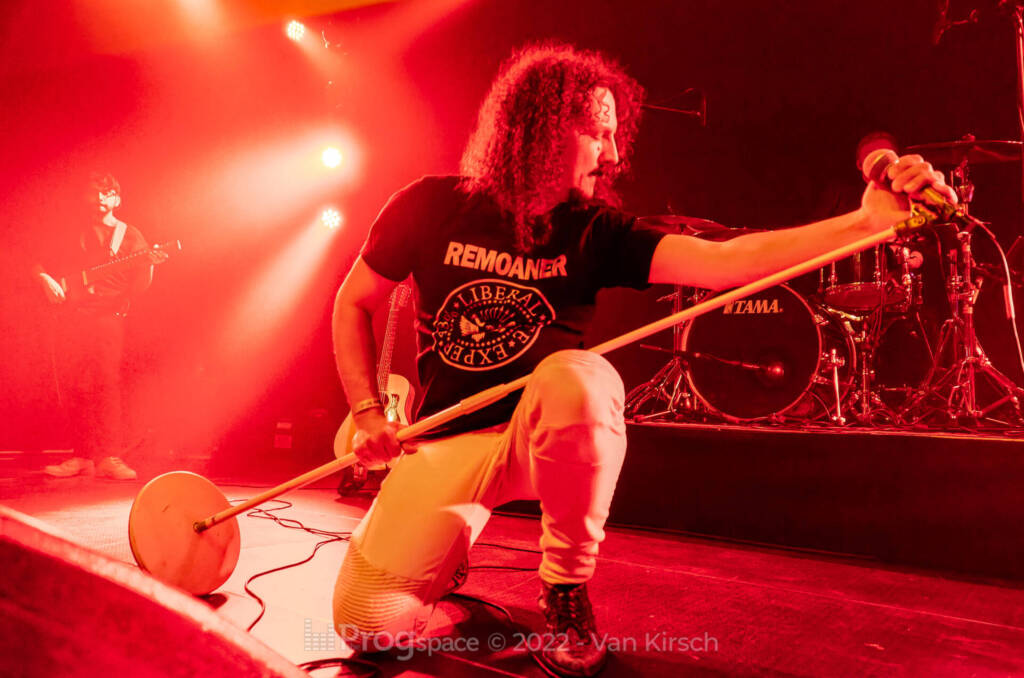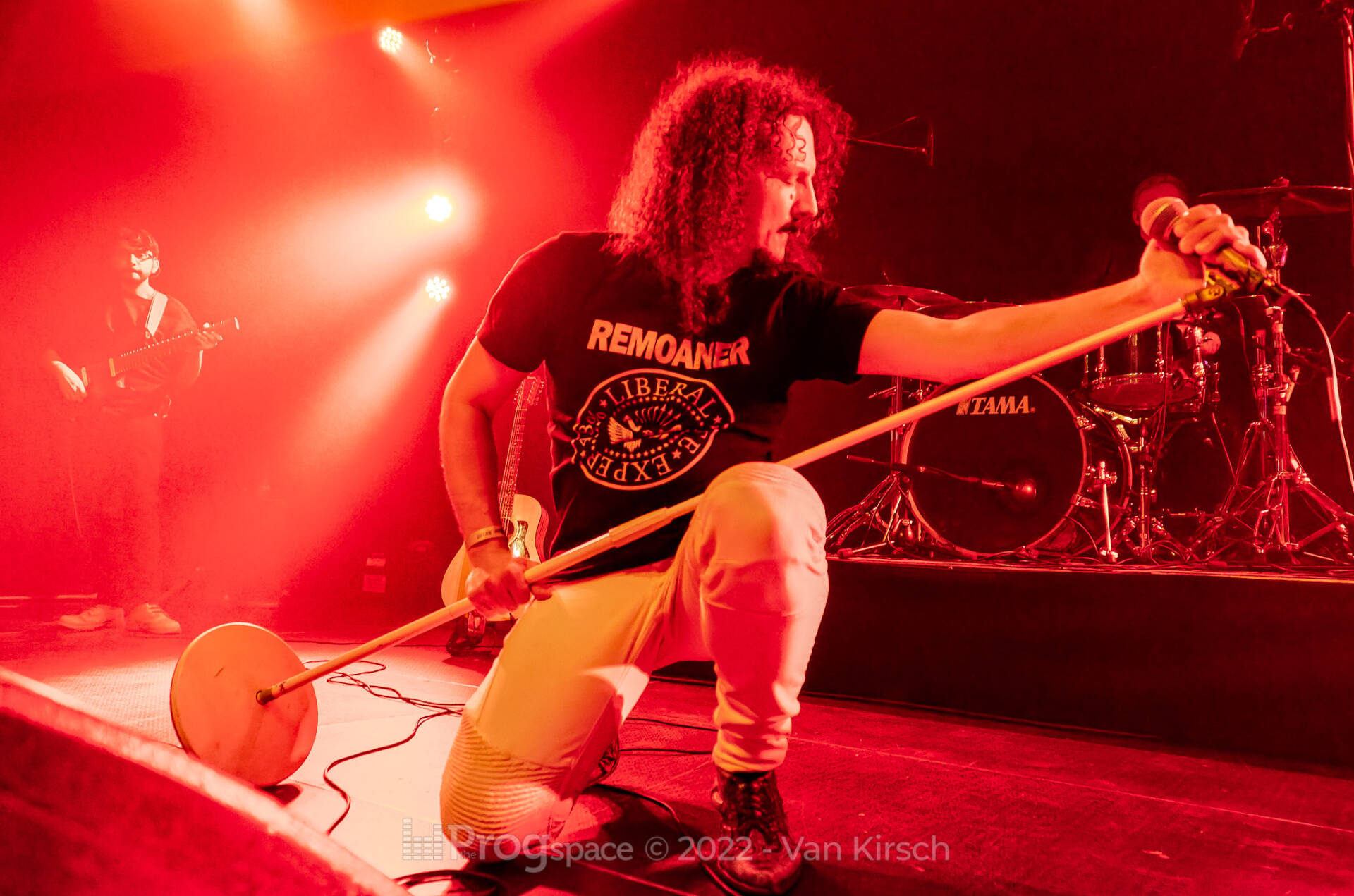 In short: yes, they were. Even though struggling with tricky sound issues, their full on assault of modern prog metal left many dropped jaws on the floor of the small stage in the Effenaar that night, or grinning smiles from ear to ear out of pure joy transported directly from the stage into the audience via the music. I'm assuming that many of the newly made fans were either curious to check out 'that other band of Haken's Ross Jennings' they had only heard about so far, but not actively made the effort to listen, or they must have been drawn in from what they had heard while socializing somewhere else in the Effenaar, as the hall seemed to get fuller and fuller by the minute.
Novena's ambiguous dichotomy of exuberant joy in the music and way darker emotions bordering on insanity was translated amazingly into the live music by the five musicians – as far as the stage show goes, there was nothing but pure fun and silliness! The trio of Ross front and center, with secret mastermind and also master of grimaces and stupid shenanigans, that guitar/keyboards/vocals madman Harrison 'Wonky' White and cuddly bass bear, Mr. Alltheloweend Moat Lowe on the right side of the stagewere a sight to behold, constantly dancing around each other, having the time of their lives. So were guitar stand-in Nick Gauntlett (who was standing in for Dan Thornton who couldn't make it due to scheduling conflicts) – dude can shred for days – and Cameron 'Nut Custard' Spence, both a bit more locked into their respective spaces for different reasons, but visibly enjoying themselves to the fullest.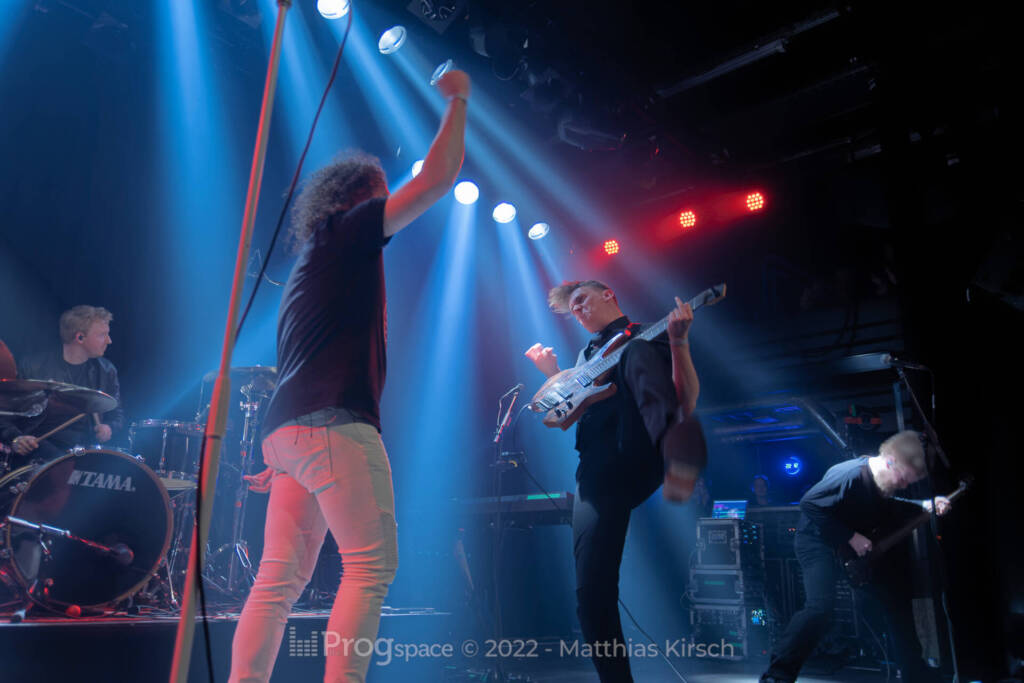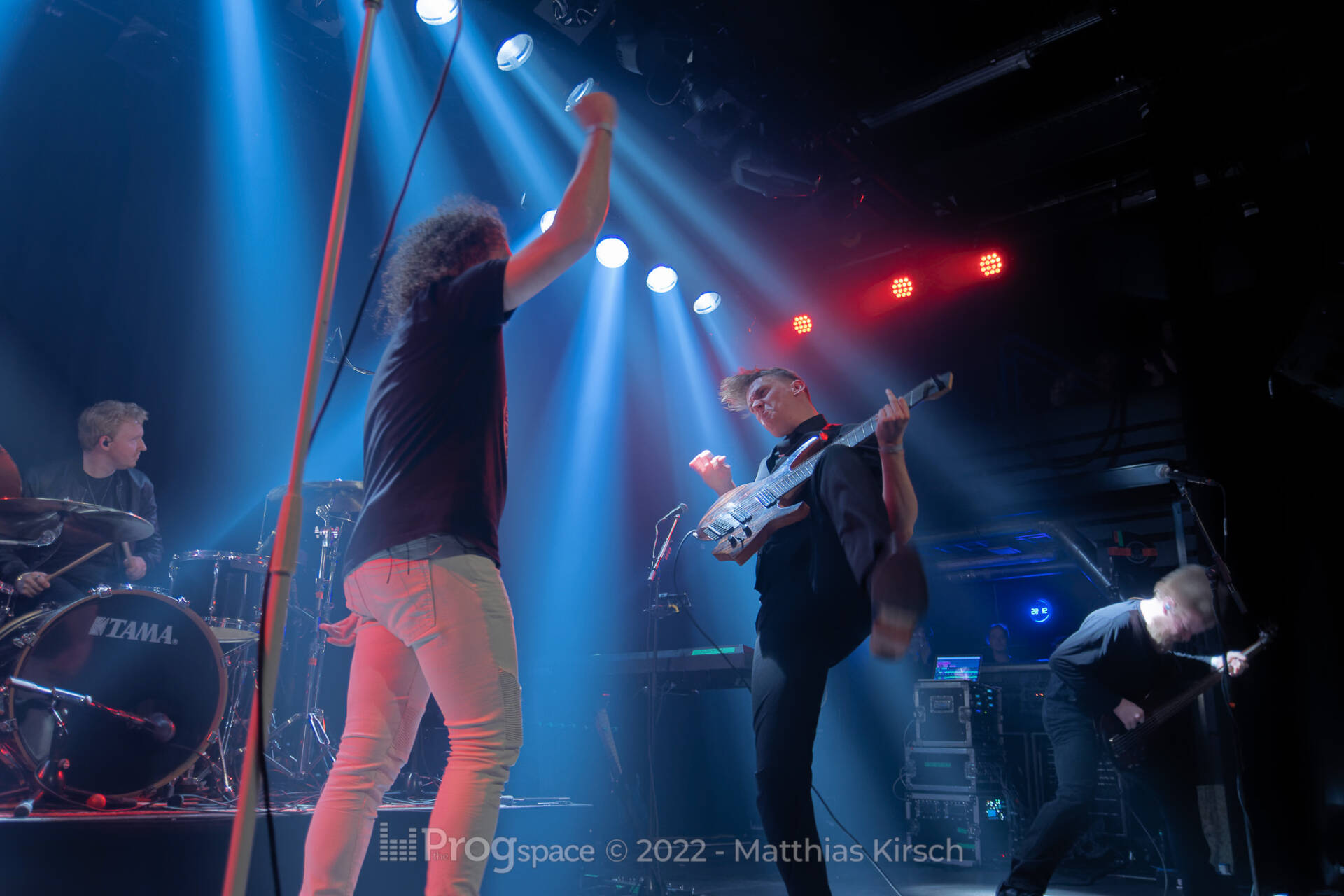 The big surprise of the set was the Billie Eillish cover "bury a friend" for sure. Of course, the superb studio version is to be found on "The Stopped Clock" EP, but with Gaia's departure I simply didn't expect them to do it since I always thought that it was her passion project. In any case, if you have a packed room full of prog metal heads going crazy to Billie Eillish – then you're definitely doing something right. After a stunning poly-rhythmic clapping contest with 'Corazón' that the audience passed with flying colours, and emotionally draining 'Indestructible' 'Prison Walls', one hour playing time was over already, gone in the blink of an eye, yet a lifetime of memories to be cherished forever.
Songs that make the hours go.
Speaking of which…
See Novena full photo gallery here.
22:15 – 00:00  – KATATONIA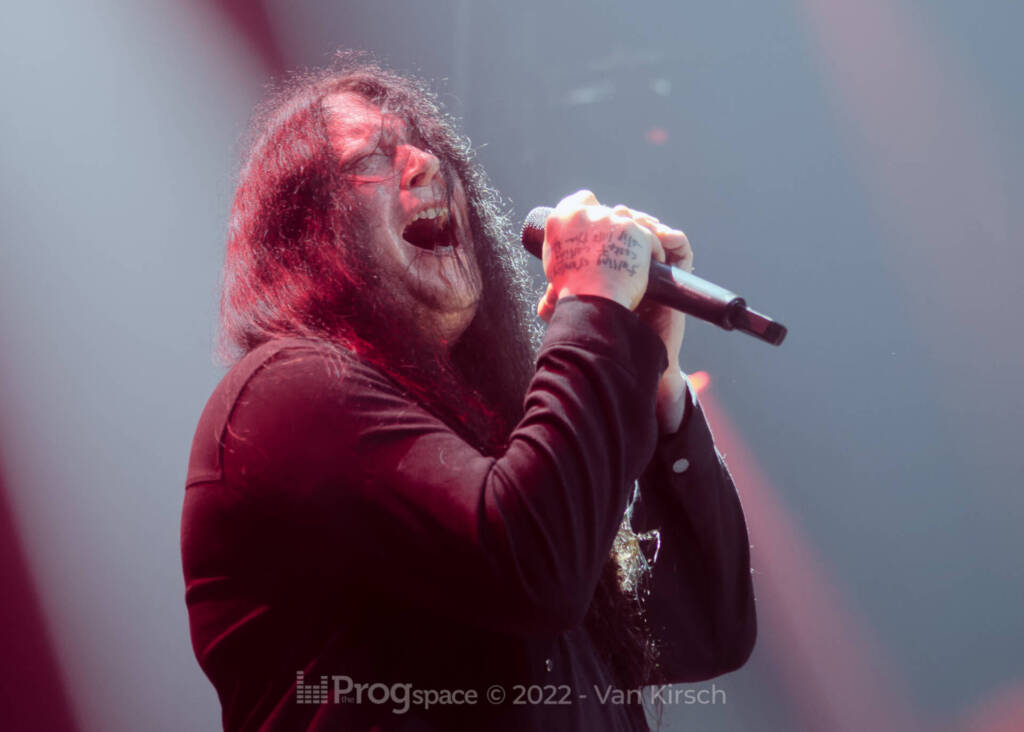 Swedish grandmasters of dark prog metal Katatonia were to close the first night of the 2022 edition of Prognosis with a long, extended Best of-Setlist voted for by the fans – and they did so in absolute style. Drawing from a discography full of highlights, the 1 hour 45 minutes playing time was stacked with hit after hit, readily lapped up by a hungry audience. The (random) question from a certain friend also known as The Red Menace how Katatonia are more prog than Fleshgod Apocalypse was easily answered when the sound of a mellotron filled the halls of Effenaar (albeit from the backing track): Mellotron = Prog, an equation as simple as it's true.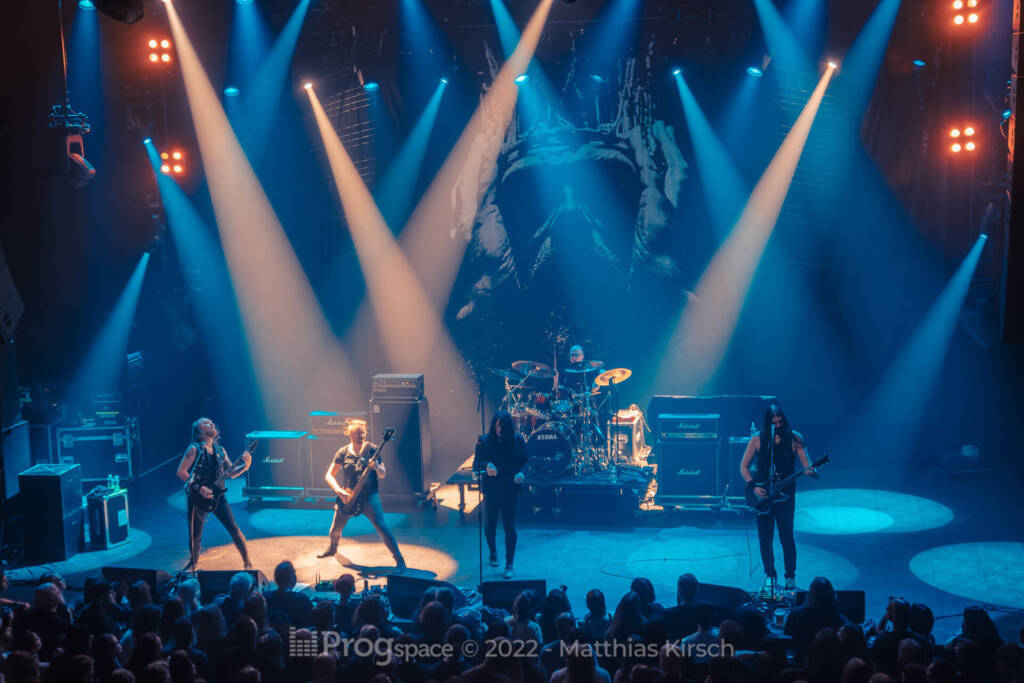 Jokes aside, whether you consider Katatonia's music to be prog enough or not, the consistent songwriting quality speaks for itself. Surprisingly, the setlist was very "The Great Cold Distance" and "Dead End Kings" heavy, with 6 and 4 songs of each played respectively. Personally, I would have expected more from "Night is the New Day" and "The Fall of Hearts", but as I said earlier, their discography is so consistent, that it doesn't really matter which of the last seven albums is getting a bit more attention. And closing with the "City Burials" masterpiece 'Untrodden', complete with easily the best guitar solo in all of Katatonia's discography courtesy of Roger Öjersson brought once again tears of joy to my eyes on this wonderful evening. What a glorious return to Prog festivals after more than two years of a dry spell.
See Katatonia full photo gallery here.
Click here to see the galleries of all bands on the first day of the festival.