ProgXpectations 2017
2017 is shaping up quite nicely already with lots of eagerly anticipated releases coming our way. Here is a short overview of all those I know of and/or care for with no guarantee for completeness:
Releases
The prog year starts with a bang  today, January 13, when Pain of Salvation's comeback to heaviness "In the Passing Light of Day" sees, excuse the pun, the light of day. Next week already, greek prog metal shooting stars Need will unleash their Song for Freedom "Hegaiamas" on January 17.  "Ascendancy", the first proper full length release by french progressive metalcor-ies Kadinja (feat. Myrath and Klone Drummer Morgan Berthet), is slated for a release on January 27. Sean Thompson, mastermind behind Seattle's best kept secret Odd Logic, will reveal their "Effigy" in January digitally and in February physically.
February will start off with Soen's third album "Lykaia" (release date: February 3.), a week later, Blackfield's "V" will mark the reunion of Steven Wilson and Aviv Geffen. French atmospheric rockers Klone are going "Unplugged" on February 17th and the polish youngsters (or better youngstars?) of Disperse will publish their "Foreword" one week after that (February 24.).
The Mute Gods, a supergroup featuring Nick Beggs, Marco Minnemann and Nathan King will tell us why "Tardigrades will inherit the earth" on February 24th. On the same day, Andorran Prog Death insider's tip Persefone  will reveal their newest opus "Aathma". Just in for the very same release day (Feb. 24.): O_R_K's sophomore album "Soul of an Octopus" will once again combine the musical worlds of King Crimson (Pat Mastelotto on drums), Porcupine Tree (Colin Edwin on bass), Marta sui Tubi (Carmelo Pitipone on guitars) and Obake (Lorenzo Esposito Fornasari aka LEF on vocals and keyboards).
March will bring us the return of france's premier symphonic metal band Adagio, now featuring the massive pipes of Kelly Sundown Carpenter. Their comeback album will be simple named "LIFE". Dutch modern prog metal youngsters Transient State's debut album will hit the shelves on March 3. The instrumental fusion supergroup Nova Collective featuring members of Between the Buried and Me, Haken and Trioscapes will take us to "The Further Side" on March 10.
Greek melodic prog metallers Until Rain, now enlisting the talents of swedish bass virtuoso Linus Abrahamsson from Andromeda and new singer Cons Marg, will be back with their new album "Inure" at some point in March, hopefully in time before they embark on the Progressive Aspect Tour (see below). Same goes for the new album by  Norwegian avant-garde legends Atrox, final details about "Monocle", the follow up to "Binocular", should be out any day now, but they said they were shooting for a March release. Furthermore, Black and Doom Metal fans will rejoice at the release of Dodecahedron's "Kwintessens" (March 17.) and Pallbearer's "Heartless" (March 24.) respectively.
Hard rocking legends Deep Purple will take us to infinity and beyond with inFinite, coming on April 7. That's at least how far the release dates go that are already set. But there are more album releases announced already, even some more album titles are known. Lonely Robot's "The Big Dream" is one of them, the sophomore solo effort by Arena, Kino, Frost* and It Bites guitar magician John Mitchell. For another one, Amaseffer's "When the Lions Leave their Den – Exodus Pt. 2", we have been waiting for years now, but recent Facebook activity and a first hand source point to a release in 2017, 9 years after the smashing debut "Slaves for Life".
German melodic prog metallers Tomorrow's Eve are laying the last finishing touches on their fifth album "Mirror of Creation III – Project Ikaros", drums and bass recordings by none other than John Macaluso and Mike LePond already in the pocket. Spring will bring us also the debut full length album by dutch youngsters Overhaul entitled "Notes by an Unstable Muser", their self-proclaimed goal is to bring back some romanticism they miss in complex music. Finally, two more Greek bands will grace us with new releases: Fragile Vastness announced their third studio album "Perception", twelve years after the double concept album "A Tribute to Life". And The Silent Wedding might reveal the secrets of the "Enigma Eternal" soon. To top it all off Britain's first and longest running melodic prog metal spearheads Threshold will be back with their 11th studio album entitled "Legends of the Shires" towards the end of the year and even a european tour in November/December is announced already.
Tours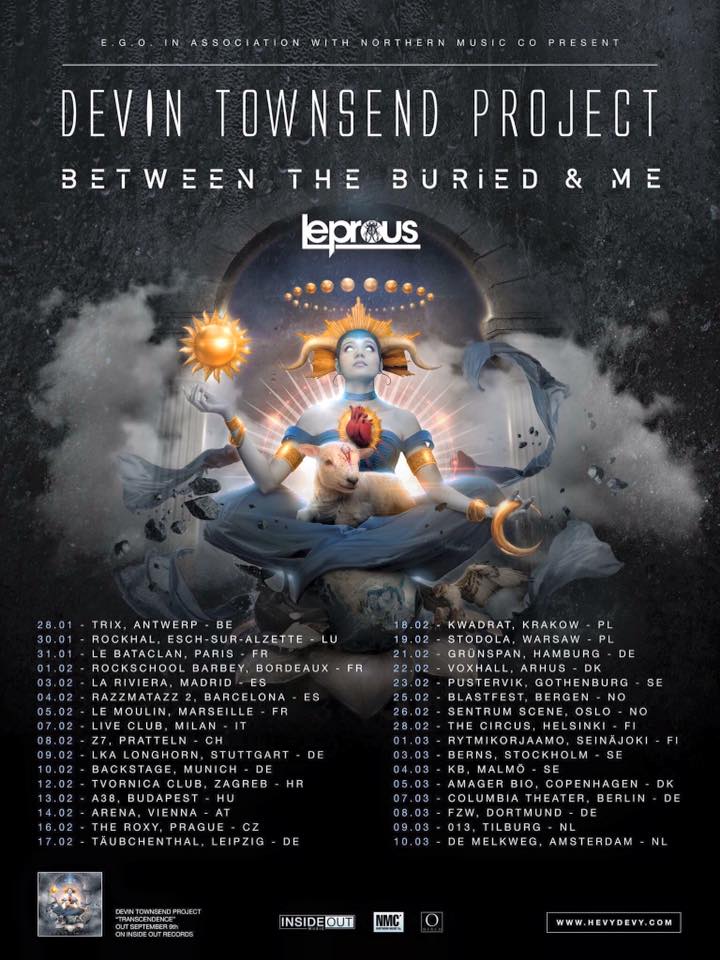 That brings us to touring and live event highlights, and there are already numerous prog live celebrations announced and confirmed. Spring tours around Europe include the monster package Devin Townsend Project/Between the Buried and Me/Leprous (with TesseracT filling in for BTBAM on the UK leg).
US Godfathers of Prog Metal Fates Warning will test their Theories of Flight, Pain of Salvation presenting their long awaited new album, SubSignal & Blind Ego will embark on a short double headliner tour in Germany. Kentucky Alterna-Prog Trio Dream the Electric Sleep will hop over the big pond for a quick visit. The tenth Haken anniversary will come upon us with lots of Visions and Aquarius oldies promised, Persefone (Andorra, see above) & Poem (Greece) are going to raid some small clubs.
Progressive Aspect Tour will combine the power of Sweden's Wolverine, Greece's Until Rain (see above) and UK's Lost in Thought. And just in: a Guitar prodigy triple feature tour with Plini, Jakub Zytecki (Disperse) and David Maxim Micic! And if that wasn't enough, Dream Theater are dusting off their seminal milestone album "Images and Words" for a 25th anniversary tour. Holy amazeballs is all I can say to this ridiculously good looking prog spring….
And that didn't even include all the festivals. The season starts very early this year with the Complexity Fest in Haarlem (NL) on February 25th, the Artrock Festival in Reichenbach, Germany (31. 03. – 02. 04.) taking over, passing the torch to Prog the Castle, which will take place on 27. – 28. May in Schwetzingen (also in Germany). Fast forward to summer, and Be Prog! My Friend in Barcelona (30. 6./1. 7.) is shortly followed by the Night of the Prog on the rocks of the Loreley cliff in the middle of Germany (14. – 16. 7.), with Mike Portnoy's Shattered Fortress appearing on both.
In August, more precisely between the 10th and 13th, Romania is the place to be for all extreme proggers, as Opeth and Leprous will headline the Rockstadt Extreme Fest. 2days prog + 1 are promised in Veruno (Italy) on September 2. – 4. and the line-up looks already amazing. One of the biggest highlights of the year however, I'm absolutely sure of it, will be the once in a lifetime Ayreon Universe events though (September 15. – 17.). The line-up for both these unique live events as well as the next Ayreon record already look stellar, as was to be expected. And then it will be already time for a family meeting in Baarlo (hint: ProgPower Europe will take place October 5. – 8. this year, TesseracT and Voyager are already confirmed as headliner).
And there's more!
But that was still not everything. The following bands have all either announced that they will release a new album in 2017 or posted pictures or videos from studio or writing sessions: Prog God Steven Wilson (again with Ninet Tayeb), Sweden's Andromeda, Norwegian shooting stars Leprous (now on tour with Devin Townsend, see above), the Aussies from Voyager, Anneke van Giersbergen's new project Vuur, new supergroup Icefish (feat. Virgil Donati, Alex Argento and Marco Sfogli), Gleb Kolyadin of Iamthemorning goes solo (piano), Thought Chamber with Ted Leonard from Enchant and Spock's Beard, not to be confused with the german band Thoughts Factory, who will be back with a new singer and their second album.
Psion (new band by ex-Haken bass blondie/To-Mera Mastermind Tom MacLean), Norwegian insider's tip Umpfel, dutch band Day Six, danish band Anubis Gate, my childhood heroes Farmer Boys (think Pantera meets Depeche Mode), Opeth-worshippers Effloresce from Nuremberg, Texas powerhouse Oceans of Slumber, Doom meets Loreena McKennitt with Todesbonden, german melodic prog metal musical project Kaisers Bart featuring ex members of Ivanhoe, Dreamscape and SubSignal and Circle of Illusion mastermind,  keyboarder and ROLI seaboard pioneer Gerald Peter will go solo.

Deafening Opera from Munich, Kali from Regensburg and french Avantgarde Prog Chanson Queen Nehl Aëlin will launch her new project La Dame Qui Piquait Les Cœurs. And I just refuse to give up hope for that new progressive hippie metal masterpiece from Psychotic Waltz we've been promised since years!
So yeah, I'd say the Prognoses  for 2017 are looking good indeed!