Raptvre – Monuments of Bitterness
The brains behind this operation called Raptvre are Stefan Braunschmidt (Shitshifter, NVRVD) and Kirill Gromada (Ayahuasca, Pripjat) and their intent is to explore dissonance, which is precisely what they do. Earlier this year they had already unleashed a demo that made the rounds and was very well received, and now they have completed their debut "Monuments Of Bitterness" with five more crushing songs alongside those three from the "Feast Upon Their Flesh" demo. Let's get to it.
We start right into it with 'Feast Upon Their Flesh' and within the first minute it is very clear what to expect from the next 40 minutes of punishingly aggressive music. The sense of despair, uneasiness, and dominating tension can be traced to one of the compositional pillars of the album: dissonance. But within the cacophony there's melody to be found, with Kirill's guitar leads adding to the tension but also tying it all together. After all, a good song is a song you can whistle, and a bit of melody always helps. Next comes 'Torn to Shreds', which shows a bit more of the influences, or rather similarities, that Raptvre has, with a start very reminiscent of Mastodon's early output, albeit harsher and eerie. The relentless drumwork of Johannes Koch (Metasphere, Cypecore) with the heavy snare hits and tasteful cymbals give structure and order to the madness coming from Kirill. On this song we also get to hear a very grungy and thick bass from Stefan. The ending creates an atmosphere of gloom and coldness that segues into 'Devouring Mist', one of my favorite songs on the album with a slow and heavy groove that gives it a sense of grandeur.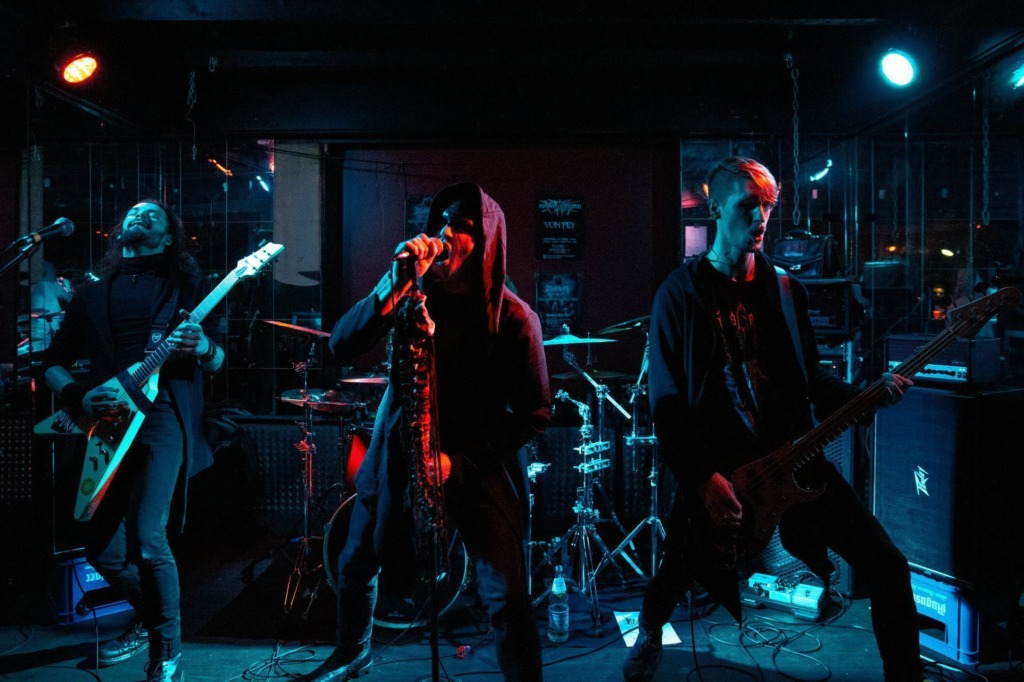 The lonely single that was released from this album is 'Throne Torcher', a straight-ahead proposition, a downright crushing number. As a single I find it a bit misleading, being the shortest and most straight-forward song in the album. Nevertheless it is a great song.
'Shrouded' blares next, upping the ante with being all over the top, nasty and heavy. Its opening barrage of dissonance, harshness and frenetic drumming is interrupted abruptly shy of the 2-minute mark, turning the whole song around for a bit before a remarkable drum explosion from Johannes and then it's back to the frenzy. What follows is my favorite from the record. 'Echokammer' has a bit of everything, with the main verse riff dancing in and out of harmony, followed by an extremely dissonant chorus, a constant flirting with a melody that just doesn't happen, and the hard-hitting drums throughout. There's even an extended saxophone solo by Hauke Peters (Maladie) that just takes an already excellent song into a whole other level.
Johannes's protagonism continues with 'Whispers of The Wicked', with the drums leading the band through the groove, as well as interesting basslines from Stefan during a hypnotic introduction. As usual, about two minutes in everything changes. The mix is so raw and the melody is so buried that one can't help but feel disoriented and a bit hopeless. Drums and bass make this song, with Kirill's dissonant arpeggios providing a cold, hopeless atmosphere. And then we come to the closing number, 'Sumerki…Temnota', the most experimental song in the album in my opinion. It almost feels as two different songs of about three minutes each, as the name may be implying. As there isn't much melody to tie things together, we can go by the vocals and how harsh they are in trying to find a common ground between both parts. It's a great way to close this debut album, that's for sure.
It requires a bit of a nihilist mindset to find beauty in the jarring things that surround us, and music may be no difference. Make no mistake, this album isn't for everyone, and it isn't as accessible as our regular fare here at The Progspace. But damn if it isn't great! There's so much going on under the permanent atmosphere of gloom and despair, with melodies shyly peeping through the fog and a lot of groove sprinkled all over the 41 minutes of dissonance. A challenging listening without a doubt, but also a rewarding one.