Red Cain – Kindred Act II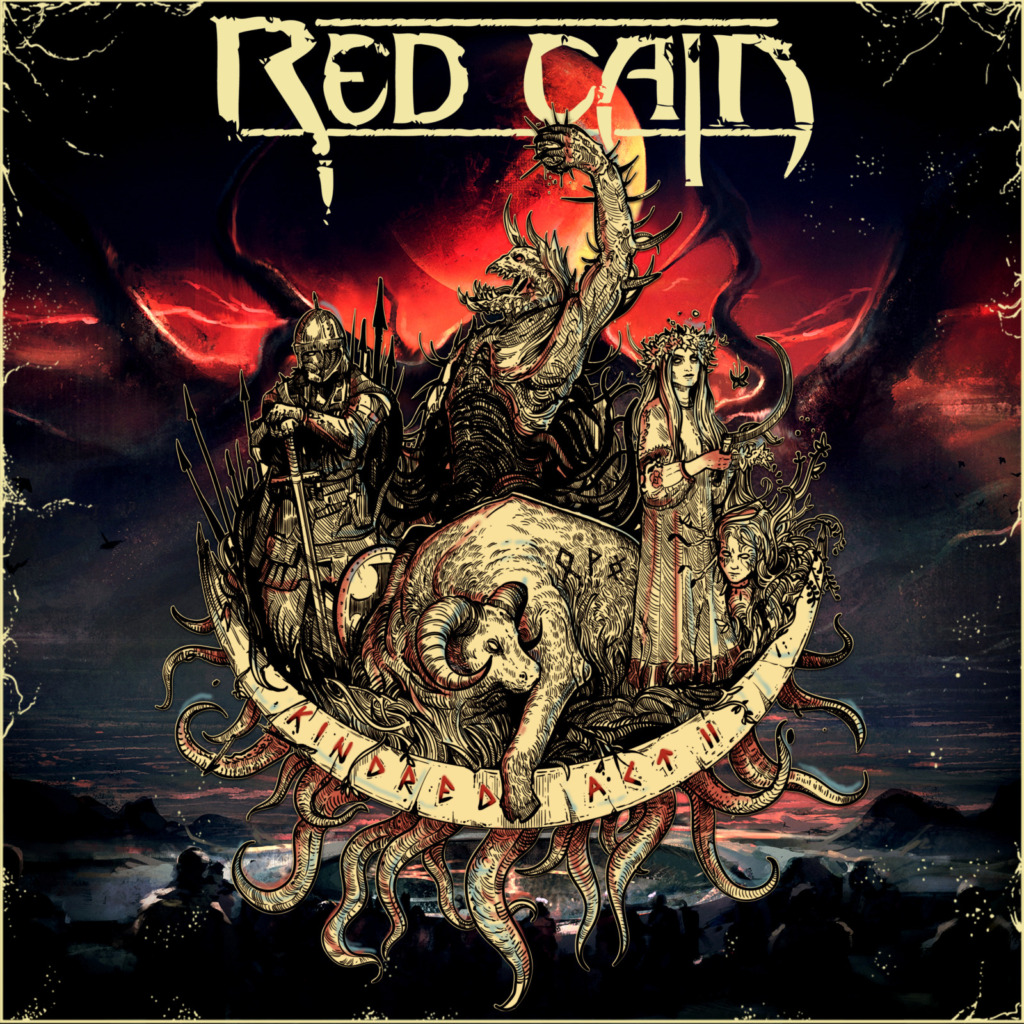 A vehicle of "Melancholy and Rage" is how Red Cain describe their particular style of progressive power metal. The band from Alberta, Canada were winners of the 2017 YYC Awards Metal Recording of the Year. They boast intricate song-writing, heavy yet melodic and reminiscent of some progressive acts. Incorporating elements of Slavic myth, and Russian paganism in the storytelling tradition of the Cult of Veles, they produce a fluid, dynamic, and unique musical style centered around telling dark, conceptual Faustian sagas.
If, like me, you are wondering what the Cult of Veles refers to, well, in Slavic myth it was a priesthood in honour to the Slavic deity Veles. He is the god of the Underworld, of magic and hunt, horned animals and also of trade and oaths. By now, you might also be wondering what all this Russian folklore has to do with a band from Canada, I can only assume is it part of the band's frontman, Evgeniy Zayarny's heritage.
"Kindred Act II" is the band's third release and second full album, the first being, not surprisingly, 'Kindred Act I'. Both albums follow the warrior Zalcoatl along with combining other ancient myths and stories with a commentary on how these exist and apply in modern society. Evgeniy wants to bring back the "Devil's music", by that he means the mysticism he feels is all too often missing in modern metal acts.
The only videos available for this album are "visualizers" and lyric videos, which you can link to below. I read somewhere that there are plans to do some professional ones, when things get back to normal. Previously Red Cain's music videos for 'Juliet' and 'Zero' from 'Kindred Act I', garnered 11 international film festival awards, including the Music Video Award at the Accolade Global Film Competition (LA). 'Juliet' was also nominated for 2020 YYCMA Metal Recording of The Year. The first track on this album, 'Kindred' is one song to get the visualizer treatment. This explosive introduction to the album makes you realise it is going to be an exciting and varied ride.

Red Cain – Kindred (Visualizer) (click here if the video does not play)
 Although it may not be immediately obvious, there is quite a bit of Goth Rock influence, mainly in the vocals. This is however quite evident in 'Demons' with Evgeniy delivering the lyrics in a lively baritone. Pulsing bass and keyboards add to this, although there is no mention of who plays these instruments in the credits.
 Red Cain – Demons (Visualizer) (click here if the video does not play)
 A haunting piano piece lures us into 'Precipice of Man', and Evgeniy gives us what is possibly the full range of his vocal styles. High and low pitches at first, then when the track moves into a heavier passage, the vocals become more tortured. This part is sung in Latin, starting with "Sic itur ad astra" which translates as "Thus one journeys to the stars". Finally, we get a style that reminds me strongly of Daniel Estrin (Voyager).
'Baltic Fleet' contains such lines as "We are soldiers of Baltic Fleet" and "Loose a thousand wolves on the frozen North". Conjuring an image of ragged marauders, the song is delivered in a slightly chaotic but suitably bombastic fashion, slowing for a while in the middle for a short but splendid guitar solo from Tyler Corbett.
Red Cain – Baltic Fleet (Visualizer) (click her if the video does not play)
This is followed by the strangely titled 'Varyag and the Shrike'. A Shrike is a bird that has a particularly brutal way of killing its prey. They are known as butcherbirds because they impale their victims on any sharp point available, such as barbed wire or thorns for storage. The Shrike first induces paralysis with a precise bite to the neck, it then rolls its heads rapidly. This generates the same level of force as whiplash, which is more than enough to snap the vertebrae of a rodent. A headbanging bird that impales its prey, how metal is that? Ha, the things you pick up when listening to the Devil's music. In this track the Shrike is cast in the guise of a Valkyrie, that takes the souls of fallen warriors such as Varyag, a dying Slavic warrior.
 Red Cain – Varyag and the Shrike (Visualizer) (click here if the video does not play)
In 'Sons of Veles' the tale turns to warrior followers of the aforementioned Slavic Deity. This rousing battle hymn with a catchy chorus brings us to the last song on this enjoyable album. 'Sunshine (Blood Sun Empire)' is fast and heavy with slower melodic breaks. A grandiose finale to this succinct and satisfying episode of Kindred. "I am the god of slaughter, looking for my queen, the Sun's at its apex, and so they bleed."
 Red Cain – Sunshine (Blood Sun Empire) (click here if the video does not play)
It's worth checking out the lyrics, as it certainly adds another level to the experience. The digital release date is 22nd January 2021, with the physical CD due out on Sliptrack Records later in the year. The previous release 'Kindred Act I' (featuring Kobra Paige) is also available on bandcamp with a 'name your price' tag. If you like your music melodic, mysterious, and gothic, with a progressive power metal base, then this is for you. This has been a joy to review and yet another band to add to my favoured list.
  Track Listing:
Kindred (5:06)
Demons (4:40)
Precipice of Man (5:18)
Baltic Fleet (4:53)
Varyag and The Shrike (5:54)
Sons of Veles (5:01)
Sunshine (Blood Sun Empire) (5:49)