The Myopia Condition – Event Horizon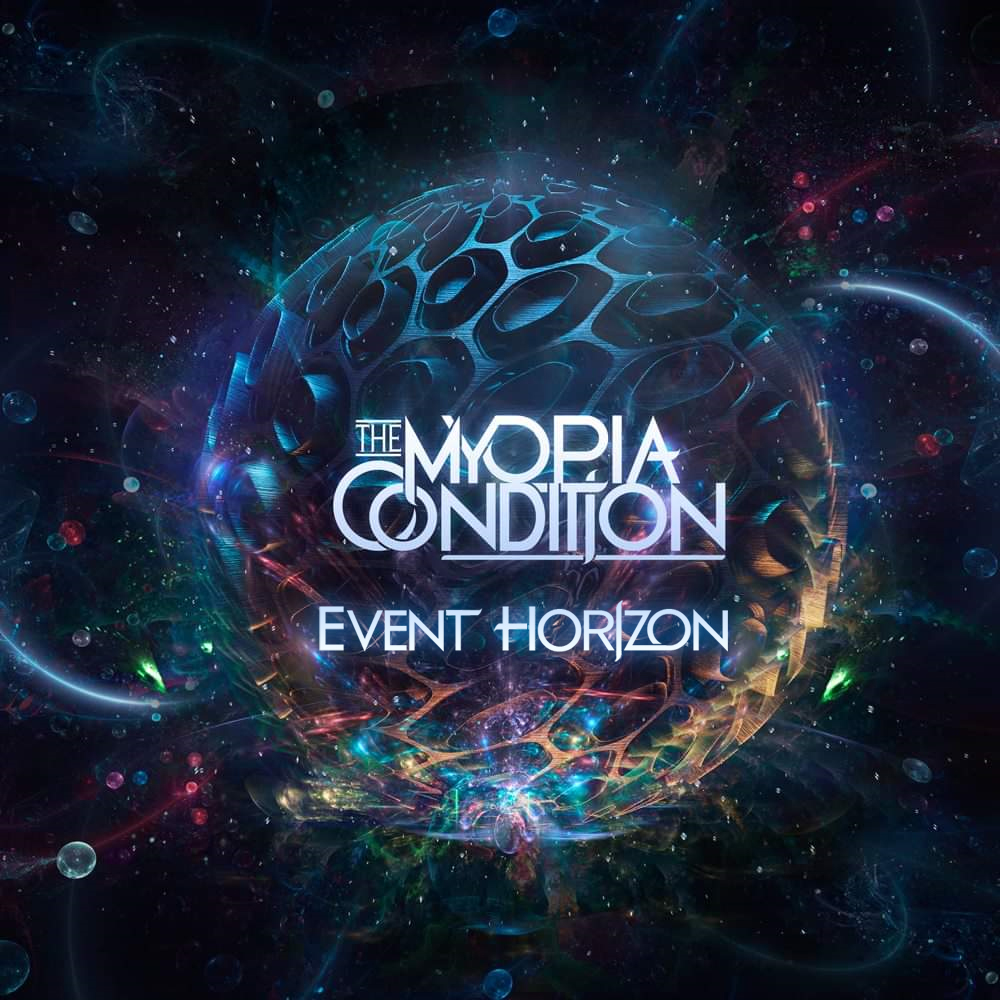 I love genre mashups, and the debut record from Canadian group The Myopia Condition mixes the ideal ingredients for a hot & spicy chaos cocktail. Clocking in at 28 minutes, "Event Horizon" is a short and compact release, but one that will jolt and drill your brains so fiercely that you'll be begging for mercy. This hard-hitting beastie runs on a drilling deathcore motor and a djenty gearbox boosted by a tech-death turbine that allows it to take you from 0 to 60 head injuries in just under 4 seconds. Racing puns aside, let's get into it!
First off, the sound is as aggressive and unforgiving as it gets. The sonic textures on the instruments as well as vocals are abrasive enough to completely traumatize your eardrums. Mountain-heavy down-tuned riffage contrasting with whiny dissonant high pitched guitar leads runs over a relentless restless drum performance. Drummer Greg Glenn fuses core-ish breakdowns with fast death metal patterns and blast beats, going near the tech-death area. And vocalist Josiah Dyck brings a very harsh and dirty death metal scream moving towards a higher shouty pitch or lower into the deathcore guttural spectrum. All band members are aimed head-first at aggression.
The Myopia Condition – Separation from Classification (Click here if the video doesn't play)
It's also very progressive. The rhythmic structures are cohesive but not exactly fluid. Instead, the movement and pace in the songs is very hectic and chaotic, making the listener feel under assault for the entirety of the album. The music constantly cuts, trips and changes pace, and the odd time signatures are a given. But they also reward you with hooky dynamic groove, brutal breakdowns and some very sweet lead guitar melodies. I'm particularly fond of the way the guitar leads are used. There aren't many proper solos but instead, momentary licks, striking melodies and cool harmonizing dynamics become an integral part of the band's soundscape. At times, this leaves the heaviness resting on the bass, which I'm glad to say is thick, hefty and testosterone-driven enough to keep the groundwork at a superb level of nasty. All these elements trigger  instant satisfaction which allows channeling all the chaos into a sensical emotional manifestation.
And this album is actually quite expressive. Feelings of rage, fear, anxiety and struggle come alive through the raw vocal delivery as well as the lyrics. It's quite dramatic and it really gets to you. If you dig into the lyrical content and the way it's delivered, it will leave you quite shaken by the end of the stream.
The Myopia Condition – Fighting Fables (Click here if the video doesn't play)
The Myopia Condition don't waste any time teasing and they go straight for the jugular. "Event Horizon" is superbly technical and madly aggressive all the way through. The production is clean and hi-fi, showcasing all sounds and textures in great quality, but it also allows the grit and grind to scrape your ears. There are some stand-out moments like the menacing keyboard driven intro, the clean guitar and bass break in  'Separation from Classification' and the use of shouty clean vocals in 'Fighting Fables'. When it's all wrapped, we have a nasty little 28 minute devil that takes no prisoners and also shows a remarkable degree of creativity!
Track List:
Event Horizon (01:01)
Separation from Classification (04:49)
Brainwashed (03:08)
Afterlife (02:57)
Walk Me Home (02:45)
Song 9000 (03:28)
Empty Room (02:50)
Rotting Soul (03:05)
Fighting Fables (04:26)