Live Report: Fleshgod Apocalypse at Rebellion Manchester, 16 February 2020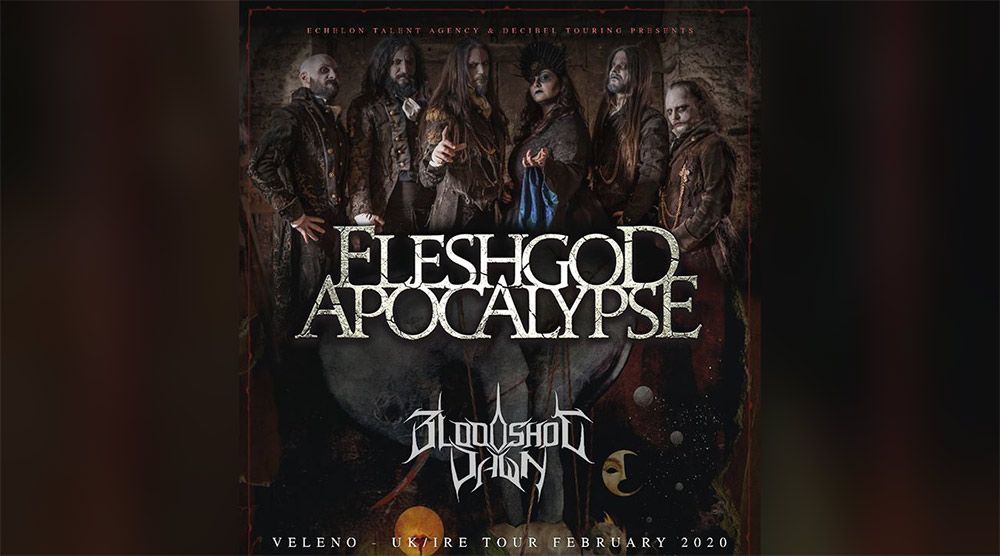 Once in a while, a band comes along that stands out from the crowd. Fleshgod Apocalypse are such a band, and until recently they had slipped under our radar. Bloodshot Dawn announced dates supporting the Italians and after checking out FA's 2019 album "Veleno", we decided to book tickets for the gig in Manchester.
Rebellion is a 400+ capacity venue close to the Deansgate railway station, and it's here that the small UK and Eire tour makes its penultimate stop.
There were four bands on tonight, the first two being local outfits.
Brute Allies
Opening proceedings were BruteAllies. A good start to the evening as the band delivered an enjoyable set of tech-thrash / death metal. Vocalist James Bridges wore a long, hooded coat with strings of red LEDs running under the hood and down each side at the front. It was a good effect but unfortunately, one side went out part-way through the set. The room was pretty full from the word go, presumably some local fans arrived early to support the opening bands. There's a free download of the track 'Invasion' available from Bandcamp.
Set-List: Battlefield : Mad Elephant : Lost Souls : Nemesis : Invasion : Dark Army
Band line up: James "Mallah" Bridges – Vocals, Luke Michniewski – guitar, Sonny Fox – guitar, Hassan Alemdar – bass, Gabi Tretze – drums.
Click here to see the BruteAllies gallery.
Frozen in Shadows
After a quick soundcheck, Frozen in Shadows – the second Manchester band of the night – took to the stage. Their melodic death metal set consisted of tracks from an upcoming album – "The Painted World" – and one from their self-titled 2018 debut EP (available on Bandcamp). Several members of this band are also in Footprints in the Custard, who are a parody metal band that sing some controversial stuff. Frozen in Shadows play more serious and darker material.
Set-List: Ether of Night : The Painted World : Ashen : Phantom : Dark Glass
Band line up: Russ Custard – Vocals, Kyle McSweeney – Guitar, Dan Quiney – Guitar, Alex Robinson – Bass, Alex Sladen – Drums.
Click here to see the Frozen in Shadows gallery.
Bloodshot Dawn
Bloodshot Dawn always deliver the goods. Last time we saw them, they played on a very small stage in Nottingham. Tonight, the stage is much bigger, allowing the band to express themselves better. Tonight's blistering set is drawn from the band's three albums. A new album, as yet (as far as I know) unnamed, is due out soon. Josh also has a side project Forlorn World and an album is imminent. It promises to be something completely different to Bloodshot Dawn.
I would defy anyone to keep still when they play 'Shackled', it has such great riffs. It's one of my favourite tracks of theirs, along with two others that they played, 'DNA Requisition' and 'Reanimation'. To be fair the whole set was great and set the mood for the main event.
Coolest T-shirt of the evening goes to Josh with his Inferi – Revenant shirt.
Set-List: Godless : Smoke and Mirrors : Survival Evolved : Quantum Apocalypse : Shackled : DNA Requisition : Reanimation : Vision
Band line up: Josh McMorran – Guitar/Vocals, Morgan Reid – Guitar/Vocals, Giacomo Gastaldi – Bass, Ben Adcroft (from This is Turin) – Drums.
Click here to see the Bloodshot Dawn gallery.
Fleshgod Apocalypse
As the lights on stage go out, signalling the imminent arrival of the headliners Fleshgod Apocalypse, a massive cheer goes up from the eager crowd. The stage is then revealed by white spot-lights from the back, cutting through the smoke and illuminating a huge copper coloured drum kit and ornate mic stands.
The band members resemble ghostly soldiers from a long-forgotten army, with their white faces and tatty uniforms.
The band launched into a couple of numbers from older albums which the audience lapped up enthusiastically. Initial observations were that it was all deliciously Gothic and symphonic. Also the sound was good, as it had been all night, but not over loud. Fleshgod had their soundcheck earlier in the day to an empty room and now that it was full of people perhaps it was having a slight dampening effect. However, almost imperceptibly the volume crept up and it wasn't long before it was at an agreeable level.
The excitement in the room increased as the next two numbers were played. Both being from the afore-mentioned album "Veleno",firstly 'Monnalisa' and then 'Sugar'. There were circle pits, a wall of death and numerous stage dives. It was all good-natured and during Sugar pianist Francesco Ferrini left his piano to move to the front of the stage and whip up the crowd even more. "Push! Push! Push! Push! I want to see you push!"
After a few more songs, the opening notes of the track I really hoped they would play, rang out. People were encouraged to lift lighters and mobiles in the time-honoured tradition that goes with certain tracks. The beautiful song 'The Day We'll Be Gone' features soprano Veronica Bordacchini in all her glory. Some of the notes she hits send shivers down your spine. This was followed by 'The Fool', a very popular number from the 2016 album "King". The last song of the set and evening was 'The Forsaking'. This was the heavier original version from their 2011 album "Agony", not the nocturnal version from "Veleno". One of the possible translations offered by Google of Veleno is Venom. Fleshgod Apocalypse certainly injected a lot of venom into their songs as well as beauty.
Set-List: The Violation : Healing Through War : Monnalisa : Sugar : Prologue : Epilogue : Minotaur : Fury : Cold As Perfection : The Day We'll Be Gone : The Fool : The Egoism : The Forsaking
Band line up: Francesco Paoli – Vocals/Guitar, Paolo Rossi – Vocals/Bass, Francesco Ferrini – Piano, Veronica Bordacchini – Soprano Vocals, Fabio Bartoletti – Lead Guitar, Eugene Ryabchenko – new drummer.
Well, a thoroughly enjoyable evening was had by all. The Rebellion is a great little venue, laid back and friendly. Everyone is polite and considerate. There's no heavy-handed security on the door and professional cameras are allowed in.
Thanks to all the bands for supplying info on the gig, setlists etc.