Scarlet Stories – Necrologies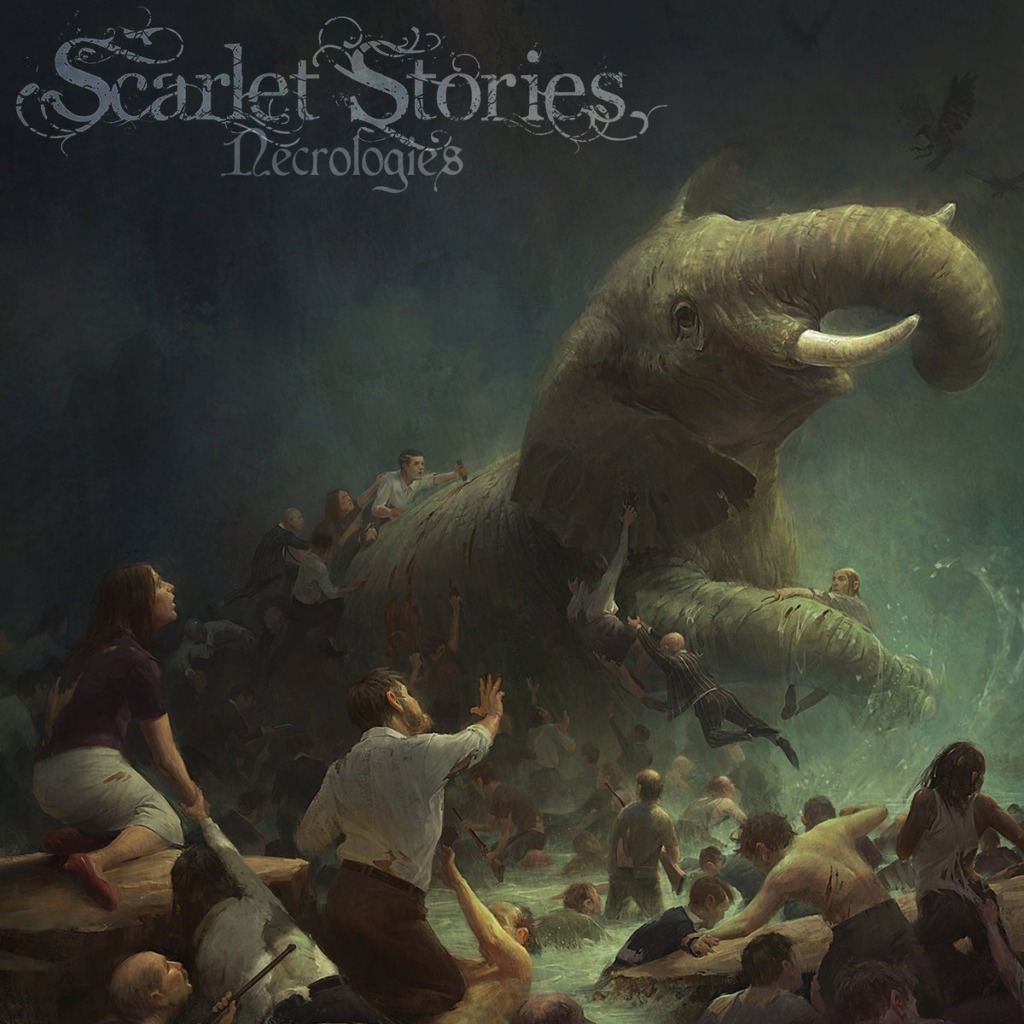 When I was first made aware of the Dutch band Scarlet Stories, I must admit that my preconceived ideas made me, quite literally, overlook them. In my "mind's ear" I imagined a symphonic metal band, complete with a talented, but bland vocalist. The type of band the Netherlands seems to be leading in producing, and that occasionally is mentioned in prog-metal circles because of having some unorthodox song structures on a couple of tracks, or including overtly orchestral backing by skillful musicians. The above-mentioned style of music has never been something I could enjoy in any quantity, and so I wrongly lumped Scarlet Stories in with them, and did not take time to listen to their output. It changed when they were added to the line-up of a festival I planned to attend, and as I do attempt to familiarize myself, at least somewhat, with the bands I'll be seeing live, I gave it a shot.
Boy was I wrong, and boy was I blown away! Are there symphonic elements in Scarlet Stories music? Definitely, but that is not the main ingredient in their multi-faceted and layered output.
But let us not get ahead of ourselves here, the band started out in 2012 as a two-piece, featuring vocalist Lisette van den Berg and guitarist Bram de Kamp. Their initial idea was to produce down-stripped acoustic versions of progressive songs, and that can still, to a certain degree, be heard in the sound of the band. Now, seven years and two EP's later, that project has expanded into a full band, and finally delivered their debut album "Necrologies", after a very successful crowdfunding campaign, I might add.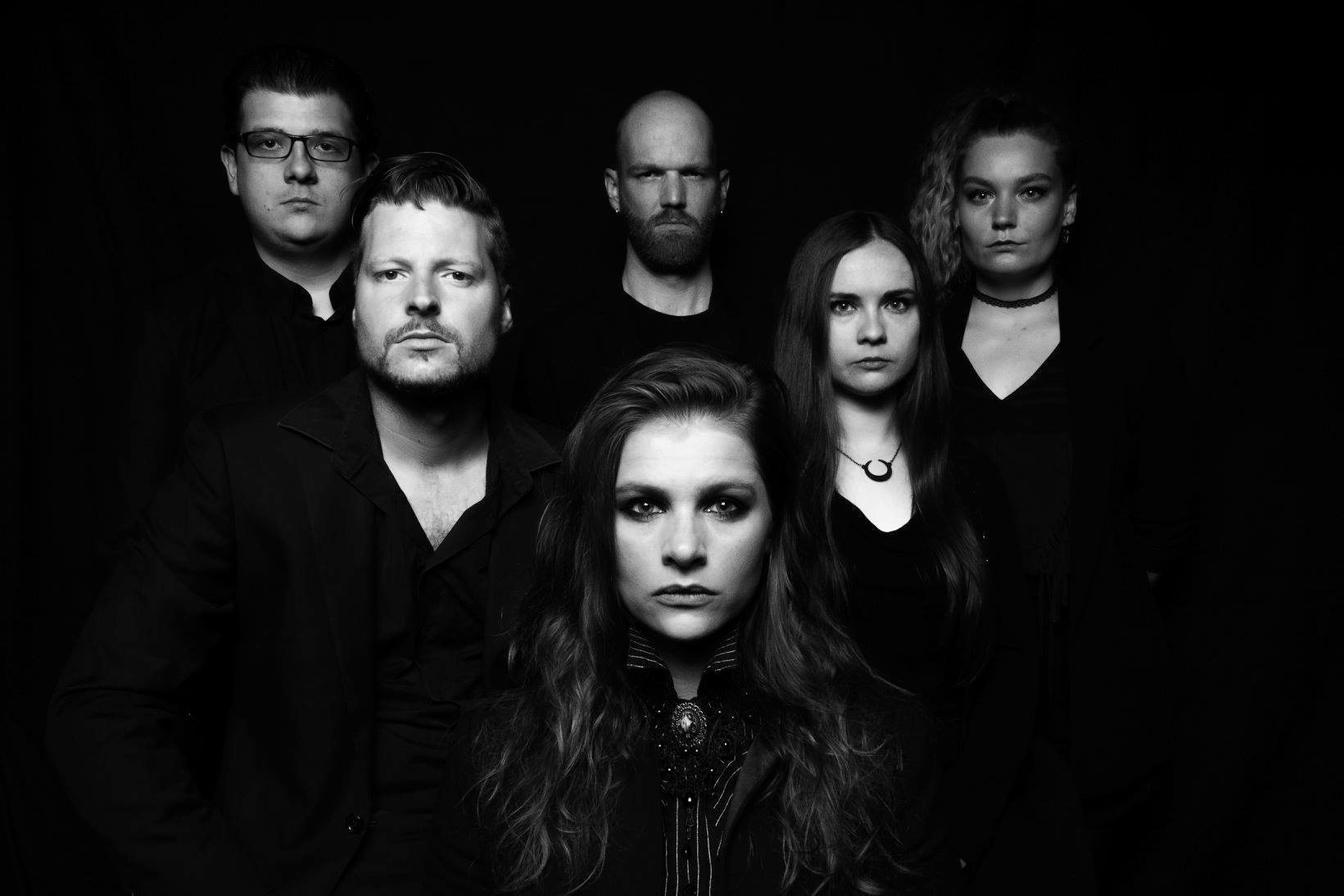 There is a very classic heavy metal feel to some of the riffs and melodies at the core of the music. Add to that a definite gothic atmosphere, and strong references to doom, as well as progressive metal. Here I feel I need to clarify further, as the prog-metal inspirations the band seem to draw on are more akin to the organic feel of the late 80's and early 90's style of bands like Fates Warning and Adramelch than the modern, synthesized and djenty sound that is so prevalent in the genre today. There are also small, more intense, sections, such as the mid-section of the extended epic 'Vingt Mille Lieues Sous Les Mers', that seem to feature an almost black-metal style of tremolo-picking. Something that makes more sense when you realize that guitarist Carmen Raats is also part of atmospheric black metal act Witte Wieven.
Scarlet Stories is not overtly technical prog, even though the talent of the musicians is very much noticeable, their focus seems to be on melodies, moods and atmosphere, as well as a very strong inclination to bring the listener into their mysterious world, through the medium of music and lyricism. It very much feels like "Necrologies" could be the soundtrack to a collection of fantastic and gothic novels by Stoker, Shelley or Poe, if not Verne himself. Van den Berg's voice flows from a creepy, almost childlike tone, to a powerful, at times blues-like, croon, and the guitars transition effortlessly between forceful heavy riffing and sorrowful, melancholic leads. The guitars on the album are generally very well done, with several great solos adding additional color to the overall compositions.
The first single of the album, the above mentioned 'Vingt Mille Lieues Sous Les Mers', which is, of course, the original French title of author Jules Verne's classic "Twenty Thousand Leagues Under the Sea", is in many ways the pinnacle of the distinctive sound of the band. If you are interested in sampling the art of Scarlet Stories, this would be a great place to start.
Scarlet Stories – Vingt Mille Lieues Sou Les Mers (click here if the video does not play)
The band knows very well how to make use of cyclic, repetitive, themes while expanding and embellishing on them. This leaves the listeners with a steadily growing and ever more intricate ambiance as the songs progress. Drummer Tim Kupper has to be mentioned in this regard, as his tasteful drumming adds just the right amount of structure to the music, not afraid to keep it simple, adding in playful ghost notes where it suits the composition and mood of the music. Yet, he is also bringing the power where it is necessary. I have to say it's nice to hear a drummer being able to play so restrained in this genre of music. The three-part 'The Gallows Tree' is a good example of this "slowly growing" quality in the band's songwriting. Starting ever so carefully, and building up the motif with added details and intensity in the second part, before ending with a wistful introspective in the last part, all within the same thematic universe.
For being a debut, "Necrologies" is highly impressive. The quality of the songwriting and musicianship is quite humbling, and being the output of a young, fresh-faced act it is bound to make waves in the community. In many ways it's also refreshing to hear this approach in a scene that seems overrun with bands focusing on an overtly rhythmic approach to progressive music, and where a poppy 80's nostalgia seems to have enchanted a large part of the scene. The whole concept of the album, and general thoughtfulness put into the final product, from the beautiful gloomy artwork by Jelle Sleenhuisen, through the lyrical concepts and all the way to the clear production provided by none other than Joost van den Broek and Jos Driessen at their Sandlane Recording Facilities, is excellent.
Since the release of the album in September, I'm happy to see the band's star shoot upward at an increasing pace. Being one of the highlights of the Progpower Festival at the beginning of October, and already announced in the line-up for the Prognosis Festival coming up in March 2020. I can't imagine anything but the band becoming a very sought after commodity in the metal and prog scene going forward.
Tracklist:
 Prologue: Scarlet Stories

 The Tell-Tale Heart

 Vingt Mille Lieues Sous Les Mers

 The Gallows Tree: Part I: Lullaby

 The Gallows Tree: Part II: The Price You Paid

 The Gallows Tree: Part III RIP

 In Blood And Limbs And Gore And Clay

 Dust

 Craving

 Nostalgie In A Closed Mind

 Living, Breathing, Yesterday

 Epilogue: Necrologies