Seims – Four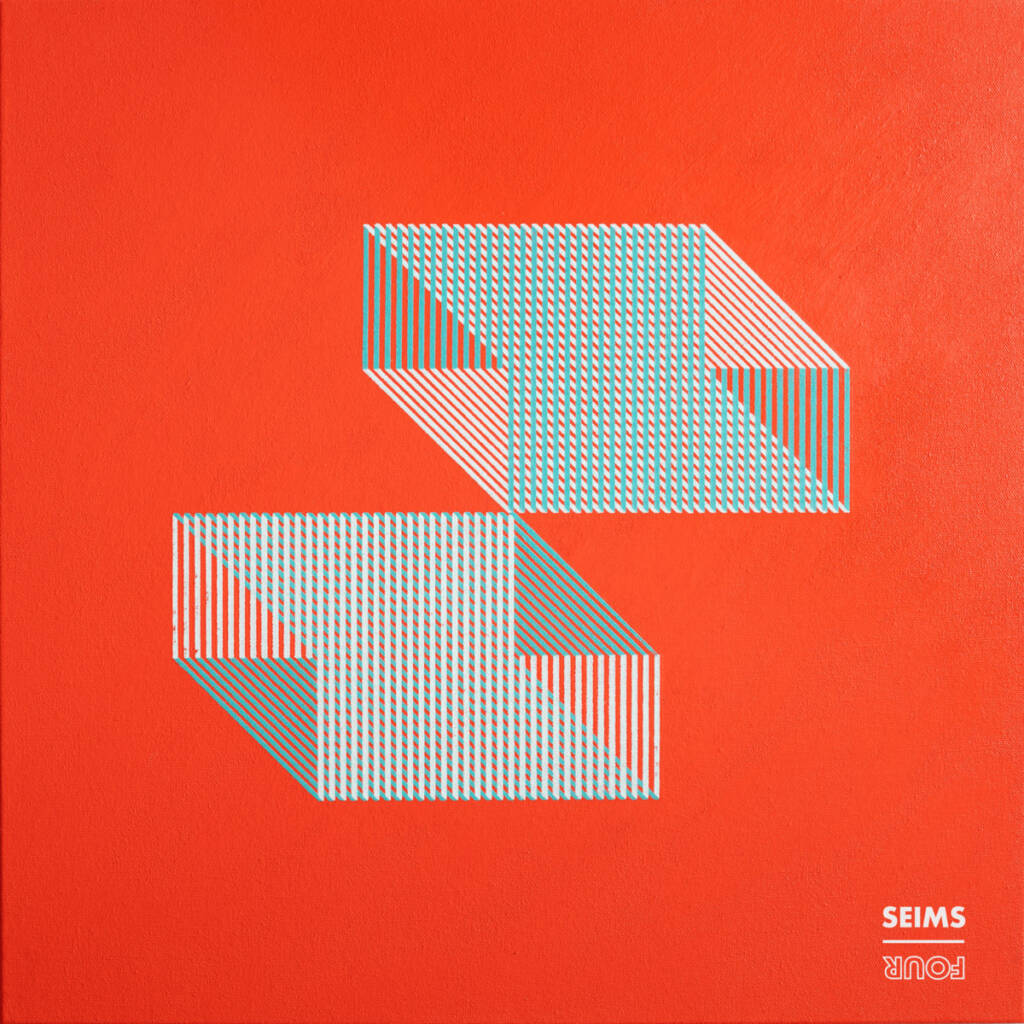 Confession: Math rock rarely interests me. But "Four" by Seims was labeled also as "experimental/post rock" and I gave it a try. Boy, am I glad I did!
For anyone unaware of the band, Seims started as a one-man-project by Australian multi-instrumentalist Simeon Bartholomew but has evolved into a band and they have released -you guessed it- four albums, 2 EPs and a live album. They have opened for many well known bands, toured Japan and appeared in many prog related festivals around the world.
Putting a "math rock" label greatly suffocates them as their music is hard to categorize. Sure, math rock is there and you can probably say it's the basis, but on "Four" you can hear post rock, progressive rock, jazz, soft piano, synthwave and some classical influences for the most part, as there is way more to discover here. The guitar riffs don't dictate their music, as with most bands, but rather the elaborate and thought provoking arrangements. Especially the strings are used brilliantly, giving them the proper space and taking advantage of their abilities, which produces a unique sound. But the strings have a hard time competing with the drums to see who is stealing the show. Polyrhythms you've heard a million times seem completely new and exciting as Plini drummer Chris Allison provides a recital with his musicality and cerebral approach. If that wasn't enough, keep in mind that you can also find flugelhorn, trombone, trumpet and harp in this album, as well as some scattered vocals.
Seims – The Mountain's Scream (click here if the video doesn't play)
While instrumental for the most part "Four" is a concept album based on the Myers – Briggs type indicator, a psychological questionnaire that tries to assign four categories, regarding how people perceive the world and make decisions, commonly known as "INFJ" or "ENFP". Suddenly "Four" is not just a random title. The album is all about conversations and the different ways they can be interpreted. The concept greatly enhances the experience as titles like 'Shouting at a Brick Wall' and 'Understatement' make perfect sense and with the music. It's as if describing how each of us is unable to fully understand each other since we're lacking the tools.
Seims – The Showdown Without A Victim (click here if the video doesn't play)
This is a great album, certainly a contender for best of the year for me. It also made me interested in discovering the rest of the band's material and watching out for anything new, as well as watching the band perform. If you're interested in music that merges different and multiple genres, as well as albums that have a lot to offer this one is certainly for you.
Seims – Elegance Over Confidence (click here if the video doesn't play)
Tracklist:
The Mountain's Lullaby
The Pursuit of Intermediate Happiness
Showdown Without A Victim
Shouting At A Brick Wall
Stranded. Isolated.
Elegance Over Confidence
Biting Tongues
Nuance Lost In Translation
Understatement
The Mountain's Scream