Sons of Apollo – MMXX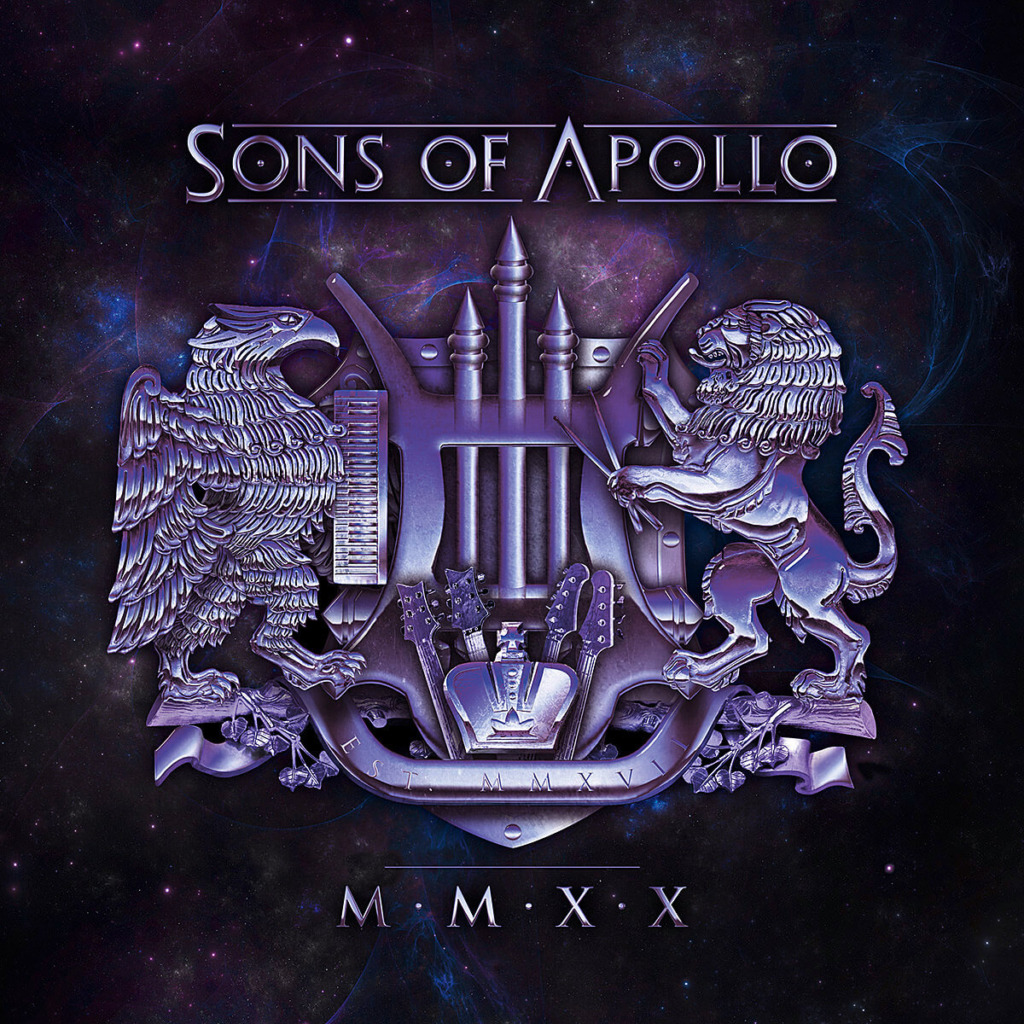 It's interesting how for some reviews, one of the hardest decisions is to whom you should recommend the album, whereas for other albums it's, in fact, the easiest part of the process. "MMXX", the sophomore album from Mike Portnoy's latest supergroup, Sons of Apollo, falls in this second category. If you liked the first album, you'll definitely like this second album. If you didn't like the first album, you probably won't like this one either, though you may be surprised. There, all done! Be sure to continue reading, though.
As a supergroup, the individual members of this band need no introduction. The Del Fuvio Brothers, as they call themselves, make up the core of this band. Derek Sherinian and Mike Portnoy first worked together during the "Falling Into Infinity" era of Dream Theater, which coincidentally is one of my favourite Dream Theater albums. On guitar, they brought in Ron "Bumblefoot" Thal, who plays his very recognizable double neck. One of the necks is fretless, which brings some very interesting solos especially. Rounding out the band are Billy Sheehan on bass and Jeff Scott Soto on vocals. A supergroup if ever there was one.
From the first song on, this album is unmistakably Sons of Apollo. Where the first album had a more proggy start with 'God of the Sun', the intro to 'Goodbye Divinity' immediately harkens back to the aforementioned "Falling into Infinity". It's a pretty straightforward song, but the energy here is brilliant and perfectly foreshadows the rest of the album to come. Billy Sheehan's bass stays very much in the background, but he's actually playing some pretty crazy stuff, especially at the end of each chorus, subtly giving the already very lively song that little bit extra energy.
Mike Portnoy has always said that he considers Sons of Apollo more of a classic hard rock band with prog and metal influences, and no song shows this better than 'Wither to Black'. The verse is pure hard rock, with the vocal melody and phrasing being slightly reminiscent of the Rush classic 'Tom Sawyer', but the chorus morphs into hard-hitting heavy metal.
Sons Of Apollo – Goodbye Divinity (Click here if the video does not play.)
This metal trend continues into the next song, 'Asphyxiation', as well. This song has some very good, freakishly technical, instrumental parts, but they are used tastefully, never last too long or lose their sense of melody. Have fun counting the time signatures in this one!
In the original announcement for the album, the band already remarked that songwriting this time around was a more natural process, as Bumblefoot was still a stranger to them the first time around. The energy of the songs on this second album definitely reflects this. I guess this fact also brought the better vocal harmonies for this album, as the band now knew that he is not only a brilliant guitar player but also a very capable singer. With 'Desolate July', we get the first and final ballad of this album, and it's a good one. The (vocal) melodies are simple but effective. This song was written about the untimely death of Adrenaline Mob bass player David Z, who died in a tour bus accident in 2017.
Sons of Apollo – Desolate July (Click here if the video does not play.)
Then 'King of Delusion' starts with a very proggy piano melody. Don't get complacent though, as the main riff will soon come blasting through. The verse riff is a delightful mid-tempo headbanger, and I challenge everyone to keep their heads still during this one. Then suddenly, the piano is back, and we have a short piano-and-drums-only part, before the solo section starts with the fretless guitar, followed by the Hammond organ (which, by the way, is much more prominent on this second album). The best song on the album in my opinion.
But wait, there's more. 'Fall to Ascend', the second single, is another one of those typical Sons of Apollo relatively straightforward metal songs. I always like a simple drum intro to kickstart a song, as it can set the mood for a (metal) song more than any melody could (think 'Painkiller', 'Sons of Northern Darkness', etc. etc). Mike Portnoy is happy to oblige, of course, and the intensity of his playing in this song is second to none. I often complain that modern prog metal has way too few riffs. I'm happy to inform that in this respect, Sons of Apollo are definitely not a modern prog metal band, as this song alone has enough brilliant riffs to last most other bands at least three songs.
I realize I haven't even really mentioned Jeff Scott Soto's performance yet, which is a testimony for how well his voice and the vocal melodies fit the music: you'd almost forget he was here, and I mean that in a good way. He makes everything sound effortless and self-evident, like there is no other way these songs might be sung. 'Resurrection Day' is built around a simple ascending – descending melody, combined with a very cool groove. The instrumentalists trade solos like there is no tomorrow, and this is the first time Billy Sheehan really takes the spotlight for a few short solos as well.
Sons of Apollo – Fall to Ascend (Click here if the video does not play.)
The dynamics of this album, by the way, are distributed very well. Apart from the first song, the intensity remains pretty high throughout until the ballad, which immediately segues into the most proggy song, turning up the intensity again. Any room to breathe doesn't really come until the final song 'New World Today', which starts out very atmospherically with some pretty guitar melodies on top of a subtle keyboard background. This part has a very distinct Dream Theater feel to it as well, but then the main riff comes in and pounds that association out of you. Despite the proggy intro and the length of the song, the rest of the song is much more hard rock-oriented, and Jeff Scott Soto's brilliant and catchy vocal melodies really drive this point home. This song goes through so many moods, it would be pointless to try to recount them all, but the second main riff might as well be thrash metal, and I do love me some polka beats! Then the instrumental mid-section starts, and be prepared to be blown away. Of course, these gentlemen have nothing to prove when it comes to their technical chops, but this part manages to be both technically extremely impressive as well as musically interesting. Then we have a synth solo, which is very strongly reminiscent of Dream Theater again at first but builds up to something all its own. After a final vocal part, the song ends and I can only say: already? Was this really 15 minutes?
There's no such thing as a perfect album, so one possible point of criticism would be that two of the proggier passages are a lot like Falling into Infinity era Dream Theater (compare the intro to 'Goodbye Divinity' and 'New Millennium', for example). Though it's only logical, since these are very heavy on the keyboards and it's Derek playing them, I guess it sort of amounts to saying that the guitar solos in Rainbow are a lot like Deep Purple.
Touring has clearly brought the band closer together, the musical chemistry and energy is tangible in every one of these 8 songs. They've also really consolidated their signature sound with this second release and as said before, this album is unmistakably Sons of Apollo, so if you don't like the band at all this album probably won't change your mind. Be sure to give it a try though, because this album is better than the first in every possible way. More riffs, better riffs, better solo sections, better vocal melodies, better vocal harmonies, more energy and just better songs in general. If you like your metal riffy with a side of virtuosity, you owe it to yourself to try this album. The first release of 2020 for me, but already one that's going to be very hard to top.
Tracklist:
Goodbye Divinity (7:16)
Wither To Black (4:48)
Asphyxiation (5:09)
Desolate July (6:11)
King Of Delusion (8:49)
Fall To Ascend (5:07)
Resurrection Day (5:51)
New World Today (16:38)
Tour dates:

North America:

Jan 23rd – Sacramento, CA – Crest Theater
Jan 24th‬ – Pomona, CA – The Glass House
Jan 25th‬ – Los Angeles, CA – The Roxy
Jan 26th‬ – San Francisco, CA – The Fillmore
Jan 28th‬ – Salt Lake City, UT – ‪The State Room‬
Jan 29th‬ – Denver, CO – The Oriental Theater
Jan 31st‬ – St Charles, IL – Arcada Theater
Feb 1st‬ – Battle Creek, MI – The Music Factory
Feb 2nd‬ – Toronto, ON – Mod Club
Feb 3rd‬ – Montreal, QC – Corona Theater
Feb 5th‬ – Boston, MA – Paradise Rock Club
Feb 6th‬ – New York, NY – Gramercy Theater
Feb 7th‬ – Jim Thorpe, PA – ‪Penn's Peak‬
Feb 8th‬ – Englewood, NJ – ‪Bergen Performing Arts Center‬

South America:

April 18th – São Paulo, Brazil – Tom Brasil
April 19th – Rio De Janeiro, Brazil – Circo Voador
April 21st – Santiago, Chile – Blondie
April 23rd – Buenos Aires, Argentina – Teatro

Europe:

Feb 28th – Karlsruhe, Germany – Crystal Ballroom
Feb 29th – Karlsruhe, Germany, Crystal Ballroom (Sold Out)
March 2nd – Drammen, Norway – Union Scene
March 3rd – Gothenburg, Sweden – Traedgarn
March Sth – Kiev, Ukraine – N.a.u Theatre
March 7th – Moscow, Russia – Red
March 8th – St Petersburg, Russia – Aurora
March 10th – Pratteln, Switzerland-z7
March 11th – Milan, Italy – Live Club
March 13th – Bilbao, Spain – Santana 27
March 14th – Barcelona, Spain – Razzmatazz 2
March 15th – Madrid, Spain – La Riviera
March 17th – Marseille, France – Cepac Silo
March 18th – Paris, France – Machine Du Moulin Rouge
March 19th – London, England – Islington Assembly Hall
March 21st – Eindhoven, Netherlands – Prognosis Festival
March 22nd – Brno, Czech Republic – Sono
March 24th – Kosice, Slovakia – Colosseum
March 25th – Budapest, Hungary – Barba Negra