Tiberius – A Peaceful Annihilation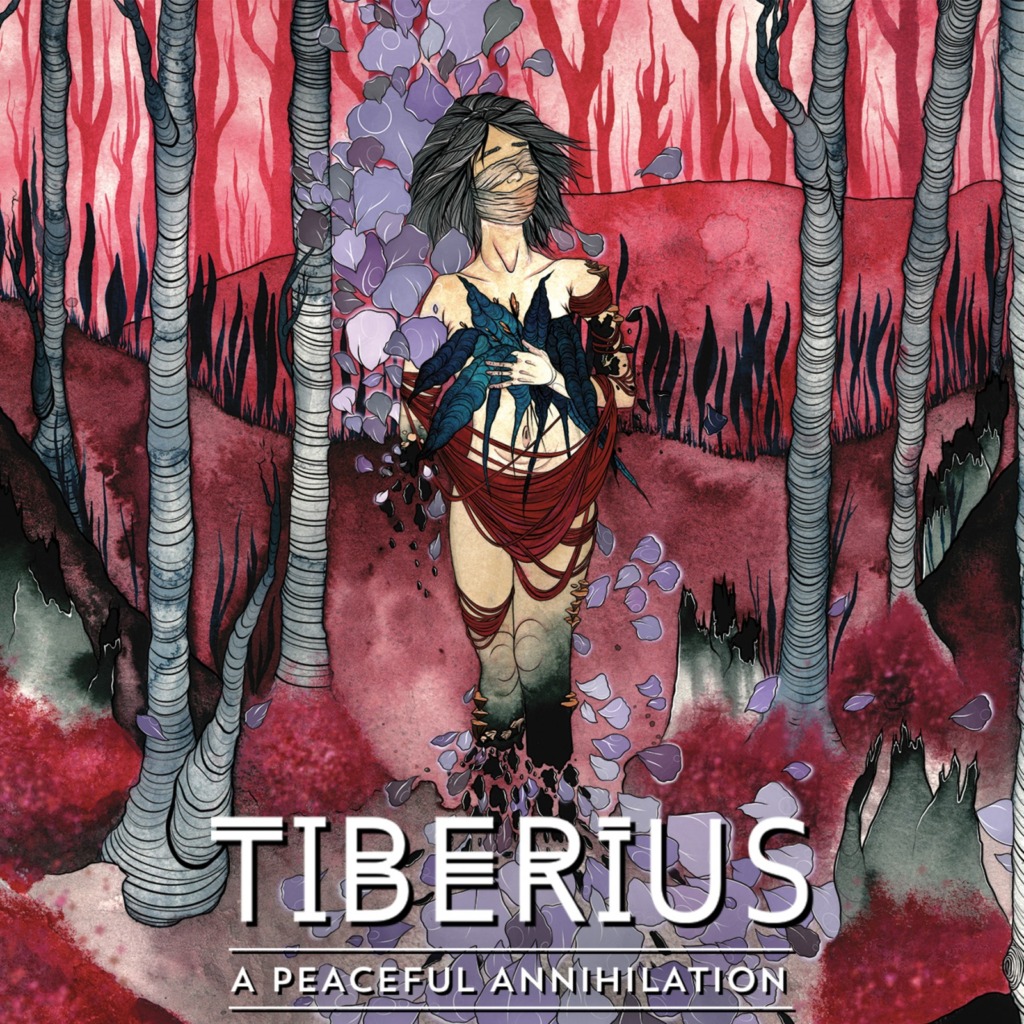 A Peaceful Annihilation is the debut album by Edinburgh based progressive metal band Tiberius.
The band have been quoted as saying – "This album has been inspired by real-world events to create songs which deal with broad themes and social issues. While we've taken inspiration from our musical peers and heroes, we feel we have now established our own true identity. It's been an exciting journey that we can't wait to share with everyone!". This is true, they do have their own distinct sound. This, no doubt, helped them to win the 2017 Scottish Alternative Music Award (SAMA) for "Best Metal Act". At that point, they had released two EPs. S/T 'Tiberius' in 2015, and 'The Beautiful Ones' in 2017. All these are available on BandCamp.
The band opened the Saturday main stage at UK Tech-Fest in 2018 and we were there to witness it (along with several friends both from the UK and Europe who attended the Festival – you know who you are). We enjoyed the band and purchased some merchandise from their stall. They were due to appear again this year, but like almost everything else, the Festival has been postponed until 2021. However, they did appear as part of the line up on UK Tech-Fest 2020 at Home.
A Peaceful Annihilation has 10 tracks and was produced by Meyrick De La Fuente from Exist Immortal. The total running time is approx. 54 minutes.
Tiberius – Swansong (click here if the video doesn't play)
Grant Barclay's powerful clean vocals cut through loud and clear. You can hear every word he sings. A couple of times I have had to check the lyrics, to confirm what I think I have heard. Lines like "Oh look! Winnie the Pooh holds an orange balloon. There's egg in our face, lick round the edges- leave none to waste! " . Yep, I heard it right. The music is complex and played by accomplished musicians. Guitarists Chris Foster and Jahan Tabrizi founded the band, with the aim of improving their guitar playing. Well, mission accomplished I say.
Tiberius – Mechanical Messiah (click here if the video doesn't play)
Three tracks were released as singles prior the full album, all their videos are imaginative, entertaining, and a bit wacky: 'Swansong', 'Mechanical Messiah' and 'Leviathan'.
Tiberius – Leviathan (click here if the video doesn't play)
I get the impression that these guys have a great deal of fun writing their stuff and in doing so, have produced an excellent and enjoyable album. It is technical, catchy, accessible and should appeal to a wide range of rock/metal fans. I really hope UK Tech-Fest is on in 2021, and that this band are still on the bill. I also hope that they have got huge satisfaction from making this album, and it will give them the impetus to keep writing. I for one, will be on the lookout for future releases.
Also check out Episode 061 of the Progcast with guitarist Jahan Tabrizi!
Track List:
The New Subjugation
Mechanical Messiah
Skylark
Fidelity Lost
Anchor
Leviathan
Dissipate
Republican
Swansong
Kaituma