Humavoid – Lidless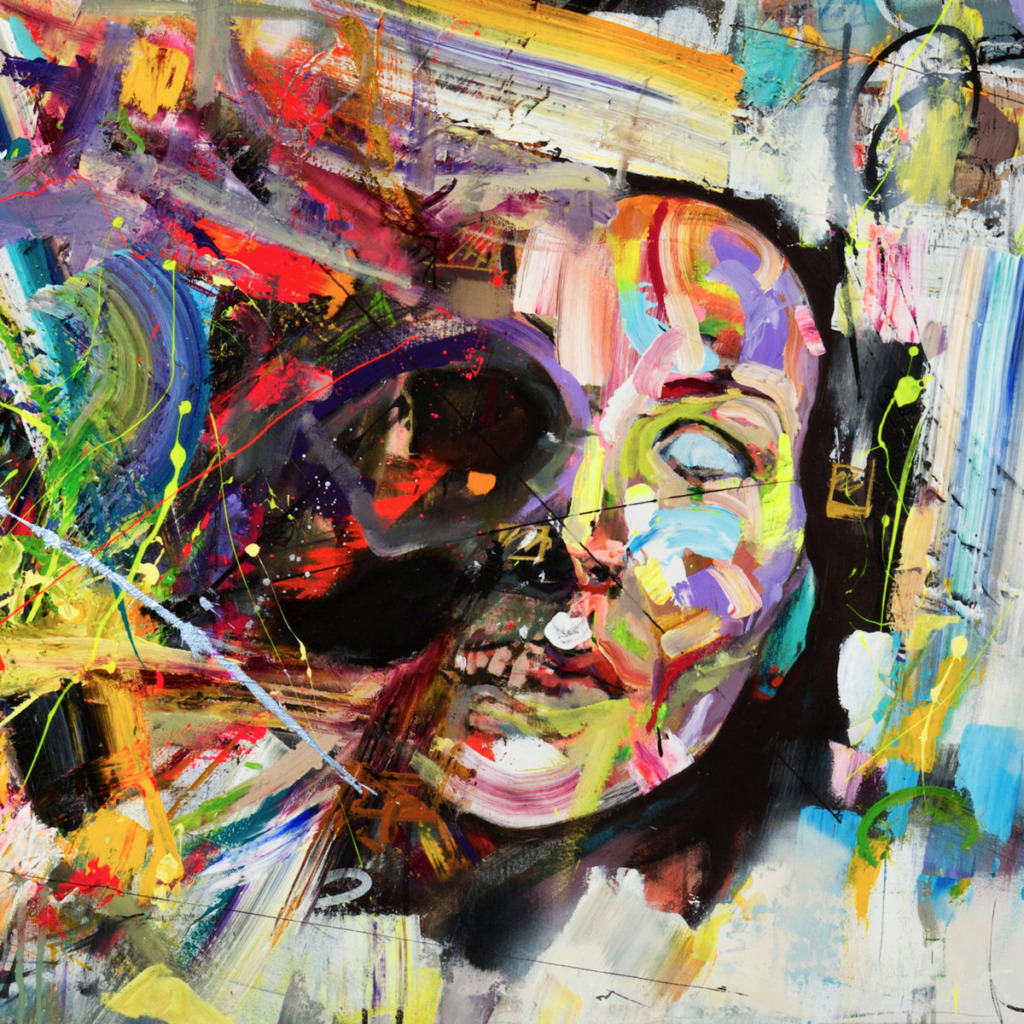 This album is one I've been anticipating for a long time! Finland's Humavoid have proven themselves to me as one of the most unique and surprising bands in the realm of modern progressive metal and djent with their previous releases "Faster Forward" and "Glass". And ever since the first news came up that they're working on a new full length, I've been getting increasingly impatient to get a new batch of ear-pounding, head-spinning, energy draining goodness. Now "Lidless" is set to be released on August 21st through Noble Demon records and my thirst for serotonin induced seizures can finally be quenched.
What made this band stand out at to me the first time I heard them was the unusual blend of djenty riff patterns combined with jazz/fusion styled dissonance and the weird alien-ish sound of Suvimarja Halmetoja's keytar parts which is undoubtedly their secret weapon. With a new line-up and fresh energy, the band now takes their self-defined sound to a new level, amplifying both complexity, expressivity and diversity to previously unseen levels. As soon as the first track, 'Fortune for Demise', kicks off, your senses are ambushed by an overwhelming push-and-pull effect between hooky grooves and undecipherable progressive time-patterns. I have rarely encountered such experimental and complex composition delivering so much instant gratification at first listen. But throughout this entire album I was completely engaged.
click here if the video doesn't play
The music is primarily driven by constantly changing riffs, going through fluid dynamic runs, djenty sliced chugging and Messhugah-styled galloping, backed by a solid yet unpredictable structure of drums and bass that sets a very alert pace. The head-banging brutality and the jazzy dynamics seem to blend into a singular sonic entity that brings both furious energy and subtle details forward to equal extent. This album can either be a total adrenaline-rush or a highly stimulating cognitive experience but whichever you go for, it will drain you by the time it ends, and you will be thankful for it.
Production-wise, it has a raw and aggressive tone on the riffs, considerably less polished than most djent-oriented pieces, which enables it to get a lot more expressive. But it still keeps a very balanced and well-defined sound that doesn't let any element get buried in the mix.  The keytar comes along as the cleanest component, counter-balancing the abrasive tone of the guitar and bass. In terms of both production and composition, Humavoid have this talent of bringing aggression and clarity together, creating a very organic emotional experience without hindering the sound quality and highly refined attention to detail.
click here if the video doesn't play
When music gets this complex and technical, it may hinder the level of expressivity that it carries but with Humavoid, it does quite the opposite. While I'm not fully aware of the lyrical themes on this album, the first two singles, 'Lidless' and 'Aluminum Rain', have given me a good insight into what "Lidless" actually aims to describe: a state of constant paranoia and being on full alert. Now what way to better describe that than through a constant bombardment of hectic progressive patterns, delivered through weird and unnatural sound effects. This album actually builds a very convincing mood and atmosphere. They are masters at creating expressive sound textures that feel tangible. The bendy pitch on the keytar feels like it stretches and liquifies the solid impact of the drums, guitar and bass and the electronic piano tone does a great job at accentuating certain moment to create a spike effect. Also, at times, eerie background key tones or fast chromatic runs evocate an almost horror soundtrack tinge.
The trippy restlessness of the syncopated transitions always feels like yet another stimulus that comes to overwhelm your senses. Then the vocal dynamics amplify the push-and-pull effect, alternating between 3 different vocal styles that all feel equally psychotic in different ways. Guitarist Niko Kalliojärvi's harsh vocal performance resembles a thrash metal approach but with considerably more depth, securing the low-end frequency of the vocals while Suvimarja alternates between jazz-influenced clean vocals (which give a strange sense of comfort amidst the chaos) and scarring high-pitched screams that still maintain some melody as well. And it's amazing how these unusual vocal styles come together and fit into the texture of the instrumental structure beneath. The end result is the sound of paranoia… only it's incredibly satisfying.
To top off this undefined form of expression, the progressive aggressive maniacs infused their entropy-infested creation with just about enough hook and infectious groove to make it worth the battering. And every now and then, they have some surprise moments in store, like the guest spot for jazz pianist Iiro Rantala on the first single 'Aluminum Rain', the menacing drum build-up in 'Matter' and the surprisingly melodic guitar solo in 'The Breathing Method'. And with these final touches, "Lidless" is born, and inner peace must meet its end.
Track List:
Fortune for Demise (04:49)
Lidless (04:18)
Aluminum Rain (05:16)
Inside 1 (00:32)
Matter (06:16)
What You Hide (04:54)
Inside 2 (00:52)
The Breathing Method (05:42)
Undercurrent (07:01)
Drywall Cracks (07:02)