Voyager – Colours in the Sun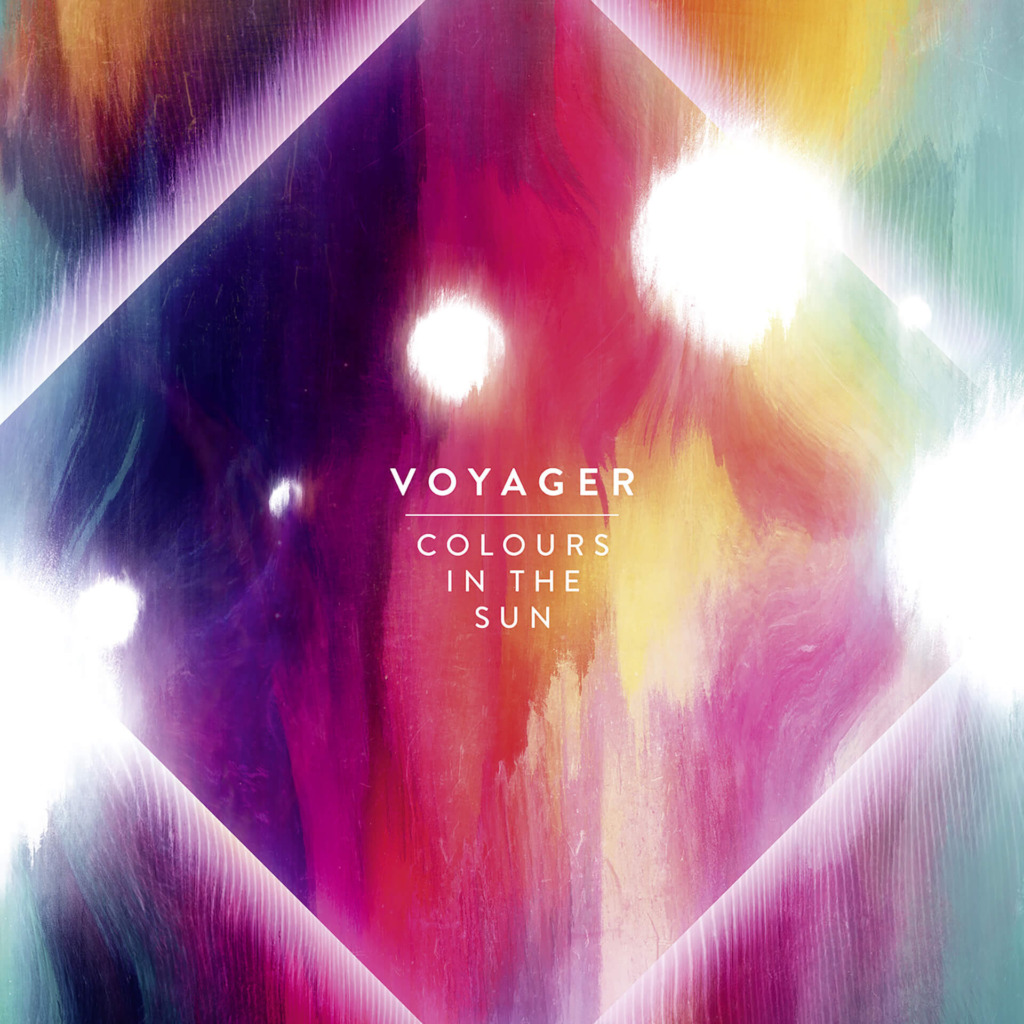 Dear reader, let me get this straight right from the start: I love Voyager, I love their quirky yet astounding mix of synthpop and djenty metal, I love every single second when they set foot on stage in front of me, and I personally know the gents and lady and some of the people part of the bigger Voyager crew, and can confirm every single one of them is as down to earth, friendly, funny and super pros in everything they do. Yet, I'll try not to be biased on this review, even if it will sound to you this review will come out from the V-crew themselves. Damn this is going to be difficult!
When I heard Voyager's previous album "Ghost Mile" for the first time, it was like a straight punch in the face. I had already fallen in love with the band since the first time I saw them live at the stage of ProgPower Europe in the Netherlands a couple of years before. Soon after they were touring with Leprous, in support of their album aptly named "V" – their 5th, and then that V letter, it actually draws me closer to the band as it is my personal signature since I was a little kid. Oh yes, I love their graphics too (all made by drummer Ashley Doodkorte), they speak to me in part because of the extensive use of the V, and as a designer myself: I love good graphics! Ash is excellent both behind the drumkit and in front of the computer. But enough fangirling for now.
Both "V" and "Ghost Mile" were on my playlist since I got hold on them. Both were like a cupid's arrow straight through my heart to hook me up these 5 Western Australians with diverse backgrounds, styles and personalities. Does this explain their diverse music? I think so.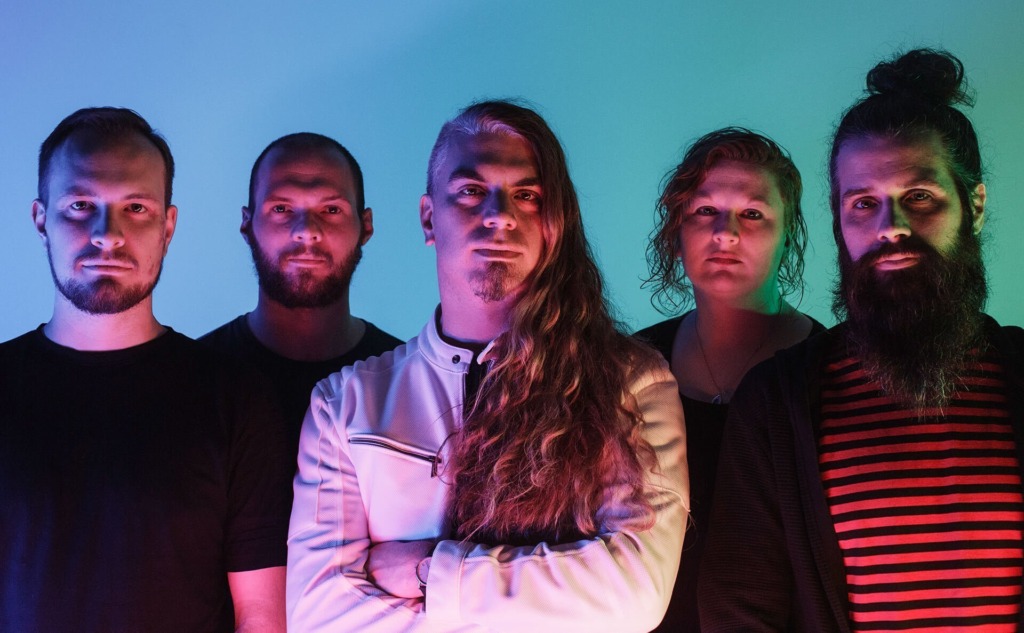 So fast forward, when I received the advance digital copy of their 7th album "Colours In The Sun", the band had already published two -very colourful- singles and had announced in between that they had signed with the label Season of Mist. That was a big move and it made me really happy for them as they wouldn't be dealing personally with every detail of the release of the album with crowdfunding campaigns, but…  They got a deadline now!
I must confess: I liked the songs, but at first, they didn't transmit much more to me than what "Ghost Mile" had before. So I was somewhat sceptical and hopeful about the full album. When I listened to it for the first time, I had the feeling that something was missing, almost a disappointment of sorts, as I expected an album that was going to blow me away from the first second to the last. This didn't happen at once but I remembered: "Never judge an album on its first play" – I had to remind myself that these guys and girl are on fire, are very creative and that Voyager is a band that has so much more to offer with their music than just a first impression on a single play. So I played it again… and again… and again…  and it has been playing almost daily in our house or in our car and in my head.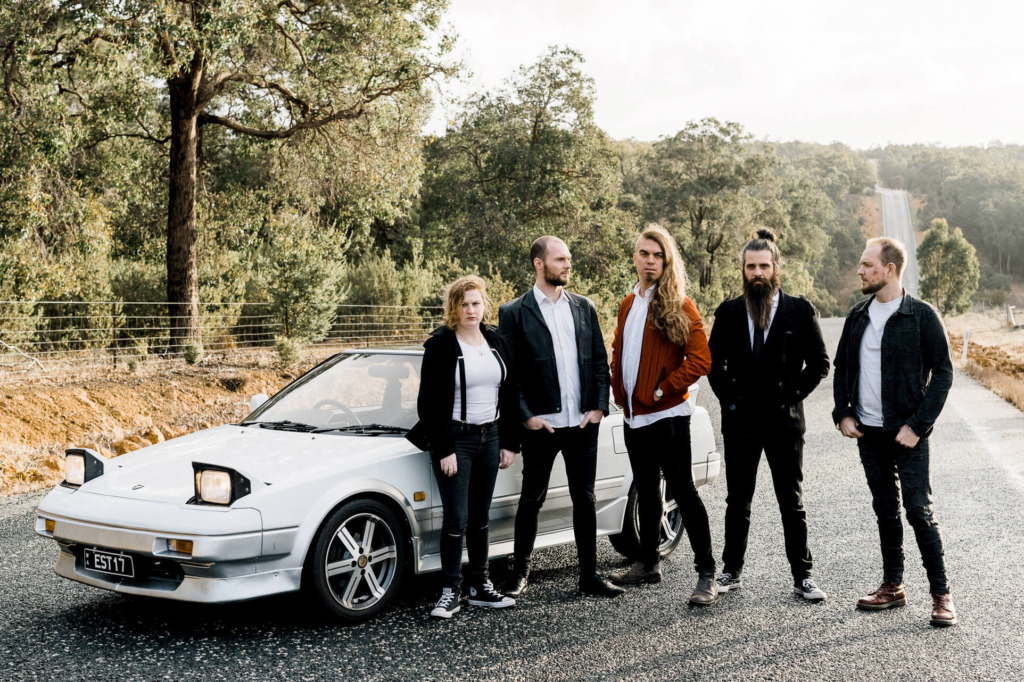 "Colours in the Sun" is definitely a grower. It is an album where you're going to find so many opposites meeting to create a work of art that will stick with you in the form of an earworm that won't stop even if you play it over and over. Technically speaking, the band is better than ever, skills that are also present in the composition and production levels, where the songs can be "easy-to-listen" but when you do so carefully, you discover all their hidden complexity.
But still, the album feels a tad rushed. I have not yet identified why. Was it the deadline? Or is it because it is just under 45 min with short songs below the 5 min mark except for one? One thing is clear: I would have loved to have at least one more song, as the album ends leaving me with the sensation that there's something more. Although after weeks listening to it and getting familiar with it, I can better understand and feel what the band wanted to transmit.
Voyager – Brightstar (click here if the video doesn't play)
The first of the two singles was 'Brightstar', released in March (7 months before the album release!) with a colourful video shot outdoors portraying the bare and beautiful landscape of Western Australia. The song opens with a, yes, let's say, colourful synth melody and catchy drum beats. The upbeat tone keeps the spirits high throughout the whole song. To note apart is the chorus, what an earworm ringer this one is! But the pop-ish first half of the song gives way to the classic djent riffs with that touch for technicality but still easy-going, that only Voyager can do.
The second single is the album's opener 'Colours'. It starts with an overpowering 80's synth that could give a heart attack to any metal fan who has not heard Voyager before. I can imagine some people exclaiming "what's this?!" haha! Quickly the full band enters transforming the dreamy synths into a full pop chorus with disco vibes… oh yes! This is Voyager at their best when the party beats change to be clearly metal. The song continues in full melody form guided by Danny Estrin's deep melodious voice while djenty muted guitars and bass reinforce the beats. The song has a very pop-ish structure, but then the middle bridge is pure 'modern-metal' sound, unmistakably inspired by the sound of modern prog bands like Leprous or TesseracT.
Voyager – Colours (click here if the video doesn't play)
This mix of pop-ish easy-listening structures with deep pitch crunchy muted guitars is a norm on this album, and it has become the Voyager trademark along with the dreamy synths and the velvety voice from Estrin. The reminiscence of Meshuggah is clear everywhere in the album, as much as the band might gather inspiration from the likes of Abba or fellow countrymen Men at Work or Inxs.
'Severomance' is one of those slow growers where this weird mix works wonders. The song is a perfect mashup of soft dreamy vocals from Estrin with the crunchy guitars already mentioned before. The chorus is mainly sung by bassist Alex Canion – who has a stunning vocal range. It makes me happy to notice his vocal duties increased on this album. Estrin's voice here serves more to complete the magic. The song suddenly transforms into a massive rock smashing everything it encounters rolling down a hill. This song is a banger and I really hope they will play this live, the energy contained in the first half of the song is released here in an explosion of riffs, slaps and kicks…Then a classy bridge gives us a respite and connects to the first solo of the album. Are guitar solos being sidelined lately? Glad Simone Dow and Scott Kay did some in this album.
Jumping over 'Brightstar', which I already mentioned before, it is time for 'Saccharine Dreams' which promises a softer ballad with the clean guitars intro, but nope, Estrin's voice enters at the same time as the distorted guitars to produce a verse section that is quite different to anything I've heard from Voyager before, but still intricately Voyager. The song transforms during the bridge and chorus parts quickly into a fast-paced and very much enjoyable but highly technical, syncopated muted guitars djent-galore.
The main melody of the song is another earworm hungry for more. Then we get a beautiful guitar solo by Simone. The longest track of the album then flows into a slow-paced section with the same clean guitars of the intro. I can't help but feel this section a bit out of place, but it serves to fall back to the main melody of the song, ending with those 80's synth ambient sounds.
Voyager – Entropy (click here if the video doesn't play)
The fourth single 'Entropy' features a 'familiar voice' and it is all in all a pretty straight-forward song. It really surprised me to have Einar Solberg as a guest in this very catchy chorus. This upbeat song is so different from what the Leprous do that it comes almost as a surprise, but Solberg's voice fits wonderfully and it gives me a certain hope for Leprous to do something similar in the future as a contrast to the gloomy vibe the Norwegian's usually create.
Back to the song, it goes in the same vibe of the rest of the album, mixing in a perfect flow the melodic vocal parts mastered by Estrin, the crushing beats and guitars, the dreamy synths soundscapes with a new element that appears towards the end: an arrangement of different layered voices behind the main chorus line by Einar and Danny. Yep! This is another hint to the friendship between Voyager and Leprous. I firmly believe that touring together definitely helped them both adding elements from each band's sounds to each other's new music.
Reaching the second half of the album, 'Reconnected' starts with a piano melody resembling early 20th-century music, deceptively opening the song which suddenly hits you like a full-speed train. Massive riffs and Ash's double bass smashing our ears. Oh! Their love for extreme metal shines through, growls included, and in the chorus we have Alex again with his high pitch vocal range. Prepare your ears for this massive track! Here Voyager is unmistakably reminding everyone "Hey! We're a Metal band!". Buuuuut…. Once gain deceptively the song takes you to its middle section of pure synths and programmed beats with disco vibes. "What in the bloody hell!?" you might think – yes, this is Voyager! But the crunchy metal, screaming Meshuggah everywhere, comes back and it cannot get better when Danny brings again his love for singing in his ancestors' languages, as we get some lines in Russian while he takes his keytar to lead the ensemble. This is definitely my favourite track of the album!
'Now and Never' is the soft slow song that is present in all Voyager albums. The shorter track at one and a half minutes could serve as a transition, where Danny sings the last lines of the song in German, over soundscapes built over layered synth melodies, drums and what I believe is clean guitars through some effects. But it is not really a transition towards 'Sign of the Times', which rings to me as another classical song from the band. It could have been extracted as well from "Ghost Mile", "V" or even "The Meaning of I". What I can identify as new in it is the overall album sound mix, which is, without doubt, fresher where each instrument and vocals sound crystal clear. Although enjoyable, the song doesn't really speak much more to me.
Voyager – Colours (click here if the video doesn't play)
But then comes 'Water over the Bridge', the 3rd single the band released in a funny yet so simple video "Guitar-Walkthrough" in which Dow and Kay were literally walking through their city – Perth – following the camera in front of them, of course doing their classic moves and faces with which both versed guitarists light up every stage they set foot on. A feast for the eyes! But the song is so much more than that! It is a real feast for the ears in terms of melodies soaring over the crunchiest guitar sounds the Australians have produced.
I really like how they managed to start with those guitars in your face and those little figures they make giving a syncopated proggy cut. Danny enters with his melodious voice, serving as the weaving thread throughout the bouncing muted riffs and cuts. Here Estrin sings his best on the whole album and the melodic change towards the midsection helps tremendously while Alex shows he has a lot under his bass slapping sleeves when singing the chorus of the song, that actually starts quite at the middle. Not a common song structure this time. Guitars serve as an introduction to a whole new section. The metamorphosis of the song is so evident that this part sounds like a whole new song with background keys as conducting line, but when Danny sings "we know it really just begun", the song actually reaches the end. What a ride!
The last track 'Runaway' ominously rings to the end of the album. The programmed synths have the main role here, with that 80's-90's vibe only Danny can sing beautifully and mix them so perfectly well within the heavier guitar riffs of Voyager's music. The song starts in a pop-ish mix that soon enough will find you moving your bones and singing along to the upbeat chorus where Alex is present again to add more range to the vocal lines. And then we get the only keytar solo of the album! The song structure is quite classic though, but the band knows how to convert it into another V-anthemic tune.  And suddenly the album is over. Wait! what? I want more!
This album is definitely a step-up in Voyager's discography in terms of production and sound mixing, as well as writing and having fun with the many yet different elements that create the very unique Voyager sound. It is a grower, you really get how many beautiful details it has by listening to it several times, and it won't disappoint you, except that is too short!
The band has been working together for the last five years like cogs in a well-oiled machine, it is clear the brotherhood between them permeates their music as well. But as I mentioned at the beginning of these lines, the album still feels a bit rushed to me, I wish it was longer. But a European tour is coming, and hopefully, more cities worldwide will be added. I really can't wait to see the Aussies on tour again having fun like no other band does on stage. Be sure to catch them live in a city near you!
Oh! I almost forgot to mention: the band is again half-joking/half-serious asking for fans to campaign for the Eurovision Song Contest in Australia.  I believe both 'Brightstar' or 'Colours' would be perfect for it. I also believe their interesting and fun mix of metal with pop, plus their well-composed song structures and rock-solid stage presence can help them be a winner! So I am rooting for #VoyagerforEurovision.
Tracklist:
Colours (4:05)
Severomance (4:23)
Brightstar (4:32)
Saccharine Dream (5:27)
Entropy (4:43)
Reconnected (4:48)
Now or Never (1:39)
Sign of the Times (3:47)
Water Over the Bridge (4:42)
Runaway (4:38)