Inferi – Of Sunless Realms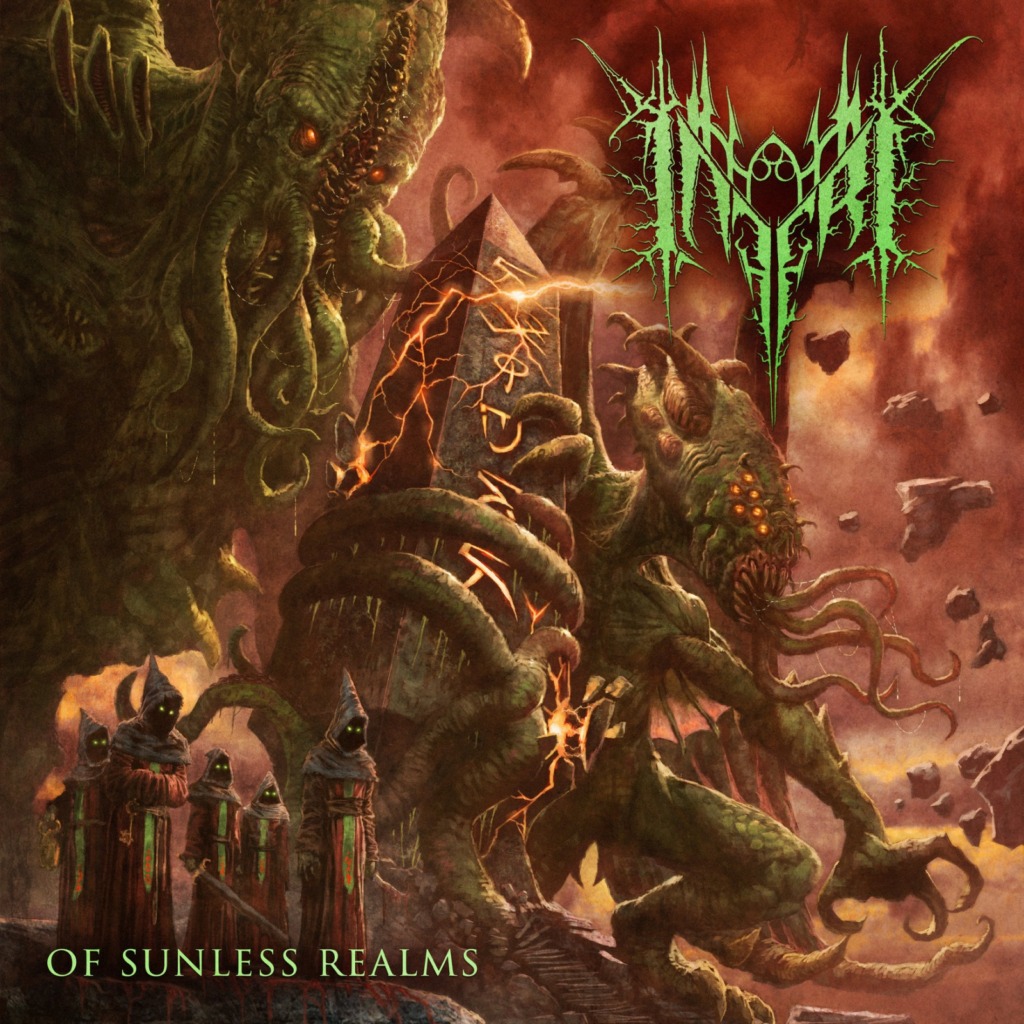 Among the notes supplied with the press pack for this release, there is a rather odd sentence; "The 5-song effort will be released on October 9th via The Artisan Era", which I found slightly amusing. What a strange way to promote an EP that, in my opinion, is something of a triumph. Especially when it is from one of your flagship bands, who are the very epitome of melodic death metal. This is in no way a criticism of the label though. They are an elite outfit with some incredible artists in their stable.
Picking through the various definitions of Inferi, it would appear to be the underworld and the collective gods therein. That certainly fits with the title of this EP "Of Sunless Realms", and the fantastic artwork by Helge C. Balzer.
The band were formed in 2006 in Nashville, Tennessee and have released four albums prior to this EP. The last one being the much lauded 2018 album "Revenant" which was also released as an instrumental version. An earlier album "The End of an Era" was re-released as a reworked version in 2019, "The End of an Era / Rebirth".
"Of Sunless Realms" opens with 'The Abhorrent Art'. You are lulled into the track by a beautiful melodic intro, before the onslaught of blast-beats, tight riffs, guitar licks and death metal vocals take over. The arrangements slide smoothly between time signatures, styles, and different paces, and despite the busy, almost chaotic cacophony, nothing sounds disjointed.
There is no preamble before 'Eldritch Evolution', the band launch straight in with all guns blazing. There are plenty of lead breaks and bridges from guitarists Malcolm Pugh and Mike Low that cut through like a sharp knife between the singing, and the whole thing flows along most satisfactorily.
The menacingly titled 'Spellbound Unearthed Terror' sounds just like you might expect. Three booming sounds ring out as if someone or something, is striking the door to the underworld from one side or the other. Then there is a sense of urgency as they set off at a rapid pace with a complex set of riffs. Perhaps something unspeakable has escaped and is giving chase. Whirling guitar solos add to the frantic ambience.
Then comes a complete change with 'The Summoning'. It sounds like we are now in the underworld, and some ancient text is being intoned. A choir then can be heard singing in the background, maybe in worship or part of a ceremony. This eerie episode only lasts two minutes but is enough to send chills down your back.
'Aeons Torn' brings you back into the heavier stuff. A hypnotic little melody runs through parts of this final track, punctuated with stunning lead breaks and growled lyrics. A majestic end to a superb EP.
Inferi – Aeons Torn (Click here if the video does not play)
At only 22 minutes long, you can almost listen to this three times an hour. If this is your sort of thing, you may well find yourself doing that.
Inferi have issued the following statement regarding this release:
"We have been hinting at a new full length for a while now. However, since 2020 has had its fair share of surprises already, we thought we would do something unexpected and make something happen during this global downtime. We bring you a new 5 track EP, "Of Sunless Realms." We still have a full-length album in the works and will continue to put all efforts into making it the best release we can."
If the material for the new album is of the same calibre as this EP, then we may well have a truly epic album to look forward to. If this band continues to evolve in this direction there will be no stopping them.
Tracklist:
The Abhorrent Art
Eldritch Evolution
Spellbound Unearthed Terror
The Summoning
Aeons Torn