Within Progress – Inner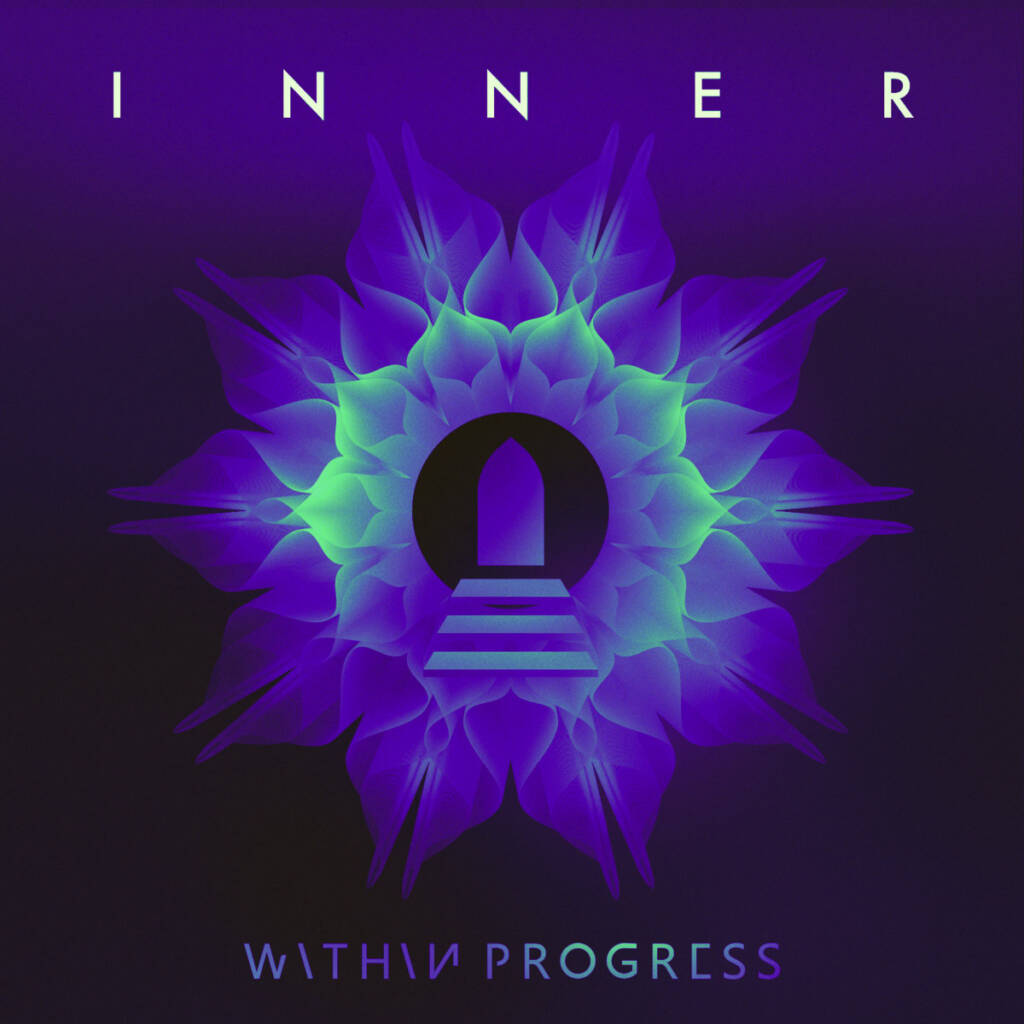 I was not ready for this. This should not have happened. I have been away from writing reviews for a while but as the end of the year is approaching, I wanted to go through some of the most relevant releases I've missed and compile a list of favourites. And as I sat down to check out "Inner" I could see it easily soar past most of the titles I had already written down and admired greatly. While I can't say I've absorbed this album anywhere near as much as it deserves, I already need to write my thoughts down.
I have heard the singles from this album previously, and I was very intrigued, but I had no idea of the impact they would have within the context of the full stream. As per my preference in albums, "Inner" is a creation that hits you as a full body of work, not necessarily in the sense that it should always be listened to in full, as you'd expect with a concept album, but rather in the sense of coherence and continuity as well as the evolutionary pattern that it maintains throughout. It is an album that you can fully sink into and get lost in the emotions and atmospheres it creates. The amount of diversity, creativity and ingenuity that went into it is staggering, especially for a debut. And while most albums that become favourites for me usually have a shocking impact, this one just feels humble and simply genuine. It's not the most over the top album, nor the most technically impressive, nor does it need to be. It's just what it is, and it's beautiful.
Within Progress – Hidden Wound (Click Here if the Video Doesn't Play)
Let's analyze. When it comes to musicianship, Within Progress are masters of their instruments. The music sure sounds complex and challenging to play, which is a treat for any proper prog-head but it also feels swift, natural and at ease. Making difficult music come across as easy, and also making it ear-friendly and digestible is a skill I've always admired, and these guys are some of the best I've ever heard in doing exactly that. To take the drum performance for example, I tip my hat to Polydoros Dardogiannos. We get a phenomenal sense of groove. Most of these songs will get you hooked and popping your head as easily as a pop song, due to a constant balance of snare and kick placing that maintains a steady pace, whether it be 4/4 or 3/4 or actually something more complex. The intricacy happens around the simplicity. We may get off beat cymbals, syncopated stops or momentary tripping away from the beat. Extra complexity is brought through the transitions and changes in pace throughout the songs, but the consistency of the groove is maintained in a seamless flow. Also, when there may be an atmospheric innuendo, this guy surely knows when and how to break the silence. Sometimes it's when you expect it, sometimes it's when you don't but it always feels right once you hear it. And while I've made them come across as quite humble for now, I need to say, he sure knows how to drop a proper BANG!
On the guitars and bass, we see an interesting and dynamic mix. They may flow more or less in unison, or they may spread into different directions. Sometimes you just get the sense of a full-riff sound and don't really need to tell which instrument goes where (although you can due to superb production quality). Other times, you clearly hear one guitar holding the riff while another goes on to the melodies. There are also moments (like for example in 'Absolute Circle' or 'Hidden Wound') where the bass holds the tone of the music and there may be just keyboard or a clean guitar juggling around it, creating this airy sense of groove. And have no fear, they sure know when and how to drop back into the HEAVY. When it comes to guitars, we must mention solos. And once again, it is creativity and a natural sense of it being "right" that just makes everything work. The solos are technical, but not too technical, they may be evolutionary and complex, but not excessively long. They may flash out, or they may just grow out of the song, but they keep and enhance the right vibe at the right time. They sound amazing from a melodic perspective, are flawlessly balanced in the production and add all the passion and fire that needs to be added to the song.
Within Progress – Destructional (Click Here if the Video Doesn't Play)
I must also talk about keyboards, and while the other instruments seem to have their role quite properly laid out for the entire duration of the album, the keyboard seems to take different forms with each song. It brings a deep and pressing texture to the intro of 'Sky we Want, Sky we Love' and only later in the song it sounds typically middle-eastern with a dash of Greek-music touch. And if we look on the other end of the album in 'Pathos' we hear a swirling, strange and ethereal piano, almost akin to classical music but maybe with more of a cosmic fantasy touch. In between we hear all sorts of celestial sounds, as well as more synthy effects and a proper solo in Reach for the Stars that soars into a beautiful atmosphere I may associate to shoegaze or post-metal, if it was more energetic. In fact, as far as atmosphere goes, it is the keyboards but also the clean guitar that makes such unique and beautiful soundscapes. I could compare it to atmospheric parts in Tesseract but also with Alcest, and the fact that I put those two together should already give you an idea of the variety that comes in the textures and tones they can create in atmospheric passages.
There's certainly a blend of organic and synthetic sounds coming together. Some songs feel like I'd want to listen in an airport, others on a lonely beach at sunset, or on top of a mountain, looking at the stars. The riffs and vocals, I would say bring a lot of the raw nature while keyboards, clean guitars (with delay) and sound design may sometimes take towards the techy side.
Within Progress – Absolute Circle (Click Here if the Video Doesn't Play)
Did someone say vocals? Oh wait, did I really get this far without mentioning Efthimis Papadopoulos. Given that he bears the same last name as the famous, infamous, fabulous Yannis Papadopoulos of Beast in Black (and formerly Until Rain for prog nerds), it should be clear that this guy is quite capable. But his style is nowhere near power metal, more of what you'd expect to hear in an alternative metal band. He has a very impressive range, hitting high notes to impress and a slightly nasal tone here and there, but most of all he brings a lot of passion and volume, to the point where the chorus just opens up the song (best seen on 'Sky we Want, Sky we Love'). And if that wasn't enough, the vocal layering sure is impressive. The ending of 'Buridan's Paradox' is a moment worth mentioning, almost sounding like a dialogue between… well Efthimis and Efthimis 2.0?? Who even cares, it sounds fabulous! Also he has a scream somewhere in the album, won't tell you where so you have to listen to the whole thing to find it. But it sure makes an impact.
Looking back on the idea of "Inner" working as a whole, I need to spotlight the gradual evolution of the album. While I don't know the concept in full, my sense is that for the first 5 songs it dwells in a rather dark tone and after the heaviness is broken by the ballad-ish 'Sunlight Whispers', it gets increasingly philosophical, psychological and introspective. As this moves on through various musical approaches, a sense of peace seems to settle over the last 3 songs, which by the way are an amazing stress reliever, take it from one who's been battling anxiety for quite a while now. Here, "Inner" receives a 9, but for me personally, it is a 10, not because it's the best thing ever, but because it can't really be compared to others. I genuinely can't pinpoint what it is that makes it tick all the boxes, but it just feels like life. It's flawless and beautiful!
Track List:
Sky We Want, Sky We Love (05:59)
Absolute Circle (05:42)
Destructional (05:23)
TReach For The Stars (04:13)
Hidden Wound (05:02)
Sunlight Whispers (05:33)
Buridan's Paradox (05:19)
True Colours (04:51)
Us, The Constellations (05:27)
Absence of Judgement (03:55)
Of A Ruminant (07:30)
Pathos (05:47)