A.C.T. – Heatwave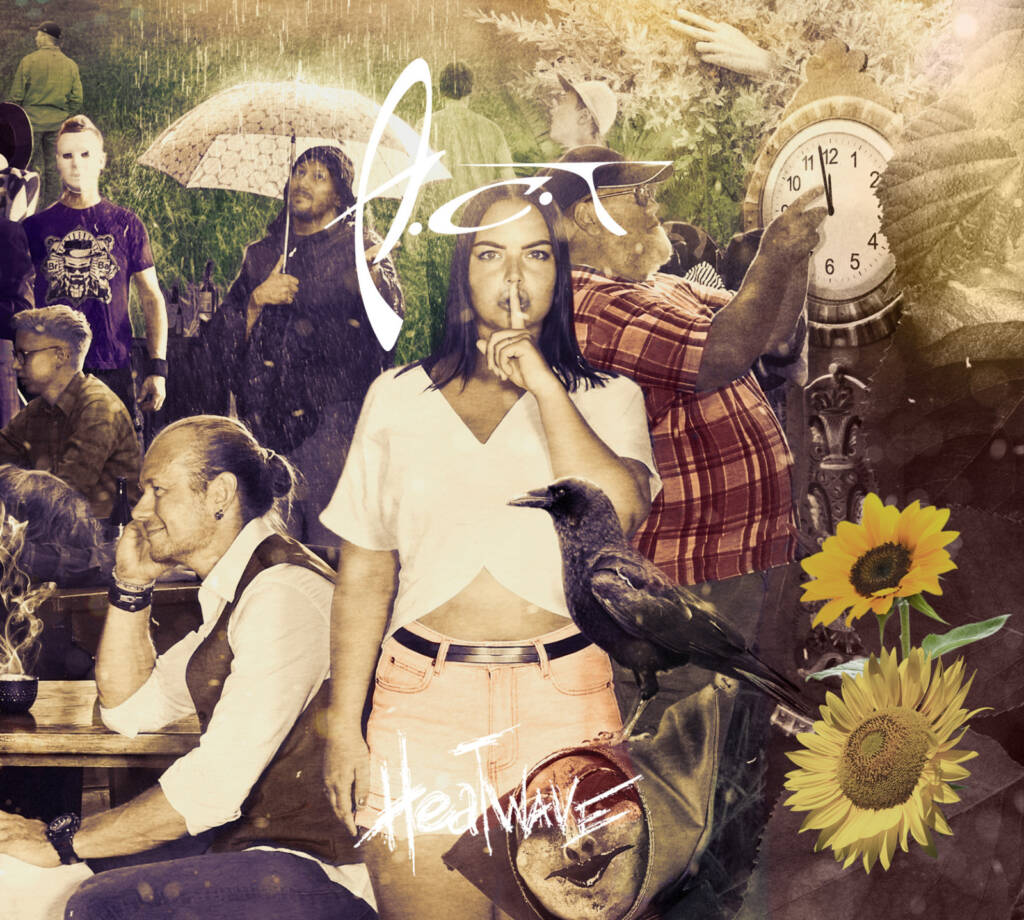 It is not easy to start a review of a band I shamelessly and absolutely love. I have to do this disclaimer in the first line because I don't want you to think I'm too biased.. Well yes I am! But wait, it's just that these Swedes are simply amazing musicians who happen to do amazing music!
That said, who is A.C.T.? Why aren't they among the Progrock shiny stars hailed everywhere and worshiped by millions? Well good question! In my humble opinion, they should be touring the world (whenever that is possible again!) and all their discography should be in every single progrock fan's collection. Yes they are extremely underrated and seem to be very discreet and usually silently creeping out of their hidden homes in the southern Swedish city of Malmö to surprise us with new music, in form of an album or a new EP, like just happened with "Heatwave", the most personal album for the band, and a direct follower of 2019's "Rebirth". It is also the 2nd of 4 EPs planned to see the light of day.
The band was formed in 1995 and saw its first album "Today's Report" in 1999, a jewel if you can get your hands on it, on which they were already shaping the music style they're known for: extremely melodic, yet intrinsically complex and ready to surprise you at every turn. No you cannot really guess what is the next move they'll do, if you have not heard their music yet, be ready for a surprise, constant changes of patterns, rhythms, melodies, and I guarantee you will end in a good mood!
The band has been in constant rotation in my music players since the first time I heard them, back in the mid 2000's (thank you Progulus.com internet radio!). With 5 full albums in their discography, to recommend you one is simply impossible, so grab your pen and paper or open a new tab and search right away for: "Last Epic" (2003), "Silence" (2006) or their darkest so far but awesome, "Circus Pandemonium" (2014). Then, after a 5-year hiatus they came back with the superb EP "Rebirth" (read our review here), marking the first of the 4-EP series I mentioned before.
Now they just released "Heatwave", a 5-songs and one short intro full of their trademark sound full of guitar melodies, synth and piano, strings, rhythm changes, catchy choruses and vocal arrangements and Herman Saming's trademark pleasant and subtle scratchy voice.
Led by Ola Andersson's guitar and Jerry Sahlin's keys, the quintet takes you through a journey, somewhat dark, into what I grasp is about the struggles of a man and his family, leading to the breakup of their marriage. But don't let this dark subject drive you away, the music tells you something else entirely, and that is one of the magic tricks they have hidden up their sleeves. How can they do that? I have no idea. While Herman is singing about the darkest of subjects (see "Circus Pandemonium") the music takes you to a journey through green meadows full of sparkling little flowers and bees. Is that too graphic? Haha well, that's what their music does to me. It is indeed a magic journey, and whenever I feel sad or moody, once I play one of their albums, I get instantly happy!
Take, for example, the closing track 'The Breakup', released as a second single: While the title of the song tells you instantly what it is about, the catchy happy chorus is actually making you smile ¯\_(ツ)_/¯ . I know it sounds weird when reading these lines, but this is what their music is like. And the song is actually deeply emotional, so don't be fooled, it is indeed a journey within the general story they've built.
But starting at the beginning and not at the end, the intro, aptly named 'Intro', places you indeed in some garden, with birds and insects buzzing, woodworking and a synth chord opens up to the next track and the instantly recognizable A.C.T. sound.
Sadly, I don't have the full lyrics but what I can make out of them, plus the news host heard as background at the half of the 2nd track 'Checked Out', narrating about the terrible 2018 summer wildfires raging the arctic region in Sweden and the record heatwave that year (aha!), plus the EP's ending sound of the fire, make me think of the uncontrolled fires as a metaphor for a relationship  crumbling down in its own ashes.
A.C.T. – Checked Out (click here if the video doesn't play)
But back to the music: talking about the 2nd track and first single "Checked Out", I think it is one of the absolute best pieces of music the swedes have written. At 5 and a half minutes, it not only has everything I've tried to paint in words before, but it is the sheer mastery of their own special sound. Musically it is like travelling through all their discography. It has the vocal harmonizations, the melodic progressions, the surprising rhythmic pattern changes, Sahlin's and Andersson's backing vocals, and the super catchy chorus, crowned by the guitar riffs that won't leave your ear even hours after you listened to them.
Peter Asp on the bass is superb as well, and the little tricks and sounds that Thomas Lejon does on his drums are always a delight (oh those little coconut kicks remind me of the late Peart's ones on 'The Trees', if just for a second). These 2 guys in charge of the ever-changing rhythm foundation are simply jaw-dropping. But wait until minute 4 right after Andersson's and Sahlin's solos, the band just gives a full lesson in prog mastery!
The follower 'Brother' starts with a jazzy intro that quickly delves into the classic A.C.T. sound, bringing more of those melodies and snappy earworm-worthy chorus. 'Dark Clouds' lowers the mood to a slower and softer tune, the use of minor scales and the half-whispered voice give way to a ballad that is not only beautiful but as well uncommon in their discography. But then the 80's synth sound starts and we're in the title track 'Heatwave', a 4-minute masterpiece, including vocal duets between Sahlin and Saming. This song alone should be part of any classic prog rock compilation, as the band as a whole deliver a complete masterclass on progressive rock goodness.
A.C.T. – The Breakup (click here if the video doesn't play)
Then we reach the final song 'The Breakup' with which I started this review. The melodies might remind you heavily of some classic pop-rock tunes, but it definitely has that A.C.T. signature all over, and even if the melodies and mid-section of the song are sad and emotional, the band always comes around and gives a positive twist, both in lyrics and music. To highlight is Sahlin's keyboard solo, a beauty in its relative simplicity, and a perfect guide to what I just mentioned before, serving as an opener to the mood twist, burst of energy and climax of the song, thanks to the vocal arrangements, the sticky guitar riff, Sahlin's synths and the addition of strings towards the end make the song the perfect grandiose ending of a superb EP! An earworm and goosebumps feast!
What a ride! And I'm ready to listen to the next EP! Will the story continue? I can only – desperately – wait while I enjoy endless spins of this one! I just wish A.C.T. would be touring everywhere as they truly deserve more recognition. After a career spanning more than 2 decades, 5 albums, 1 live album, and 3 EPs, and raving reviews and many Prog connoisseurs mentioning how good they are: how aren't they in the limelight as the progressive rock masters they truly are?
Tracklist:
Intro
Checked Out
Brother
Dark Clouds
Heatwave
The Breakup