An Abstract Illusion – Woe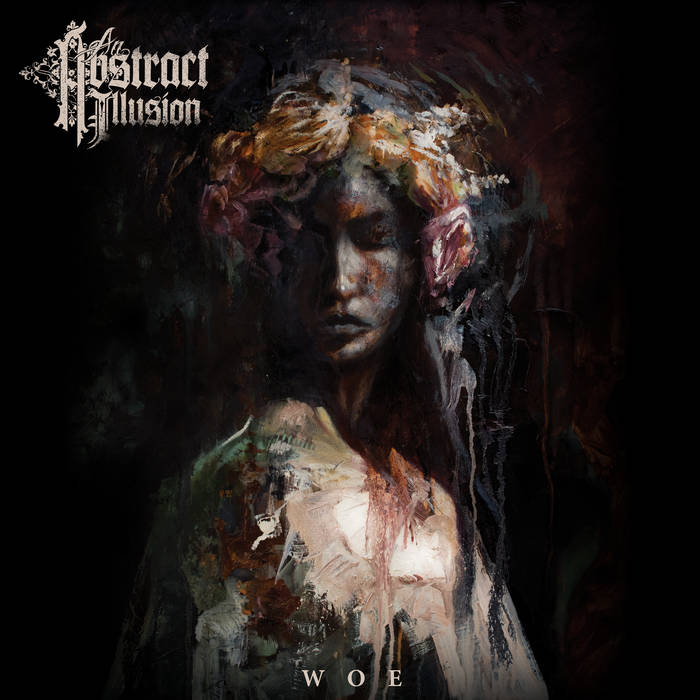 Though unknown to many, An Abstract Illusion has been a very important name in my musical journey. The Swedish trio's debut full-length record, "Illuminate the Path", as well as their previous EP release, "Atonement is Nigh", were some of the first extreme metal releases to be listed among my favorites. There's something about their blend of melodic death and black metal, strange atmosphere and epic, surreal sound that simply struck differently to me. In my teen years, the band quickly gained a spot on my list of favorites, and that didn't really change as the years went by. The long silence did make their name fade to the background however, as more and more musicians stole my focus. But when news of a new album started showing up, that giddy teenager woke up, and I couldn't have been more eager to hear what their next release had in store. 6 years after the debut, we are presented with "Woe".
Many of the elements I fell in love with were visible in this album before I even heard the first note. A beautiful cover artwork, intriguing titles and massive song lengths with pretentious titles promised another epic journey. But the announced concept left me questioning whether they could keep their mystical aura intact. While their previous records seemed shrouded in mystery, allowing the listener to explore, speculate and imagine about what the meaning might be, this one revolves around the theme of oppression, which to me seems a lot more straightforward, although certainly very complex. And the lyrics to the first single, 'Slaves' further enhanced my fear that this album would be spoon-feeding the listener more, rather than leaving room for exploration and interpretation. Having heard the full-length though, I'm glad to say they managed to dodge that bullet and still create a captivating, compelling masterwork that will stir your feelings, stimulate your thinking, and leave you obsessing over it time and time again. While the focus of each song is quite clear, the message is somewhat interpretable and the lyricism is still quite poetic. It leaves me wondering if there even is a message to be revealed, or just a piece of art with the topics presented as they are. Regardless, this album is everything that An Abstract Illusion was in the past as well as something new.
Musically, the first thing that struck me about "Woe" is the enhanced complexity, technicality and aggression. While there's no denying that their previous works were heavy, epic, and displayed a lot of technical prowess, this one takes it even further. The riffs are more mathematical and precise, the drums are tighter, the bass comes through a lot stronger and the solos are more furious in both speed and emotion. Overall, the instrumental ensemble is more intense and ambitious, but it doesn't take away from the freedom of expression. Session drummer Leith Ajob proves himself quite capable of blasting your ears off in a matter of seconds, as is clearly noticeable in the first seconds of 'Slaves' and 'In the Heavens Above You Will Become a Monster'. But he can also be delicate and careful, which is quite unexpected for an album of such extremity. Moments like the build-up in 'Blomsterkrans' or the riff section towards the end of 'Prosperity' prove that he can handle pretty much anything a song may ask for. His ability to sustain long build-ups and to gradually increase tension is another key factor that allows this album to get its vision across. A good example of this is the very ending of the album.
An Abstract Illusion – Slaves
On guitars and bass, Karl Westerlund has clearly outdone himself. While the previous record was astounding in terms of soaring melodies and beautifully crafted riffage, it had a certain degree of repetition and straightforwardness in composition. Not to say that it was basic, in fact it was quite monstrous, but it seemed to rely on effective melody writing while the riffage often took a black metal inspiration with a certain sense of flatness. But on "Woe", the guitar performance takes a turn towards the progressive tech-death in a way that I was simply not ready for. It's more complex, more dynamic and certainly more brutal. Often, the riffage jumps chaotically from one register to the next (most noticeable in 'Slaves') and forces massive waves of tension and release. And yet, despite the added dynamic and clarity, "Woe" still sounds more blackened than "Illuminate the Path". Something about the choice of melodies, the grave tone to the guitars and dramatic, horror-tinged sounds makes this one feel simply punishing and relentless. The solos are a lot more technical and shocking as well, with a higher emphasis on shredding than soaring epicness (Once again, 'Slaves' is a good example). Essentially, everything is bigger, heavier, faster and darker, at least on the heavy parts.
But don't be fooled to think those parts are all there is. The band kept in touch with their atmospheric side, only they framed it a bit differently. In the past, atmosphere and heaviness came together in their sound, which is what made it so surreal. Now, the heavy and atmospheric parts seem more separated. There are long-winded sections that are only there for the atmospheric break. 'Blomsterkrans' for example is almost entirely based on piano, string sections and spoken word (in Swedish), with hardly any guitars and just a few drum grooves. 'This Torment Has No End, Only New Beginnings' also displays a long-winded atmospheric section with a smooth guitar solo build-up and even an acapella section. And "Tear Down This Holy Mountain" takes a turn towards the electronic, with a solo that might as well be smooth jazz. They certainly weren't afraid to experiment. At this point I must also give a shoutout to Robert Stenvall for his additional clean vocal performance and unique orchestral sound he gave to the album, not necessarily symphonic but certainly grandiose and surreal. 'Prosperity' probably displays the most epic wave of string sections paired with a massive wall of drums and guitars which for a moment seems to escape the ominous aura that the album otherwise carries.
 An Abstract Illusion – In The Heavens Above You Will Become A Monster
And of course, since the album is rooted in blackened death metal, we need a proper harsh vocal performance. Christiann Berglönn delivers exactly that, with an absolutely brutal growl, carrying the kind of weight I normally expect to hear in doom metal, but matching the fast pace of the instrumentals. This makes the sounds feel even more colossal. But his screams aren't all about brutality. They're also filled with sorrow and pain sometimes sounding like weeping. And to top off the vocal ensemble, the longest song on the album also features guest female singer Lovisa Strindell, who add an angelic touch on top of the sense of mystery and dark fantasy that the band has so flawlessly weaved.
An hour later, the journey is over. And I honestly can't comprehend what exactly it is that happened. But the album feels like a cyclic phenomenon. It starts with a sleeping beast that awakes to cause and when the silence comes once more, it leaves a herald for when it will awake again. The finale left me breathless, and quite shaken. It feels like a gathering of dark clouds assembling for another storm to strike and then just stops in suspense… suggesting that the story isn't really over.
Regardless of what you understand from this album, the creative effort, challenging topic and gargantuan scale of the delivery can only secure a place for "Woe" as one of the strongest contenders for the 2022 album of the year. A must hear, for all fans of the extreme, complex and refined! And that's probably the only conclusion I can come to at this point!
Track List:
The Behemoth That Lies Asleep (03:22)
Slaves (07:23)
Tear Down This Holy Mountain (11:33)
Prosperity (07:41)
Blomsterkrans (05:51)
In The Heavens Above You Will Become A Monster (14:28)
This Torment Has No End, Only New Beginnings (09:32)