Unleash the Archers – Abyss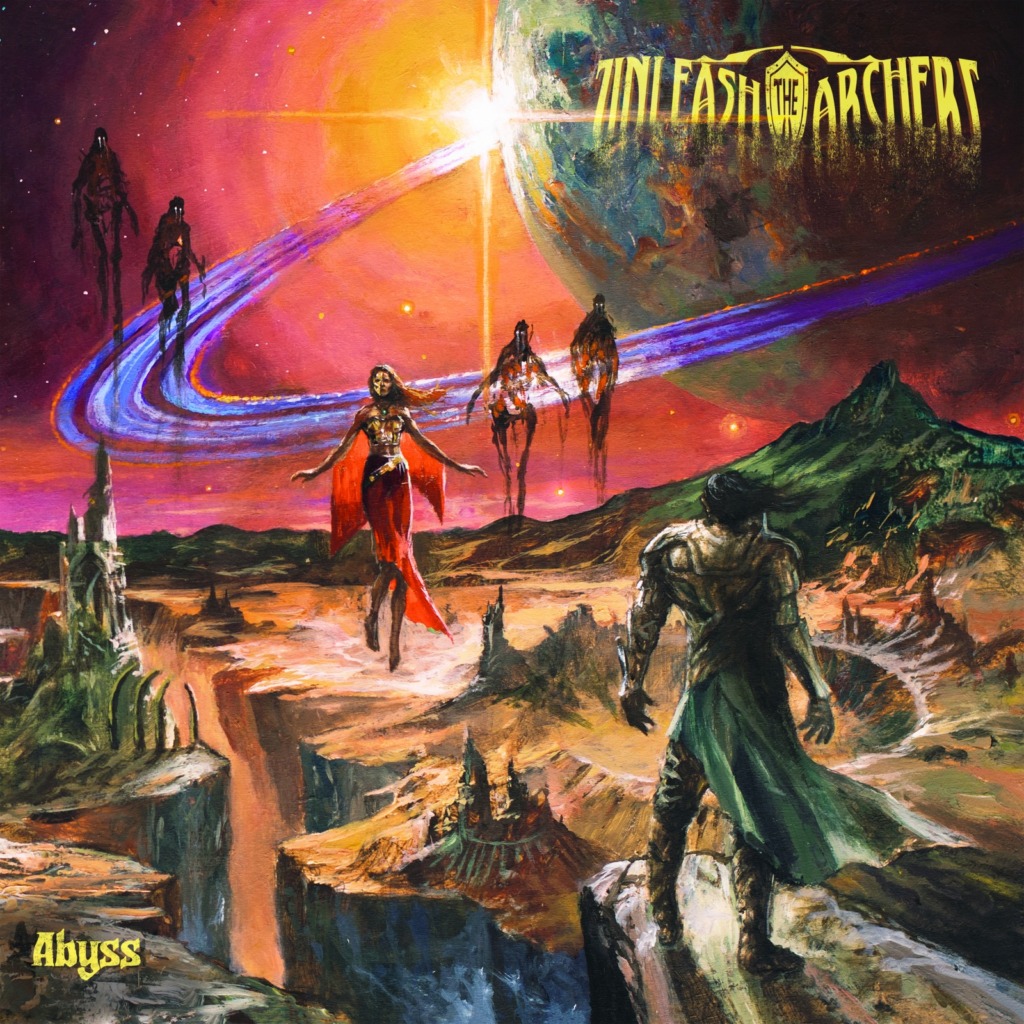 Power Metal can come over as a bit corny sometimes, and it is not that high up on my list of favourite genres. But this album by Unleash the Archers is something else. Their fifth full-length release "Abyss" is a concept album telling the story of a quest.
The album starts with 'Waking Dream'. The lyrics to this song are made up of four lines, which are repeated over and over. You would think this might be a bit tedious, but strangely that is not so. The track starts softly and then the whole band kicks in, and it all goes up a notch. Gradually the intensity increases until fading to a short instrumental ending.
The title track 'Abyss' is where the band start to show their strengths; the four octave vocal talents of Brittney Slayes and delightful little lead breaks from guitarists Grant Truesdell and Andrew Kingsley. At some point, they appear to have lost a permanent bass player. Initially I thought that they had compensated for this with both guitarists exchanging 6 string guitars for 7 string ones, thereby employing a dropped D tuning. However I have since found out that the bass player on the album is Benjamin Arscott.
Unleash the Archers – Abyss (Click here if the video does not play)
The journey continues in 'Through Stars', a fast-paced, power ballad, the start of which has a bit of a retro feel to it. The traveller reflects on a life as a warrior. "Wandering among the ghosts that I have made. My companions in this escapade"
An ethereal start to 'Legacy' quickly gives way to some slick guitar licks and then a lively, catchy number with more lead breaks later in the song.
Brittany reveals a harder edge to her vocals in 'Return to Me', and there are shades of Death Metal with some unclean vocals.
The band describe 'Soulbound' as a 'quick-banger'. A short, fast, and catchy number that never lets up, with drummer Scott Buchanan the driving force keeping things moving and setting the pace.
Unleash the Archers – Soulbound (Click here if the video does not play)
Now, we arrive at the business end of the album. The excellent 'Faster than Light' is a speed metal track that brings out the best in this quartet from Vancouver.
This is followed by the immense power ballad 'The Wind That Shapes the Land'. Brittney excels here, spanning all her four octaves. Of course, no power ballad worth its salt would be complete without a great guitar solo and the guys duly oblige. I have been whistling and humming this track since I first heard it.
Guitarist Andrew Kingsley features on 'Carry the Flame' as guest vocalist. This rocker brings the tale running through the album close to its end.
It is unclear where this adventure takes place, there is a hint of sword and sorcery, but the album cover would suggest that there is more of an intergalactic concept being played out here.
The finale 'Afterlife' features some orchestration by Francesco Ferrini (Fleshgod Apocalypse). The opening passage evokes the soundtrack from the Lord of the Rings films. The band pull out all the stops in this number, clean and guttural vocals, great guitar work and a catchy chorus. It all ends as it began with some more orchestration. A beautiful ending to a stunning album.
Canada has produced some great bands and these guys are no exception. I will be keeping an eye out for future releases and hope to see them live someday, whenever that may be.
Track List: 
Waking Dream
Abyss
Through Stars
Legacy
Return To Me
Soulbound
Faster Than Light
The Wind That Shapes The Land
Carry The Flame (feat. guitarist Andrew Kingsley on guest vocals)
Afterlife (feat. orchestration by Francesco Ferrini)