Arabs in Aspic – Syndenes Magi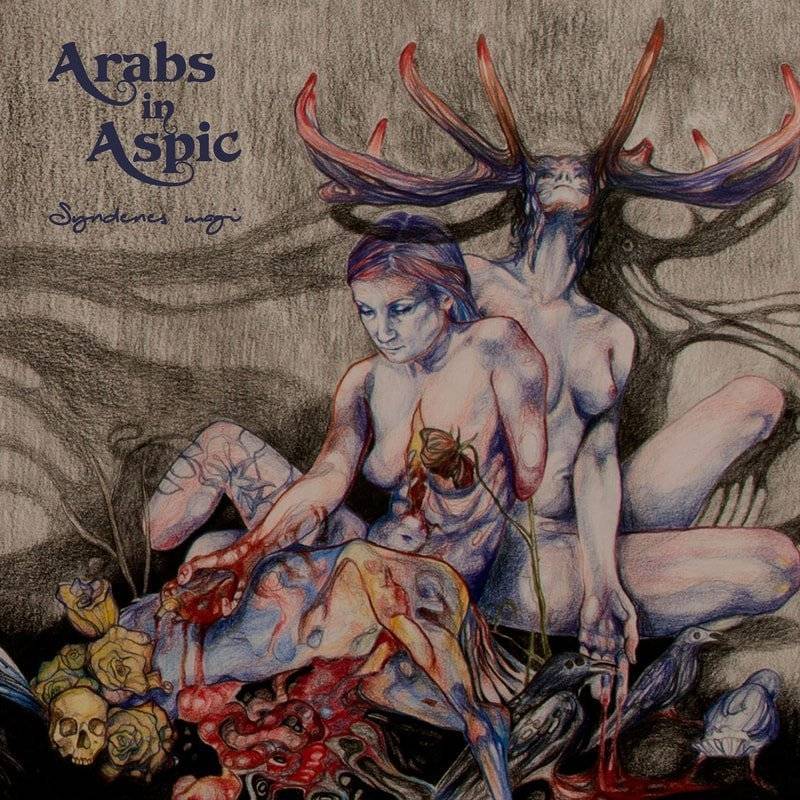 Norway and heavy music – a match made in heaven (or rather Valhalla maybe). Even though the flood of metal bands from the land of fjords is not as massive in quantity as in the neighbouring scandinavian countries Finland (630), Sweden (428) and Iceland (341), Norway scores a good fourth place with 299 metal bands per capita, way ahead of Greece which comes fifth with 162. So much for the quantity. What sets a lot of Norwegian bands apart from the rest is a penchant for more weird and avantgarde stylings, and that also shows to a certain extent with Norwegian retro prog bands.
Where Arabs in Aspic's slightly better known country mates from Wobbler wear their love for folk and renaissance music on their sleeves, the four Trondheimers chose a more Crimsonesque path with an added extra exotic twist that bring the norwegian lyrics (at least for us non-norwegians). "Syndenes Magi" is their fourth album, translating roughly to "The Magic of Sin". It is a rather short album with only three songs, clocking in just short of 45 minutes.
The title track starts off in classic early Crimson fashion with a laid back groove swathed in Mellotron, before a funny riff leads into a beautiful pre-DSOT Pink Floyd guitar solo and the subsequent verse/chorus/singing part or whatever you want to call it. A full on Hammond shuffle groove explosion and some minutes later we come full circle back to the opening groove and just before the end, the splendid vocal melody returns to close the song. Twelve minutes and twenty-one seconds well spent and my favorite track on the album. The following two songs are simply called "Mørket" ("Darkness") 2 and 3, the middle one being the shortest of all three and the only one clocking in below the ten minute mark. The first half of "Mørket 2" is filled with lots of vocals, coming across as most 'standard rock songwriting' part of the whole album, whereas the second part drifts off into early Genesis vibes.
The second half of the album is comprised of only one final epic 20 minute song, the aforementioned "Mørket 3". A mellow Mellotron build up, the lead vocalist telling an obviously very interesting story – I wish I could understand it – over the top ad libs, more and more Hammond, a heavy chorus that sounds as if he was singing "heavy metal": "Mørket 3" has it all. Too bad that a couple of minutes of aimless analog synthie gurgling in the second half don't have that much to add to the song, or the album for that matter. But at the end of the day, "Syndenes Magi" contains just under forty minutes of very entertaining and excellent 60s/70s retro prog for the connoisseurs.
Tracklist
Syndenes Magi

Mørket 2

Mørket 3