Ascend the Hollow – Swarms Within (Exclusive Video Premiere)
Back in June, our very own Sander wrote in his review about "Echoes of Existence", the debut album of  Ascend the Hollow: »Their various influences have come together to form a solid cyber-tech metal debut. (…) "Echoes of Existence" raises some very interesting and serious moral questions that challenge the listener, as well as exploring issues that today's society, a lot of times, purposely avoids facing. These questions and issues are wrapped in solid musicianship, which makes for a captivating listen.«
Today, we are happy to present the exclusive premiere of the band's video for the song 'Swarms Within.' For that occasion, we also checked in with vocalist and lyricist M-NOISE who provided us with some in-depth information about both album and the different videos they released so far (including of course this premiere) as well as shed some light on the past and the future of Ascend the Hollow. So make sure to check out the interview below as well.
Ascend the Hollow – Swarms Within (click here if the video doesn't play)
"Echoes of Existence" has been out for about half a year now. What has been the general reception of the album so far?
The reception so far has been amazing and we honestly did not anticipate all the great feedback. Most reviewers compliment our sound, saying that what we do is so unique that it's hard to put us in one definite box. Almost every person hears different influences in our music which I find fascinating. The biggest compliment to me personally is probably the positive reception of my lyrics. A lot of people were deeply moved by them. In today's "TL;DR" era, I expected my messaging would go unnoticed, but I was happily proven wrong!
The video for 'Swarms Within' is not the first one for this album. Can you tell us a bit about the videos you have released so far?
We put a lot of effort into producing content for the web, so naturally, videos were of high importance to us. The first video, "Prisoners Of The Storm", was created by our long-time friend Olga Kuzmenko, and it's a very symbolic work depicting a battle with depression: being imprisoned in a dark place which is our own mind. Our further two singles, "Sea Of Crises" and "Vessels", were both made by Andy Pilkington of Very Metal Art who perfectly illustrated the lyrics with his visuals. While "Sea Of Crises" is very cosmic and apocalyptic, illustrating the impending climate catastrophe and societal collapse, "Vessels" is more cinematic, sinister, inspired by The Handmaid's Tale, as the lyrics talk about bodily autonomy and abortion rights. They are all very different videos, depicting the messages behind the songs in their own way.
What about 'Swarms Within'? What is special about this song and the new music video?
For "Swarms Within", we all flew back to Ireland to create a full band performance video with Olga. As the song is so energetic, we thought it would be great to include all members rocking out to the song – especially now that we have completed the line-up with our new drummer Steven Leijen a.k.a Stvn. We went for simplicity and minimalism, wearing plain black clothes and letting the features of the room shine through, though it's not completely without symbolism. As the lyrics talk about a phobia, we included some shots of the band playing in lingering smoke, which reflects the irrational fear of the unknown… almost like an alternate underworld. It was quite a challenge to produce this video as we only had several hours to shoot on location, and that included a band photoshoot as well as some additional shots for the next video currently in the works…
I thought it was remarkable that what was once regarded as a total taboo, shunned and disregarded as shameful, was now becoming the unspoken plague of this century. It's very important that we continue to talk about it and raise awareness of mental health, especially in the context of music.
The lyrics of the album focus partly on mental health. Can you talk a little bit about what this topic means to you?
It is a very personal topic for me as I struggle with bipolar disorder myself. Several years ago I experienced a major nervous breakdown which took a long time to recover. Around the same time, I noticed more and more prominent public figures opening up about their mental health (from my hero Carrie Fisher to Catherine Zeta-Jones). The shocking passing of Robin Williams stirred a trend on social media where people started a conversation and some were even brave enough to admit to their own suffering. I thought it was remarkable that what was once regarded as a total taboo, shunned and disregarded as shameful, was now becoming the unspoken plague of this century. It's very important that we continue to talk about it and raise awareness of mental health, especially in the context of music. I think this is why my lyrics resonated with so many metal fans out there. We are used to the macho messaging of rebellion, power, death and destruction. But we don't see much reflection about our own vulnerabilities and the inner darkness. For this reason, I applaud the latest work of Leprous, "Pitfalls", that also lyrically deals with depression. Progressive bands are perhaps less afraid to venture out towards such introspective themes as they are already open to instrumental experimentation. I think this aspect is what adds to the overall eclecticism of our music, spanning over several genres, including prog.
The other topic at hand is unfairness in "the system", especially regarding the case of Miranda Barbour. What made you take a special interest in this case?
I came across her story due to a certain headline which called her a "female Dexter',' referring to a Showtime series I enjoyed watching at the time. While she didn't exactly have any "moral compass" and there is no excuse for murder, what really hit me was how tragic her background was. Her childhood was filled with sexual abuse and neglect, with the abuser able to walk free, while he repeatedly raped her. It's difficult for me to even relay the full story due to its graphic brutality. It shook me to the extent that I wanted to create my own lyrical persona loosely based on her, as I felt there were several issues that needed to be addressed. One is the topic of sexual assault. In the western, "first world" culture alone, it is still seen as a lesser crime, as the recent case of Brock Turner shows (released after only 3 months!). And just recently in Ireland, you would have served more time in jail for an abortion rather than rape. There is a whole ocean of further problems at hand here, such as the slut-shaming and the general tendency to dismiss rape victims and their experiences. The other topic I wanted to address was the injustice of the system that tends to punish individuals who are poor, broken, weak and underprivileged. Looking at Miranda's childhood, it is clear that the authorities failed to protect her, thus creating their own enemy. It adds to the general feeling of disillusionment and despondency that I think many people can relate to nowadays.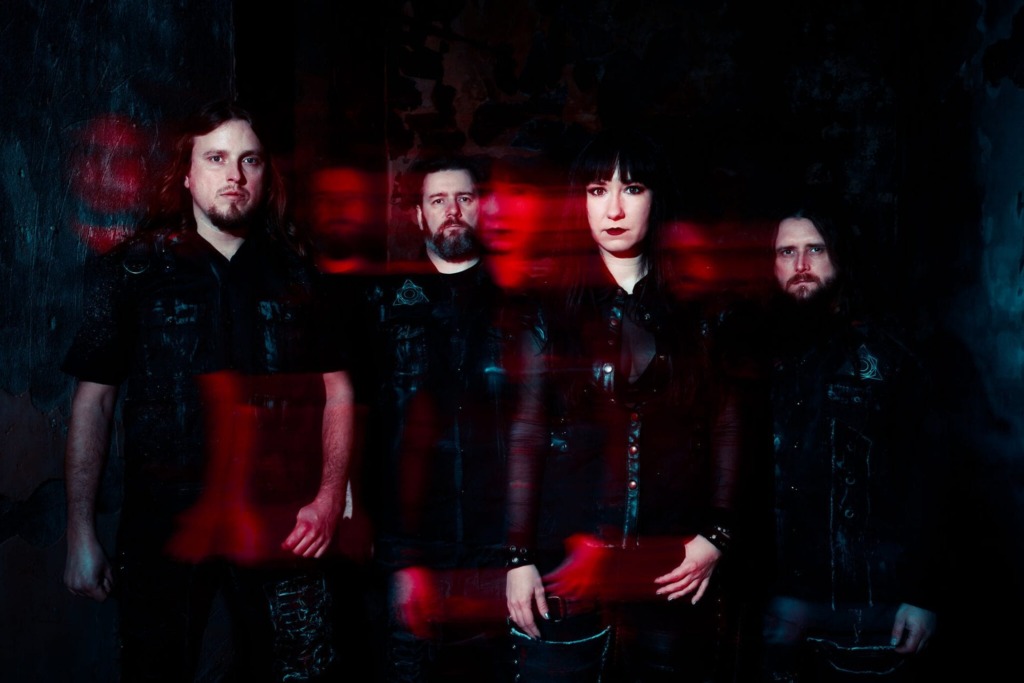 What was it that drove you to write music based on these topics?
Like I mentioned before, I felt metal music, in particular, was filled with themes that didn't really speak to me, or throwaway lyrics that didn't matter. I always appreciate it when I can listen to an album and dig a little deeper than what's on the surface. I also love poetry, playing with words, the art of storytelling. In my case, being a woman fronting a band like this, using my voice in an extreme way, I felt the need to reflect that intensity and emotion with a suitable message. I thought our music needed something rather dark and desolate, kind of like an Orwellian screenplay. Paired with my need for activism and mental health advocacy, the album theme quickly evolved into what you can hear on "Echoes Of Existence".
Is it important for you to write music that challenges the listener in these ways?
First and foremost, we want to write music that we would enjoy ourselves. This is why we aid our sound with downtuned 9-strings and rich electronics. We embrace technology and the modern metal genres, and we personally really enjoy that contrast between the heavy riffs and airy electronic soundscapes. Hence we like to describe ourselves as "cyber metal". Any old school Sybreed fan out there will immediately know what it means. It is no coincidence that we worked with Thomas Betrisey (otherwise known as Drop) on mix and mastering, as we aimed for that mechanised, desolate sound, and Drop is the perfect man for the job. As there is an aspect of futurism and a polished artifice to our sound, I wanted to balance it out with some rough, human genuinity in the lyric department, which is perhaps what made the whole package so striking to so many listeners. I guess my goal as a lyricist is to evoke reflection, and our goal as musicians is to add value to someone's life. And if the music doesn't challenge the listener in any way, can it really be called art?
First and foremost, we want to write music that we would enjoy ourselves.
Ascend the Hollow wasn't always the name of the band. What triggered the name switch from Xerosun, and what does the new band name mean to you?
We decided to rebrand as we felt our previous name no longer represented our sound and what we stand for. Our music has taken a 180-degree turn and we have experienced some lineup shuffles. On top of that, each of us has experienced some personal difficulties and half of the band has even relocated to other countries. What started out as an Irish hard rock band, evolved into this international, ultra heavy industrial hybrid. As we were contemplating several name candidates, Ascend The Hollow resonated with us the most as it's almost self prophetic: we literally needed to ascend from an emotional hollow that each of us has experienced in some way. It fits our music, our lyrics, and we hope it inspires our listeners also!
The members of Ascend the Hollow are fairly spread out throughout Europe now. How does that influence the way of writing new music or any other band matters?
It is a completely different dynamic than what we are used to. For instance, we do not have weekly band rehearsals anymore, so we have to put extra effort into staying in touch, keeping up the spirits and practising individually. We use tools like Slack for daily band communication, which makes our ideas exchange very easy. We have also started working on some new material for the next album, so we are definitely keeping busy in spite of the distance.
What are the next steps for Ascend the Hollow? Any touring planned?
Our priority for 2020 is to go on tour and hopefully play a few festivals too. We encourage any interested promoters out there to reach out, and to keep an eye on our social media for updates. Apart from concerts, we will also be focusing on writing for album number two, which is already sounding dark, gloomy and technical, so watch this space! 🙂