Day Six – Solitary League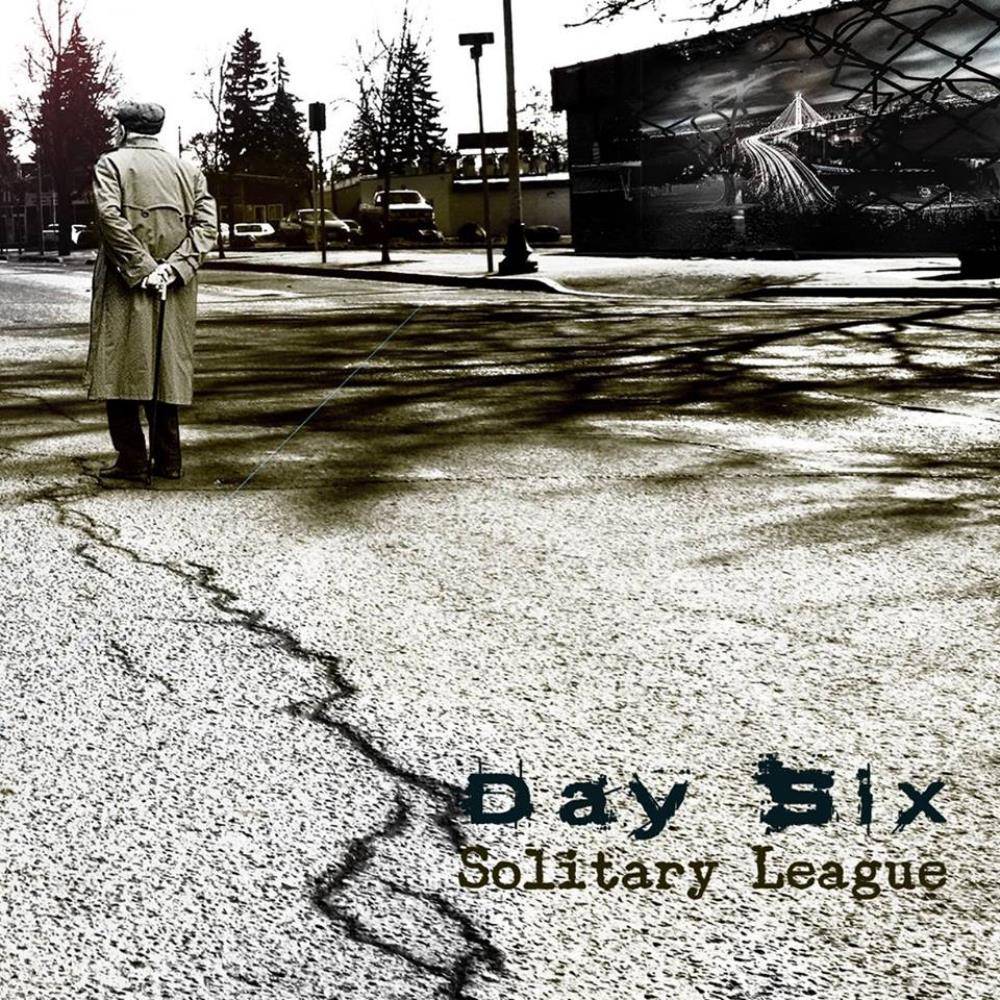 And another long-lost band makes its comeback in 2017. Day Six from the Netherlands released a little underground gem with their 2010 album "The Grand Design". Seven years later they are back with an all around new line-up and a new album, "Solitary League". Guitarist/vocalist Robbie van Stiphout and drummer Daan Liebregts teamed up with Eric Smits on bass and background vocals and Rutger Vlek on synthesizers. Especially that last addition to the line-up made this particular little fan jump for joy, as I was waiting for new music from this synth-master ever since I fell in love with the 2005 self-released album 'Echoes' from his previous band Orpheo. And what a perfect match this would be, "Solitary League" is proving exactly that from start to finish.
Day Six were always sitting comfortably between (hammond) heavy (prog) rock and prog metal and that has not changed at all in the seven years since "The Grand Design". "Solitary League" opens with the decisively metal track, 'Hypervigilant'. From the very start it becomes clear, they haven't lost a bit of their unique charm. The frequent use of hammond organ in tracks like 'Flight to Mars' or 'Math's Patterns' surely recalls the great Deep Purple, in a prog version of course. But there is indeed much more to the Day Six sound. The mini epic 'Myriad Scars' for example is bookended by a subtle and mysterious bass lick, turns full out rock in the middle, but surprises with jazzy bass/piano solo breaks as well as those gorgeous synth-leads from Rutger Vlek I was missing since Orpheo's "Echoes".
What was Porcupine Tree to "The Grand Design"-opener 'Massive Glacial Wall' might be Pink Floyd to the mellower 'The Cloud' in the middle of "Solitary League". Rick Wright and David Gilmour surely had some influence on the beautiful synthie atmospheres and guitar tones respectively, while Eric Smits' melodic bass brings the accomplished playing of Guy Pratt to mind as heard on the post-Waters live releases "Delicate Sound of Thunder" and "Pulse". The old Orpheo fan I am, Rutger Vlek's synthie solo towards the end of 'The Cloud' could have been louder in the mix though. The ad lib drum fills in this very outro remind me of the last minutes of Dream Theater's finally free though, which is not a bad reference point either I'd reckon.
'Grace In Words' picks up some heaviness again, before the beautiful piano interlude '3:09' leads into the heavy hitter 'Deadlock' bringing back some metal and a nod to fellow countryman Arjen Lucassen. And then the final 'Modern Solitude' surprises with an emotional intensity that almost rivals Jolly's 'As Heard on Tape' in melancholia and yearning. The outro, an odd rhythm with one instrument after the other dropping out until only bass and drums remain, seems a little weird and I for one had hoped for something more grandiose. That doesn't diminish the fact that "Solitary League" is a brilliant album and a stellar comeback for Day Six though. I simply can't recommend it enough for everybody into melodic prog, whether rock or metal, to check out this marvelous gem out of the land of cheese and prog. Let's hope we won't have to wait another seven years for the follow up!
Tracklist:
Hypervigilant
Myriad Scars
Math's Pattern
The Cloud
Grace In Words
3:09
Deadlock
Modern Solitude