Devil's Reef – A Whisper From The Cosmos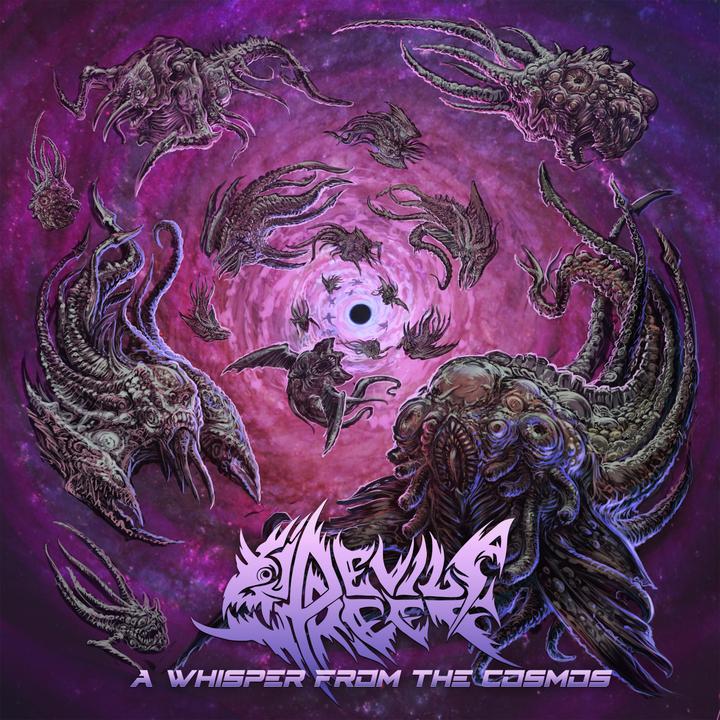 This band intrigued me since I first heard they existed. I've seen them labeled both as progressive or technical death metal and as a technical thrash metal band. While the first label is one I'm very fond of and familiar with, thrash metal has never been my cup of tea, with some exceptions of course. And seeing it slapped next to the word "technical" was a first for me, so I was afraid this might be a hit or miss, but also really curious to see what they're on about. Devil's Reef is a band from the U.S. that probably brings together the best merger of thrash and death metal elements I've seen to date, especially in a proggy technical approach like all bands signed to The Artisan Era tackle so well.
With the first single released, 'Quantum Strings', I could totally feel where they got the thrash label. The drum sound, particular patterns in the drum composition and especially the vocal tone clearly draw from this genre a lot. But I must say, from a compositional perspective, it brings together so many influences of progressive metal and technical death metal that the end result is much more than that. I would actually say this is prog death delivered in a thrashy texture and sound production. And that mix actually works pretty well. It brings a pretty strong old-school vibe in sound but the sound quality is still great and all musical components shine through as they should.
Devil's Reef – Quantum Strings ( Click here if the video does not play )
Looking at how these guys write their music on "A Whisper From The Cosmos", the main element that got to me was just how well they can blend blasting, fast technical passages with groovy and even hooky moments. 'Quantum Strings' and especially the title track, 'A Whisper from the Cosmos' bring some seriously neck-snapping patterns but also some drilling high-speed moments and often these might be merged into each other creating an amazing contrast of volatile speed and solid nasty riffage. On the title track, at least half the riffs are based on chugs and a typical breakdown pattern while blast beats and fast guitar runs simply burst their way in and out of that pattern, but keeping the pace intact. Then, they also have a habit of bending the tempo and allowing the music to get all volatile as odd time signatures and wobbly lead guitar melodies make their way through the mix. It's like they go through the motion of creating a solid pace, ripping it apart, noodling around with it and then either transforming it into a different thing or landing back into the initial thing, but the music has a clever style of alternating between paced and proggy wobbly that I just love.
We also have guitar solos, which are built cleverly bending melody with touches of dissonant tension and the fact that throughout the solo, the rhythmic background changes, allows for much more variety and evolution in the solo than you would on a basic rhythm with shredding happening on top. Apart from the clearly defined solos we also get sporadic outbursts of lead guitar and tapping melodies adding cerebral sci-fi spice to the songs, going along very well with the atmosphere the music aims to set and with the lyrical themes. The vibe is also enhanced by very expressive bass-playing flowing through bendy sci-fi sounding tones but also maintaining the previously mentioned old-school vibe.
Devil's Reef – A Whisper From The Cosmos ( Click here if the video does not play )
This gets me to the expressive side, and they have a way of taking a thrashy, angry type of attitude and blending it with a total prog-nerd psycho-cosmic theme that makes the music feel like an alien entity, not quite bound by the laws of physics. The EP has an ominous, slightly cinematic and clearly evolutionary pace as it moves forward. Each song is slightly something else. I would say the opener is the most thrashy and the following title track is the most headbangy and groovy. Then 'Plague Uncovered' and 'Akida' are probably the most tech-death oriented with a brutally fast pace and lots of blasting, but also ripping it into some Cattle Decapitation style slamming triplet grooves that so tickle my stink-face fancy! And then the album closer comes with a time-warp kind of effect that seems to build the whole thing into a climax, and then we're greeted with an eerie robotic mystical voice that seems to be peering through from a different dimension. This as well as the brief clean-vocal moment in the title track clearly were some of the strongest surprise moments from a vocal perspective.
This EP surely impressed me. It is only 5 tracks, but with these songs they managed to create something unique, creative and genre-bending enough to stand-out even among The Artisan Era's roster, not necessarily by being the best band on the label but simply by bringing forth something I really wasn't ready for. It is both a pleasant surprise and a high-octane sprint for the adrenaline-driven metalhead. I love the energy, the creativity and the atmosphere they get across all the same, and I highly recommend it for lovers of complex noisy art.
Devil's Reef – Plague Uncovered ( Click here if the video does not play )
Track List:
Quantum Strings (05:38)
A Whisper From the Cosmos (06:08)
Plague Uncovered (04:20)
Ankida (03:18)
Beyond Eternal (05:15)