Distorted Harmony – A Way Out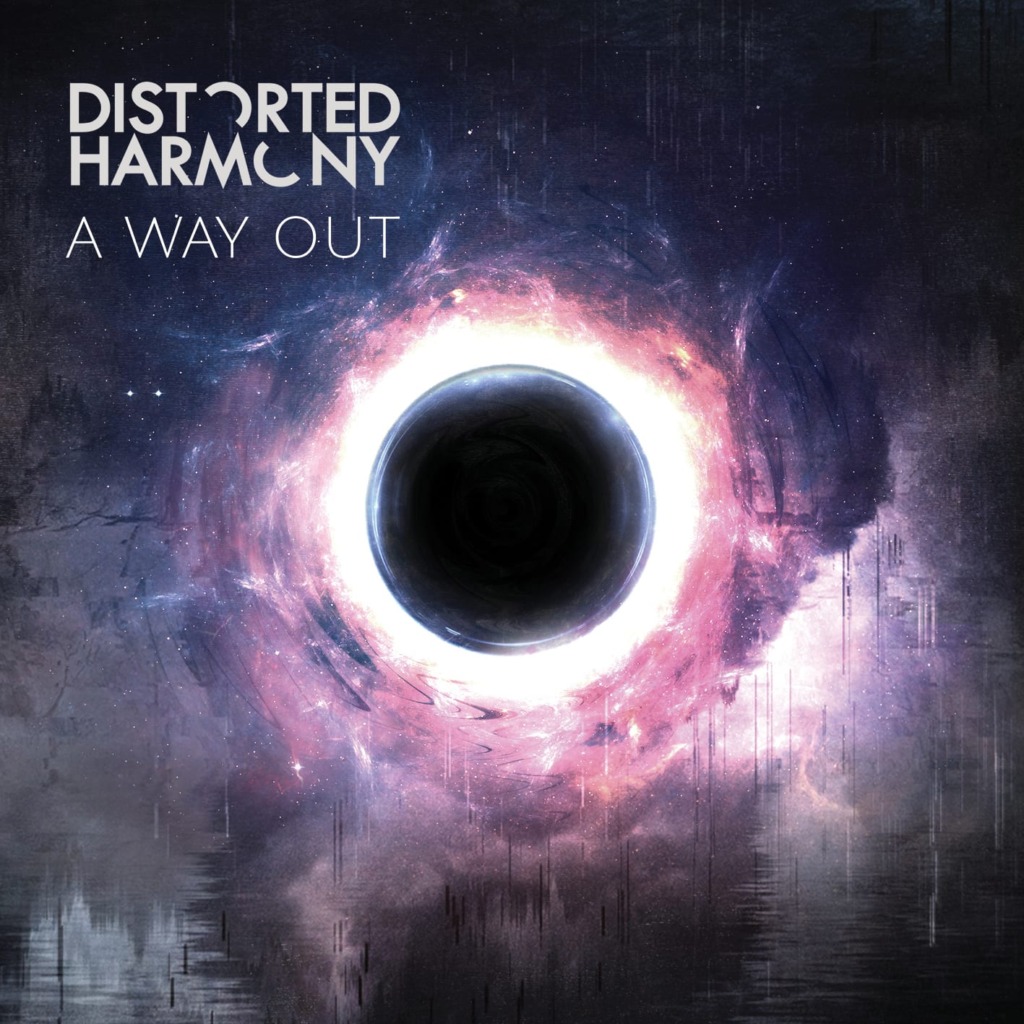 I'll come right out and say it: I'm a huge Distorted Harmony fan. I discovered them in 2013, after their debut release, "Utopia", and it was love at first listen. Their fresh take on progressive metal, combining heavy progginess with soaring melodies, instantly appealed to me, and I knew I had to keep an eye on them.
The year after they released "Chain Reaction", which was a step up; the songs were more focused and distinct, the melodies more refined, and the interplay stronger. It also marked a slight change in style, with an increased emphasis on 'djenty' riffing and the introduction of electronic sounds. It proved that Distorted Harmony was willing to experiment and expand.
4 years later, we finally got the third album, and I, like many, was curious what the Israelis would bring us this time. I'm happy to say it was well worth the wait. Put simply, "A Way Out" is a stunning release, which more than exceeded my expectations.
To start, the artwork is gorgeous. The contrast of the dark, round shape and the bright light around it intrigues me, spreading out into a rich texture of nuanced colors. It paints a picture reminiscent of the music; layered and full of contrast.
Second, the production is excellent. The sound is clear and strong, and you can hear every instrument well. Many bands struggle with the concept of dynamics, but Distorted Harmony clearly recognize the value of a balanced production.
Most importantly, the music is absolutely stellar. In the years from the previous release, the band has grown in maturity and confidence, and expanded their sound for an an even richer listening experience.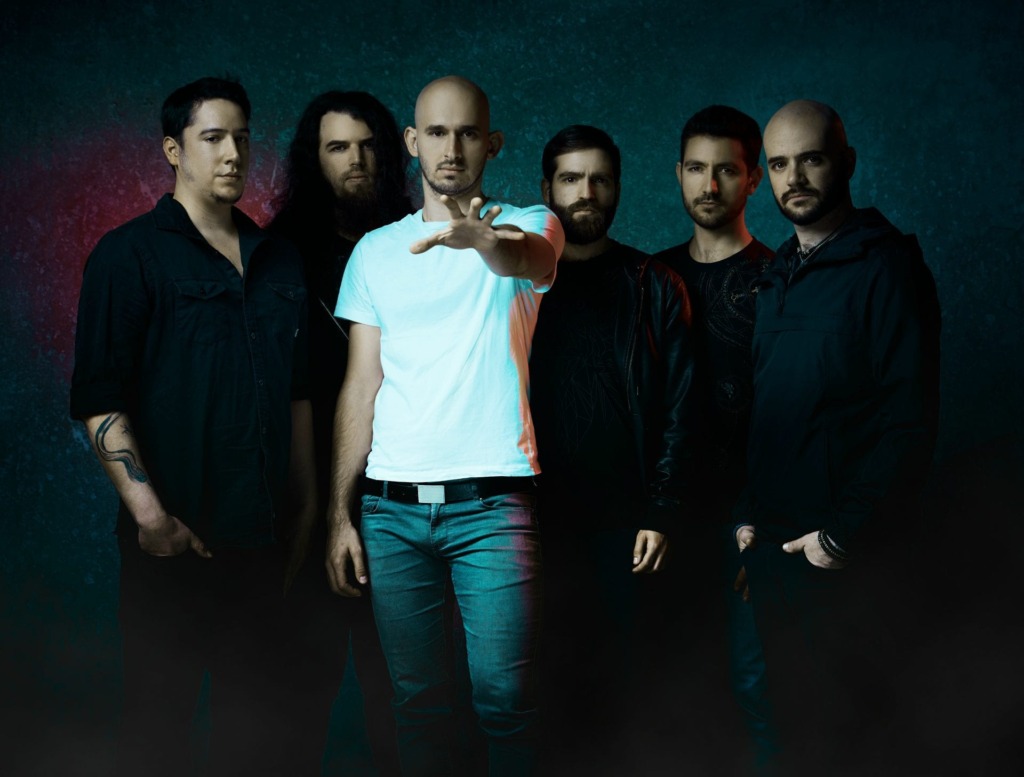 Now, there have been a few changes, line-up wise. In late 2016, guitarist Amit Plaschkes joined the band as a sixth member. The following summer, original guitar player Guy Landau left and was replaced by Yoel Genin. This might be one of the reasons why "A Way Out" is the heaviest Distorted Harmony album to date. The guitars play a more dominant role, with the thick guitars filling most of the songs with real punch.
However, while heavy and chunky, they are used in an intelligent way, always adding meaning to the song. Sometimes they take center stage in form of a meaty riff, but just as often they complement either a melodic line, or a big, melodic wall of sound that Distorted Harmony do so wonderfully well.
Another difference is the prominent use of juicy, lively, electronic sounds on every song. This works incredibly well, and adds a lot of flavor, either bearing the main melody, or adding another layer of texture.
This slightly altered sound is presented to us in the opening track, 'Downfall'. Starting off with warm and animated keys, it bursts into a vast outpouring of pure, melodic energy. A typical song structure follows, with verses building up to an immense chorus full of passion and inspiring lyrics. An instrumental breakdown fills the rest, with an elegant transition from buoyant keys to dense guitars. The stage is set.
Groovy, odd-time riffing follows in 'Room 11', the heaviest and most direct song on the album. With frenetic energy and at times aggressive vocals, this is an intense affair. Still, a smooth shift into alluring calmness adds depth, and shows Distorted Harmony's biggest strength: the ability to elegantly transition from one soundscape to another.
'Awaken' is my favorite track, and certainly also the most progressive. Lasting close to 7 minutes, its vibe and structure remind me of another gem, 'Methylene Blue' from their previous album "Chain Reaction".
Opening with clean guitars, the clear and soulful voice of Michael Rose soon joins in, leading the song through a moody, almost dream-like passage. Gradually building, the melancholic tenderness is filled with anticipation, and halfway through the song, the change arrives. Sharp guitars kick off an instrumental section that will delight every prog metal fan, with heavy guitars and complex rhythms abound. Twisting and turning, it eventually moves into a delightful texture of tender keys and powerful guitars, then into a big, epic and symphonic part reminiscent of Haken.
Finally, Rose returns with his gorgeous voice, his falsetto joining the rest of the band in a passionate crescendo. And then, like magic, we're suddenly back at the beginning, with only clean guitars, piano, and Michael's delicate voice.
This is honestly one of the best songs I've ever heard. The range of emotion, the dynamics, the transitions, everything is at the highest level. Just mind-blowing.
Distorted Harmony – Awaken (if video doesn't play, please click here)
Moving on into 'Severed', hefty guitars and vivid keys again dominate, backed by the ever-solid duo of Yogey Gabay and Iggy Cohen on respectively drums and bass. It's a tune full of energy, which makes the gentle verses even more sweet. A solid track.
'Puppet on Strings' takes things down a notch, starting slow and melancholic. Rose's stirring and precise phrasing leads the song, which has a nice ebb and flow. Midway through, we get some grand strings evocative of "Utopia", eventually joined by the distorted guitars, forming another of those rich, compelling textures. This shows the band's competence of mixing ingredients in inventive ways, while keeping true to their core sound.
'For Ester' is an exquisite instrumental, showcasing the various elements of the band. The beginning feels cinematic and somewhat uplifting, with piano and several layers of strings. It then glides into a heavier, darker section for a bit, before the strings return for a grand finale, blending with the dense guitars in a massive outburst of epic energy. The song ends as it started, with peaceful piano and strings, and it feels like you've been on a journey longer than the 3 and a half minutes it actually is. In such a short track, they manage to deliver an encompassment of all their instrumental elements, and doing so with elegance and precision.
'Anima' sounds like a leftover from "Chain Reaction", with its chaotic, odd-time opening riff and guitar-driven approach. In typical fashion, the heavy energy is contrasted with a smooth, softer chorus, again satisfying both the head and the heart.
'A Way Out of Here' is a short, graceful ballad, again led by Michael Rose's charismatic voice. It's thoughtful and tender, with a palpable sense of longing and sadness. The emotional climax is incredibly powerful, with Rose pouring his heart and soul and out, begging to "find a way out of here".
'Time and Time Again' was a single, and one which I immediately loved. In fact, it's my second favorite on the album. Starting with sparkly keys, it soon goes into a hefty guitar and keyboard unison riff, before easing into a peaceful verse section. The mood changes for the more dramatic, and then it builds up to an intense, heart-felt chorus with one of the most powerful melodies I've ever heard. A second verse is followed by a powerful instrumental breakdown, before the chorus once again embraces you with all its glory. Being a keyboard-driven track, it fittingly closes out with delayed keys fading out into the stillness.
 Distorted Harmony – Time and Time Again (if video doesn't play, please click here)
'We Are Free' wastes no time, starting off with vocals and driving guitars. Adding layers, I think you can guess what's coming next? Yep, it builds up to a big chorus, with passionate vocals, chunky guitars and intriguing keys. In many ways, this song is a perfect example of what the album's about. The instrumental breakdown starts off with tasty electronics, before fat guitars takes over, with even some blast beats thrown in the mix. It returns to the chorus, again ending a song with several layers around a glorious vocal melody.
And then, the album closes off with 'Someday'. And what an ending. Again, the intro is thoughtful and cinematic, with piano, synths and strings washing over you with glorious pensiveness. Then, the voice of Michael Rose enters and gives us one last masterclass in the art of conveying emotions. Switching between thoughtful tenderness and anthemic choirs, also this follows the template Distorted Harmony do so well; adding layers and building up to a big soundscape. And suddenly, only the piano and keys are left, with an intricate set of chords and melodies, leaving you with a feeling of longing, yet a touch of hope.
 Distorted Harmony – Someday (if video doesn't play, please click here)
So, how do I sum up all of this? In short, I'm in awe. There's always a risk one of your favorite bands might disappoint you, but that is definitely not the case here. "A Way Out" has everything I love about prog, and is crafted and executed with tremendeous feeling, precision and finesse.
The vocals of Michael Rose are simply stunning, and elevates the songs to a higher level. The chunky guitars add punch and groove, but are never over-used, instead being utilized in inventive ways, either as the driving force of the song, or as a meaningful compliment to a vocal or keyboard line. The keys really add another layer of richness to the songs, creating atmospheres, either with lush strings or tasteful electronics. And the bass and drums provide the foundation, perfectly switching between all the transitions with style.
Most importantly, Distorted Harmony truly are a band. Every instrument fills its part of the puzzle, and the chemistry between them is excellent. They are also terrific songwriters, and while most of the songs are relatively short, they offer tons of complexity, depth and beauty. Moreover, they are masters at creating mature, intelligent compositions, full of smooth, dynamic transitions.
"A Way Out" is simply a flawless album, and an epitome of how modern prog metal should sound like. Distorted Harmony are here to stay, and I'm already eager to see where they go next.
Tracklist:
Downfall
Room 11
Awaken
Severed
Puppet on Strings
For Ester
Anima
A Way Out of Here
Time and Time Again
We Are Free
Someday