Epica with Vuur and Myrath, Hamburg 13 November 2017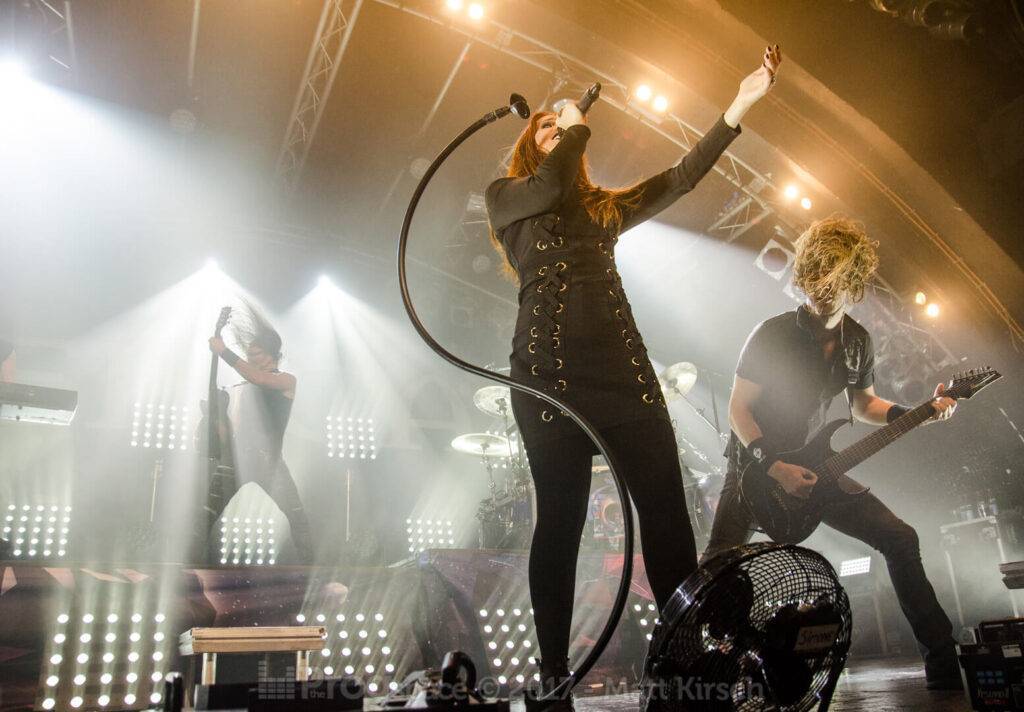 On a cold November night, the audience in Hamburg's famous Markthalle were in for an interesting package, consisting for two bands led by two of the best Dutch female voices out there - Epica with Simone Simons and Anneke van Giersbergen's new band Vuur - and the oriental metal of Myrath from Tunisia.
Myrath started around half an hour earlier than announced, but the Markthalle was already well filled - not bad for a Monday evening. With their enthusiasm on stage they prove a good choice to warm up the crowd: Their six song setlist could not give much more than a quick taste of their music, though. The appearance of a belly dancer got the male part of the crowd to take out their phones for some snapshots, but it seemed a bit random.
The next act was met with special anticipation: Anneke van Giersbergen's new band Vuur, consisting of some of the finest Dutch musicians. Most of them - Ferry Duijsens (guitars), Ed Warby (drums) and Johan van Stratum (base guitar) already played with Anneke in her collaboration with Arjen Lucassen, The Gentle Storm. Jord Otto (My Propane, ex-ReVamp) completes the band. And while they are were on fire - and Anneke won the audience over immediately with her charm and voice - the feeling was very much alike as I already wrote in my album review:  Great musicians at work, but the songwriting just can not convince me. And so it was not surprising that the setlist highlights were The Gentle Storm's song 'The Storm' and the obligatory 'Strange Machines' from Anneke's time in The Gathering.
Vuur got the crowd well going for the main act, which took a while to appear but then was welcomed enthusiastically. With an amazing stage presence, Simone Simons' flawless voice and 'Edge of the Blade' off the latest record The Holographic Principle as perfect opener they took the Markthalle by storm. The six Dutchies burned an impressive firework on the stage, with a setlist consisting of a lot of newer material and ending with classics such as 'Cry For The Moon' and 'Beyond the Matrix'. Clearly we witnessed one of the leading forces in symphonic metal at work, and at it's best: professional and captivating. If it is Simone's charming announcements in perfect German or the constant rotation of the string section (and even of Coen Janssen behind his huge movable keyboard and with a smaller mobile keyboard) - there is always something going on. The audience pays back with long "Epica" chants and massive applause. Now it might be a bit questionable to have a mosh pit at a symphonic metal concert, but Simone Simons' wish for the final song 'Consign To Oblivion' is the audience's command - and it looked like no harm was done. Definitely one of the concert highlights of 2017!