Iamthemorning – The Bell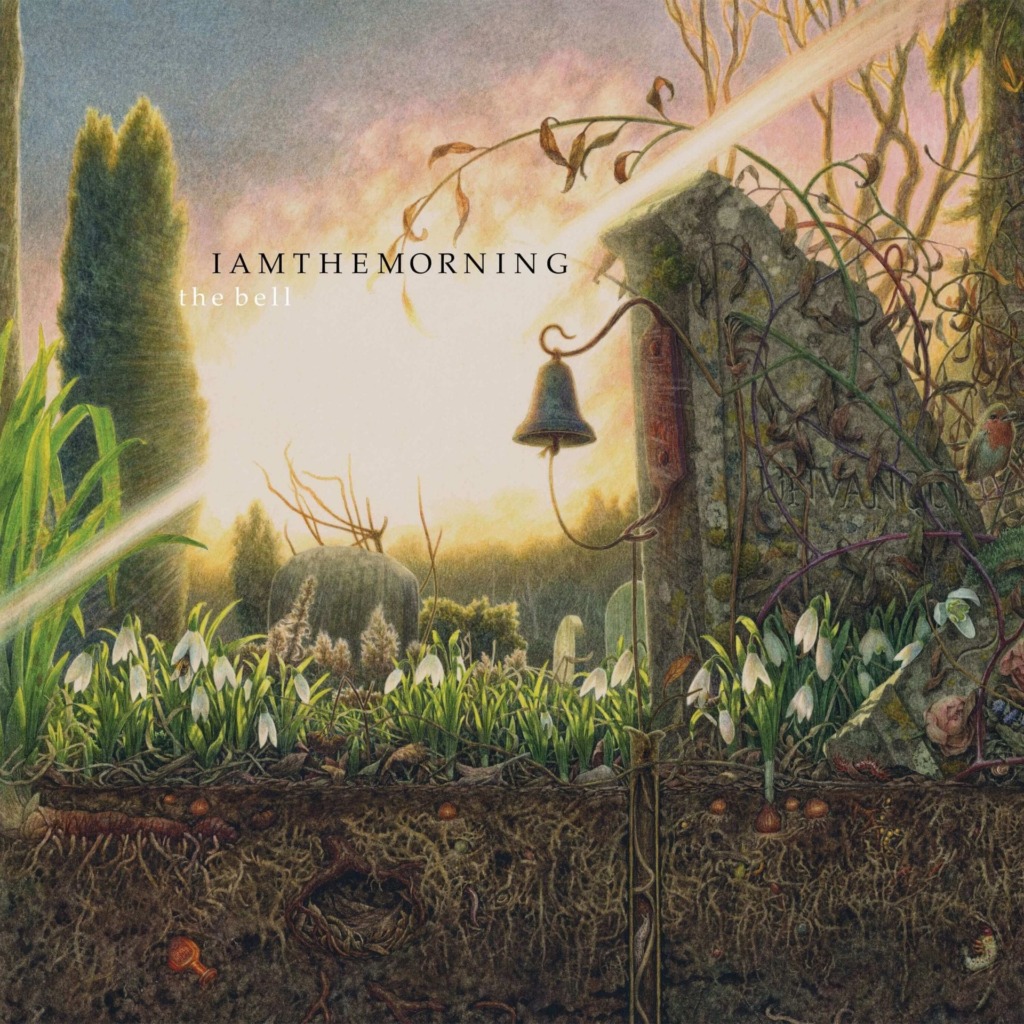 Imust admit that listening to this album while deeply understanding all parts of it as a whole, listening to it in full concentration and reading the poetic lyrics, was not an easy task.
At first I thought it would be easy to let the words flow as I understand its concept, in big part because I spent many of my teenager's hours reading 19th C. poets like E.A. Poe, M. Shelley, O. Wilde, Lord Byron, W. Woodsworth, R. Kipling, R.L. Stevenson, S. T. Coleridge…
As well as being always attracted to the dark and realistic nature of paintings from the romantic artistic period: the dramatic realism some of them portray as well as the contrast nature between beauty and darkness, the fight between light and shadows, the struggles of the daily hard work against the soft beauty of landscapes or individual portraits.
It is romanticized, but realistic and dark at the same time. Yes, for the troubled soul there is a strong appeal to beauty and hardship of these past times – even if these emotions will hurt at times, dwelling into them, acknowledging them and understand them can also be soothing.
This might be the reason why I love the music and the overall theme from the Russian duet Iamthemorning: They manage to impregnate my very soul with every single melody and words.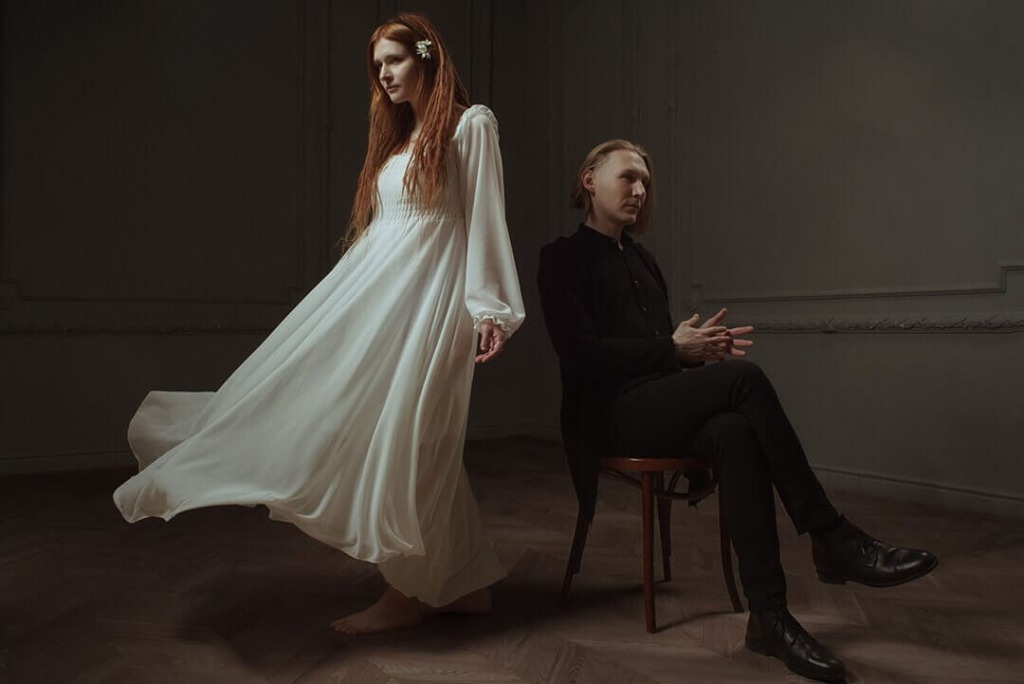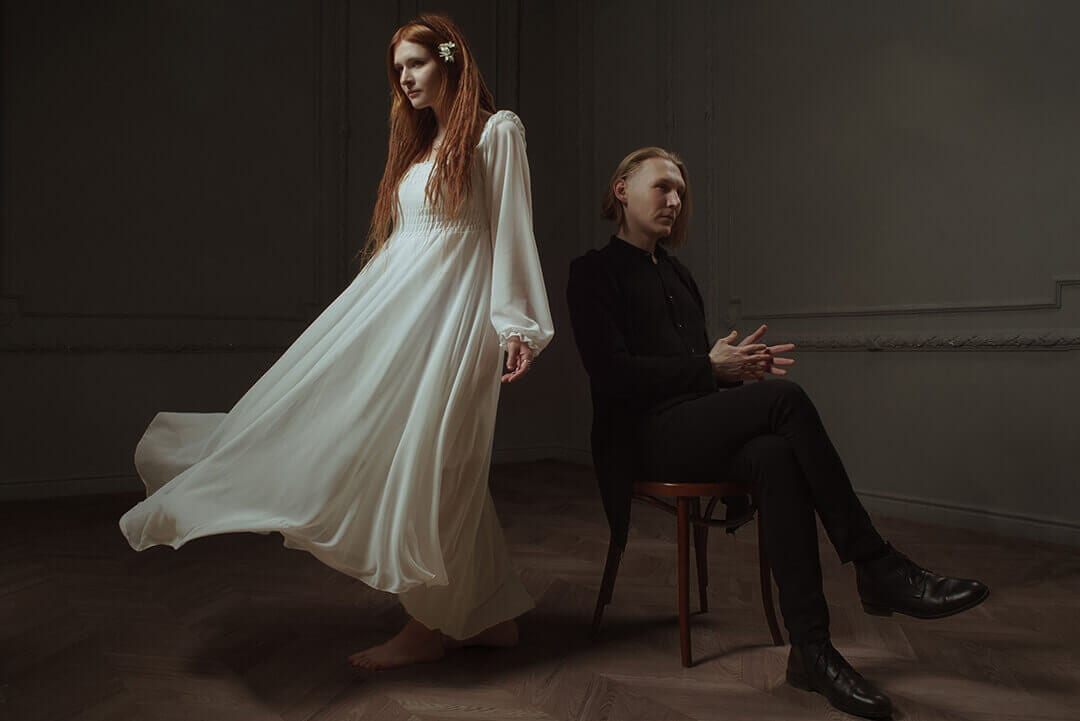 And in the case of their most recent album "The Bell", based on these emotions and fears brought to eternal life by the 19th C. poetry, it has not only reached the core of my soul, but somehow split it… going again through their music and typing these words is working as a balsam on the pieces left scattered on the floor.
This album is all this poetic beauty and all those contrasts made music. Virtuoso pianist Gleb Kolyadin and singer/songwriter Marjana Semkina have managed to create a masterpiece fueled by the beauty of the English 19th C. darkest stories and beliefs, and above all, depicting cruelty, but in a seducing beautiful way.
To this Marjana adds: "cruelty is the central theme of the album – together with all the different ways we respond to it and cope with it. This album is multi-layered and is, in many ways, a journey inwards, taking us inside the mind of a person suffering from abuse or neglect or open hostility of the society or a specific person." Even so, they still manage to make such a dark subject sound like a fairytale. As deceiving as real life can be.
Iamthemorning – Song of Psyche (click here if you can't play the video)
Certainly while the lyrics reflect this darkness, the music on the other hand takes us through a journey of beauty, to the point that sometimes my heart shuts down the words and goes literally flying across endless wild-flower fields. But Marjana's sweet velvety siren's voice works like a fisher's hook and brings me down to earth… or six feet underground…
The album, though not a concept album, is a cohesive work of 10 individual songs with a common theme, divided in 2 parts. The duo based this structure on the classical 19th C. "Song Cycles", used by many composers, but mostly attributed to Schubert. In this sense, every song can be listened to on its own, but the real beauty or magic flows when you listen to the whole experience, which I recommend you to do.
That said, of course I have my favorites. 'Freak Show', 'Blue Sea', 'Six Feet', and most of the II Part of the album: 'Ghost of a Story', 'Song of Psyche', 'Lilies' and 'Salute'. Well yes, almost the whole album. But I can't let pass the sheer pure musical perfection and beauty 'Lilies' and 'Salute' are. In these songs beyond the poetic beauty and sadness, Gleb is kind enough to give us a glimpse of his musical genius. The music is able to transform and transport in ways I've not felt before from previous Iamthemorning albums or his own solo work.
Iamthemorning – Song of Psyche (click here if you can't play the video)
On the other side of the spectrum, Marjana is singing better than ever. Those high notes, almost whispered truly mesmerizes me, how does she manage to make them so softly goes beyond me. Her poetic songwriting skills are on her prime as well. If she decides to write a book of poems I'd run to get the first copy!
The gorgeous artwork, made by long time collaborator Constantine Nagishkin, speaks clearly about the sentiment of the album. Beauty over a dark theme. It depicts a safety coffin bell, which reflects the fear many people had in that time about being buried alive. Sparked by stories like those from E. A. Poe, some 'safety coffins' had a string tied to a bell attached to the gravestone. If the buried woke up, it could ring the bell to call for help. Marjana adds: "Although the idea is a bit morbid I feel there is hope in the artwork too – no matter how low you are or desperate you think your situation is, you can still call for help, but more than that, you have to call for help if you need it".
Iamthemorning – Song of Psyche (click here if you can't play the video)
There's not much more to add from me about this masterpiece. Just please, listen to it with an open mind and a bulletproof heart as this album is surely going to pierce you through and take you down on its journey to darker painful places I'm not sure you're willing to feel. Though I did, and I feel stronger knowing so much beauty these 2 beautiful souls can give you.
The Bell tracklisting:
(All tracks composed by iamthemorning Produced by Vlad Avy, Gleb Kolyadin & Marjana Semkina)
Part I:
Freak Show
Sleeping Beauty
Blue Sea
Black And Blue
Six Feet
Part II:
Ghost Of A Story
Song Of Psyche
Lilies
Salute
The Bell

Iamthemorning have some few rare live shows coming up, as a support for Riverside's european tour, a combo you definitely don't want to miss.
with Riverside
19/09 – DE- REICHENBACH, Neuberinhaus

 20/09 – DE – MÜNCHEN, Freiheiz

 21/09 – DE – MÜNSTER, Jovel Music Hall

 22/09 – DE – NÜRNBERG, Hirsch

 24/09 – DE – MAINZ, Kuz

 25/09 – LUX – ESCH-SUR-ALZETTE, Kulturfabrik

 26/09 – DE – KARLSRUHE, Substage

 28/09 – DE –  POTSDAM, Waschhaus
Headline or festivals
18/09 – NL – Zwolle – Hedon

21/09 – NL – Arcen – Elfia

01/10 – UK – London – The Courtyard Theatre

02/10 – NL – Maastricht – Intro In Situ