Carpenter Brut – Leather Terror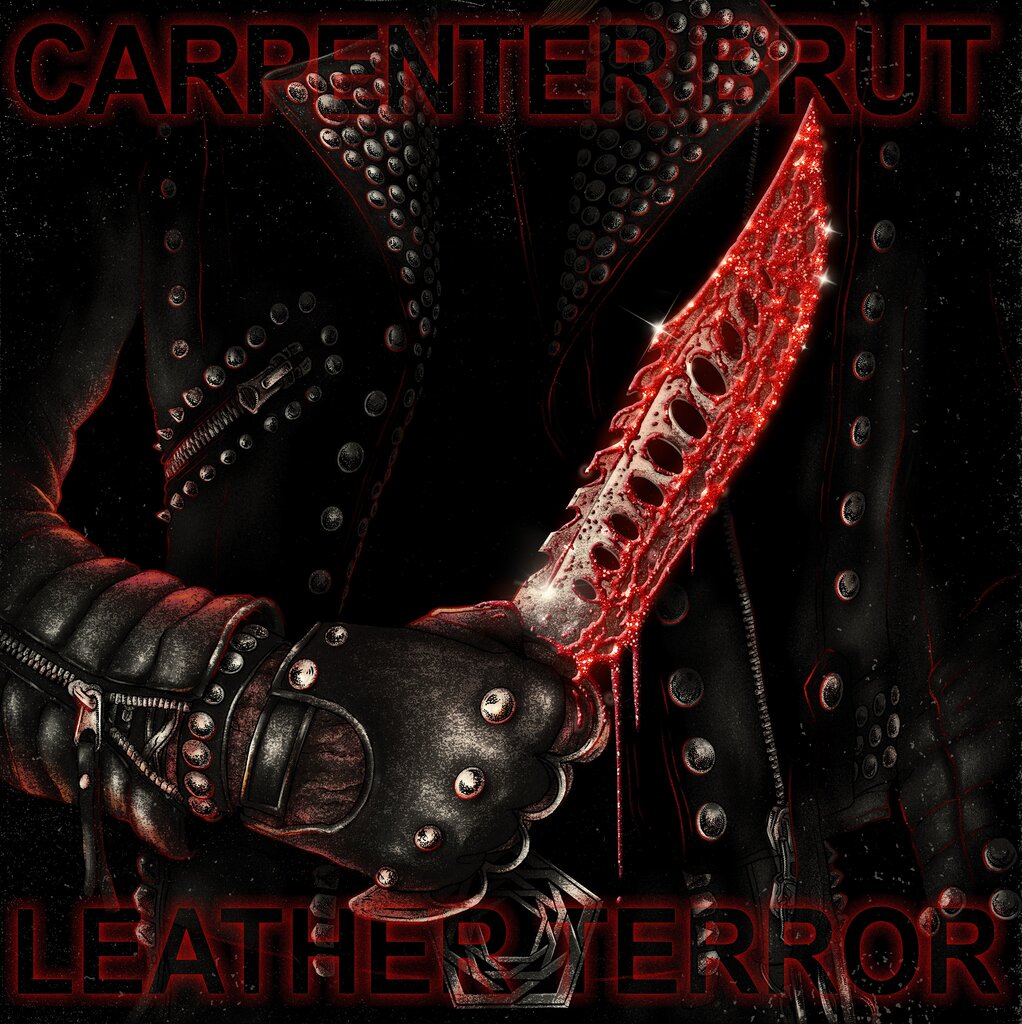 When Carpenter Brut released its debut album "Leather Teeth" back in 2018, it was an instant success. Franck Hueso's solo project skyrocketed to become one of the most celebrated synthwave bands out there. Followed by intense live shows (joined by Hacride guitarist Adrien Grousset and drummer Florent Marcadet) and a lot of remixes, Carpenter Brut is now back with its second full-length album, called "Leather Terror".
The second album picks up where the first one ended: the story of Bret Halford is continued as he lives his life as both a true rock star and a ruthless avenger, having a particularly grim approach towards those who have wronged him. Musically, it would be easy to put "Leather Terror" into the same synthwave box again, but there are differences too. While "Leather Teeth" was mostly instrumental and heavy leaning on a vintage '80s sound, "Leather Terror" brings us more into '90s territory and the amount of vocal songs has grown. In my opinion, both developments are very good: I am really not an '80s fan and the vocals add some much-needed variation to the music. Carpenter Brut made a big step forward here.
Kicking off with the darkness of 'Opening Title" and the bombast of 'Straight Outta Hell', the bar is set high with a killer production, heavy synth riffs and massive grooves. 'The Widow Maker' is the first vocal track with Alex Westaway (Gunship) on vocals. It's a killer synthpop track with great hit potential. Then it's on to the absolute album highlight 'Imaginary Fire', where thick synth riffs go hand in hand with amazing melodies and an excellent vocal delivery by Greg Puciato (The Dillinger Escape Plan). This is one of the best songs I have ever heard, confirming Carpenter Brut's status in the synthwave scene.
Carpenter Brut feat. Greg Puciato – Imaginary Fire (click here if the video doesn't play)
After these fireworks, it's time to slow down with '…Good Night, Goodbye', featuring Ulver front man Kristoffer Rygg and his beautiful, soulful voice. This is a welcome break before hitting the dark dancefloors of the EBM/industrial scene with the dual attack of 'Day Stalker/Night Prowler', bringing back fond memories of sweaty nights and neon lights. This makes my inner cybergoth very happy. Then it's back to the 80's with electro pop in 'Lipstick Masquerade', which has quite a Madonna vibe, featuring the vocals of French singer Persha. From there, things take a darker, more solemn direction, preparing for a rather brutal ending with the title track. With its growls (Johannes Andersson – Tribulation) and intense drums (Ben Koller – Converge), this is the heaviest and darkest Carpenter Brut song so far, taking a rather metallic approach.
Carpenter Brut feat. Alex Westaway – The Widow Maker (click here if the video doesn't play)
Even though Carpenter Brut's music is electronic, I believe that many metal fans can find something to their liking on "Leather Terror" too. The music is heavy enough and the album contains plenty of great songs. While the first half of the album is more impressive than the second, things never get dull or repetitive and there is plenty to enjoy. If you have an open mind, you should certainly give this one a chance. I am already looking forward to the next album, which should close the Bret Halford trilogy, without a doubt in a rather morbid fashion.
Track Listing:
Opening Title
Straight Outta Hell
The Widow Maker
Imaginary Fire
…Good Night, Goodbye
Day Stalker
Night Prowler
Lipstick Masquerade
Color Me Blood
Stabat Mater
Paradisi Gloria
Leather Terror