Blighted Eye – Wretched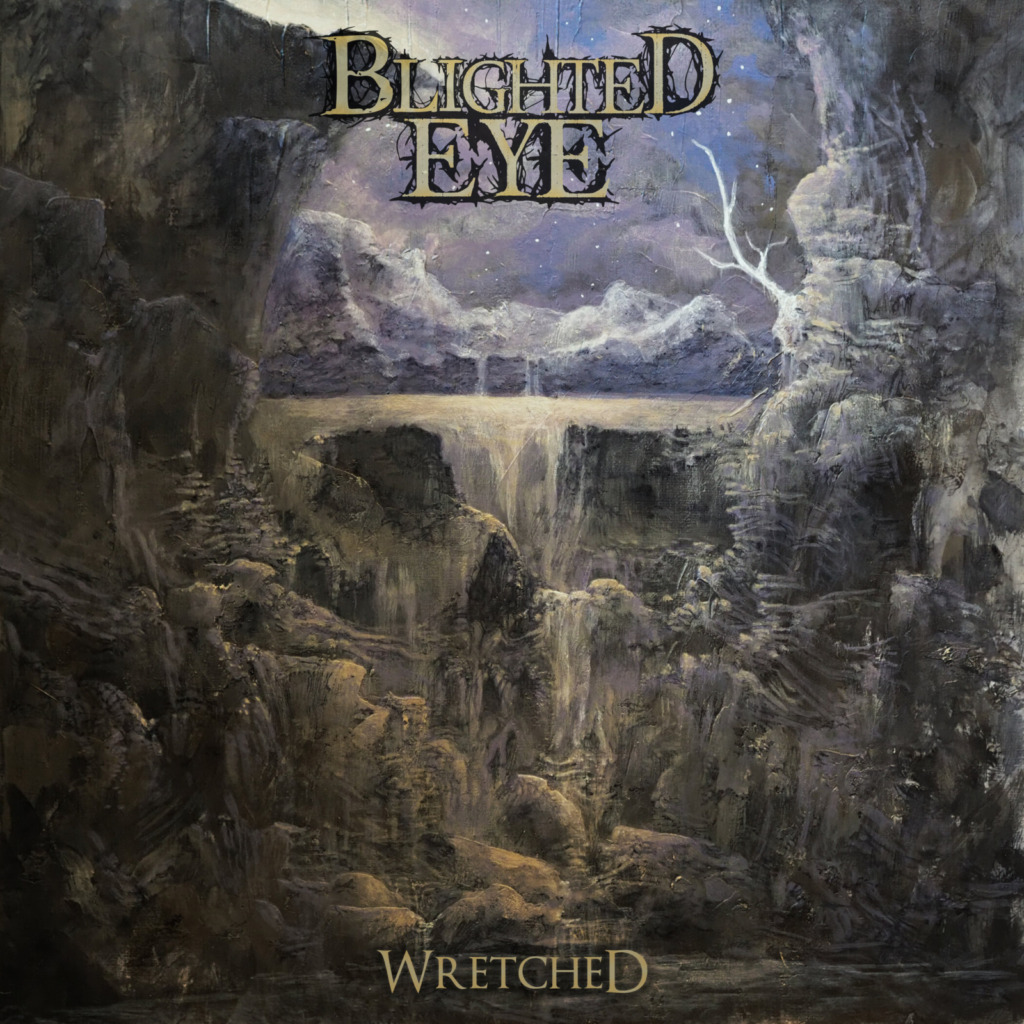 Seattle based Blighted Eye describe their music as "dense and mercurial progressive death metal driven by all things mournful and bleak". So, it should be no surprise that their debut 4 track EP is entitled "Wretched". They promise "an experience that is an introspective one that focuses on the perception of oneself, which in turn affects how one perceives the world.  Even the band name is a reference to the mind's eye so to speak".Of the lyrical themes on the EP, the band describe them as such; "they are very much about the destructive capacities of depression and feelings of isolation, anger, and nihility they create despite how much a person tries to fight against it". So, it's cheery stuff then.
Fans of bands such as Allegaeon, Virvum, Vale of Pnath and First Fragment may recognize the style of the cover artwork. It is the work of Samuel Nelson (Stigma Art) who has created cover art for many metal bands. Musically the band cite their influences as Opeth, Death, Dissection, Enslaved, Megadeth, Katatonia, Slumber, and Agalloch but say the EP leans more towards the first three of those. They also point out that "The music accompanies the lyrical themes, taking you through a range of emotions, but with a persistently dark undercurrent".
The band's genesis in 2018 was a simple creative outlet for guitarist Christopher Jones. In the subsequent year, he recruited his long-time friend Kyle Chapman of Aethereus for vocal and guitar duties, and in 2020 the line-up was completed with the addition of drummer John Devos (Mesmur, Comatose Vigil A.K).
So, now that we have set the mood, does it live up to it? Opening track 'Contempt' sets off at pace from the get-go and does not disappoint. Tortured vocals sit angrily over tight heavy riffs with soaring guitar solos and short breakdowns into softer passages. The songs are all around the six to seven minutes mark, and that is plenty of time for lots of changes speed and mood wise, and all the numbers deliver both.
The last song is the title track 'Wretched', and here we have slow, almost reflective sections between the more anguished body of the track, and again there are some grand lead breaks. For a three-piece, they have a very full sound and I think they have created something suitably dark, deep, and at times angry. But you can make your own mind up by going to this link on YouTube:
Blighted Eye – Wretched [Official Stream 2020] (click here if the video does not play)
With their ambitious EP now released, the group is hard at work crafting what will become their first full-length album. The evidence here is that it will be something to look forward to, let's hope it's not too far into the future. We all need to get down to making up for time lost in 2020.
Track List:
Contempt
Respite
Relent
Wretched