Lechuga – The Search Pt.3: The Hypothesis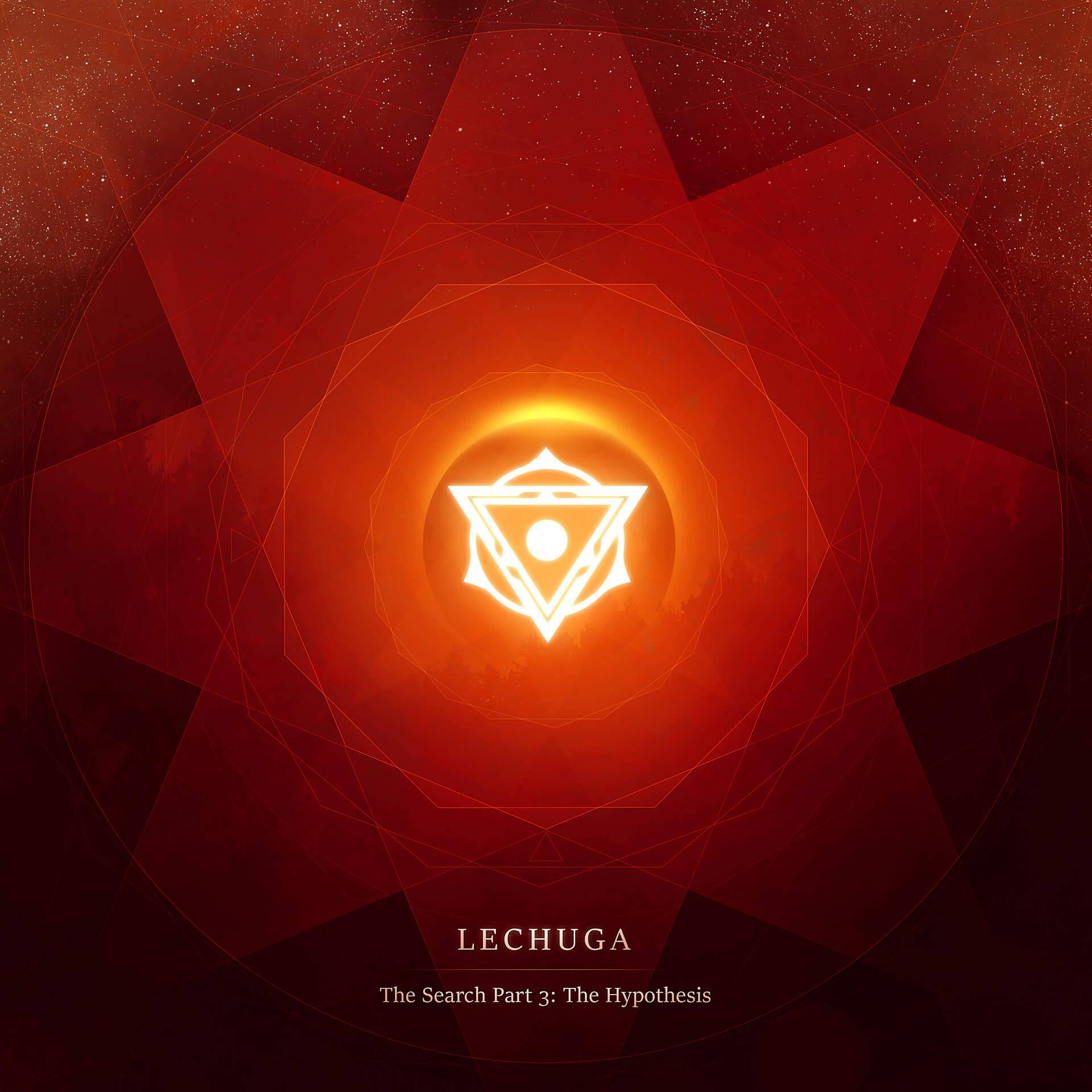 I know this is not a new release, in fact, it was released almost a year ago. But I just couldn't keep from dropping some lines for this album. Since I heard it, it felt like if I was happily floating on the sea and suddenly a massive wave crashed above me turning me upside down. That strong was the effect Lechuga's "The Search Pt.3: The Hypothesis" had on this humble prog fan.
I feel guilty of not knowing about this excellent Chilean guitarist, even more when I'm coming from the same continent (though opposite sides of it). We share the same Latin-American prog community and I thought I knew more or less the active bands and musicians of the region. 10 years living in Europe proved me wrong. And glad I got to discover his music after seeing him live at Prog Power Europe 2017 on stage with his band (Benjamin Lechuga on guitars, Marcos Sánchez on bass, and Felipe Cortés on drums) as part of Organized Chaos led by the serbian artist extraordinaire Vladimir Lalic.
To offer a bit of a background, Benjamin Lechuga has made his mark in the South American country. He won a worldwide contest by Ibanez, to become, at the age of 17, one of the youngest musicians sponsored by the brand. In 2011 and after winning other local contests, Steve Vai chose him among many guitarist around the world, to be the winner of the "Steve Vai Scholarship" at the "Institute of Contemporary Music Performance"in London. Since then he has been active on the local scene as well as touring in different countries. That's quite the start of a career.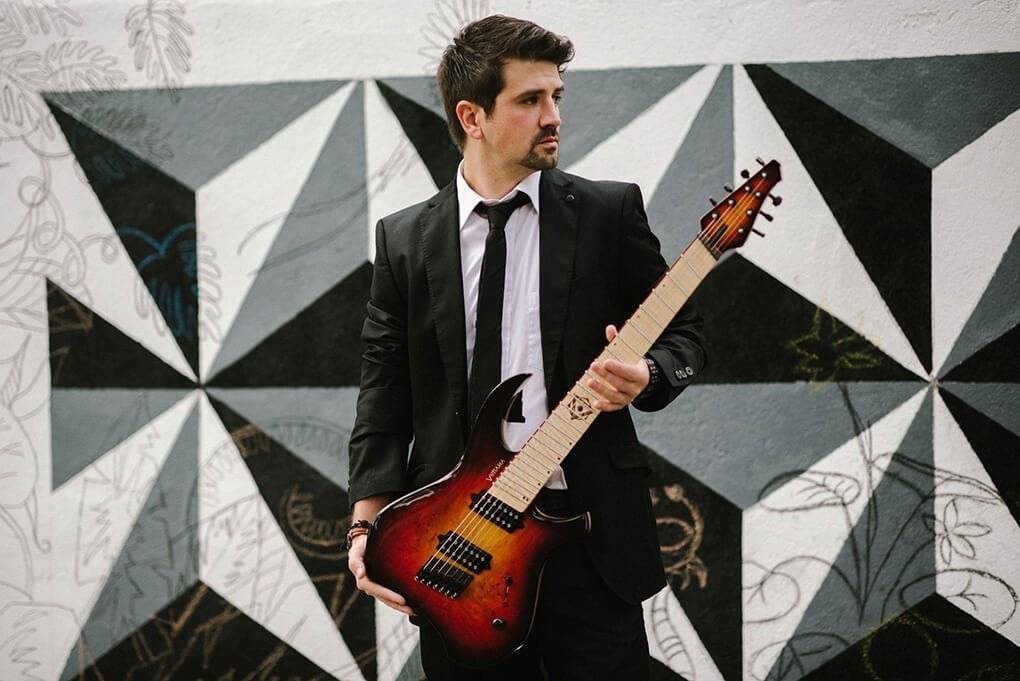 About the album I'm throwing some praise at in these lines, it was really as I described above. It totally took me by surprise. I had expected another rather flat solo guitarist shredding-djenty-showing-off album, that so many instrumental guitarists albums consist of. Nope nope nope! "The Search pt.3: The Hypothesis", is a flowing, eclectic but homogeneous mix of progressive elements with jazz and funk grooves and the occasional Latin-American vibe, which doesn't really relate to world music at all: this is progressive metal of a different kind!
First surprise, first seconds into the album and I don't know what I'm listening to, is this a party album? A prog party album? 'Lettuce and the Gang' has clear Latin flavor on the drumbeats and percussion, along with funky clean guitars giving way to heavily distorted guitars with an oddly deep dark sound and a wind ensemble (2 trumpets, 3 saxophones and a trombone)- yes a whole winds big band! – in a sticky groove impossible not to put a smile on you… What in the name of the prog gods am I listening to?! And the sheer craziness is not random, it is very well thought: composed to let you get lost on its swirl. The heavy distorted guitars, a sax and a very much danceable rhythm, falls down to a slow section with a beautiful guitar solo (and the big band winds for a second here and there) to jump again to the previous groovy main duet between guitar and sax. Pure awesomeness… but there is more! Another guitar based part that the most hardcore prog lovers would love, with sudden time changes well distributed creating a slide to fall again to the groovy sax-guitar duel and the grand closing with the whole wind orchestra in full. What is not to love?! And this is the opening of this album. This lettuce has a lot of vitamins and minerals! Eat it! WOW! Over the top? Maybe, but indeed a statement. Mr. Benjamin Lechuga is here to stay!
'Anxious on Hold', a Piano only song (played by Benjamin), serves as a 2 minutes interlude and a much needed respite. Breathe in and hold your breath for what's to come. If the album started with groovy rhythms, here we have pure blues full of feeling and with a 50's black & white movie vibe.  The winds orchestra returns in 'Waiting for a Miracle', to give us even a stronger big band feeling, reinforcing the 50's clubs atmosphere. Relaxing tune, but knowing something else is coming, and it appears in the form of a superb guitar solo by no other than Ron "Bumblefoot" Thal (Sons of Apollo, G N'R), showing us why he is gaining more and more recognition among the best guitarists out there. When the song seems to be finishing, it comes back with the vocalization of guest singer Consuelo Schuster. We get again that vibe from a 50's dance club. But then the song totally transforms to a proggy odd times piece to remind us this is definitely a prog album.
'The Hypothesis' is the second interlude, this time at just 44 seconds of a somewhat cinematic soundscape that serves as introduction to the next song, 'Insomnia' which starts as a straightforward prog metal tune. The bass (featuring Simon Grove from Plini's band) and drums have a prominent role in here, marking the way to let the guitar express itself, and a violin! Then the odd time signature takes the main role, to introduce us to the guitar solo and here comes those keyboards any prog metal fan might easily recognize: the trademark sound of Derek Sherinian (Sons of Apollo, Dream Theater). Playing a short solo then in duet with the violin from Larissa Terešcenko. Piano enters when the mood softens and the violin takes the stage. An interesting song, despite starting as a pretty much any other progmetal song, Lechuga seem to have always a hidden card below his sleeve.
A melancholic melody within soundscapes in a slumber mood in 'Please Let Go' introduces us to the next surprise, most bombastic theme of the album. 'Leap of Faith' is the only one featuring not just any singer, but the extraordinaire voice of Vladimir Lalic from Organized Chaos (please go and listen to his band, now!). Eclectic, with the presence of the wind ensemble again, groovy, funk, melodic and metal, this song has it all! And not happy with that, it also has Derek Sherinian again on the keys. The song has a bit of everything, including slavic or eastern european elements. Then towards the end Lalic vocalizing in duet with all the instruments, including winds and drums, is simply as awesome as it is fun!
The last 2 songs are re-recorded versions from Lechuga's previous album "The Search pt.1: Introspection". Both count with Sherenian's expertise as well as a better production overall. 'Madness', the first of these 2 songs, definitely gains a whole new life. Straight-in-your-face prog metal of the style Dream Theater fans would instantly love. Creative and straight-forward at the same time it is an enjoyable track with different mood changes and a stylish – though a tad cliché – guitar plus keyboard parts. An interesting note are the different odd breaks in the rhythm patterns.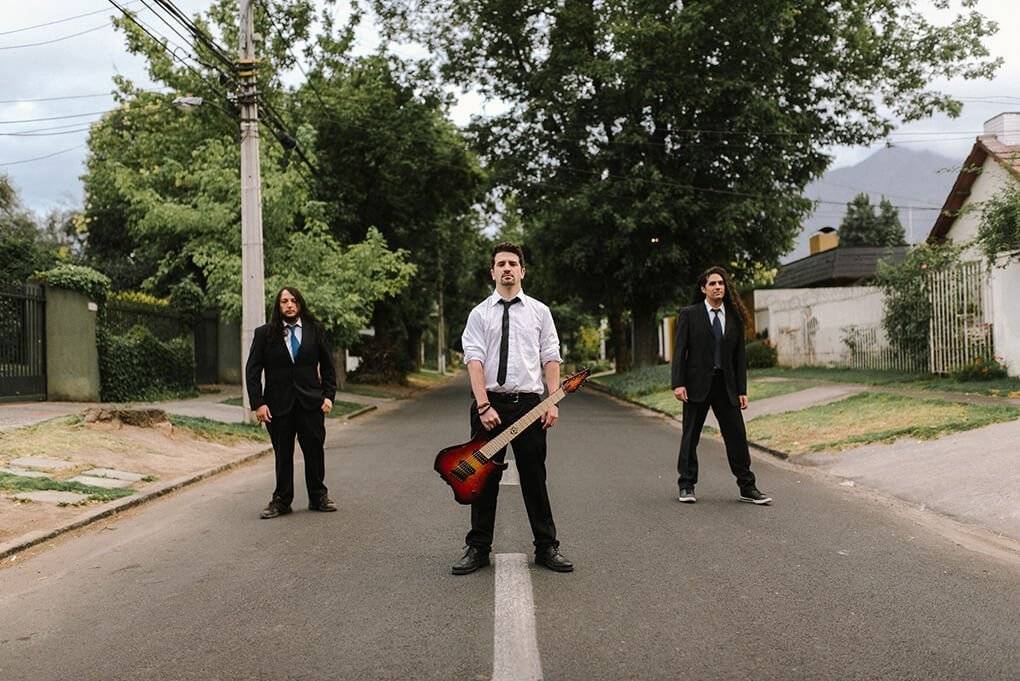 The closing track, 'The Search' starts with a mid-eastern vibe complemented by a massive entrance of the whole band, as well as vocalizations by a female singer (I guess Schuster again). The song promptly turns into a jazzy groove including sax and piano of course. In this song you can find what I like a lot from Lechuga's creativity: how he can turn a 100% prog metal song into Jazz in a space of 4 minutes, to then combine both styles and basically form a whole new song within the same song. I hope you get what I mean. If not, my recommendation is: go and listen to this album now.
Artists like Benjamin Lechuga deserve just more than some few lines of recognition. He (and his band of very talented musicians) deserve the attention of every prog outlet out there! I'm also guilty of have not heard about him before, not until I saw him last year playing live with Organized Chaos (along with David Maxim Micic and Vladmir Lalic). I blame this to the lack of space big and medium progressive music outlets have for relatively unknown bands and those aspiring musicians from around the world. This is a musician that bursts quality and dedication on every note. I can't imagine how many more like him might be hidden on this planet, waiting for an opportunity to be heard but lacking those chances because of country and language boundaries. I'm happy that Benjamin Lechuga had a chance to shine and his work and dedication pays off. Can't wait to hear more!