Mobius – Kala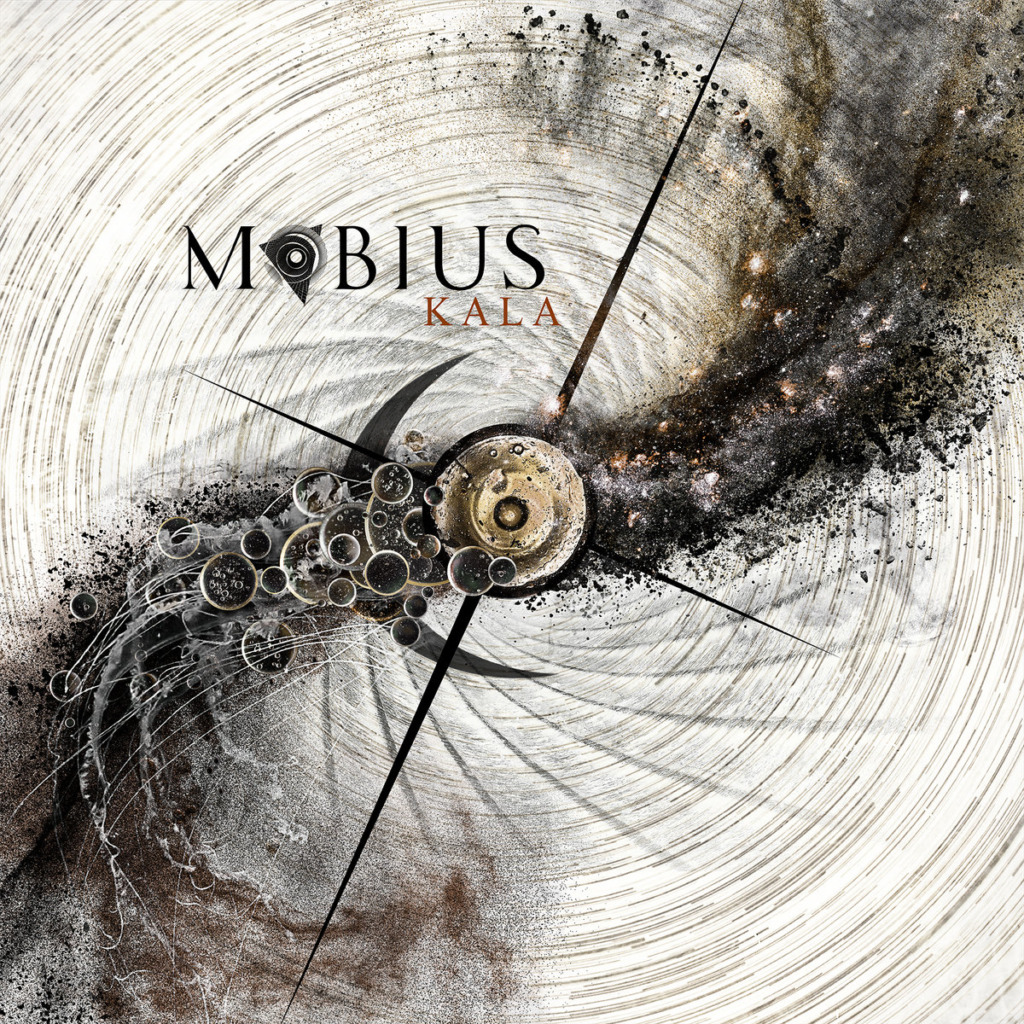 So four years after the release of their debut album, French band Mobius is back with their second release. The "difficult second album" is where a lot of burgeoning groups stumble and fall. However I can reveal that this is not at all the case with Mobius and their aptly named "Kala".
The band draws on a diverse background, something that is clearly reflected in their musical philosophy. Several members have their roots in the Reunion islands, located on the east coast of Africa, in the Indian Ocean, and even though the band is now based in Lyon, those roots are strong and clearly visible in their musical output.
The concept and lyricism album also draws on this heritage, as the content is inspired by, and infused with eastern mysticism, religion and mythology.
While the title of the album "Kala" is a Sanskrit word, meaning "Time", the names of the other tracks have significance in Hindu, and/or Sanskrit. 'Mukti' refers to liberation or enlightenment, 'Akasha' to the æther or space of ancient Indian cosmology, and so on. I won't go into it in any more detail, but it's fascinating reading for anyone so inclined. I also want to take the time to mention the cover art by Vincent Fouquet/Above Chaos, which is absolutely stunning and seems like the perfect visual companion to the etheric concept of the album.
There can be no doubt that Mobius has improved leaps and bounds from their 2016 debut "The Line". While being a good album in its own right, it shows a young band flirting with world music, djent and progmetal, yet still struggling to fully find their identity, and maybe playing it a bit safe as a result of those growing pains. On "Kala" the bud of inspirations and exploration planted with "The Line" blossoms fully open, and displays a multi-faceted and intriguing crown of unique petals.
MOBIUS – Bhati (click here if video doesn't play)
Still, the album is given a common root by the strong rhythmic receptacle that rests at the base of all the songs presented on the album. A lot of that credit has to go to bassist Alexandre Gaudencio, who impressively manages to keep this train coherent, and on the rails, even through the most speedy and frenetic parts of some of its compositions. Together with drummer Adrien Brunet, he plays close to perfection on this album.
Brunet is able to keep adding drive and small percussive details to the tracks, without drawing to much attention away from the overall melodic quality of the music, such as sadly is the case in a lot of other djent-inspired bands, where rhythm is often heaped upon rhythm, resulting in nothing but a barrage of hollow breakdowns. Brunet knows when to play, but more importantly, he knows when to let up, and create space for the vocals and other instruments.
MOBIUS – Akasha (click here if video doesn't play)
Talking about the rhythmic approach of this genre, and seeing how the guitar is often used as an almost percussive driving force in this style, a lot of attention is also going to be on guitarist Xavier Pompon. Attention that he handles admirably, and with great skill. If there is a heart of metal in Mobius, it is indeed to be found in the choppy, groovy guitar-licks of Pompon, and his counter-play to Brunets drumming. Listen to the later part of the almost seven minute long 'Bhati' for an example of what I'm referring to here, where the bass, guitar and impressively restrained drums seamlessly fuse to create delicious polyrhythms.
I think one of the reasons the band is able to have such a strong rhythmic approach, and still keep their music sounding vivid and organic, is the Oriental and African influences that permeate their compositions, seeing as these musical traditions have another approach to rhythm in music, than we commonly see from the European form. An example of this is the bands use of the percussion-heavy music styles, such as "Séga", and especially "Maloya", that was born on their home-island. A rebellious style of folk-music, that apparently was considered such a threat to the French state that it was banned all the way up until the 1970's.
Continuing on with the musical prowess of Mobius in mind, it would be a sin not to mention the fact that the band has a very strong composer and performer in pianist and keyboardist, Guillaume Deveaux. His touch is felt all through the album, sometimes setting the rhythmic and melodic foundation for a track, like on the excellent 'Sharira', and at other times displaying gentle melodious colorization as on the beautiful middle part of opening track 'Abhinivesha'. A song where the impressive range of vocalist Heli Andrea is also on full display.
MOBIUS – Abhinivesha (click here if video doesn't play)
Her varied and diverse output is another of the highlights of "Kala". Sometimes she sings with a deep breathy intensity, while other times there is an airy, almost fragile quality to her voice. The above mentioned 'Abhinivesha' is a good example of that, displaying her scope as a vocalist. The track also features, interestingly, an example of the South Indian percussion syllable singing style known as "konnakol". A somewhat unique feature, that I haven't heard employed in contemporary progressive metal. Her ability and interest in experimenting with her voice adds yet another dimension to Mobius music, further enriching it.
If there is criticism to be made, it must be that certain tracks are less able to keep the attention of me as a listener all the way through, and that is more likely to happen when the excesses of djent takes over and subdues the more exotic elements of the band's music. There is also something to mention regarding the production and the mix of the album, as I feel the band could have made use of a more organic, warm, and dynamic sound to really bring out the details and unique ethnic elements of their music. I would love to hear what a top-of-the-line producer could do with Mobius music, and hope the band keeps growing, and new avenues will open up for them in this regard. However I have to add that the sound on "Kala" is more than serviceable, and should not discourage anyone to check them out. Listeners with another musical background than mine might even prefer their more compressed and intense sonical stylings.
That being said, "Kala" is a fantastic sophomore full-length offering from Mobius. It's filled with surprising twists and turns, innovative songwriting and a refreshing take on progressive metal and djent. There is a sense of time moving forward, towards the future with this album, and personally, it is a future I'm looking very much forward to.
Track list:
A
Abhinivesha
Sharira
U
Mukti
Akasha
M
Bhati
Agni