Nad Sylvan – Spiritus Mundi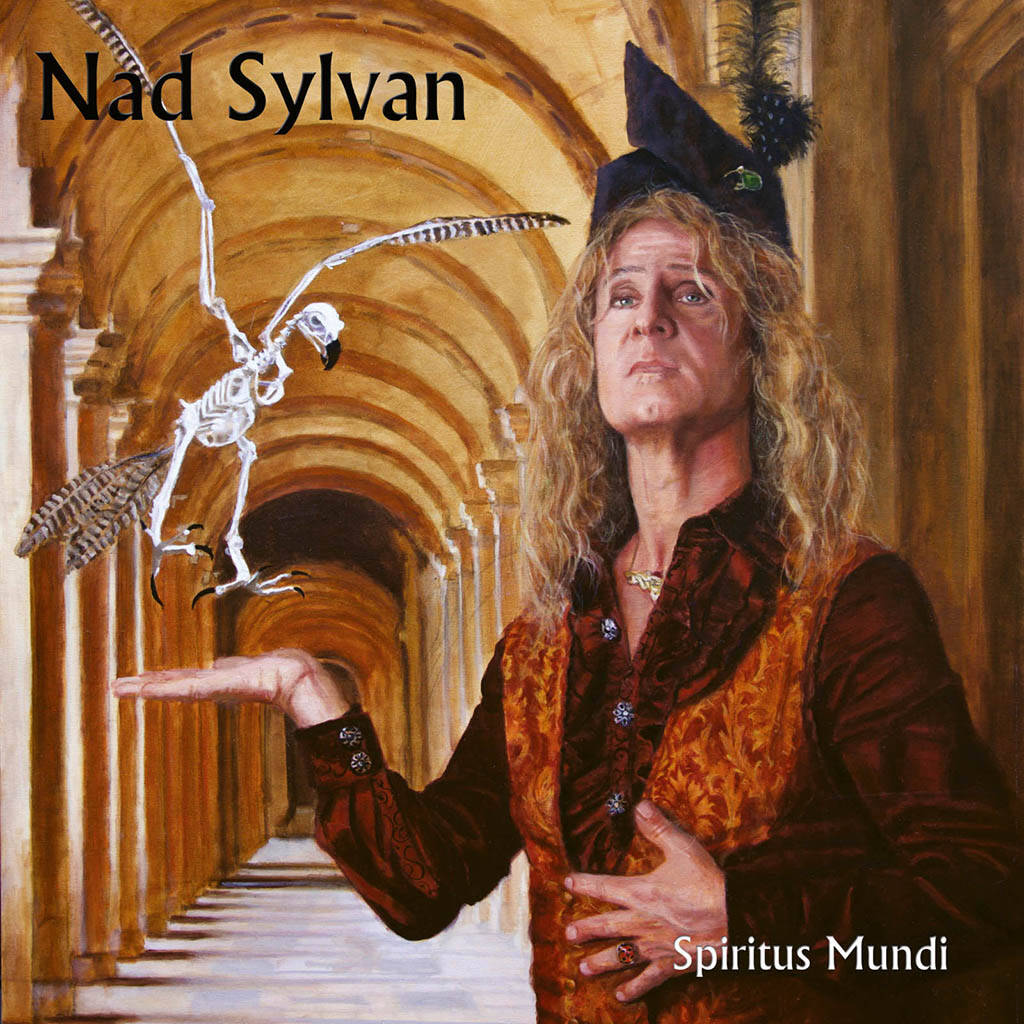 Most people know of Nad Sylvan through his most recent work as vocalist for Steve Hackett's Genesis Revisited shows, which remain a huge draw around the world. But Nad's story goes back many years as a relatively struggling artist trying to gain recognition for his talent. It took Steve Hackett to thrust him into the limelight and allow that recognition, this was then followed by the decision to go full-time professional and leading to him being signed, as a solo artist to the German label, Inside Out.
With his rich, soulful voice, reminiscent of a young Peter Gabriel it is easy to see why he has become the perfect fit in Steve Hackett's band. But this man is no clone. April 9th, 2021 sees the release of his 4th and latest release "Spiritus Mundi" for Inside Out. Containing 9 tracks (plus 2 bonus on the special edition CD) the album marks a shift musically from the previous three releases, focusing more on lyrics and vocal melody set to orchestration and timely melodies. This artist has, as before, attracted a notable cast of guest musicians including Tony Levin, Jonas Reingold alongside his Flower Kings bandmate, drummer Mirkko De Maio and a certain Mr Hackett.
Much of the album's material has been worked together with a relatively unknown American singer/songwriter/guitarist from Vermont, Andrew Laitres, himself struggling for wider recognition, Sylvan saw a lot of himself in him, having trodden a similar path for many years. After being asked by Laitres to provide vocals to a track he was working on, the subsequent 'The Lake Isle of Innisfree' wound up on Sylvan's previous release "The Regal Bastard" as a bonus track and begged the question of what else they could come up with. Having met in person a couple of times on the US leg of the Hackett shows and listened to ideas and demos Sylvan suggested they develop the ideas further and so "Spiritus Mundi" was born.
Based on the poems of the Irish poet WB Yeats (1865 – 1939) one of the finest poets to come out of Ireland, according to Sylvan, the album kicks off with 'The Second Coming' one of Yeats most famous pieces, spoken word giving way to the gentle melody of acoustic guitar set over orchestration before the drums kick in to drive you deep into that melody. Many of the song structures are relatively sparse, acoustic guitar and layered vocals used to great effect, creating plenty of room to let the song melody grow as things build. 'Sailing to Byzantium' is a great example, it never becomes too busy, but the layers are all there and able to breathe.
This album in general is very much different from his previous work, but it works, and many are already singing its praises as possibly his best solo work to date. Laitres vocals sit as a nice foil to Sylvan's as they are polar opposites in both texture and style, but the complimentary feel is there for everyone to hear. 'The Realists' being a case in point. Melody is at the forefront of this release creating beautiful soundscapes such as on 'To the Isle in the Water' where vocal lines majestically interweave themselves with acoustic guitar, the occasional run from keyboards are the only other addition until the haunting sound of whistle and flute rise out of the ending section.
'The Hawk' is the latest single from the album and somewhat lifts the tempo with its driving beat following on from the previous, somewhat melancholy feel, and to these ears gives the album the lift it needs at this point. It is often said "save the best until last" and this can easily the case here with the closing track (on the standard cd). 'The Fisherman', a heady mix of all that has gone before, both artists taking a share of the lead vocal and interspersed with a catchy keyboard hook and slide guitar.
Nad Sylvan – The Hawk (click here if the video does not play). 
I must admit that on first listen "Spiritus Mundi" surprised me, in as much as, it wasn't completely what I had been expecting. Yes, it has the trademark Sylvan vocal sound, but the songwriting and production are what sets it aside from the previous releases. Yes, there are hints of early Genesis, ( Trespass) and Steve Hackett (Voyage of the Acolyte). Yes, it's a mix of bohemia and folk but it's all very modern-sounding and refreshing. Unfortunately, I only had the standard promo cd to review and missed having "To a Child Dancing in The Wind" one of the bonus tracks and the one song featuring Steve Hackett, but you know what, it doesn't matter because come April 9th I shall be purchasing this latest release, such is its impact with me, so I can still have something to look forward to.
Tracklist:
1. The Second Coming (7:00)
2. Sailing to Byzantium (6:41)
3. Cap and Bells (4:47)
4. The Realists (2:18)
5. The Stolen Child (4:58)
6. To An Isle In The Water (4:36)
7. The Hawk (4:09)
8. The Witch and The Mermaid (1:57)
9. The Fisherman (5:28)
Bonus Tracks
10. You've Got To Find A Way (5:55)
11. To A Child Dancing In The Wind (5:08)