Perfect Storm – No Air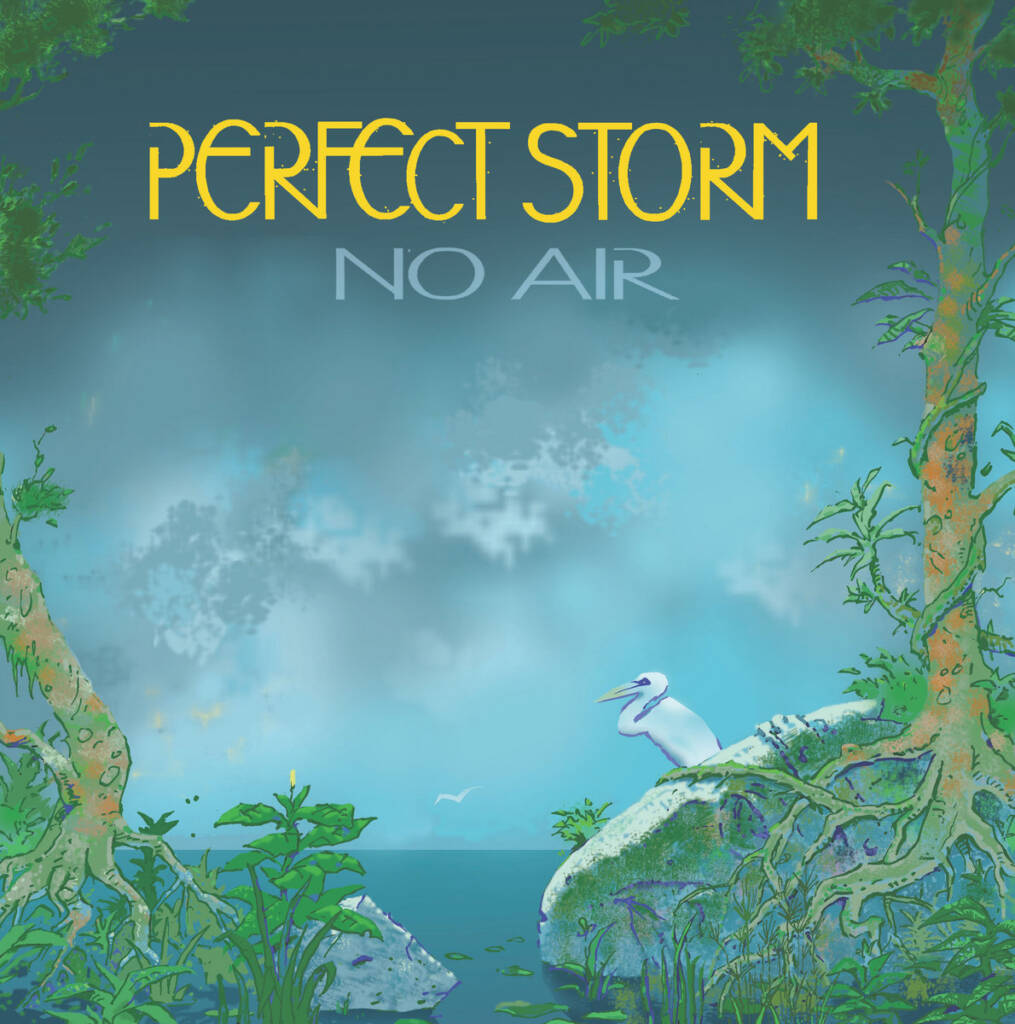 When I was asked to do a review for this album from the Dutch band Perfect Storm, I had my doubts. I see myself as just a music lover and not really as a reviewer. But why not give it a go? This gives me the chance to glorify this amazing new band because it's been a while since I had received a promo that I felt like playing on repeat for weeks. An album you fall more and more in love with after every spin. How long has it been since I could actually sing along with an album? (Don't worry, I only sing along when I am alone.) And at certain points in my day the music just kept popping up in my mind?
It is quite unbelievable that this is their debut album, it's like this band could have been settled in the progressive rock scene for years already. Their biggest strength is the style they play, catchy progressive rock, full of surprising twists, turns and breaks. A perfect balance between instruments and vocals, and with lots of diversity, both within the songs themselves and between the different tracks on the album. Mixed into their sound is also a bit of AOR, alternative, electric and jazz.
The overall theme of the album is relationships. With yourself, others and the world around us and everything that comes with that. Fear, insecurity, judgements, the challenges of letting go, and of course hope. The lyrics, music and vocals grab you from the start of "No Air" and everything manages to stay interesting till the end of the album. The album contains seven songs within 54 minutes, giving the tracks time to expand and grow, it's just the perfect lengths for the songs.
The most interesting instruments are the keyboard/piano and guitar. In every song Gert-Jan Schurer (guitar) and Ard Offers (Keyboard) impress with their parts, combining their instruments or with amazing solos. Keyboards switching place with the guitar and reversed. Catchy, but complex, without just showing off and always keeping the focus on the melody. You can really hear that they are the main brains behind the songs and melodies. But don't rule out drummer Jesse Bosman and bassist David Klompmakers. Although their parts are not as prominent on the album as the keyboards and the guitar, you definitely do notice them and their skills.
But this is not an instrumental band,  and in my opinion, we haven't even reached the best ingredient of the band yet. Lead singer Adel Saflou and his companion Hiske Oosterwijk are truly an amazing duo. Hiske's part is mostly supporting, her dualistic singing together with Adel adds something to the sound and makes it more atmospheric. But do not think she is only a background singer. She performs her solo parts and halfway through the album she shines alone on the title song 'No Air'. A perfectly chosen title, because Hiske makes it feel quite breathtaking. It's the most balladesque song of the album and it reminds me a little of Emiliana  Torrini on 'Gollum's Song' from the Lord of the Rings soundtrack.
Perfect Storm – Strenght (click here if the video does not play)
Adel Saflou's singing makes this band complete and he is truly a discovery. What an amazing characteristic voice this man has. The way he switches between a high and sweet voice and a more commanding, powerful one is amazing. It suits the music perfectly and it is as if he does not have any trouble with any note he sings. It is really hard to compare this man timbre to any other vocalist as he has a degree of diversity in his voice not many performers have. I always have the highest admiration for this kind of style and skill. Others I personally feel possess these skills are Jim Grey (Caligula's Horse), Marco Glühmann (Sylvan) and Mark Trueack (Unitopia/UPF). Not to compare, because they all have different vocal sounds, but you might get an idea of what to expect when it comes to talent and skill.
To sum it up, Perfect Storm has created an impressive debut album, and it would surprise me if they do not storm forward on the progressive rock scene with "No Air". Let us hope this storm is here to stay because I am already looking forward to a follow-up album. With a little hope that they might make it even more perfect by including my favourite instrument, the saxophone. A perfect storm needs a wind instrument.
Do yourselves a big favour, go check out this album.
Tracklist:
Strength
The Search
Sun For Life
Hope
No Air
Mind's Eye
How It Ends