Prognosis Festival 2022 – Day 2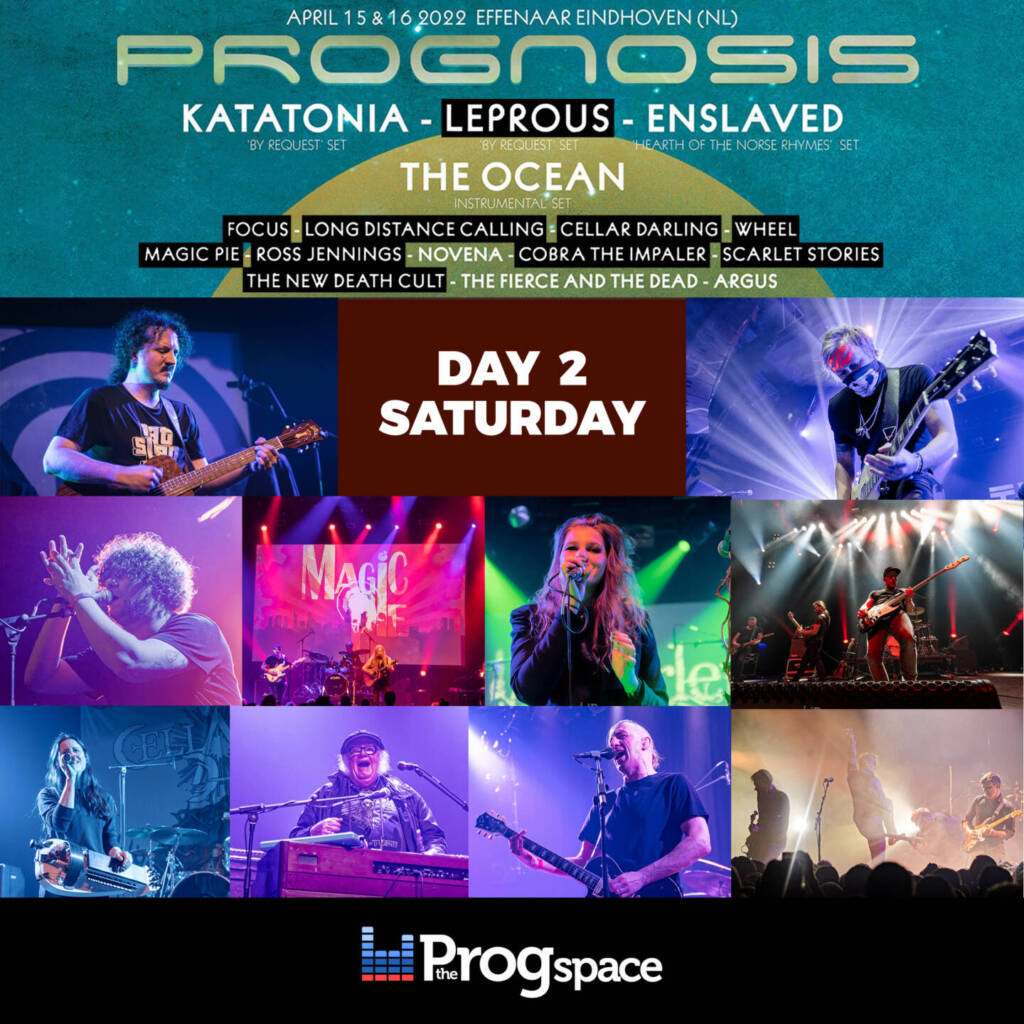 Saturday
14:00 -15:00 – ROSS JENNINGS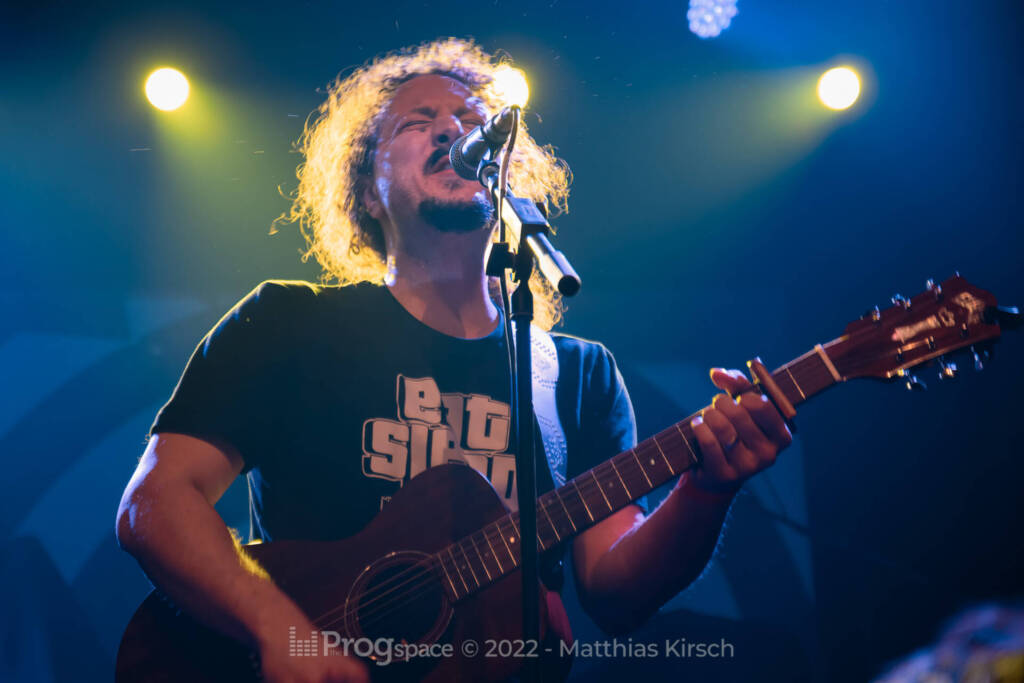 Day 2: Saturday started off with a familiar face from the night before: Ross Jennings (Novena/Haken) was the perfectly logical choice as a last minute replacement for Rendezvous Point and (with a little help from his Novena-friend Harrison White) treated us to an hour worth of choice cuts from his excellent solo debut album, some Haken deep dives as well as a hand-picked cover with the immortal Peter Gabriel hit single 'Solsbury Hill'. It all worked a charm and showed Ross' growing qualities as a (solo-) entertainer. A very cool opening for Day 2 of Prognosis 2022.
See Ross Jennings' full photo gallery here.
14:45 -15:45 – THE NEW DEATH CULT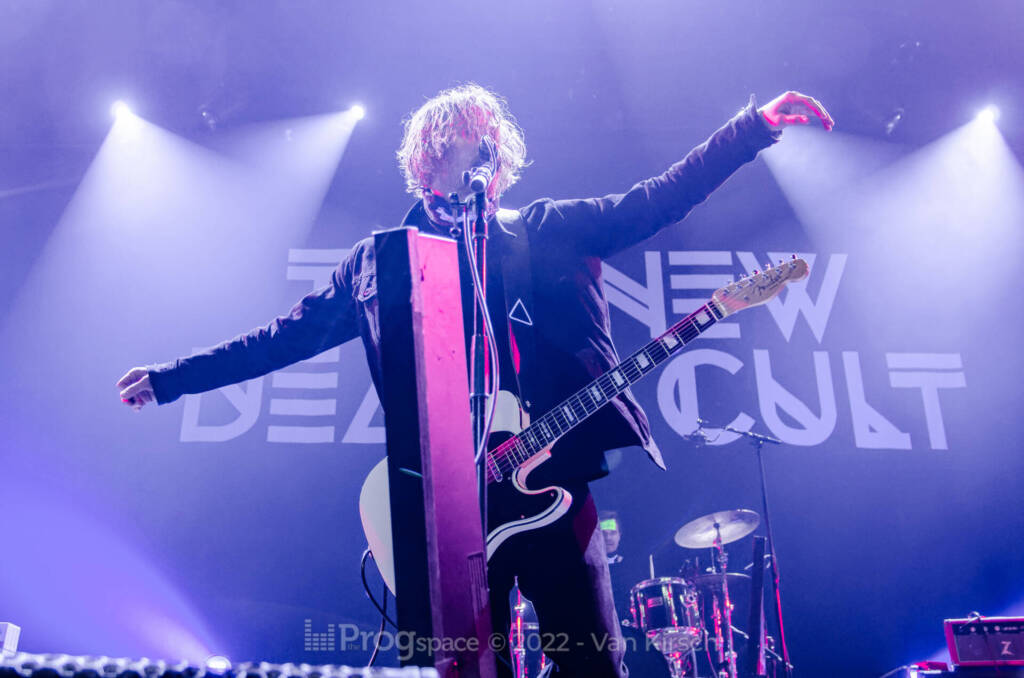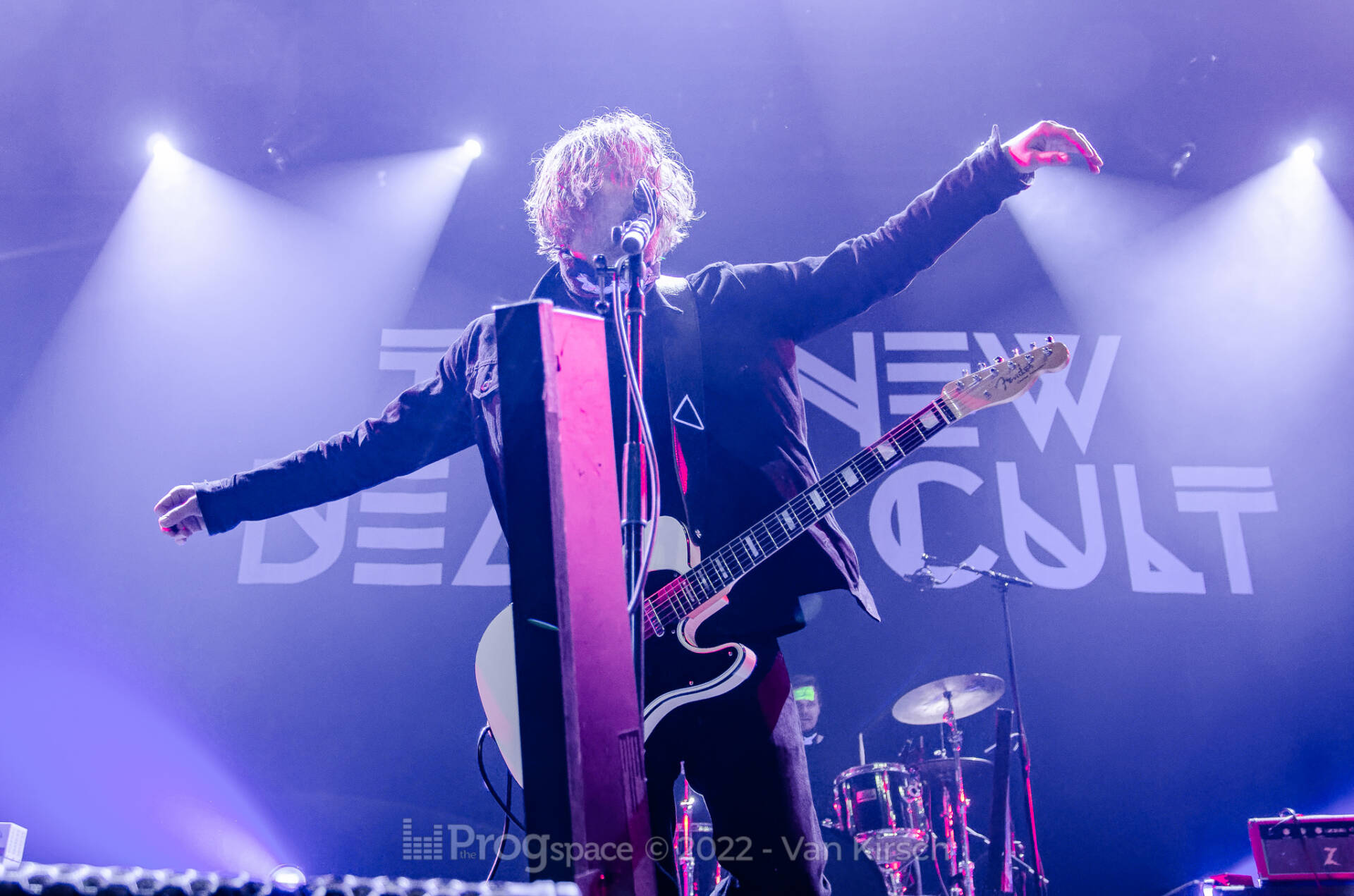 Starting off proceedings in the big hall on the Saturday were Oslo's The New Death Cult. Unfamiliar to me so far, their brand of alternative rock reminded me of (sadly defunct) UK act Arcane Roots minus the quirky proggy energy. Solid, but not too exciting for me.
See The New Death Cult's full photo gallery here.
15:45 – 16:30 – COBRA THE IMPALER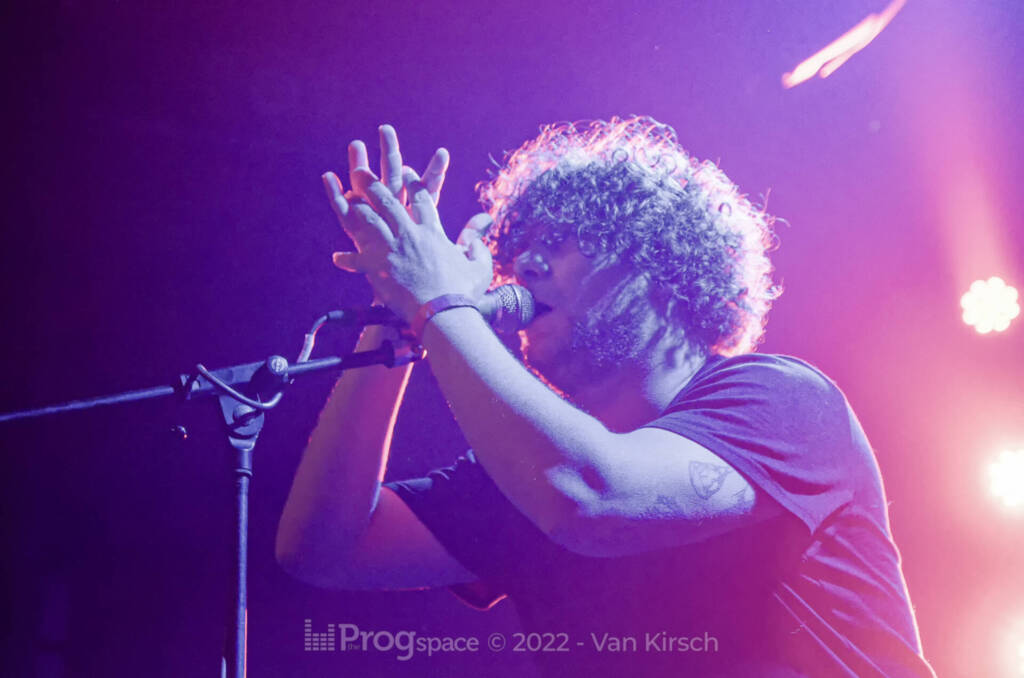 Cobra the Impaler on the other hand (also one of the last-minute replacements) was praised as a band to watch out for by organiser Paul van Berlo, so I was sure to check out their set on the small stage. By far the band with the most old school metal influences on the line-up, ironically I was wishing for them to draw even more upon them, as that was the part of their unique amalgam of old and new metal sounds that was sitting most comfortably with me. It was an energetic metal set nonetheless and they made plenty of new fans.
See Cobra The Impaler full photo gallery here.
16:30 – 17:30 – MAGIC PIE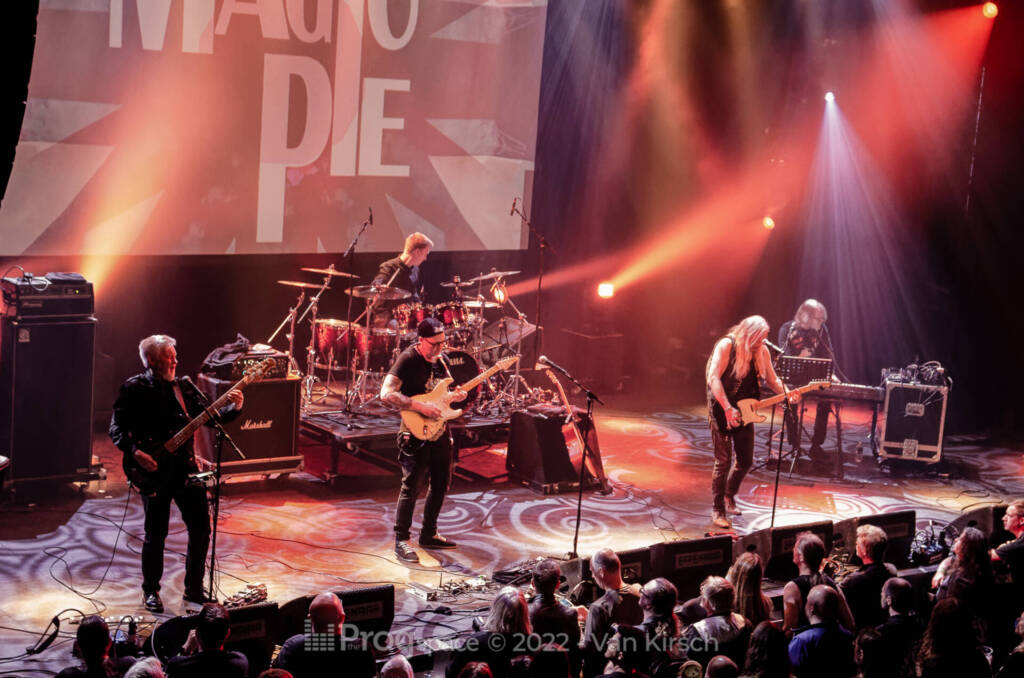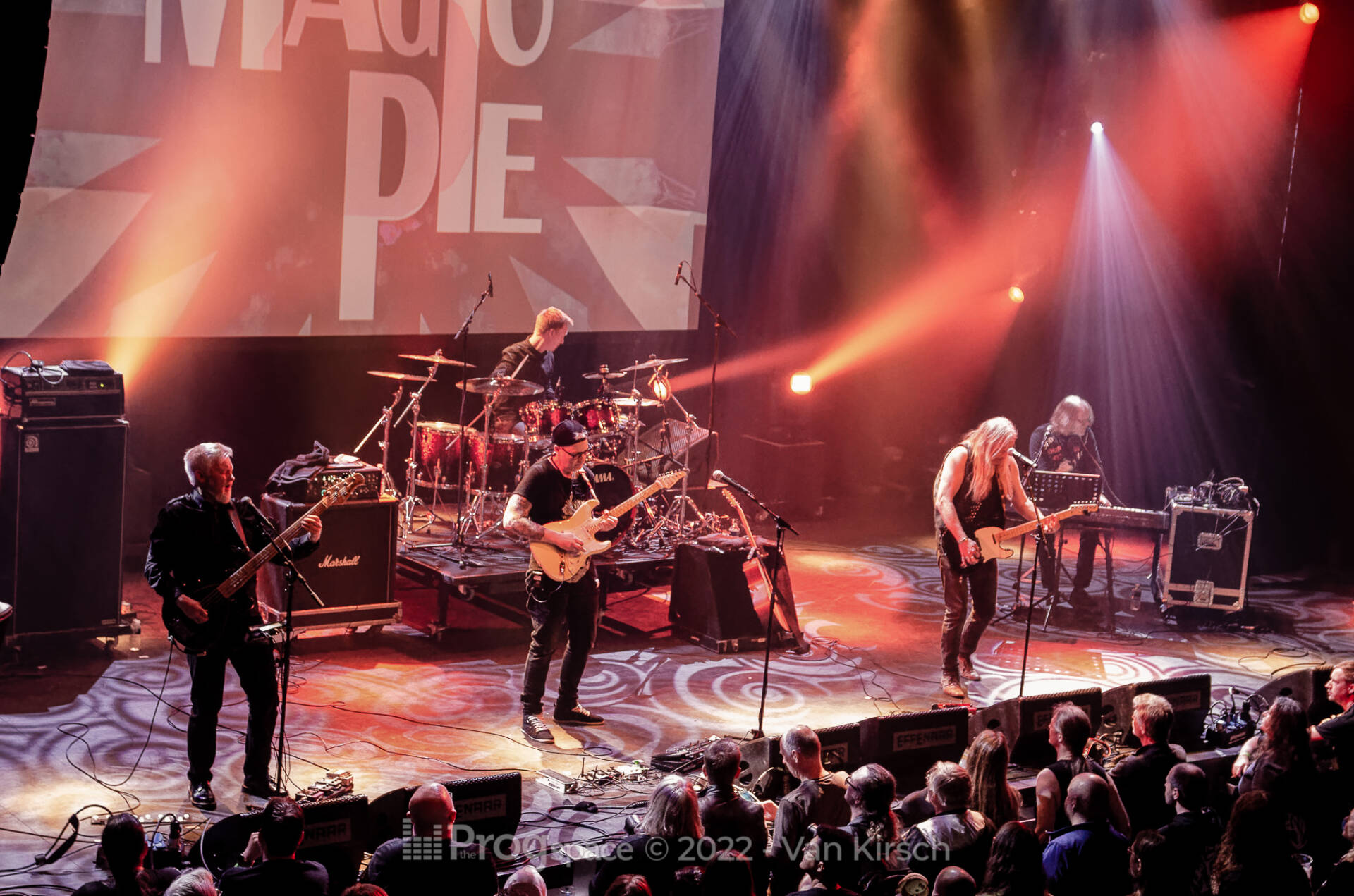 What was about to go down on the big stage couldn't have been any further from the riff-heavy onslaught of the Belgians Cobra the Impaler. Magic Pie from Norway burned down some fireworks for sure, and their hour long set was nothing short of a lesson in prog! Or should we say masterclass? Even though they didn't play anything from my favourite album, the debut "Motions of Desire", after which I kind of lost track a bit with their studio albums, each and every song was a major hit and could be used as exemplary for "Progressive Rock" in schools or Encyclopedias. And the best thing about it: the music is so much fun and just thoroughly uplifting that it really is a sheer joy to listen to and watch these five Norwegians at what they do best: play awesome music.
See Magic Pie full photo gallery here.
17:30 – 18:30 – SCARLET STORIES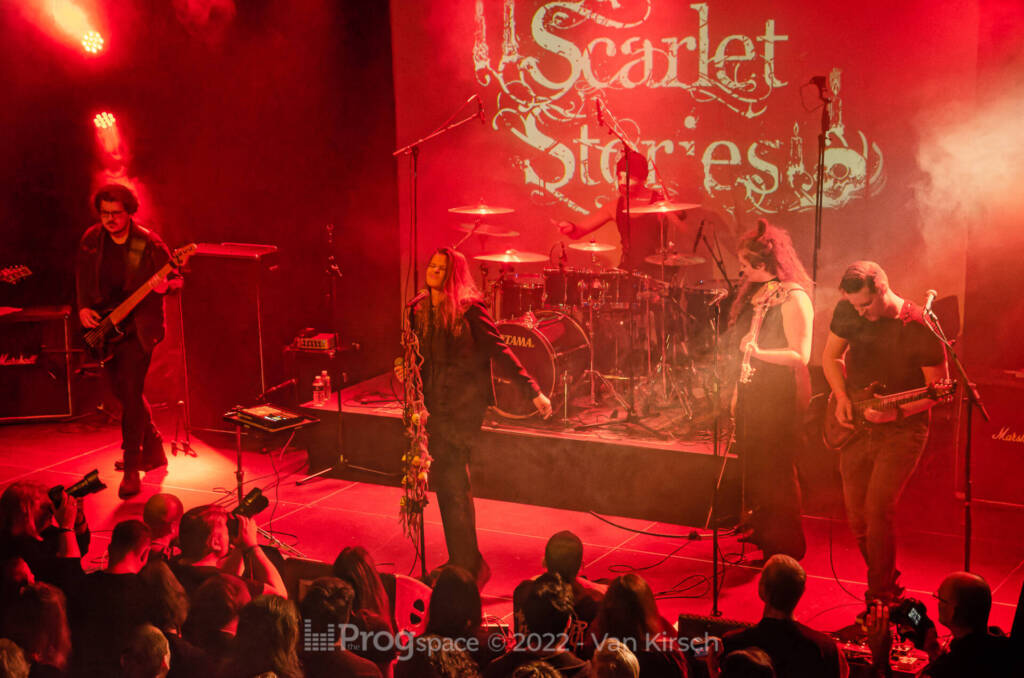 Awesome music ensued on the small stage with dutch doomers of Scarlet Stories, albeit a much more somber and dark variant of guitar driven music. The dutch band really knows how to build up atmosphere and Lisette van den Berg is just a wonderful, emotional storyteller with her voice. I was very much looking forward to seeing them again after their great performance at ProgPower Europ 2019 and once again they delivered an awesome set with songs from their 2019 debut album "Necrologies". Here's to more Scarlet Stories soon!
See Scarlet Stories full photo gallery here.
18:15 – 19:30 – LONG DISTANCE CALLING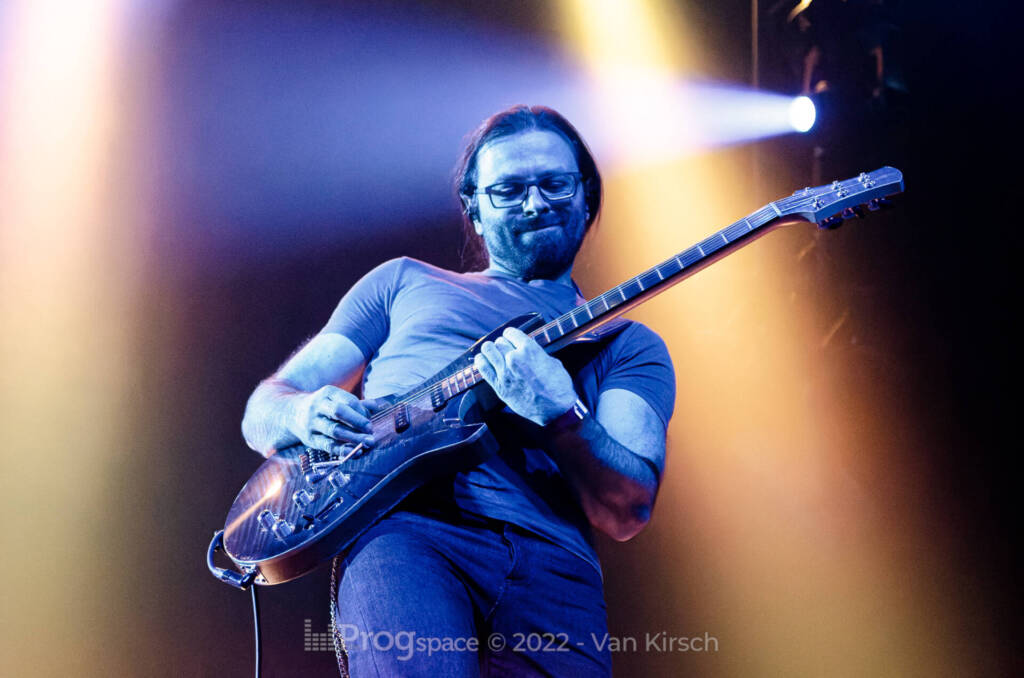 The second german band of the festival was Long Distance Calling and even though I have enjoyed some shows of them before, this time I didn't really vibe with their instrumental sounds. What I loved though was to see the entire audience in the big hall move like a wave. On to grab some food then and finally catch up with some dear friends like my co-conspirators at The Progspace, Van & Matt Kirsch (don't forget to check out our Galleries with their amazing pictures from the Festival) and Martijn Balsters from the ProgPower Europe team. One thing that comes way too short on such a weekend like Prognosis where you don't want to miss any band is the socialising part and being spoilt by the ProgPower time schedule with only one stage and changeover breaks (and even the famous diner break), it is definitely an aspect that I would love to see improved for future editions. Of course, the clashes were minimal compared to the previous first edition, but being kicked out of the venue not too long after the headliner set finished and then even kicked off the area in front of the Effenaar venue on a mild spring night (in a city with no curfew at all) tainted the overall positive vibes a tad. A cooperation with one of the pubs in the city center for an official after-party would work wonders here…
See Long Distance Calling full photo gallery here. 
19:15 – 20:15 – CELLAR DARLING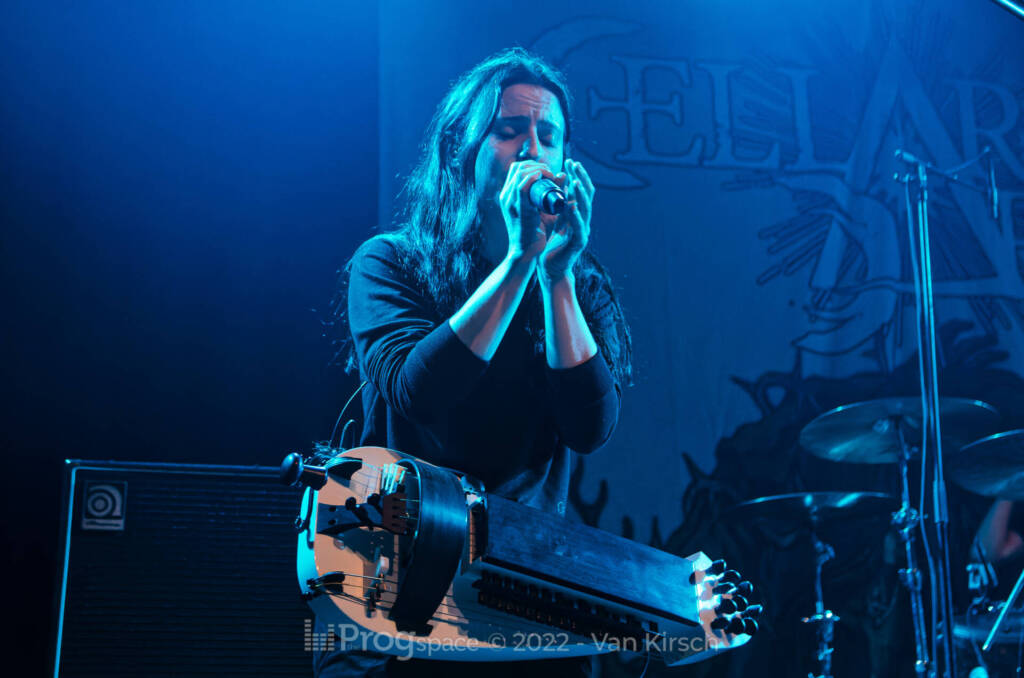 Anyways, on to the music again. Kind of like a direct continuation from the act performing before them on the small stage, Scarlet Stories, Cellar Darling from Switzerland is just as much a dark storytelling band as their dutch sisters and brothers. Even though I'm usually not the biggest fan of the inclusion of 'medieval' instruments into a metal context, in this case I wished we had heard more of Anna Murphy's hurdy-gurdy. Her exceptional voice and great flute skills could be heard perfectly though over a dark metal tapestry that just sounds like the perfect match for Costin Chioreanu's legendary artwork style. A wonderful addition to the festival line-up even though some prog purists wouldn't necessarily include them underneath the prog umbrella (but I would beg to differ).
See Cellar Darling full photo gallery here.
20:15 – 21:15 – FOCUS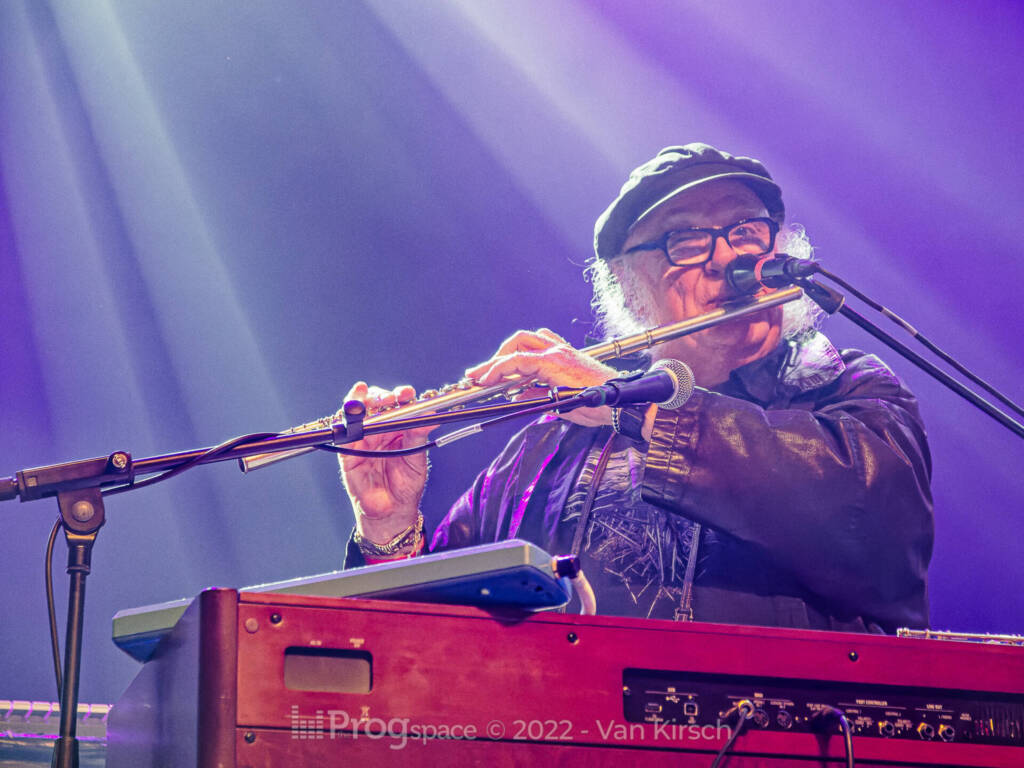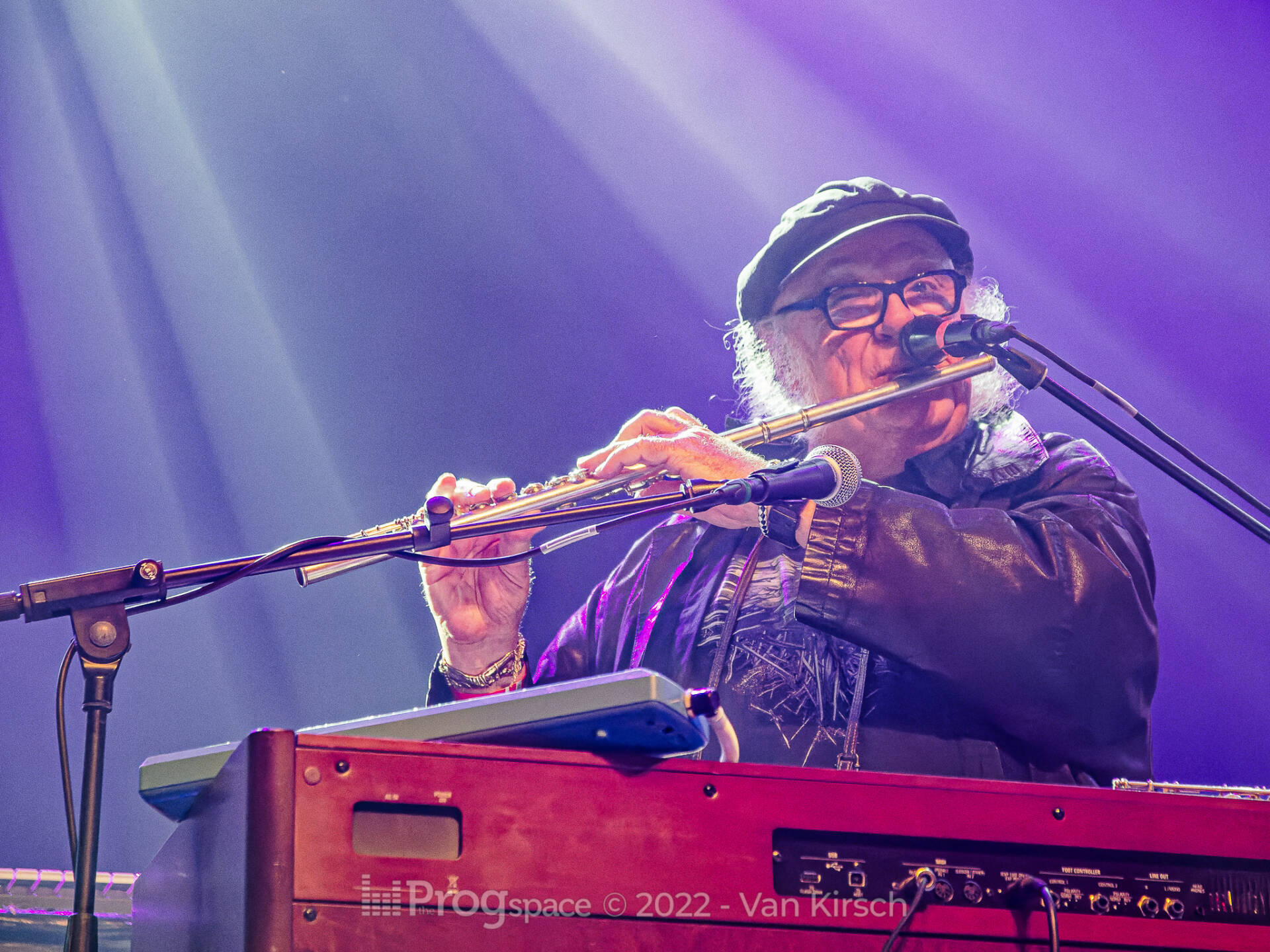 Celebrating the 50th anniversary of the band, dutch national prog treasure Focus tore down the Effenaar with their signature baroque prog stylings and mastermind Thijs van Leer's acrobatic flute and organ skills. But he was not the only musician one could focus in awe on. The youngster on guitar Menno Gootjes didn't have many moments to shine but when he had oh boy did he. Udo Pannekeet on the bass – a master of his craft as well. And then there's Pierre van der Linden on the drums. Well in his 70s and there's people out there who swear he'd be their first choice if they ever founded a tech death band. Just jaw-dropping and way too short.
See Focus full photo gallery here. 
21:00 – 22:00 – WHEEL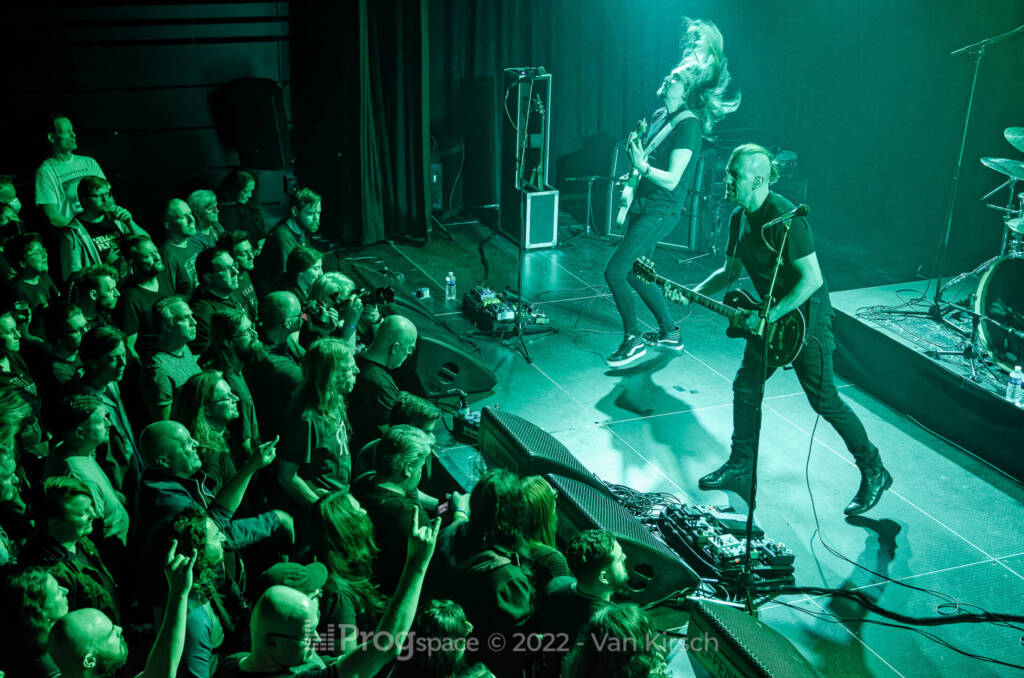 Closing the festivities on the small stage were independent prog shooting stars Wheel from Finland. Their second album "Resident Human" was met with critical acclaim and great enthusiasm from the prog fans, so it was to be expected that the small stage would be packed for their performance. And it was. I think all those who wanted to cherish every last Focus-note didn't really have a chance to get inside anymore. Well done to them though for pushing on in a pivotal time for any band's career when the wretched pandemic was threatening live music altogether for what seemed like an eternity. Perseverance is definitely one of Wheel's strong suits, as is the music itself, slowly swimming free of the eternal Tool-comparisons. And since not a significant number of fans exited the small hall during their set, I would surmise that they all lapped up a tight and engaging performance.
See Wheel full photo gallery here.
22:00 – 23:45 – LEPROUS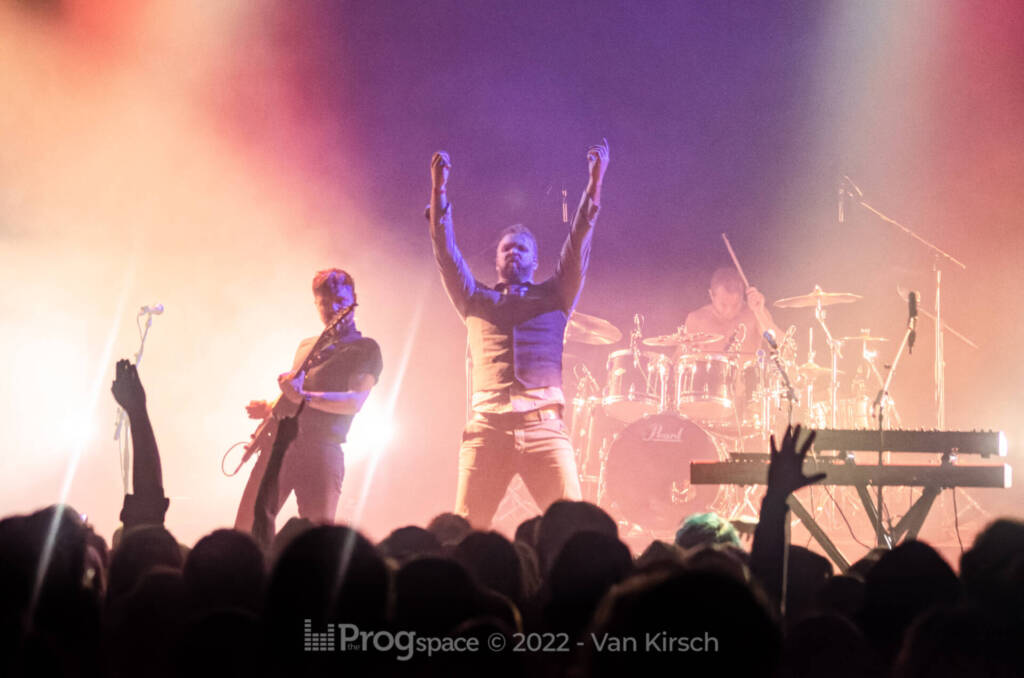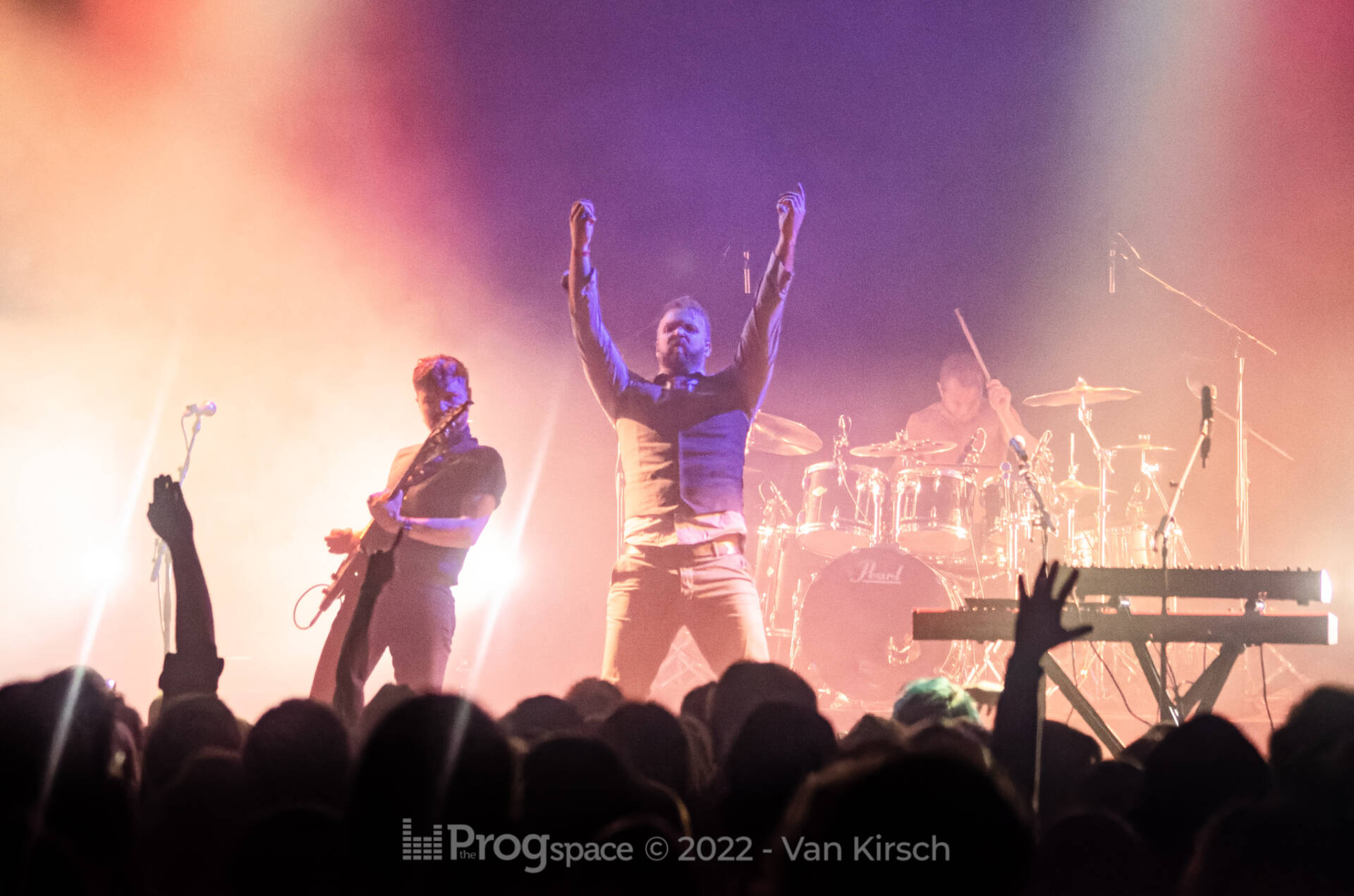 One of the bands that used the Pandemic restrictions to their favour and upped their status massively throughout the last 2 1/2 years with their numerous live-streams is undoubtedly Leprous. The norwegian five-piece (plus Canadian Cello virtuoso Raphael Weinroth-Browne) really came into their own over the last three studio albums and their well-deserved rise (or should I say rocket-launch) in popularity proves them right in following their own heart as far as the musical direction is concerned. For Prognosis, they had promised a By Request set though, voted by the fans, so a couple of old-school surprises were (almost) a given. Compared to the fact that top notch quality is defintely a given at this point for any Leprous show, the setlists are almost always a surprise, minus a couple of songs they always play (or never ever play).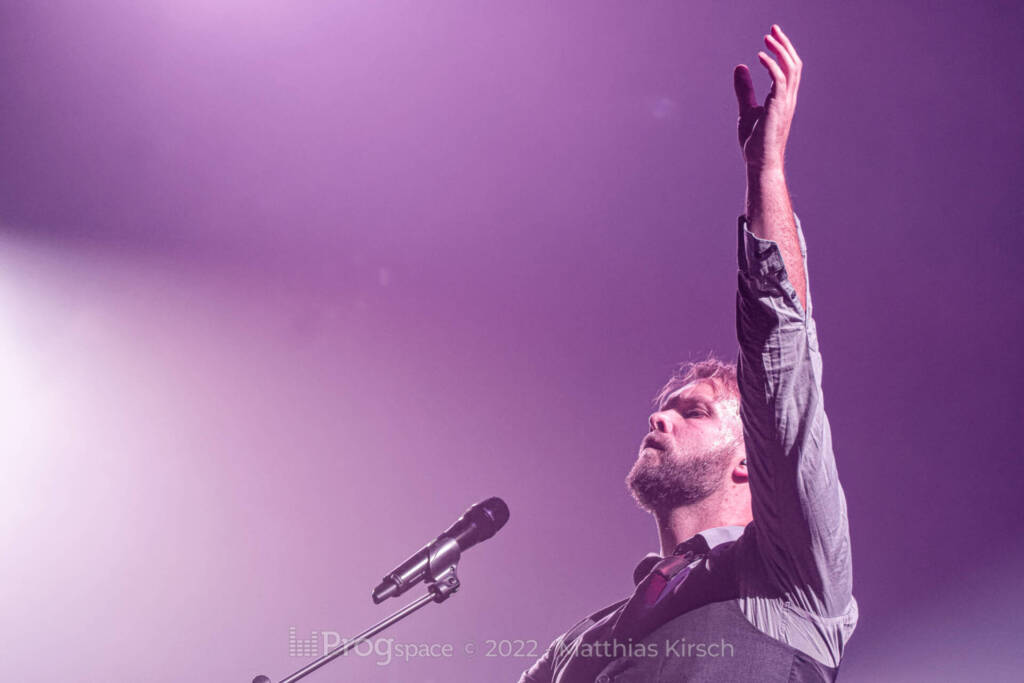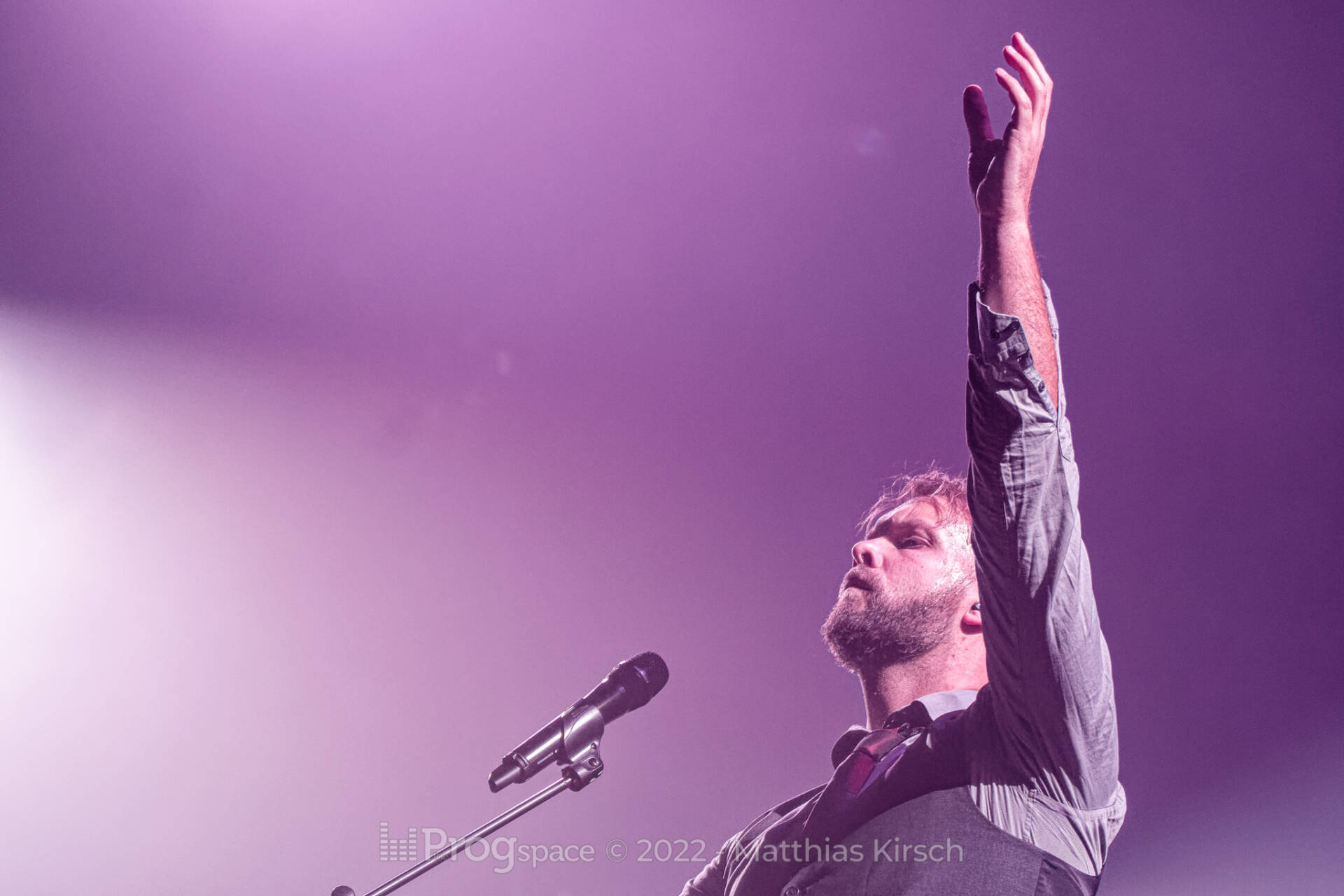 The familiar piano notes of the 'Running Low' intro were easing us into this much anticipated set with something familiar though as the lead single of their latest album "Aphelion" had been – obviously – a mainstay in their sets lately. What followed though was quite the unpredictable ride through their seven album studio discography (sorry "Aeolia"). 'Moon' for example is a rare guest in the set-list representing 2015's "The Congregation", but when it makes an appearance it shines so bright (with a lot of light of its own) and lets you remember that there were indeed some more fantastic choruses on "The Congregation", not only 'The Price' (which got a well deserved rest that evening). The second representative for that kind of breakthrough album was to be the slightly more aggressive 'Rewind' (for which drum powerhouse Baard Kolstad finally took his shirt off, no wonder with that high-speed double bass ending), but only after we were treated to a super hypnotic version of 'Dare You', a deep cut from the monster of a debut album, "Tall Poppy Syndrome".
The following 'Acquired Taste' (a first taste from the sophomore 'all over the place' album "Bilateral") was dedicated by lead vocalist extraordinaire Einar Solberg to his Ukrainian girlfriend, her family and the whole people of Ukraine. He had just driven by car all the way from Norway to Moldova to pick them up and bring them to safety from the war. So they were there that night and it was definitely a tear-inducing moment, before the usually-already-tear-inducing-on-its-own song even started. Alright, let the floodgates open, I was sure it wouldn't stay at that one time for the rest of the evening.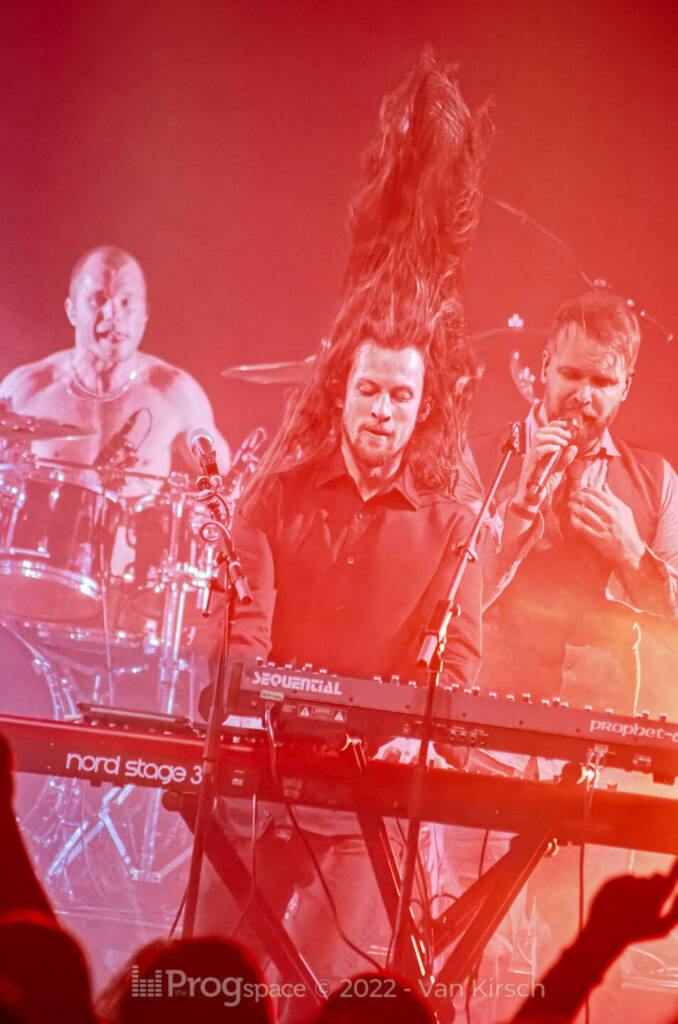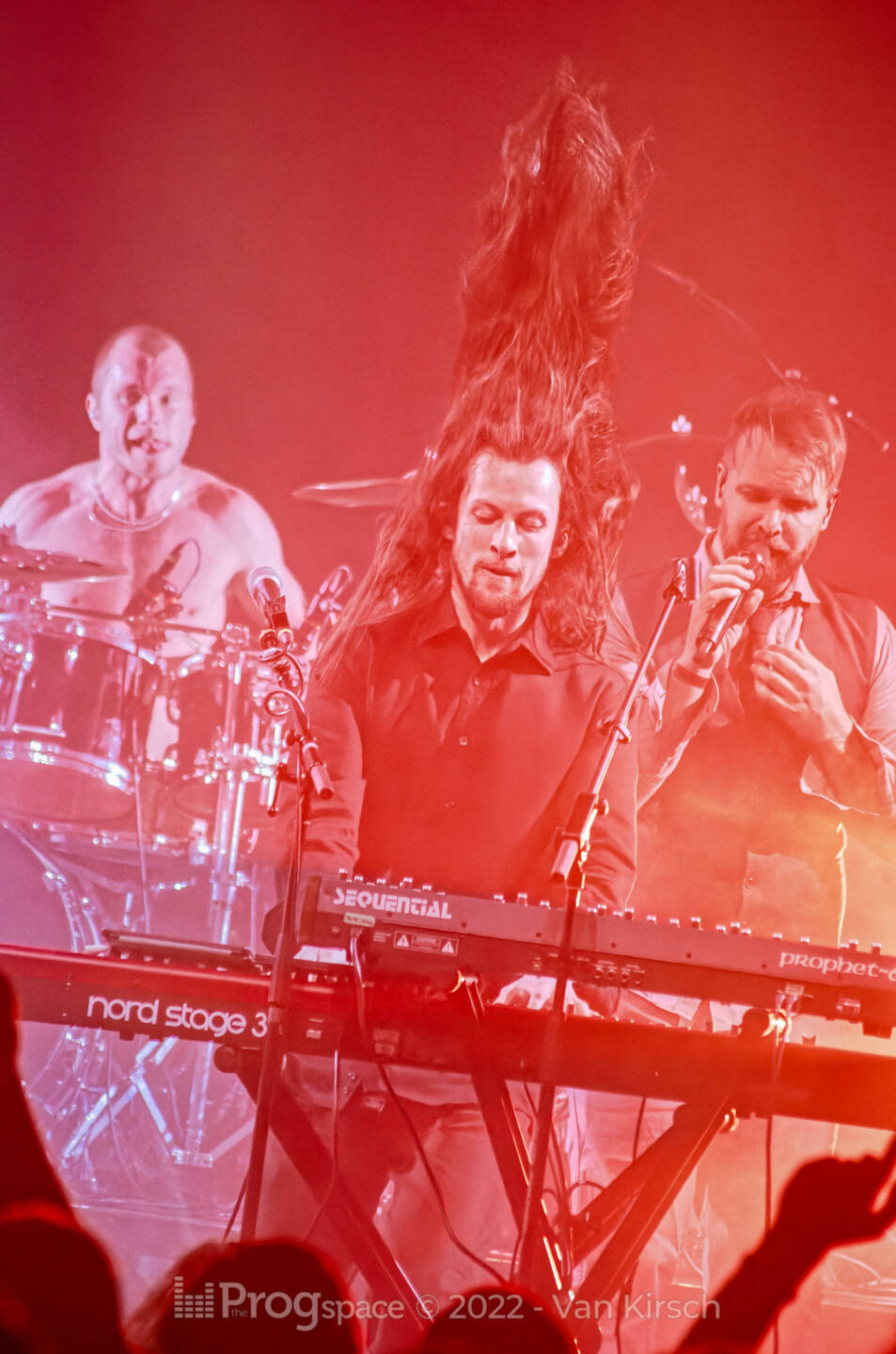 And how right I was, as I was finally able to witness a live rendition of the absolutely harrowing 'At the Bottom', a "Pitfalls" favourite of mine that was not played the two times I was able to catch Leprous on the tour for that game changer of an album. Which was of course not the only game changer in their discography. Come to think of it, "Aphelion" was the first album to follow pretty closely in its predecessor's sonic footsteps. So after the quite psychedelic and outright crazy "Bilateral" came the kind of monochromatic "Coal", with its hypnotic groove monster 'The Valley' (dat bass) and tearjerker number 3, 'The Cloak'. Sandwiched between the two: "Bilateral"-smasher 'Forced Entry'. What a wild roller-coaster ride!
Cue two short hit singles, 'Golden Prayers' (the only Leprous song that I personally don't 'get') and 'From the Flame' (which is doing a quite similar thing, only with an engaging and relatable chorus in my opinion), before the grand finale.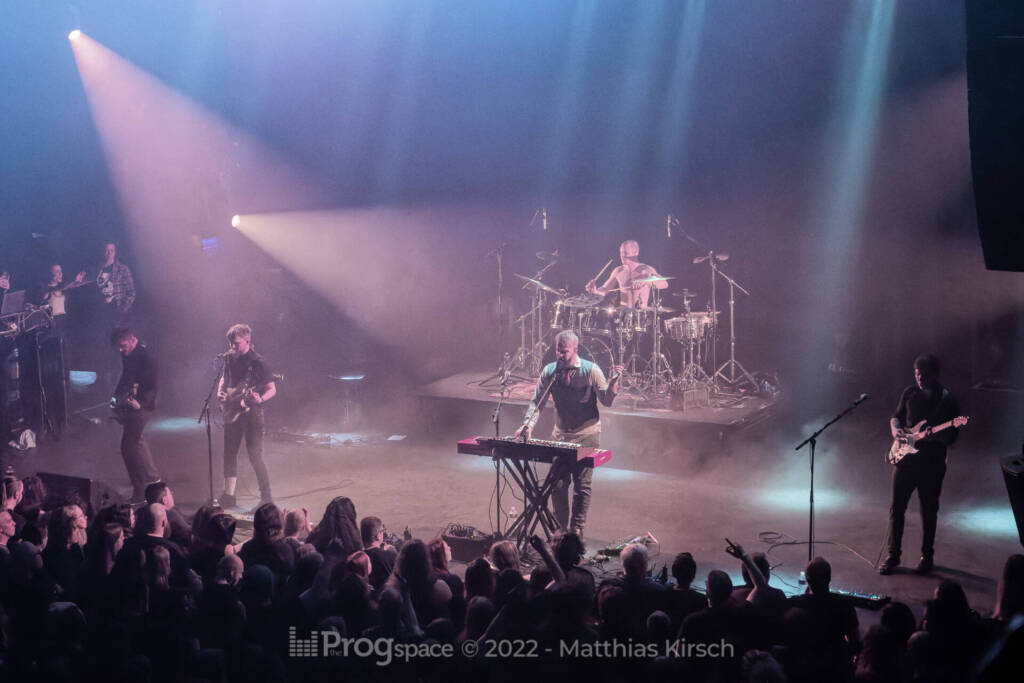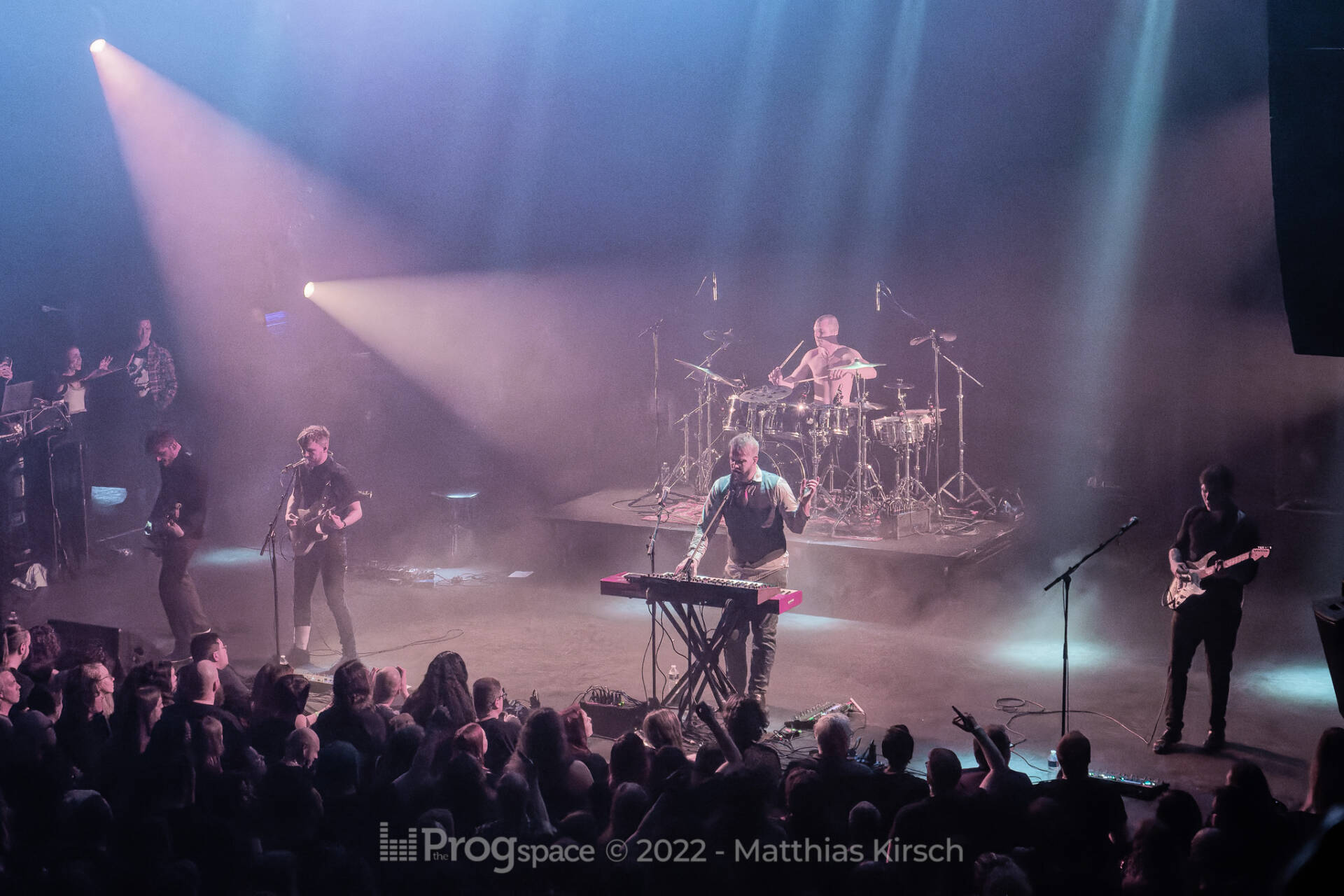 And boy what a finale it was. Now 'Passing' was the very first Leprous song that graced my ears some 12 years ago. And it hasn't lost any of its massive impact, starting with that iconic drum roll all the way to Einar's last agonized screams (and rare low growls). A perfect set-up to the perfect ending. The Sky Is Red. Again. And I wouldn't have it any other way!
Given the exhausting journey with some 1000kms behind the wheel and little to no sleep that Einar had behind him, we could all forgive him, that there was just no energy left for an encore. Also, rhythm guitarist Tor-Oddmund Suhrke jumping around in a cask on his one foot after he had injured it on the last date of the preceding US-tour (luckily not as badly as his The Ocean tourmate Loïc Rosetti), I'm sure that foot welcomed some rest as well before the super busy Festival summer for Leprous would start.
See Leprous full photo gallery here. 
And thus, the second edition of the Prognosis Festival in Eindhoven and for many a prog fan the first festival after the forced Covid-Break ended on an ecstatic note of apocalyptic redness. Hope to see you again in April 2023 – either in Eindhoven or in London! Check their website for Early Bird Tickets and dates!
Click here to see the galleries of all bands on the second day of the festival.