Ayreon Universe (Tilburg, September 15 and 16, 2017)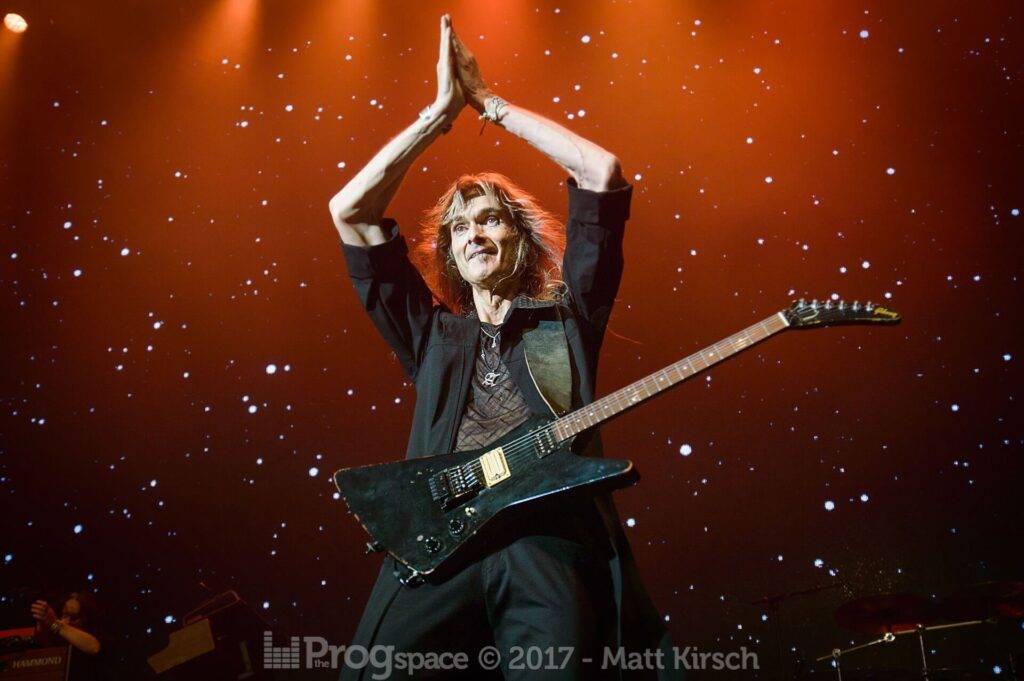 There are concerts that make you leave work earlier. There are concerts that are worth driving in your car for six hours or take a short trip on a plane. And then there are those concerts that can not be missed, that make you cross half the globe. That's the kind of concert that Ayreon Universe was. An incredible show for years dreamed of by many Ayreon fans, singers and musicians. Three unforgettable shows including massive displays, robotic lights, a lights and lasers jacket and helmet, fire, fireworks and smoke!
People from all over the World, from more than 50 nations, witnessed what truly was a once-in-a-lifetime experience: The music of Arjen Anthony Lucassen, celebrated on three consecutive nights by the finest dutch musicians, an armada of 16 singers, many of them singing their original roles from the Ayreon metal operas. Almost 10000 people went to Tilburg (NL) for a weekend to be part of an outstanding moment in rock history! The Progspace had to be there!
With tickets for the first shows being sold within hours and a quickly added 3rd show just two days later, the ticket sales went wild, and Arjen and his crew did not waste that money. The big stage in Tilburg's famous 013 club was fitted with a whole battery of pyrotechnics and smoke machines, a monstrous screen showed visuals created by Arjen's girlfriend Lori Linstruth and Wayne Joyner and everything was bathed in beautiful lights.
When Arjen, the man who makes great singers sound even better, summons such an army of vocalists, expectations have to be high. And yes, they were fulfilled. Each singer brought her or his own personality and spirit on the stage, from Mike Mill's (Toehider) brilliant TH1-personalisation (a computer, mind you, but with a sharp tongue, guiding the audience through the show), until the final gathering on stage with 'The Eye of Ra' – from Star One, not Ayreon – performed by the complete cast singing as one.
Arjen and his "right hand", keyboard player Joost van den Broek, who also was the guiding hand behind 2015's "The Theater Equation" show in Rotterdam, selected no less than 27 songs, ranging from the very beginnings of the Ayreon project ('Dreamtime' with Edward Reekers from the 1995 debut "The final Experiment", causing the first wet eyes right from the start) through the complete library up to this year's release "The Source" and filling two and a half hours.
Listing every single singer, duet, guitar solo would get too far – but between all that class some definite highlights have to be mentioned. Combining three of the most beautiful female voices in heavy rock for 'Valley of the Queens' was nothing short of brilliant: Floor Jansen (Nightwish), Anneke van Giersbergen (Vuur) and Marcela Bovio (Stream of Passion) silenced the audience in awe and surely provoked some tears. The same goes for the beginning of 'Eye of Ra' from Arjen's space metal project Star One with Damian Wilson's unique voice and a duet by Floor and her sister Irene Jansen – who gave many of the songs the final touch as background singer alongside Marcela Bovio and Lisette van den Berg – in the middle part, before everyone else joined them on stage for the epic final chorus.
Speaking of Damian Wilson: The British vocalist extraordinaire can be called an Arjen regular, having participated in various albums. Having him sing 'And the Druids turned to Stone' almost a capella was certainly one of the show's highlights – goosebumps and more tears included. What a shame though, that 'Into the Black Hole', another Damian Wilson classic from "Universal Migrator Part 2: Flight of the Migrator", was performed by Kamelot's Tommy Karevik, who certainly performed much better in his duet-duels with Nightwish bassist and singer Marco Hietala ('Collision' and 'Magnetism' from "The Theory of Everything", with Anneke van Giersbergen's stellar voice and stage presence as the icing on the cake).
Another stellar ensemble was that of Hansi Kürsch (Blind Guardian), Floor Jansen and Mike Mills in an electrifying 'Everybody Dies'. Mike Mills casting as TH-1 was just perfect, no other human being can sing those lines as fast and perfect as he did!  Not to be left behind, is also worth mentioning the extraordinary vocal work by Robert Soeterboek (Ayreon veteran), Jay van Feggelen and John Jaycee Cuijpers (Praying Mantis).
Arjen Lucassen, being not the world's biggest extrovert (but certainly one of the tallest introverts), had picked a classy troupe of musicians for the three nights. Joost van den Broek was joined on stage by long time Ayreon drummer Ed Warby (Vuur, who surprised everybody by singing one verse of 'Day Eleven:Love'), bassist Johan van Stratum (Vuur), guitarists Ferry Duijsens (Vuur) and Marcel Coenen (Sun Caged, Godscum).
And the trio Ben Mathot (Violin), Jeroen Goossens (Flutes, woodwinds – and Didgeridoo in 'Day Sixteen: Loser' from "The Human Equation" with a brilliant Mike Mills on vocal duties) and Maaike Peterse on Cello. But of course there can not be a mass of Arjen Lucassen music without the high priest – and so it was no surprise that he joined the band during 'The Castle Hall' towards the end of the set and stayed for a couple of songs. Oh, and how he enjoyed it! He even managed a decent speech!
More surprising was the appearance of bassist Peter Vink and his pink bass guitar for the "Star One" anthem 'Intergalactic Space Crusaders'. But the biggest surprise of that song, if not the whole night? Maggy Luyten, singer of Nightmare from France and a singer this writer had overlooked before. And hates himself for it now. This little power pack rocked the song (and the other ones that she was singing in), sang Damian Wilson to the ground (who would have thought that was possible!?) and gained a big amount of new instant fans. Discovery of the weekend! Oh, and she was singing Russel Allen's part. Take that!
These three nights were so packed with highlights, a simple review barely does it justice. Who, for example, would ever have dreamt of seeing Jonas Renkse's (Katatonia) face on a stage? Or, even less, a smile? That's what Arjen Lucassen's music does (having Anneke shining beside you might help, too). Nobody went home disappointed after the shows, and if, then only because they were over. More than once one could overhear conversations of "the concert of my life" or "definitely in my top five ever experiences" in the audience. Many went to the dutch service "Ticket Swap" to find a ticket for the next show. Many others had already bought a ticket for each night!
While another Ayreon concert might never come or be years away, the good news is that the shows were filmed and there are plans to publish a blu-ray – whoever missed these nights can't do anything wrong with getting that one. It is progmetal history!
Don't miss our massive photo gallery. See it here!