TesseracT, Between The Buried And Me & Plini in Munich, November 22 2018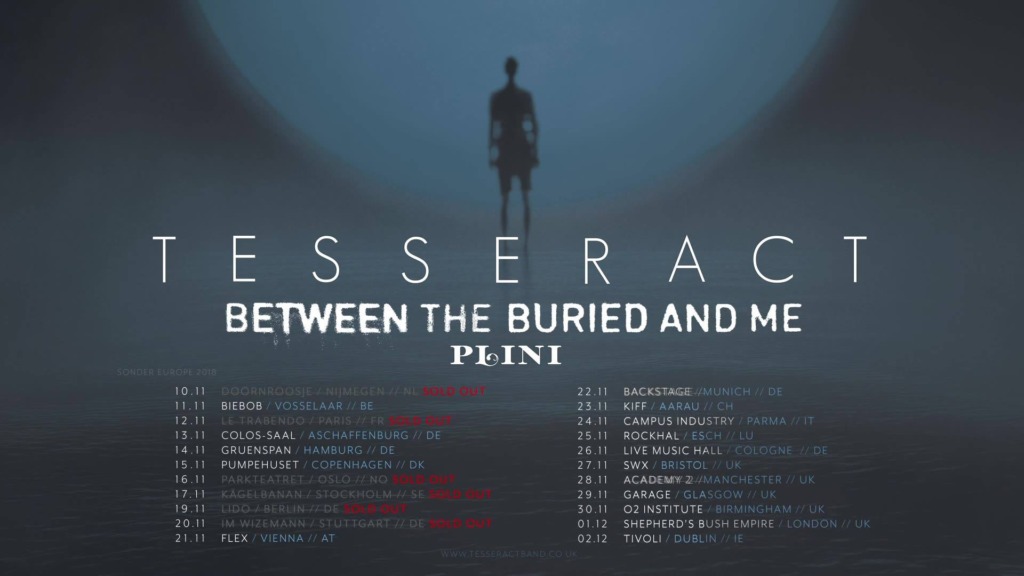 Thursday evening, 19:30, the already quite well filled Backstage Halle, the middle sized of three venues, is ready, Plini and his mates are ready, but their macbook clearly isn't. Luckily it's giving up its strike after a couple of minutes, so the Aussies can start into their 30 minutes set. 'Cascade' with its heavy riffs proves to be a perfect opener and everyone who hasn't seen them live yet is clearly in awe with their ability to mix technical instrumental insanity with beautiful melodies. All those who have already are anyway. Third time for them in Munich and now they've completed all three sizes of the Backstage. Continuing with material that leans more into jazz territory from their latest EP "Sunhead" and ending with 'Paper Moon', they present a great little selection of their uplifting and tasteful sound and it is very clear, that they are all in it for the music, even though Plini himself claims he does all of this only to be able to sell T-Shirts with his name on it. A perfect start into an evening filled to the brim with amazing progressive music, despite the little hiccup at the very beginning. (No pictures of Plini this time unfortunately due to a delayed train and an early start.)
Twenty minutes later, the long-standing US-American purveyors of heavy quirkiness Between The Buried And Me enter the stage, unleashing a thunderstorm of musical ideas thrown into a blender and performed with precise, err precision. Starting off with the 13 minute monster of an opener from their latest EP "Automata 2", 'The Proverbial Bellow', the 5-piece from North Carolina blast through an absolute belter of a 45 minute set. A giant roller coaster ride each and every song, oscillating between crazy off-kilter riffs, death metal attacks, slick (synth) bass grooves and some more melodic elements like the surprising Pink Floyd/Beatlesque 'I'm floating towards the sun' part in 'Sun of Nothing', these guys bring everything to the table an open minded (towards heavier stuff) prog head should love and go crazy for.
However, as much as I'm stunned once more by their performance, the different pieces still didn't click together in my head to build any congruent whole song. Ah well, at least it's always fun to dance to the circus like piano-riff of 'The Coma Machine'. Why the backing track bass synth in the following 'Millions', that played when both keyboard players (singer Thomas Giles and bassist Dan Briggs) in the band had nothing else to do had to be so loud that it overpowered even the drums, churned every intestines in the whole building and blew us all almost all the way to North Carolina, only the sound guy knows. Definitely not for the faint of heart, stomach and pace maker. The final 'Voice of Trespass' ended the show in style though with a swinging bass line courtesy of Dan Briggs that reminded me of the Swedish Diablo Swing Orchestra, a crazy Paul Waggoner guitar solo, short solo spots for every band member, some death metal and xylophone mashup and a whole host of more crazy parts. An acquired taste for sure, the BTBAM boys surely satisfied their numerous fans tonight.
But on to the main attraction for the evening, the British lads in TesseracT. Interestingly enough, the exact same package will tour North America soon with BTBAM as headliners, but here in Europe the five Tessercats are the undisputed Kings (puns definitely intended). The 'Shine on You Crazy Diamond' like synth atmosphere change over soundscapes complete with bird chirping and all transports us into a dreamlike state in which we would be dwelling for the next 75+ minutes.  So please excuse me if I get a little bit carried away by all the emotions in the following. I do hope it shines through clearly, even for somebody who isn't familiar with the lyrics,  that it was an awe-inspiring experience through and through.
Goldenthroat Daniel Tompkins asks us Are You Alone? in the chorus of opening smasher 'Luminary' – but we are definitely not this evening. Neither is the band. The call to Wake me up in 'Of Mind – Nocturne' is echoing through the brutal old school double hammer 'Deception' and 'The Impossible'. The time of our demons has come, they're dancing in the pit tonight. And I'm almost in denial of how eerily tight and perfect those five musicians are on stage tonight. Don't you know how you're feeling? I have no clue, but it sure feels like pure auditory bliss. It is a matter of 'Survival' and trying not to disappear in a 'Dystopia' where TesseracT 'Hexes' and perplexes us. Don't you dare!. But we'll live and breathe again. We exist, we rise like a 'Phoenix', run with the pride of a lion, we're enlightened, we're reborn unafraid. The revolution's here! We might have been jaded, but now we're renovated ('Juno'). And no wonder why, Daniel can sense we start to 'Smile'. TesseracT are no surrogates, they're archetypal and itinerant, but we'll find no imperfection no matter how close we look ('Of Matter – Proxy'). I know, I've hoped I'll see TesseracT again ('Of Matter -Retrospect'). And I'm so glad that I did. We'll gladly bow down submit to those 'King's and kiss the ground. And finally, there's nothing left but 'Acceptance' that it's already over again. All I ever needed was here.
More pictures from both TesseracT and Between The Buried and Me can be found here.