VOYAGER: a journey bringing Progressive Metal to the Eurovision Song Contest!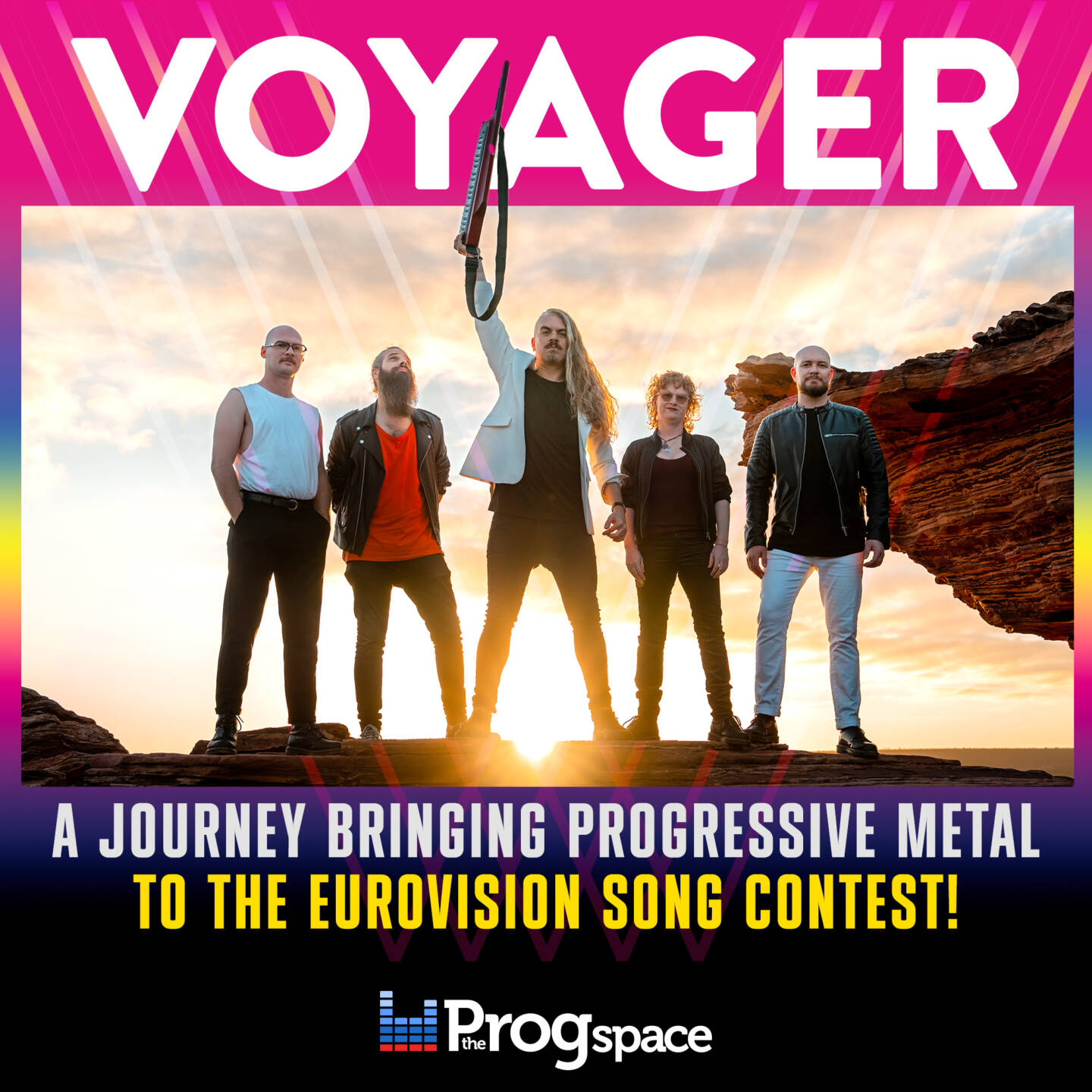 Have you ever seen anything like this before? – No I haven't!
I've never been a big fan of the Eurovision Song Contest but have been following it as an occasion to have a laugh with the irreverence and creativity of some of the weirdest acts in "the greatest show on Earth". Since the first time I saw the show back in 2011, I was not disappointed! Among the mellow, must I say, boring single diva's show or with a bunch of dancers on stage, the techno hammering and other pop Dionesque ballads, there came the Moldovan crazy pointy hats (Zdob si Zdub playing So Lucky) bringing that stage down. I got caught and have not missed it since.
Fast forward to 2020, and there it was shining on my socials page, the announcement from one of my favorite bands: Voyager had just been shortlisted with 'Runaway' for the "Eurovision – Australia Decides" national contest! They even broadcasted a snippet of their music video on their live show. The band reached place 11 just missing out from 10 selected to compete for their country's place at the Eurovision Song Contest! 5 years of what started as a social media sort of joke – the hashtag #voyagerforeurovision paid off!
Scott Kay (guitars) says about this: "Getting shortlisted in 2020 with Runaway was a massive accomplishment in and of itself, but it really helped push us to keep trying."
Today we got to know that the band had been sending entries ever since Australia was allowed to participate (as members of the European Broadcasting Union) back in 2015. Clearly there's no other Eurovision act this year who has worked as hard and for so long, that deserves this spot more than Voyager!
An European Tour and The fantastic 7th album "Colours in the Sun" followed. Then Covid happened and the ESC was cancelled, and the band tried the following year with the banger 'Dreamer'. A journey of a song, without a doubt written with the ESC in mind but still not quite, becoming a fan favorite ever since they published it.
This time Voyager did make it to the E–AD, going on to massively win the public vote, meaning: all of Australia voted for the Perth quintet to represent them in Italy! But the Jury decided differently, sending another participant instead (apparently the jury didn't want to send a band as if Australia was copying the success of the italian nu-metal/glam rock Måneskin who had just won the year before).
Scott mentions: "Landing a position on Eurovision – Australia Decides with Dreamer made us realise that there was genuinely a chance we could make it to the big stage, having come second."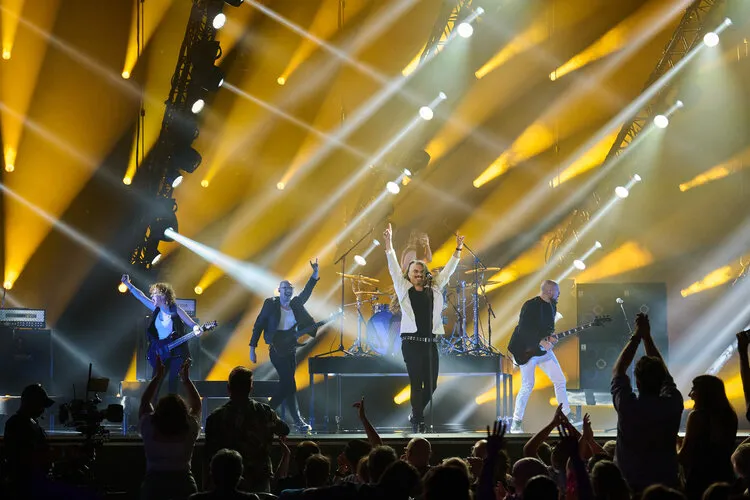 Covid measures relaxed and an Australian and a European tour followed, then back home in Perth, the band receive a Zoom Call from the Australian ESC organisers who previously asked them to submit another song and just asked the band how they imagined the staging would be, as a sneaky way to tell them Voyager is in! Voyager was selected to represent Australia in the Eurovision Song Contest 2023!
Danny Estrin comments: "Having tried a few times and coming closer each time, it's an absolute pleasure to be able to finally make our country proud and represent Australia with a song which we crafted specifically for this event." 
"This is the culmination of a very long campaign and a huge amount of work for the band. Outside of ourselves, we have an incredible and very small team, and we've all been grinding away, honing our craft, playing shows, drumming up support, and making this dream I've had since I was a child a reality. It's impossible to adequately describe that feeling" – Ashley Doodkorte reflects about the big moment."
Danny adds: "It means we can bring our music to the world and show what we've got. And also to have the greatest fun we'll ever have! It also means being able to bring what we do naturally as live performers to completely unprecedented levels. We finally get to have the staging and lightshow we've always wanted."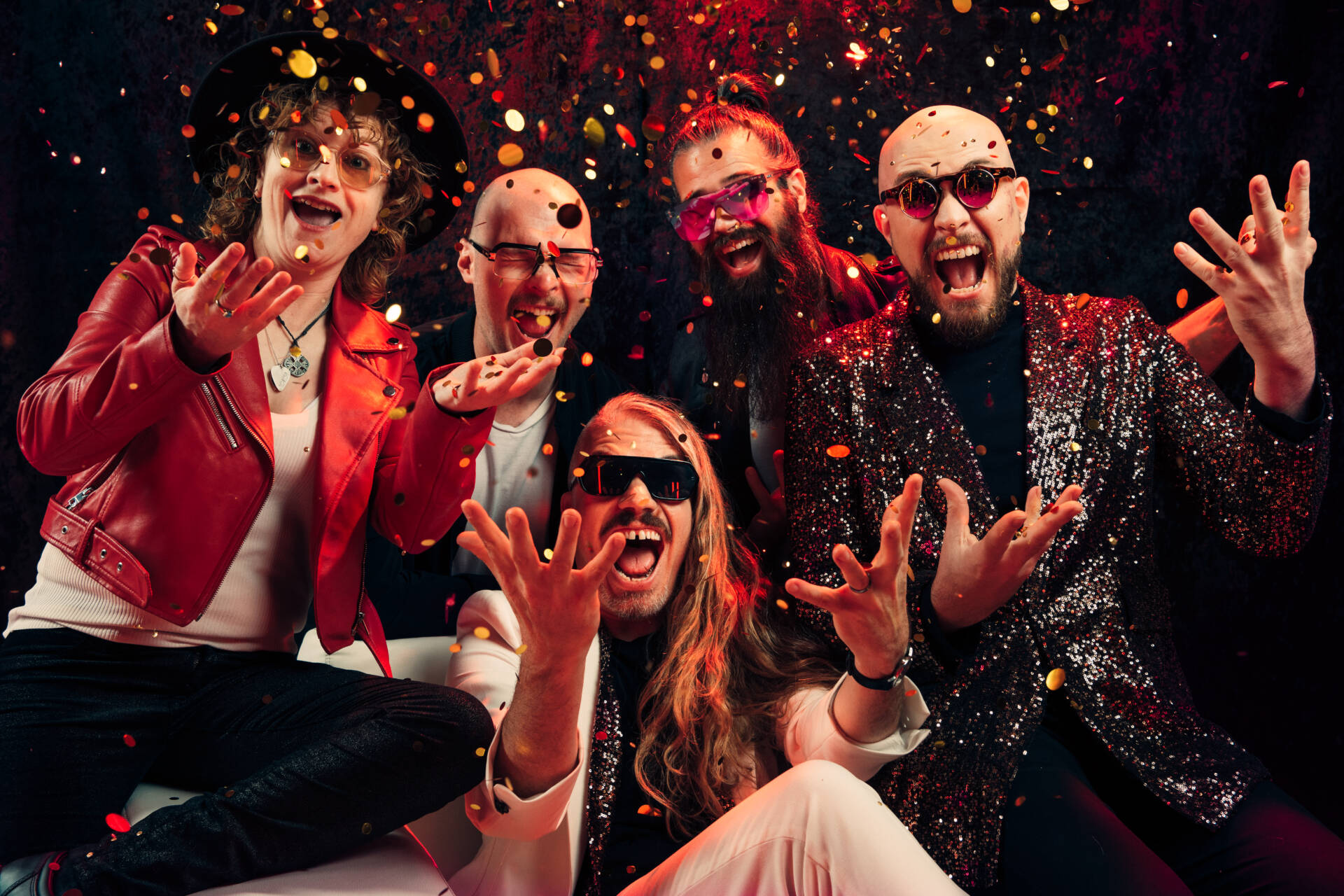 'Promise' was written with the ESC in mind. Danny, biggest fan of the contest since his childhood years in northern Germany, says about the song "Our song Promise is made for the Eurovision stage and collectively we feel it's one of our best yet.
"My mum had a double vinyl, the Eurovision winners. (…) and just the kind of vibe of Eurovision being very heavily melody focused. That certainly rubbed off on me because most of the stuff that I was listening to at the time was classical music. It was kind of the only exposure I had to any sort of vaguely pop music. And it just continued through my university years and then when we moved to Australia. It [Eurovision] has been a part of me for a very, very long time."
'Promise' is without a doubt one of the most complete songs in the extensive Voyager discography, and incredibly enough, the band managed to condense all what makes Voyager's music so unique: it is a progressive tune evolving from mellow to bombastic, with catchy metal, pop and epic melodies and synthsational guitar and keytar solos, a growl and metal screams in just three minutes! 'Promise' is a very well crafted song with the ESC in mind, but it also works perfectly on its own and as a major banger within Voyager's discography, surely becoming a big fan favorite on their upcoming tours.
"We wanted to showcase everything that Voyager does best – melody, mystery, epic synths, a journey through musical genres, a heavy moment and a glorious ending. It was a very different writing process when you have such strict parameters and are thinking about capturing the audience's attention from a staging perspective in three minutes." – says Danny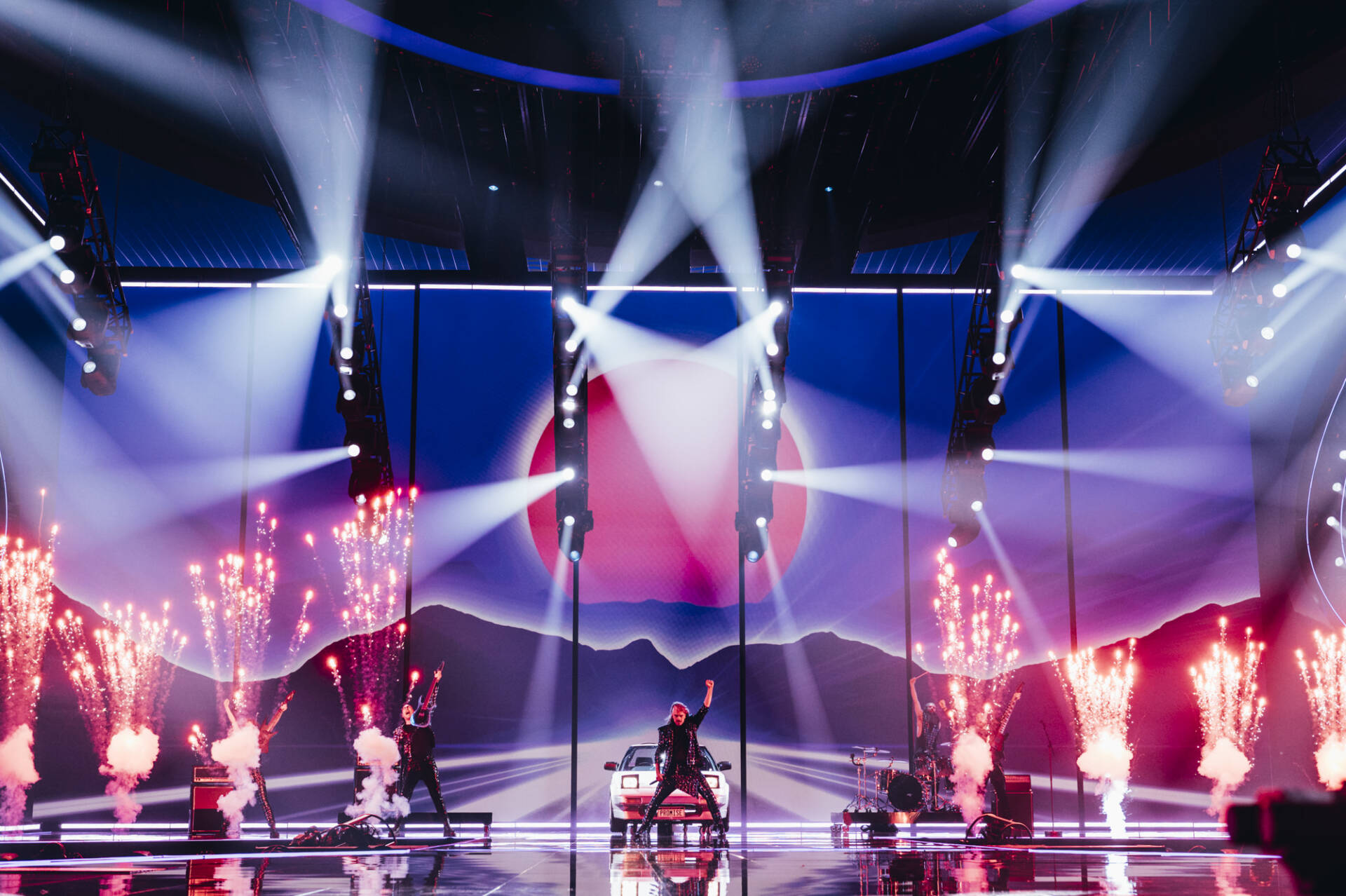 Voyager rehearsing Promise for Australia at the First Rehearsal of the Second Semi-Final at Liverpool Arena
Alex Canion says: "Having a clear objective when writing a song helps any musician focus and compose within those parameters. It's funny that our brief was "Write the song that in many ways will define your music career and vastly alter the trajectory of your life without exceeding three minutes"… No small task, but it served as a great reminder that no matter what happens, we can conjure musical magic from the ether and enjoy every second of it as a band. It's a special thing and I've come to realise how rare it is that five different people can work this way together."
"I think we've been able to think a little bit more about how the staging and the sort of televised nature of Eurovision alters how we write a song, I think we've thought a lot more about how it would translate to a stage rather than just writing it for music's sake." – Scott adds
While Alex concludes: "The biggest learning curve for us was learning how to become a band for TV. Not [only] for a live audience".
The band, never taking themselves too seriously, and as part of their campaign reared towards reaching more and more fans, released a "Progressive House Remix" of 'Promise', choreography and fun moments included. I personally expect and want to see the audience on all the forthcoming shows dancing to these moves!
The band has been unstoppable for the last month in preparation for tonight's semi-final and surely Saturday's Grand Final. They played live in 3 of the official ESC Pre-Parties in Madrid, Amsterdam and London. And a sold out headlining show in London. The response has been overwhelming, as witnessed on the hundreds of video snippets and photos shared by old and new fans and the band equally on their social media.
In the meantime, Voyager announced the release of their 8th studio album "Fearless In Love" to be released on July 14th via Season of Mist, coinciding with the release of their new single 'Prince of Fire' and announcing new Australian and European Tours.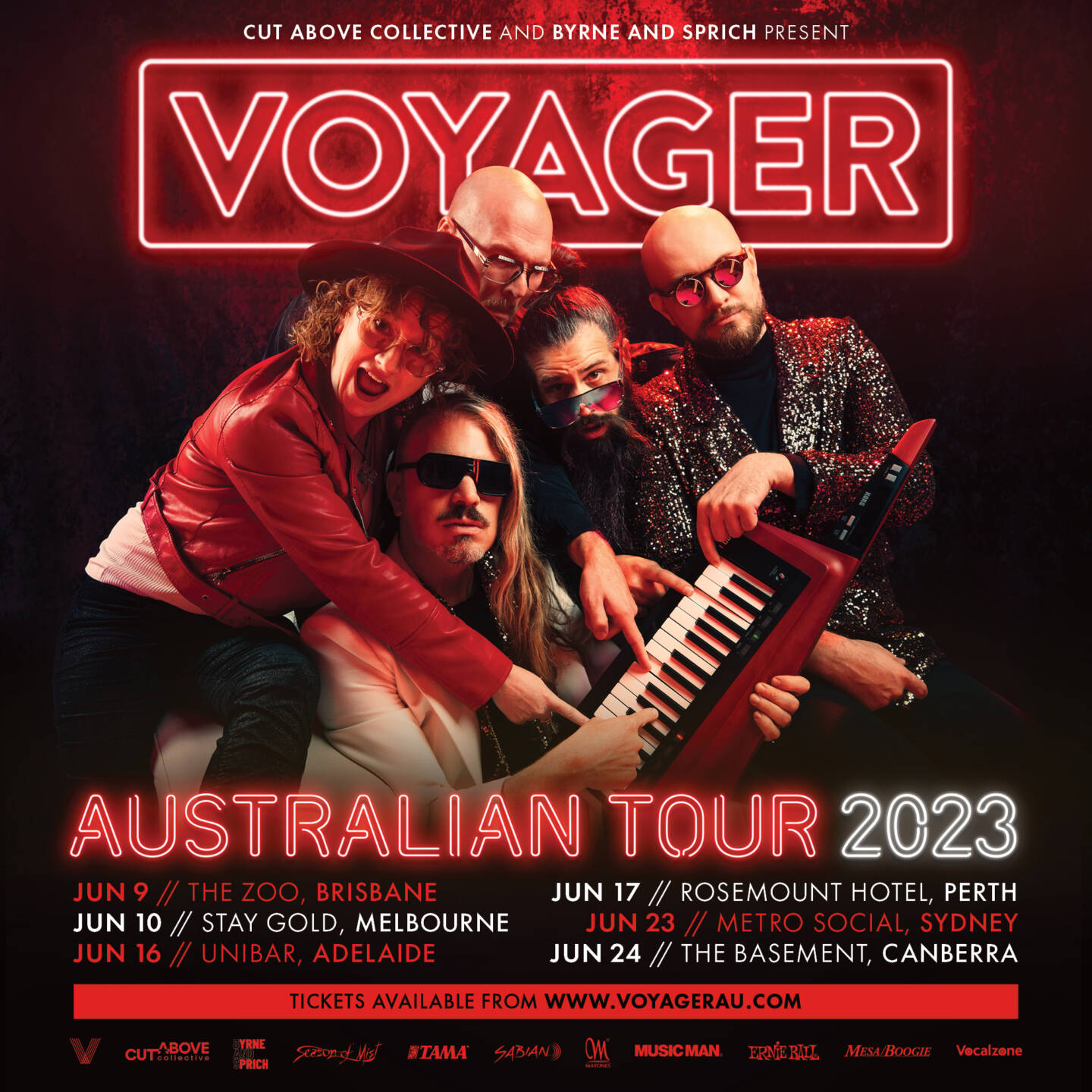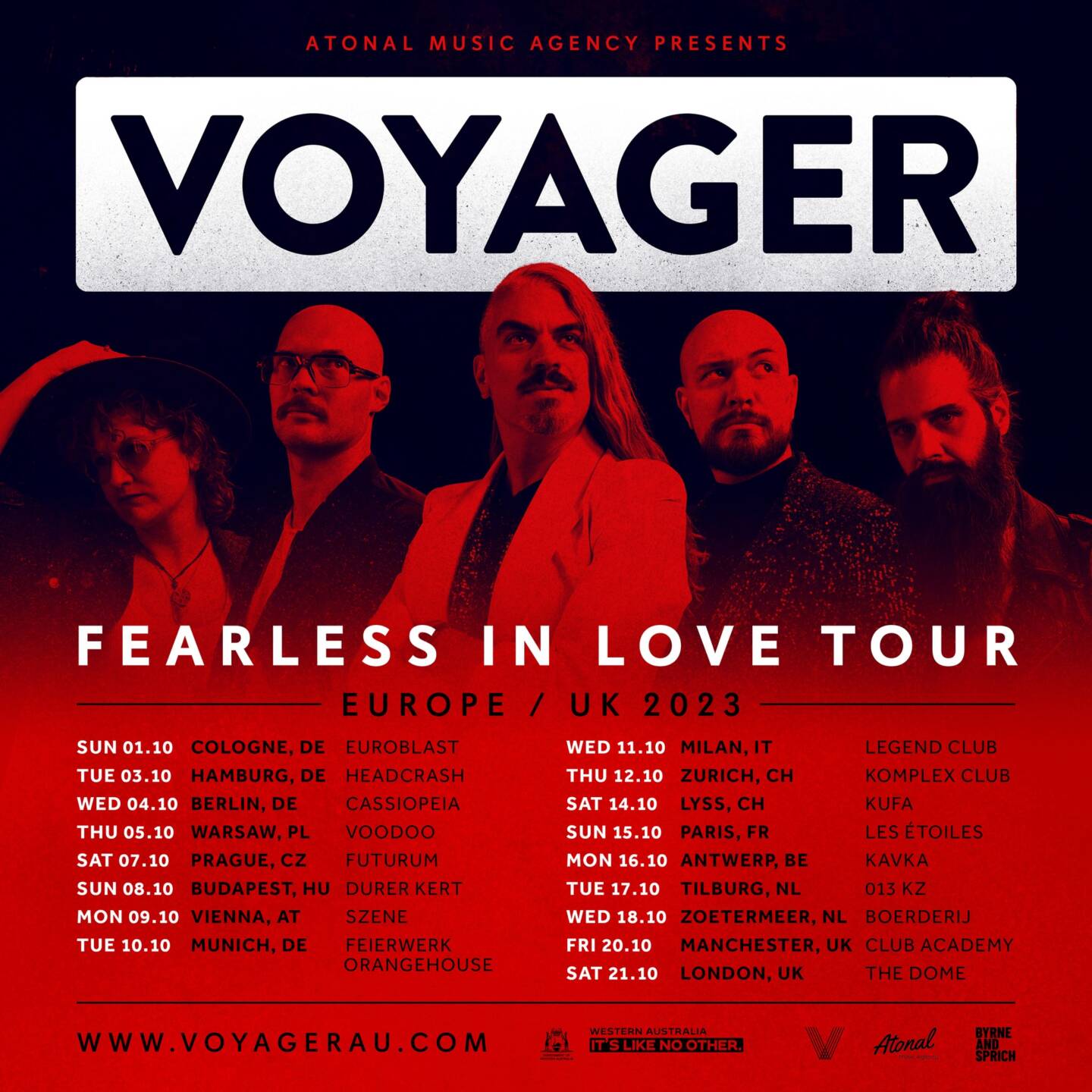 The fan support has been crucial as well as their local Australian support, it has been massive – watch this cover from "Inneka" a string ensemble from the Perth Symphonic Orchestra, it is absolutely smashing!. While I watch the fans here in Europe, or in the USA, Canada and Latin America growing and growing, me as a humble fan, I'm delighted watching Voyager rapidly gain momentum and amassing fans from so many different genres and music styles, while many have come to appreciate metal and progressive metal through Voyager's music, thanks to this Eurovision crazy journey.
It sometimes brings me to the verge of tears and plenty of smiles remembering  the many moments I have shared with the quintet since the first time I saw them live at ProgPower Europe 2014 where they blew my mind. Meeting them in so many different shows over the last years, having the pleasure to photograph them and even sharing and learning a lot about my own health issues with Simone Dow, who is helping all of us migraine sufferers by shedding massive light about this condition as a dedicated Migraine awareness ambassador.
It is unreal to witness them playing the greatest stage and show on Earth, after just enjoying their antics some months ago on the tiniest stage I've seen them playing, in Hamburg back in September.
Now after several sold out ESC rehearsal shows, the band is ready to take their fire to the stage "headlining" the 2nd Semi-Final (playing last of the 16 countries participating tonight).
Alex reflects about the big moment: "Our 20+ years of experience in live music has led us to this moment. We're ready to put on the best show for our fans all over the world and fly the flag for heavy music the world over. Let's do this – and as my father always tells me before every gig: "Kick ass live!"
"We come to you on our musical journey. We haven't been created by television or for television. We are five friends who love music, write music, and travel the world performing our unique genre of metal. We are here to entertain you and take you with us on our journey to the greatest stage on earth…. We promise you – it's gonna be alright!" – closes Danny.
---
With info from ABC Australia, SBS Australia, Voyager