Voyager – A Voyage Through Time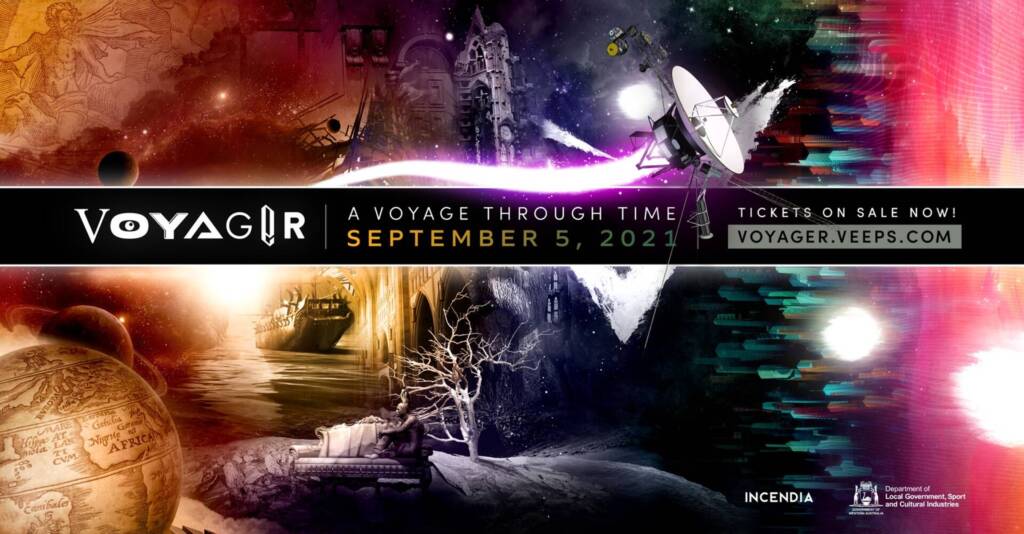 As we're all hoping for the pandemic to keep receding so that real live concerts can become normal again rather than being an exception, there are still some (pre-recorded) live streams for us to enjoy from some of our favorite bands in the prog circus. 'Enjoy' being the central word here most certainly for "A Voyage Through Time", an extensive career-spanning event Western Australia's Voyager have put together.
Well two decades into their career, frontman and sole remaining founding member Danny Estrin welcomes us in the green room of Perth's Amplifier Bar doodling about on probably one of his first Keyboards, with floppy disc and all. He dons his first jacket of the evening, a classic leather jacket adorned with the Voyager logo, and we follow him out on the stage, where he and his bandmates kick off things in style with the "Element V" (2003) double 'To the Morning Light' and the especially power metal-y 'The Eleventh Meridian', including german spoken word and bridge part and the first of many signature parallel guitar lines of the evening courtesy of the well-oiled tandem of Simone Dow and Scott Kay. The immense fun of any Voyager show is transported right into your bed or living rooms, or wherever you're watching. Dad jokes, sing-alongs, stage banter… a Voyager show wouldn't be the same without all of that. So naturally, all of those ingredients are also present when they are performing in front of cameras to be captured for an audience around the world.
Moving into "UniVers" (2007) territory with the romantic hit single 'Sober' featuring a blistering guitar solo from Simone, a Keytar-pan flute interlude from Danny and the embarrassing hit about a horse in the sky, the fun "White Shadow". A perfect opportunity for bassist Alex Canion to show off his slurring black metal shrieks in that bridge as well as some impressive higher register backing ad libs in the last chorus.
"Let's go full goth!" Long gone is the metal leather jacket, it's time for the black cloak and 'The Devil in Me' from 2009's "I Am the ReVolution". Speaking of which: punk style it is now for the title track with a red/black checkered jacket. And also time for some fun keytar action obviously! Triple unisons, yay! Gothic melodic power metal galore!
A turning point in Voyager's discography was 2011s "The Meaning of I". Representing this huge step in their history, they chose 'Iron Dream', a tribute to one of their biggest idols Peter Steele (Type o Negative) and the savagely heavy and headbanging inducing title-track. The black kind of straight jacket from the music video suits Danny well for this period. Some heavy groovy shit to quote him. A defining point indeed.
Usually, you would take advantage of commercial breaks to go and take a leak or get some fresh snacks and beverages. Not this time though as Photos by Doodlekorte's graphic advice, Mister Re¢eipt's accounting advice for touring bands and Scott Kay's discovery of the inventive Philly Tone are not to be missed under any circumstance.
Returning to the stage, drummer Ash Doodkorte is getting us into the mood for 'Hyperventilating' with an extended drum intro including some nice pyro effects. By the time of "V" (2014), Voyager had perfected their formula of super catchy, yet heavy, proggy and most of all groovy hit singles. More pyros for the breakdown and subsequently equally hot solo-shredding from Scott & Simone. This is getting out of hand folks, I think I'm… hyperventilating. Luckily I don't have to sprint up a few stairs to reach the grand piano like Danny. 'Summer Always Comes Again' always gives a welcome breather (energy-wise, not emotionally), of course leading into 'The Seasons of Age', getting an extended drum outro to give Danny and the band the chance to get a shot (of rum I assume?). (No worries, Ash was not forgotten.)
Seeing that Voyager have picked two songs from each album (counting 'Summer Always Comes Again' as intro to "The Seasons of Age"), it was kind of a given that they'd pick the title track to 2017's "Ghost Mile" (also including the quasi-intro 'To the Riverside'). 'The Fragile Serene' seems to be a surprise pick, as I would have rather expected 'Ascension', 'Misery is Only Company' or '"What A Wonderful Day'. Luckily that's not that big of an issue when choosing from a near-perfect album full of bangers.
'Brightstar' and 'Runaway' (with keyboard delivery from sound engineer Aidan Barton, just like in the music video) complete the journey in a white jacket and the colours of the stage lighting turning all, well, colourful after a mostly mono- and duo-chromatic show. But Voyager's latest album is called "Colours in the Sun" after all, so it's fitting perfectly!
A voyage in 5 jackets and 7 albums: Voyager managed to capture the immense fun of their live shows for audiences around the world – and leave us craving for more. Especially since there was no 'Lost', and even worse, no 'Sandstorm' this time. Promise you will get us that much needed fix again once you're out on tour again? Oh and how about another one of those super fun cover medleys? One can only dream right now. Or rewatch "A Voyage Through Time" as long as it's still up. Here's to the five Perthians journeying on for many more years!
You can still watch the stream on demand for the time being right over here: voyager.veeps.com