When Waves Collide – Chasm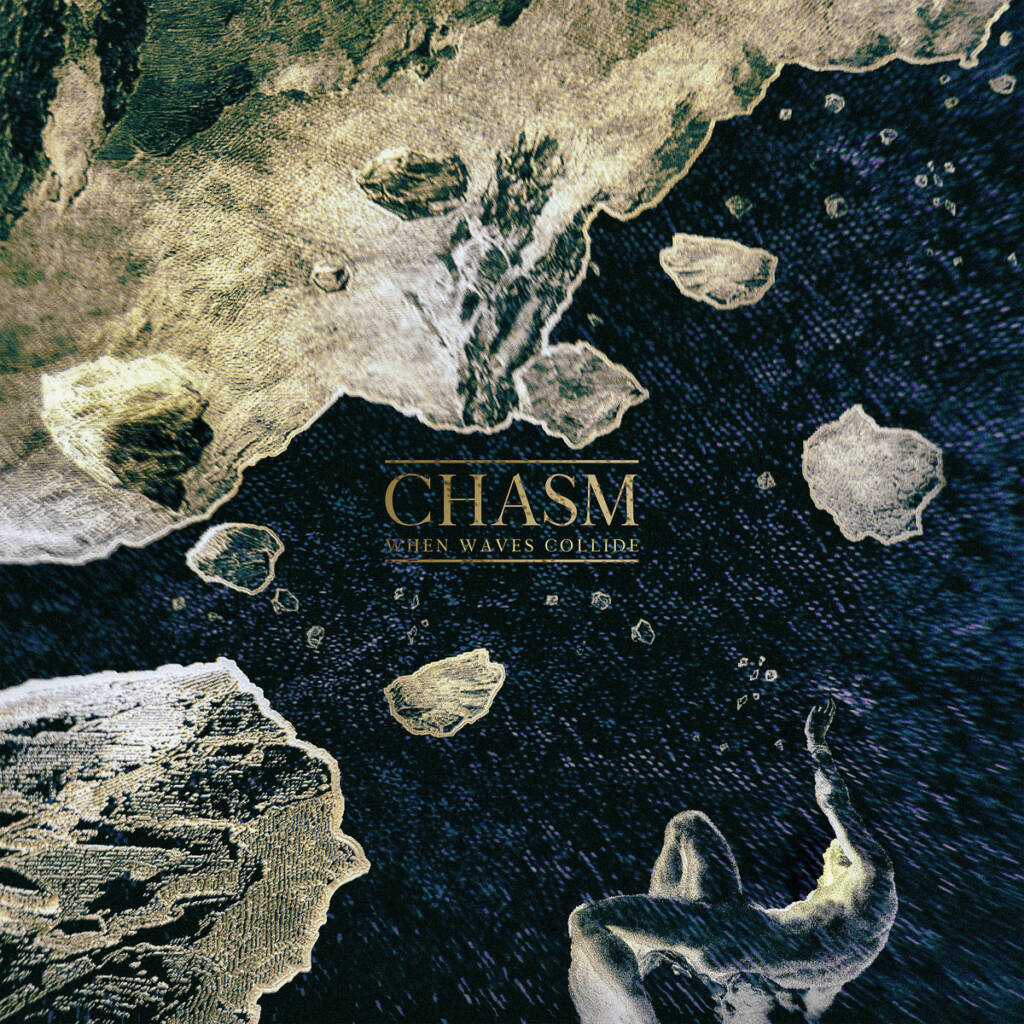 The promo for this album had very few details about the release. With a quick google search, I couldn't find much info about the band other than "Instrumental post-rock band from Paris". But the band name and the album title let my imagination run wild. When Waves Collide. "Chasm". I was imagining epic serious themes about nature and geologic events that affect mankind but however these cataclysmic events may seem overwhelming for humanity, they are just the natural order, driving home the fact that humanity is the ant and nature the chaotic neutral boot.
Well, I wasn't wrong. According to the press release, ""Chasm" is the story of a civilization at the edge of collapsing. Human void or geologic fault, one falls into it all, hoping for a sign. We follow their journey through the songs, falling with them, surviving cataclysms, praying for some help, interpreting the omens until we stand at the end of the path".
While biographical clues about the band are scarce, from their Bandcamp and Spotify pages it seems that this is their second EP and fourth release overall if we count the two singles they got. Though "Chasm" feels more like an album as it has more material than their first EP (accurately titled "EP I"), it leaves something to be desired in regards to runtime, probably due to its grand theme. Their style is very similar in all these releases though they have fine-tuned it a lot and the production is much better. Also, this is released through Antigony Records, an independent record company from Italy, so in a way they have been noticed.
When Waves Collide – Dark Matter (click here if the video does not play)
"Chasm" immediately transports you to the musical realm the band inhabits. It's a very majestic album with everything a post-rock fan desires, though the band doesn't play it completely safe as they have injected a lot of melodic and groovy elements that are not as common in the genre. They make good use of the guitar duet as in many cases one of them plays a trippy and melancholic riff filled with delay and chorus, the other grooves along with the rhythmic section. Their climaxes are catchy and feel earned and there are a lot of headbanging moments.
As I said, the length is a bit of a letdown, while the EP certainly gives you the thematic impressions the band desired, it feels that they left a lot of unexplored territories. However, these ~30 minutes of music are great and I enjoyed it a lot. It makes you drift along with it in a dreamlike state, wondering about humanity and the environment, as well as the inevitability of nature. I will certainly anticipate their first full length after listening to "Chasms". Hopefully, they'll continue exploring this musical path and not stay stagnant, as well as give even more focus on the production, which at times sounds a bit narrow.
When Waves Collide – Chasm (click here if the video does not play)
Track list:
The Fallen 04:32
Cataclysm 05:55
Dark Matter 03:52
Chimera 07:11
Omen 05:23
Stranding 02:32